---
Product Information and Collector Notes
This section list the facts to help you to properly identify this release.
Album Front Cover:
The album front cover is blue with a photo of the "Black Sabbath" band in the center
The front cover has "Attention" and "Black Sabbath" printed on it, but it does not contain the album's title.
There is NO catalog-nr on the front cover.
Album Back Cover
How does the album back cover be different from other versions
The album back cover is white with black print
There is NO bar-code
The top right corner of the album back cover has the catalognr "WWA 101"
Near the bottom center there is "MADE AND PRINTED BY PRESS & POST LTD, U.K." (Other releases may have Robert Stace Ltd., or Garrod & Lofthouse LTD)
Record Label
Record label information:
The label is Black with White Print
There is NO Label Code
There is NO Rights Society
The Catalog-nr "WWA 101" is printed above the center hole
The album's title "ATTENTION! BLACK SABBATH VOL.2 " is printed on the left-hand side, near 9 o'clock
The band-name "BLACK SABBATH" is printed on the right-hand side, near 3 o'clock
The rim-text runs from 9 o'clock to 3 o'clock and is printed in English.
There is NO "Made in England" on the label.
Matrix and run-out codes:
Matrix / Runout (Side A ): WWA 101-A2 TB (Etched, T&B are etched over each other)
Matrix / Runout (Side B ): WWA 101-B2 TB (Etched, T&B are etched over each other)
Production Information
The album: "BLACK SABBATH - Attention! Volume Two" was produced by: Roger Bain for Tony Hall Enterprises.
Rodger Bain is a British music producer who has been working with "Tony Hall Enterprises" and "Tuesday Productions", during the early 1970s he has been known for producing music albums for Black Sabbath , Budgie, Judas Priest.
---
Music Genre:
Heavy Metal, Hard Rock, Classic British Rock
Label & Catalognr:
WWA 101
Media Format:
Record Format: 12" Vinyl Stereo Gramophone Record
Total Album (Cover+Record) weight: 230 gram
Year & Country:
1975 ( UK ) United Kingdom
Tracklisting Side One:
Sweet Leaf 5:02
Black Sabbath 6:20
Rat Salad 2:27
Electric Funeral 4:46
Tracklisting Side Two:
After Forever 5:25
War Pigs 8:49
Fairies Wear Boots 6:07
Additional information on the tracks of this album:
"After Forever", "Sweet Leaf" is the song taken from the 1971 album: "Master Of Reality".
The track "Black Sabbath" is taken from Black Sabbath's 1970's Debut Album.
"Electric Funeral", "Fairies Wear Boots", "Rat Salad", "War Pigs" are tracks taken from the album "Paranoid", which was Black Sabbath 2nd official full-length album.
---
High Resolution & Quality Photos
Front Cover Photo Of BLACK SABBATH - Attention! Volume Two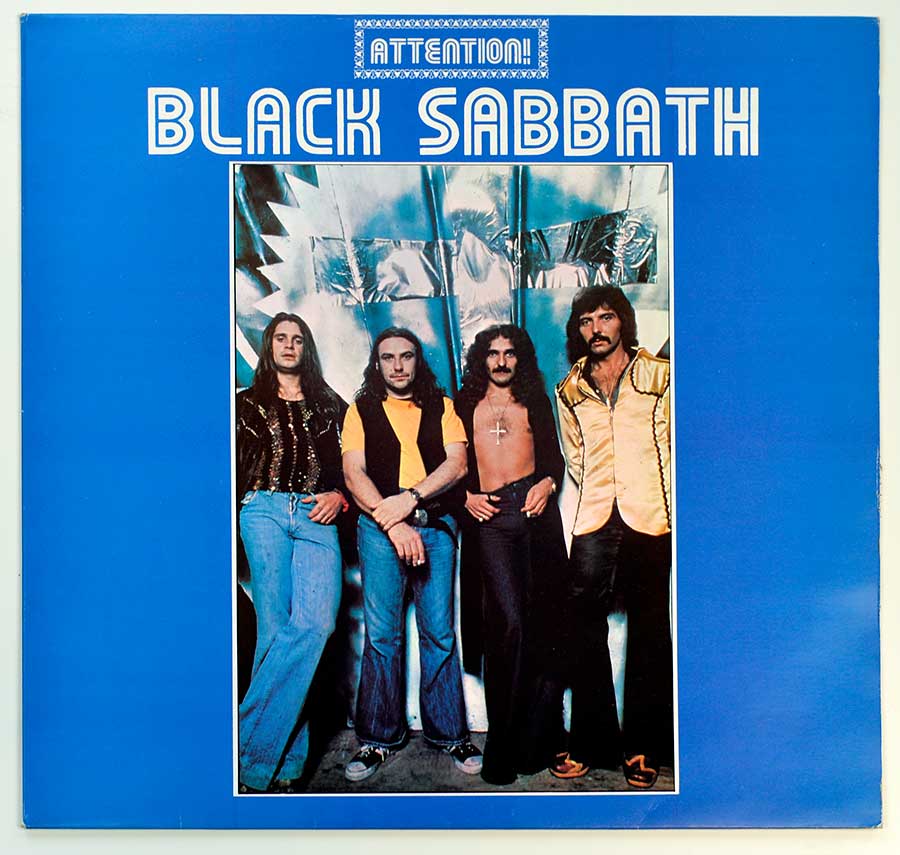 Photo Of The Back Cover BLACK SABBATH - Attention! Volume Two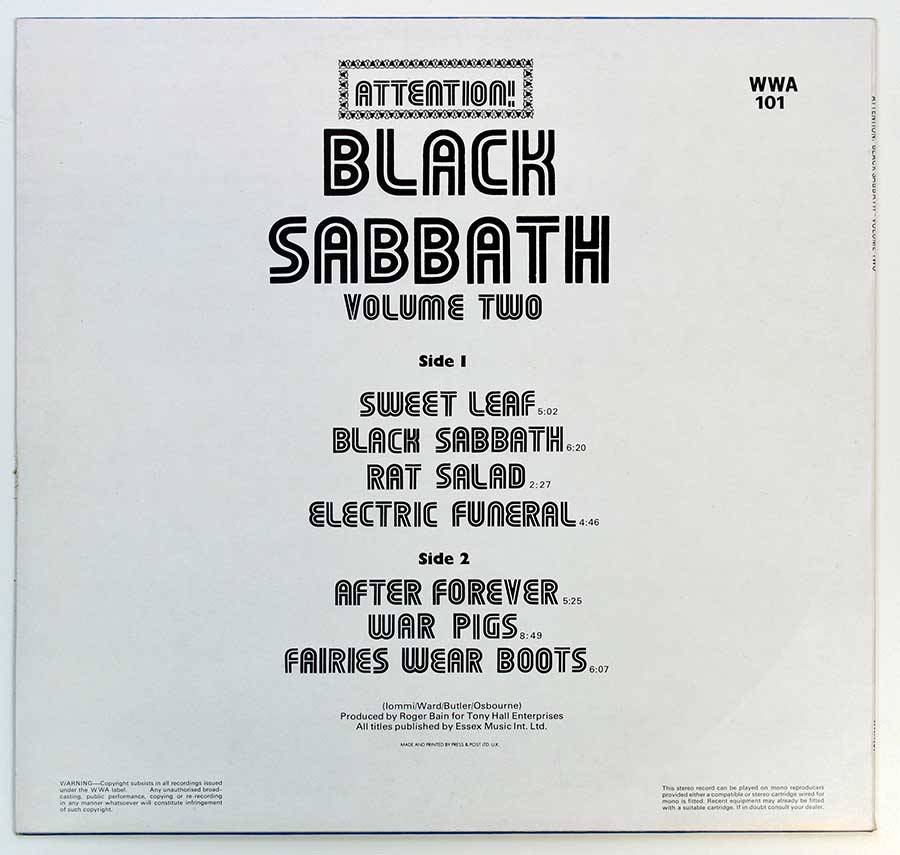 Photo Side One BLACK SABBATH - Attention! Volume Two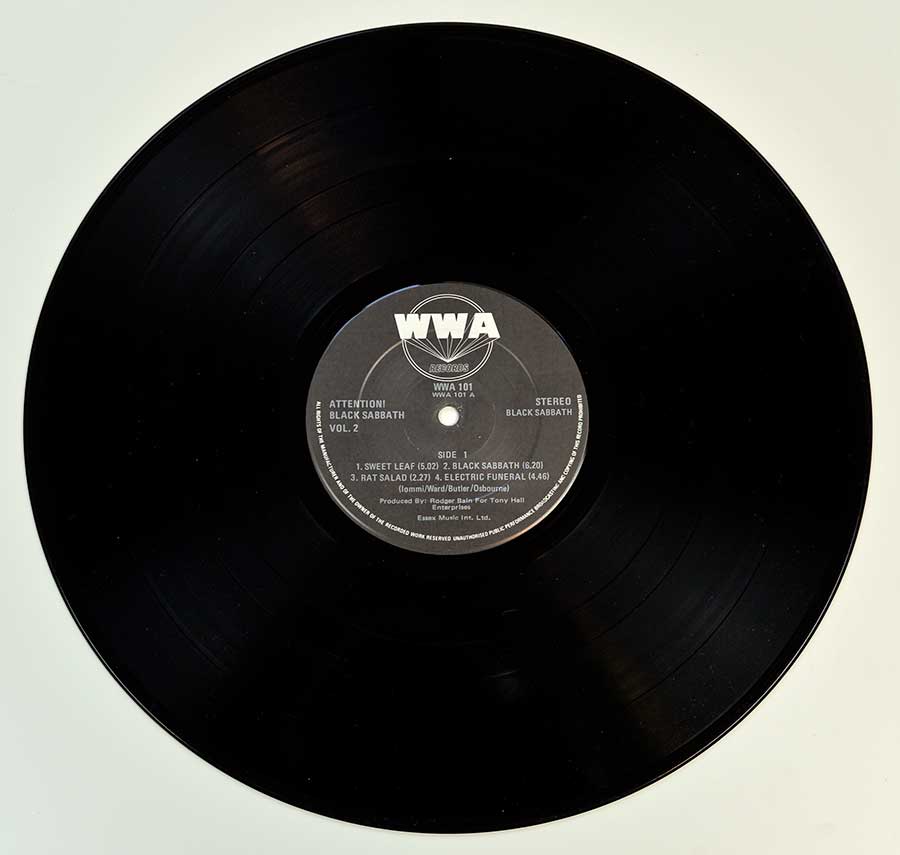 Photo of Side Two BLACK SABBATH - Attention! Volume Two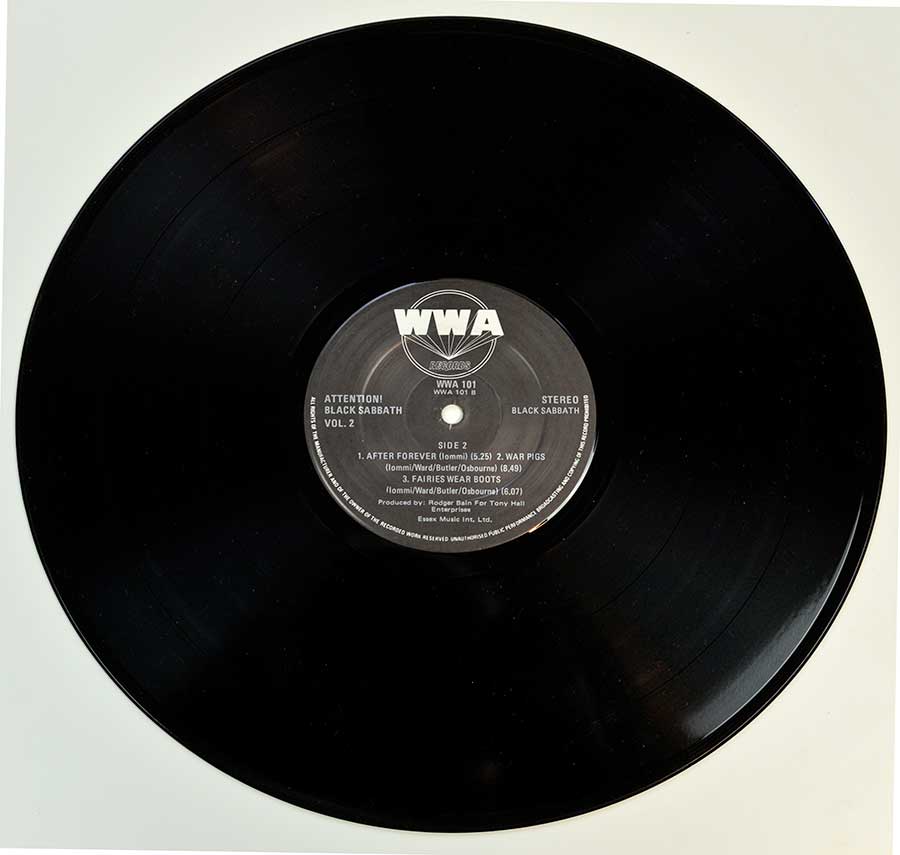 This page is a discography of vinyl records by Black Sabbath and release in the period 1960 until 1990.