---
SAXON - Wheels of Steel French Release 12" VINYL LP ALBUM
This is the French release of "Wheels of Steel" the 1980 album released by the British Heavy Metal band "SAXON", it was their second official studio album. It was recorded at Ramport Studios, London, UK and produced by Pete Hinton and Saxon.
This web page has photos of album covers, inner sleeves, record labels together with production details, musicians and track-listing.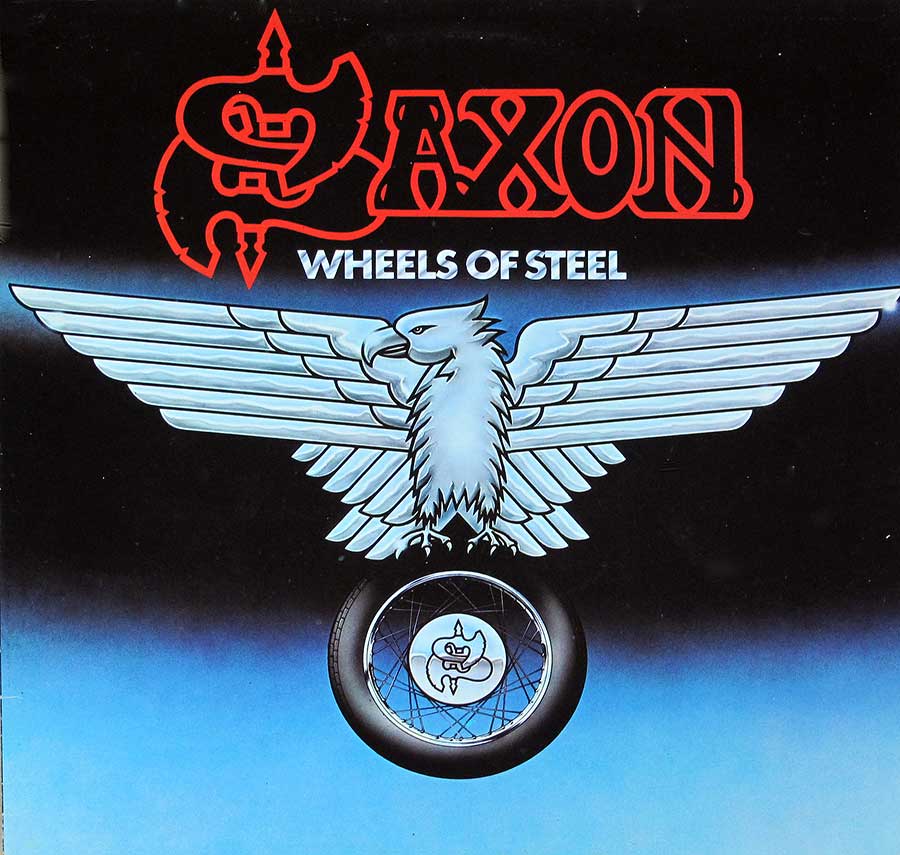 Music Genre:

Hard Rock, Metal Music
Collector's info:
Engineer Will Reid-Dick

Will Reid-Dick an English producer, engineer, mastering engineer and musician, during the 1980s responsible for some NWOBHM records from Motorhead , Saxon but also for German bands like Rage , Sinner and several others.

Album Production:

Produced by Saxon and Pete Hinton

Pete Hinton is a British Music producer, during the 1980s he has produced records for bands like: Saxon , Demon , Deathwish, Coroner and many others.

Label Information:

Carrere 67.484 / Heath Levy Music
Vinyl Record Format
12" LP

Year & Country:

1980 Made in France
Band Members and Musicians on: Saxon - Wheels of Steel
Band: Saxon
Biff Byford - Vocals

Biff Byford (real-name: Peter Rodney Byford) born in the year 1951 in Honley, West-Yorkshire in England. Lead singer in the bands "Son of a Bitch" from 1977 until 1978, followed by SAXON from 1977 until now.

Paul Quinn - Guitars

Paul Quinn (full-name: Paul Anthony Quinn) is one of original founding members of Saxon and started in the Coast and "Son Of Bitch Bands"

Graham Oliver - Guitars

Graham Oliver a guitarist and bass player , born in 1952 Mexborough, England. He was founding member and one of the main song-writer in the British Heavy Metal band Saxon. He started his career around 1975 in a band called "Son of a Bitch".

Steve Dawson - Bass
Pete Gill - Drums

Pete Gill - Drums, one of the co-founders of the British bands: "Son Of A Bitch" and "Saxon", he has played drums in two major British Heavy Metal bands: "Saxon" and "Motorhead" .
Track Listing of: Saxon - Wheels of Steel
Side One:
Motorcycle Man
Stand Up and be Counted
747 (Strangers in the Night)
Wheels of Steel
Side Two:
Freeway Mad
See the Light Shining
Street Fighting Man
Suzie Hold On
Machine Gun
SAXON - Wheels Of Steel ( France ) High Resolution & Quality Photos
Photo Of The Back Cover SAXON - Wheels Of Steel ( France )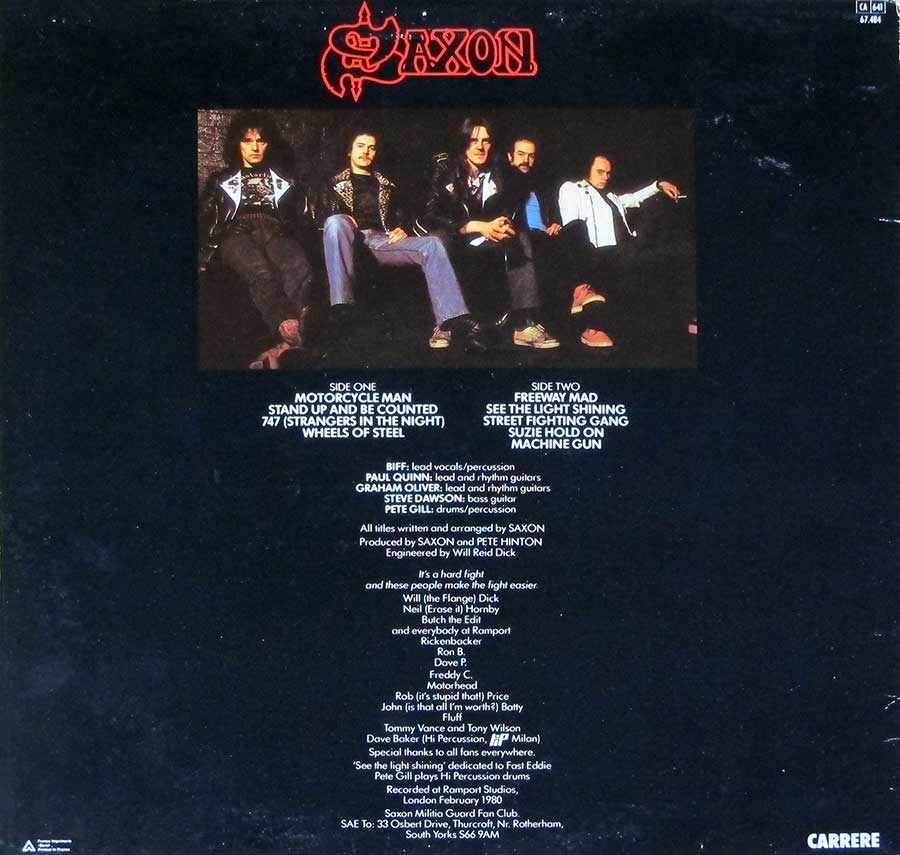 Close up of record's label SAXON - Wheels Of Steel ( France ) Side One: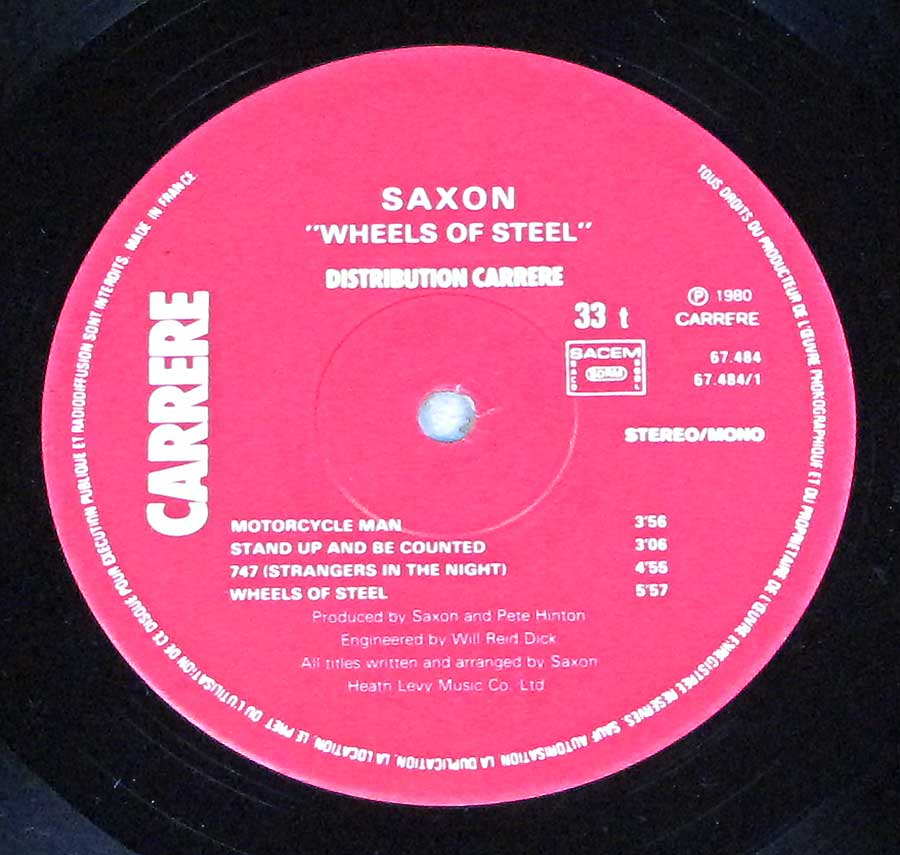 ---
---