---
KISS - UNMASKED 12" LP VINYL ALBUM
"Unmasked" is the 1980 Studio Album released by the American Glam Metal band "KISS". This web-page has hi-res photos of the album covers, record label and a detailed description.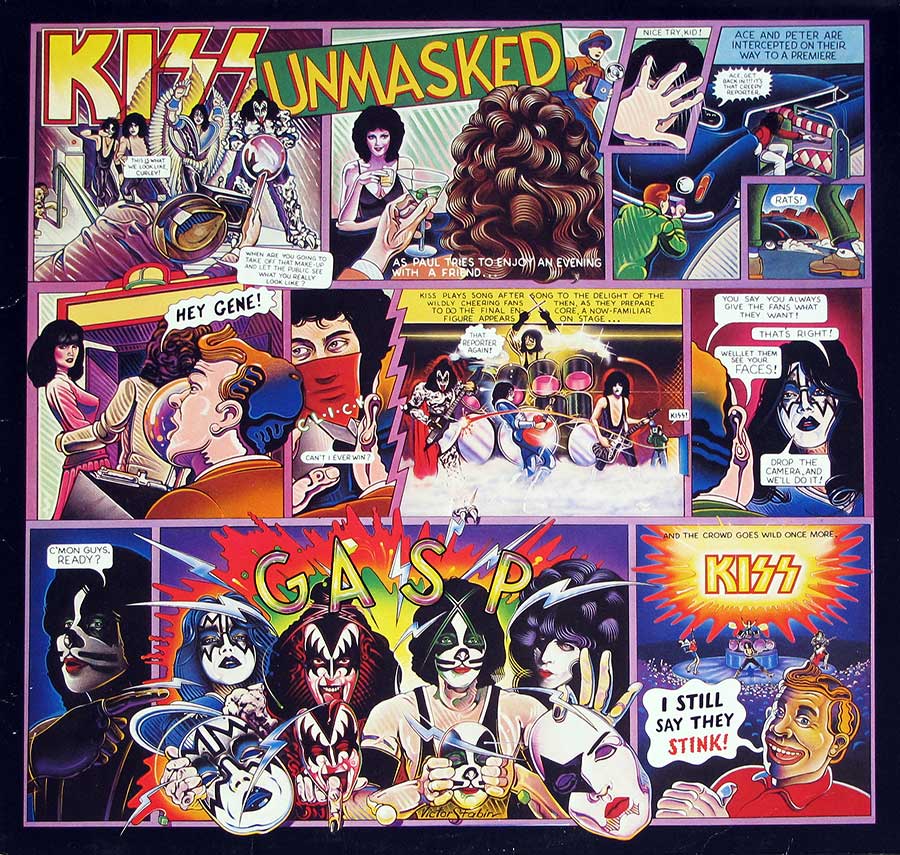 Collectors information & Description:
This album "KISS - Unmasked" is the eighth studio album by American hard rock band Kiss, released in 1980. It was the last studio album to feature the original lineup of Paul Stanley, Gene Simmons, Ace Frehley and Peter Criss until the band reunited. Criss actually had no involvement with the recording of the album; Anton Fig (uncredited) played all the drums on the album.
Gene Simmons is the pseudonym used by Chaim Weitz while playing bass in the Kiss band. He used the alias "Reginal Von Helsing" , when playing bass and producer for "Wendy O. Williams".
Music Genre:

American Hard Rock
Album
Production information:

The album: "KISS - Unmasked" was produced by: Vini Poncia for Mad Vincent Productions. assisted by Anne Streer

Sound/Recording Engineer(s): Gray Russell

This album was recorded at: Record Plant, New York City.

Mastered at Sterling Sound, New York City by George Marino

George Marino (1947-2012) Senior Mastering Engineer at Sterling Sound N.Y.C., he was probable the most experienced sound mastering engineer in the world and has mastered hundreds of discs in all music genres. Jump to a list that covers the Heavy Metal albums he has mastered during the 1980s

Album cover illustration: Victor Stabin with Mark Samuels and Jose Rivero

Label Information:

Casablanca 6302 032

Media Format:

12" LP Vinyl Stereo Gramophone Record
Total Album (Cover+Record) weight: 230 gram

Year & Country:

1981 Made in West Germany
Personnel/Band Members and Musicians on: KISS - Unmasked
Band-members, Musicians and Performers
Paul Stanley - rhythm guitar, vocals
Gene Simmons - bass guitar, vocals
Ace Frehley - lead guitar, vocals
Peter Criss - drums (credit only)
Complete Track-listing of the album "KISS - Unmasked"
The detailed tracklist of this record "KISS - Unmasked" is:
Track-listing :

"Is That You?" Gerard McMahon Paul Stanley 3:59

"Shandi" Stanley, Vini Poncia Stanley 3.36
"Talk to Me" Ace Frehley Frehley 4.00
"Naked City" Gene Simmons, Poncia, Bob Kulick, Pepe Castro Simmons 3:49
"What Makes the World Go 'Round" Stanley, Poncia Stanley 4:14
"Tomorrow" Stanley, Poncia Stanley 3:18
. "Two Sides of the Coin" Frehley Frehley 3:16
"She's So European" Simmons, Poncia Simmons 3:30
"Easy As It Seems" Stanley, Poncia Stanley 3:24
"Torpedo Girl" Frehley, Poncia Frehley 3.31
"You're All That I Want" Simmons, Poncia Simmons 3.04
High Quality Photo of Album Front Cover "KISS - Unmasked"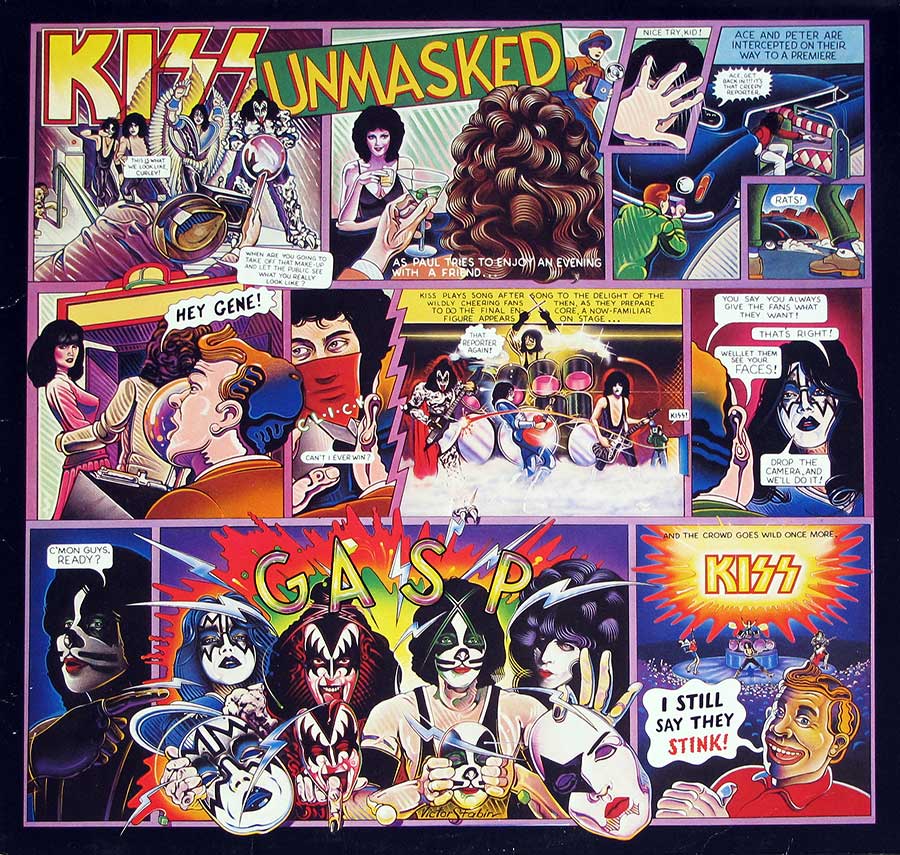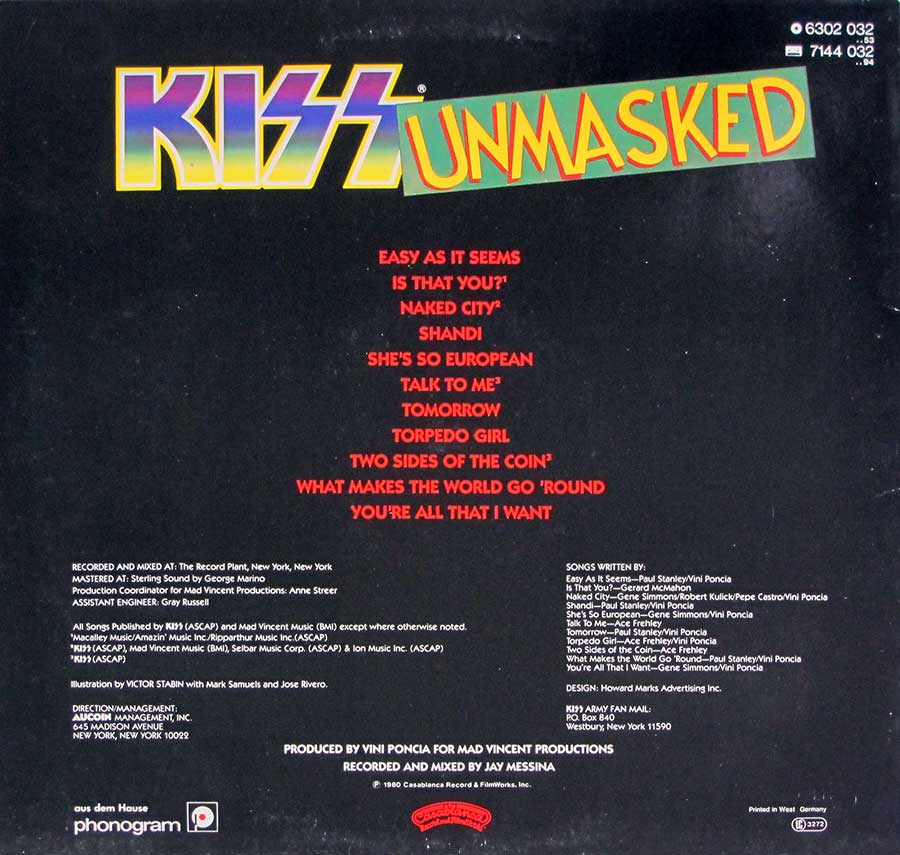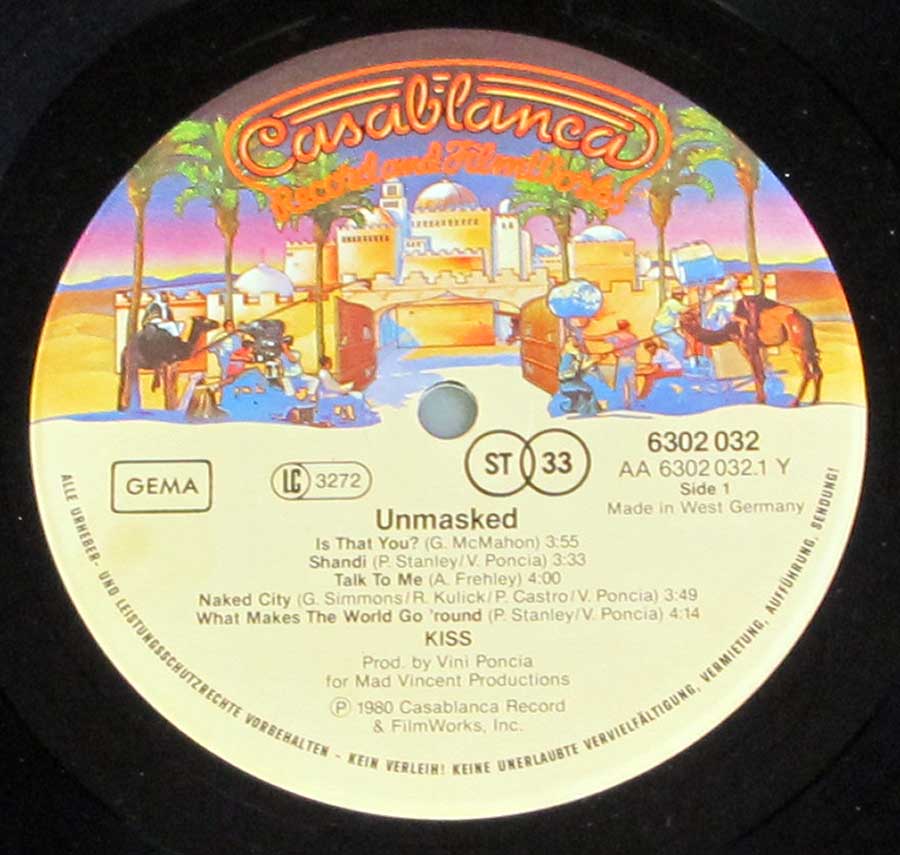 Note: The images on this page are photos of the actual album. Slight differences in color may exist due to the use of the camera's flash. Images can be zoomed in/out ( eg pinch with your fingers on a tablet or smartphone )
---
---
---