---
KISS - KILLERS heavy metal usa 12" LP VINYL ALBUM
This album "KISS - Killers" is the second compilation album by American hard rock group Kiss. The album was released only outside the United States, but quickly became available as an import. Of the twelve songs on Killers, four were new compositions recorded specifically for the album. These new songs were recorded at the behest of Phonogram Records, in response to the commercial failure of 1981's Music from "The Elder"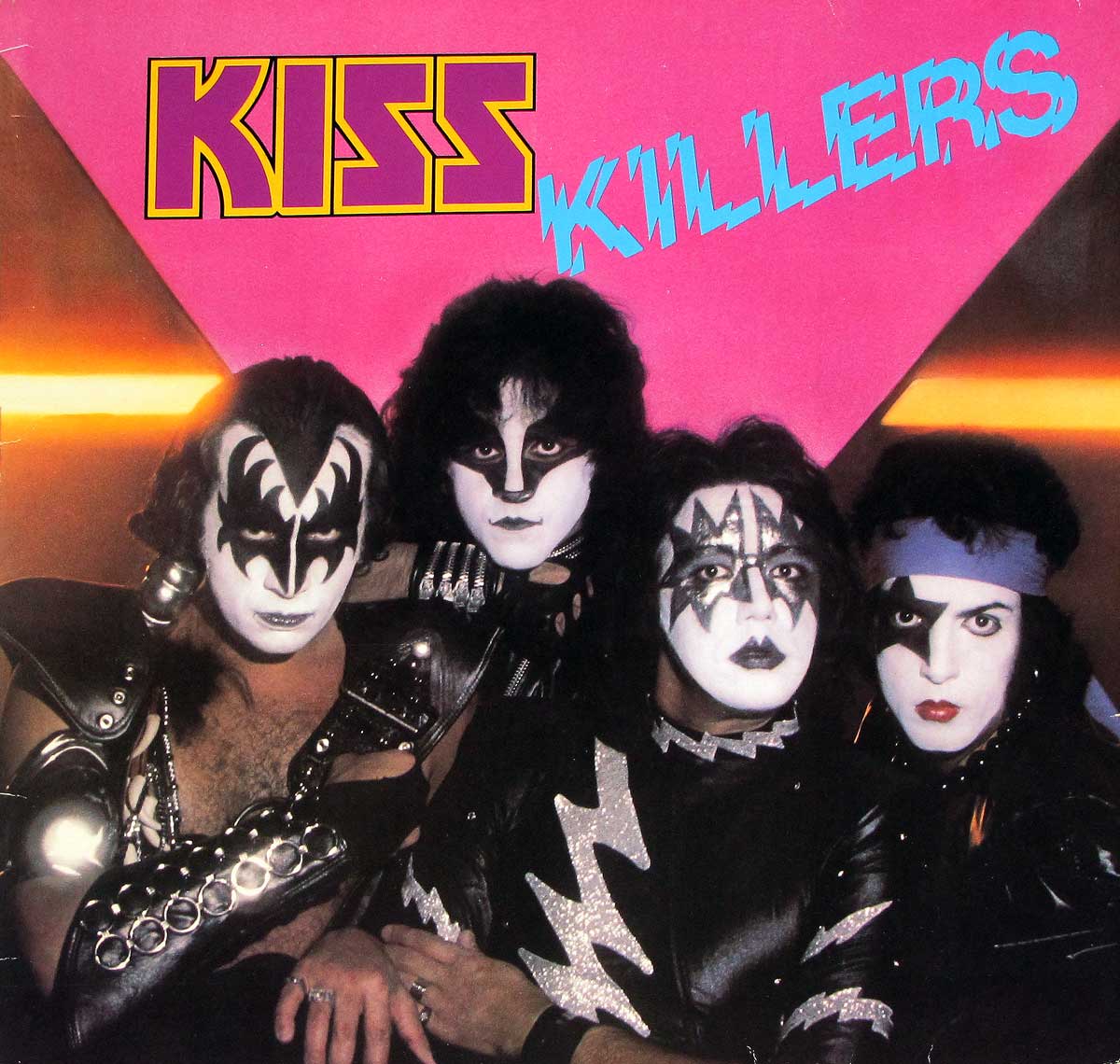 Collectors information & Description:
This web page has photos of album covers, inner sleeves, record labels together with production details, musicians and track-listing.
Music Genre:

American Hard Rock

Album Production Information:

The album: "KISS - Killers" was produced by: Michael James Jackson

Sound/Recording Engineer(s): Dave Thoener

This album was recorded at: Record Plant, New York City

Album cover design: Howard Marks Advertising

Album cover photography: Barry Levine

Label Information:

Yellow Casablanca 6302 193

Media Format:

12" LP Vinyl Stereo Gramophone Record
Total Album (Cover+Record) weight: 230 gram
<

Year and Country:

1982 Made in West Germany
Personnel/Band Members and Musicians on: KISS - Killers
Complete Track-listing of the album "KISS - Killers"
The detailed tracklist of this record "KISS - Killers" is:
Track-listing Side One:

"I'm a Legend Tonight" Paul Stanley, Adam Mitchell 3:59

"Down on Your Knees" Stanley, Mikel Japp, Bryan Adams 3:31
"Cold Gin" Ace Frehley 4:20
"Love Gun" Stanley 3:17
"Shout It Out Loud" (7" mix) Stanley, Gene Simmons, Bob Ezrin 2:40
"Sure Know Something" Stanley, Vini Poncia 3:59
Track-listing Side Two:

"Nowhere to Run" Stanley 4:32

"Partners in Crime" Stanley, Mitchell 3:45
"Detroit Rock City" (edit) Stanley, Ezrin 3:53
"God of Thunder" Stanley 4:11
"I Was Made for Lovin' You" (edit) Stanley, Poncia, Desmond Child 4:18
"Rock and Roll All Nite" (live) Stanley, Simmons 3:58
High Quality Photo of Album Front Cover "KISS - Killers"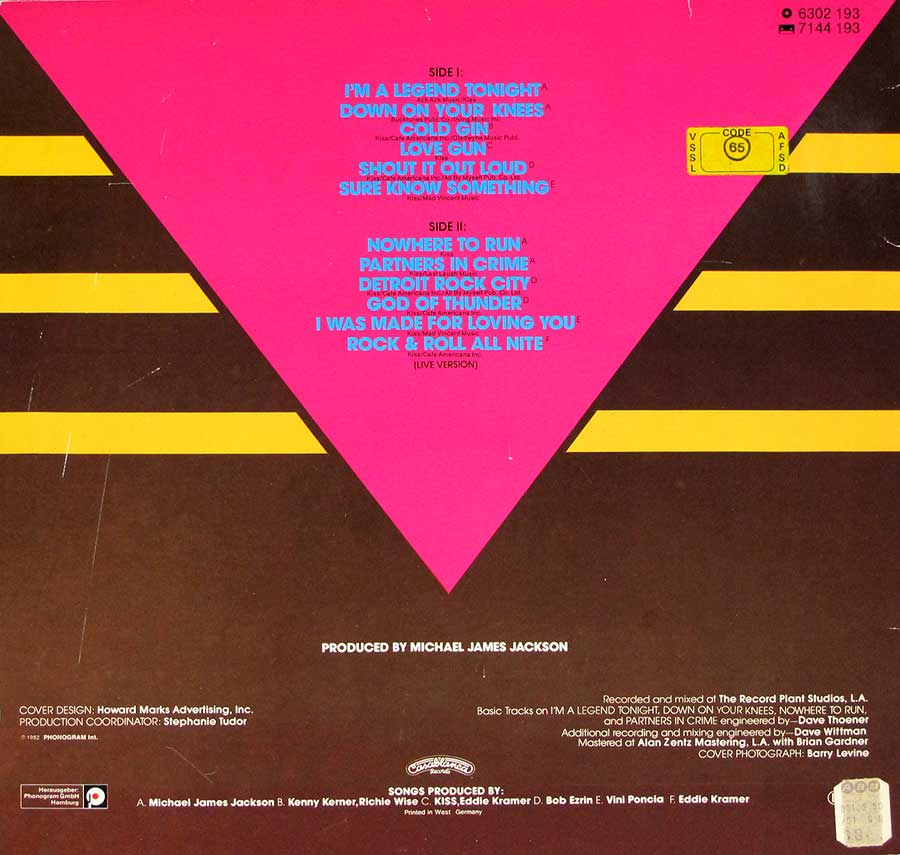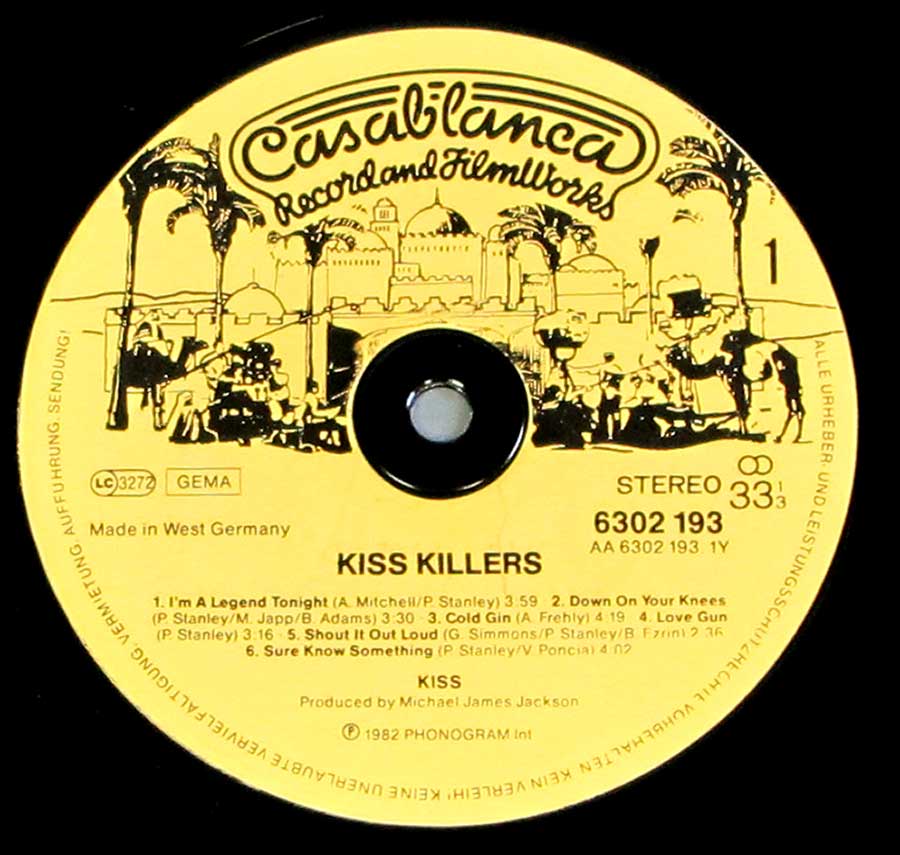 Note: The images on this page are photos of the actual album. Slight differences in color may exist due to the use of the camera's flash. Images can be zoomed in/out ( eg pinch with your fingers on a tablet or smartphone ).
---
---
---