---
JIMI HENDRIX - HENDRIX IN THE WEST France release barclay Gatefold 12" LP VINYL ALBUM
"Hendrix in the West" is a posthumous live album by Jimi Hendrix, released in January 1972 by Polydor Records, later in February by Reprise Records and in France on Barclay Records. The album contains songs from Hendrix's performances at the Royal Albert Hall on February 24, 1969, the San Diego Sports Arena on May 24, 1969, Berkeley Community Theatre on May 30, 1970 and the Isle of Wight Festival on August 30, 1970.
This is the French release of Jimi Hendrix in the West in a deluxe gatefold cover, with different tracklisting and label text.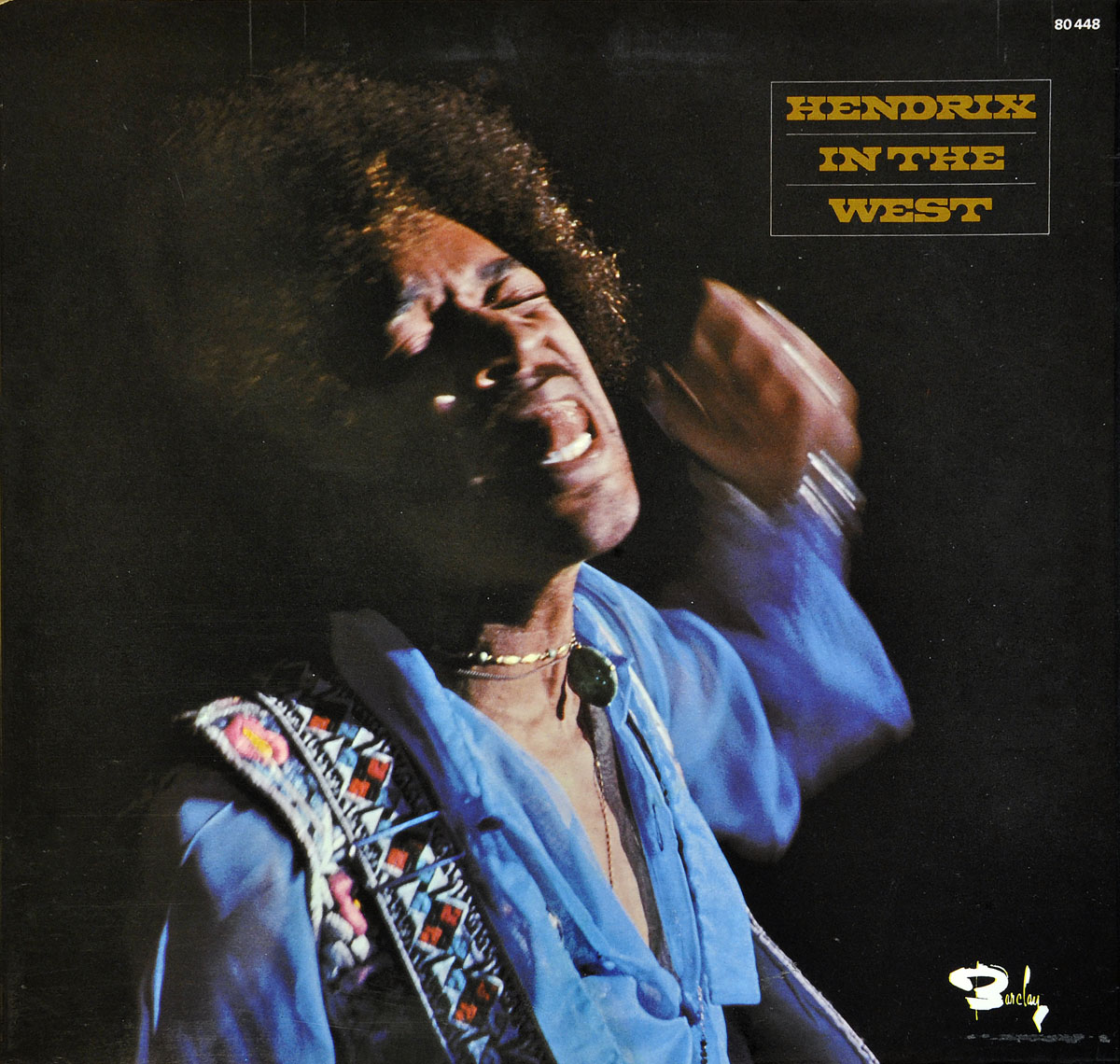 Collectors information & Description:
Gatefold (FOC) cover design with artwork / photos on the inside cover pages
This French issue labels "Voodoo Child (Slight Return)" correctly.
Music Genre:

Rock, Psych, Acid, Blues-Rock

Album Production information:

The album: "JIMI HENDRIX - Jimi In The West" was produced by: Eddie Kramer, John Jansen

Edwin H. "Eddie" Kramer (a recording producer and engineer). Kramer has collaborated with several artists now in the Rock and Roll Hall of Fame, including the Beatles , David Bowie , Eric Clapton , Jimi Hendrix , The Kinks, Kiss , Led Zeppelin , the Rolling Stones and Carlos Santana . Kramer has also been responsible for the production and engineering of Heavy Metal bands like: Anthrax , Icon , Kiss , Loudness , TT Quick.

Sound/Recording Engineer(s): Eddie Kramer, John Jansen at Electric Lady Land Studios in New York City

Album cover photography: Jim Marshall, Tom Wilkes for Camouflage Productions

Label Information:

Barclay 80.448

Media Format:

12" LP Vinyl Stereo Gramophone Record
Total Album (Cover+Record) weight: 280 gram
Country
Made in France
Personnel/Band Members and Musicians on: JIMI HENDRIX - Jimi In The West
Band-members, Musicians and Performers
Jimi Hendrix – guitar, vocals
Mitch Mitchell – drums
Billy Cox – bass guitar on tracks A1-A3, B1, B2 (LP)
Noel Redding – bass guitar on tracks A4, B3 and B4 (LP)
Complete Track-listing of the album "JIMI HENDRIX - Jimi In The West"
The detailed tracklist of this record "JIMI HENDRIX - Jimi In The West" is:
Track-listing Side One:
RAP Intro
The Queen
Sergeant Pepper's Lonely Heart Club Band
Little Wing
Lover Man
Johnny B Goode
Blue Suede Shoes
Side Two:
Red House
Voodoo Chile
High Quality Photo of Album Front Cover "JIMI HENDRIX - Jimi In The West"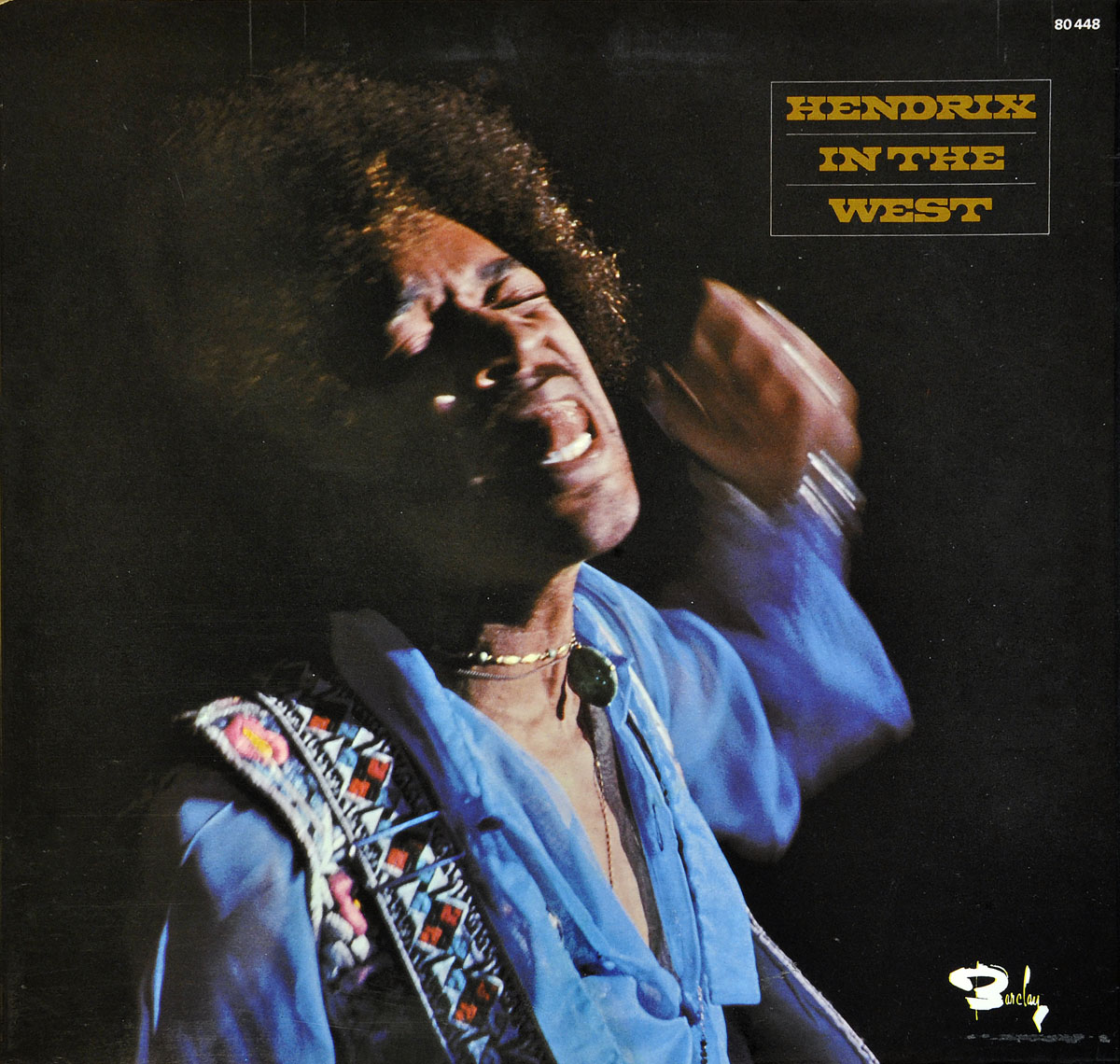 Album Back Cover Photo of "JIMI HENDRIX - Jimi In The West"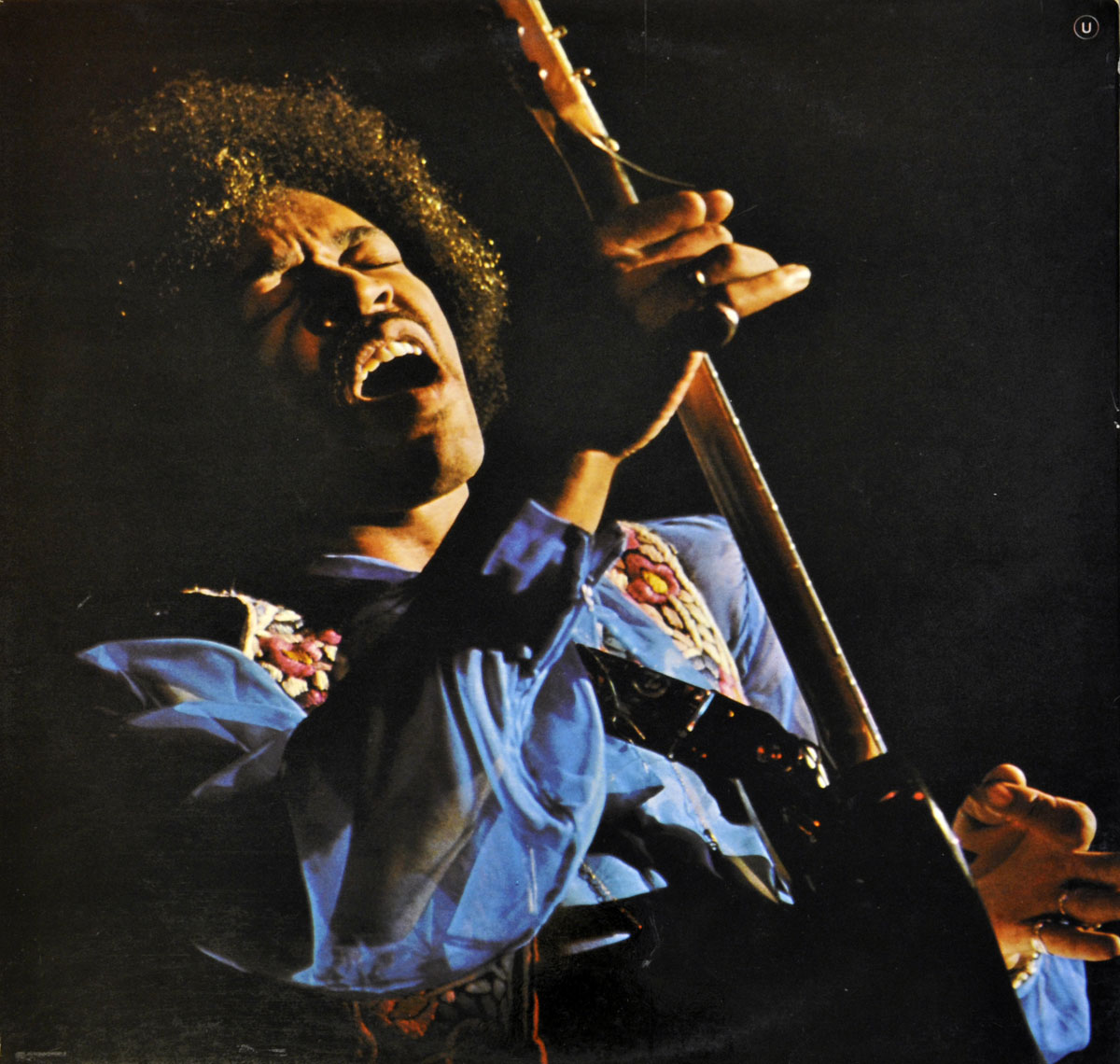 Inner Sleeve of "JIMI HENDRIX - Jimi In The West" Album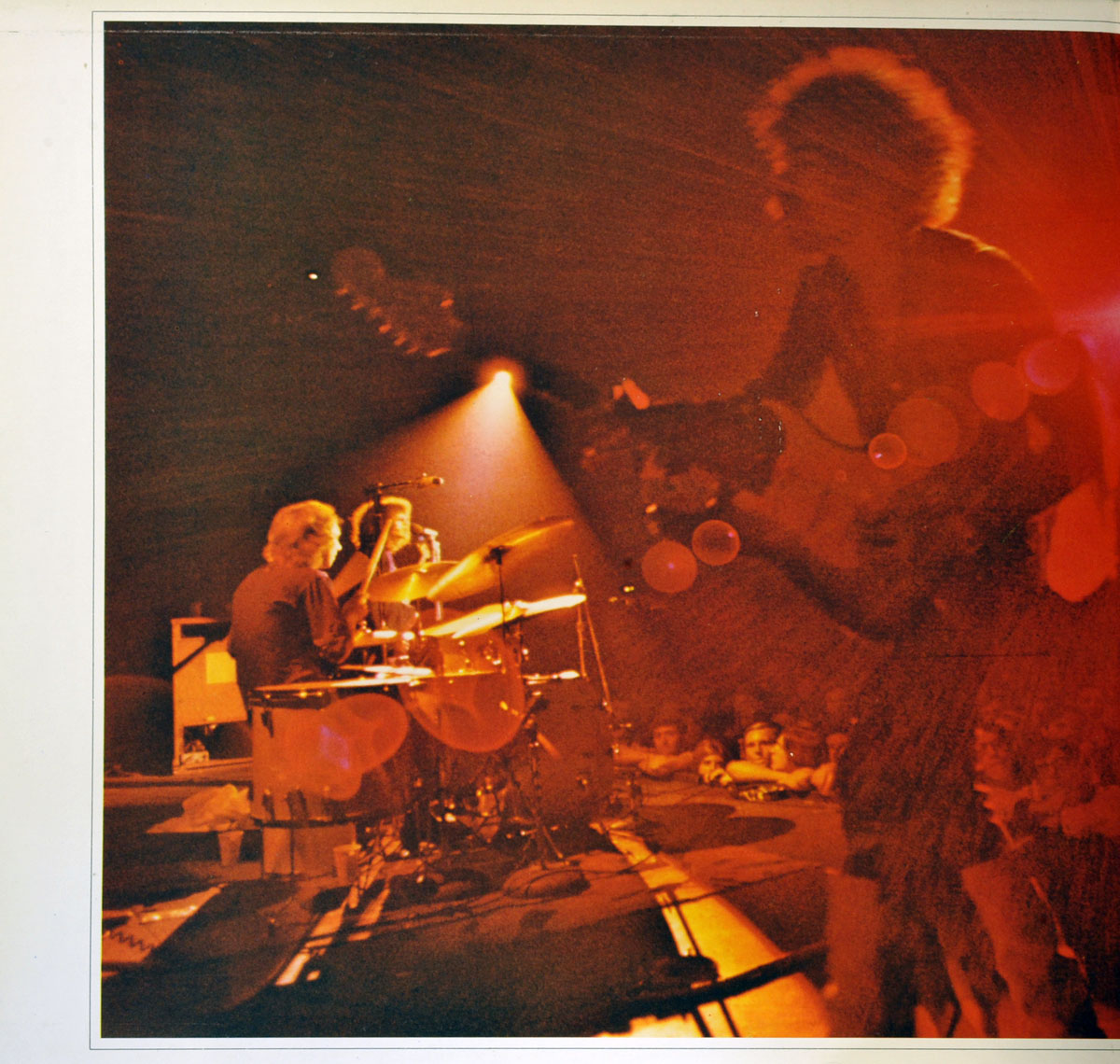 High Resolution Photo of the Inside Page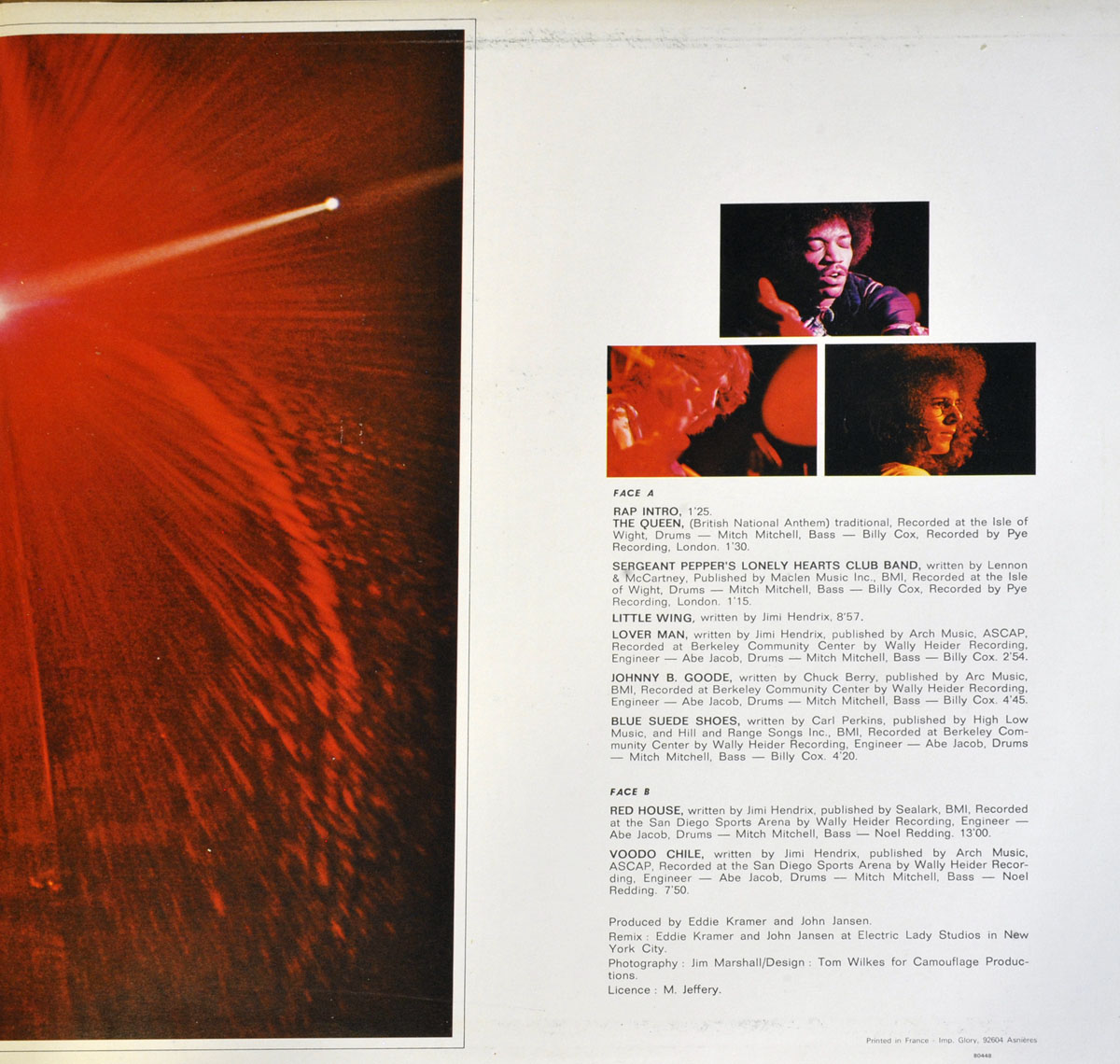 High Resolution Photo of the LP
nlarged High Resolution Photo of the Record's Label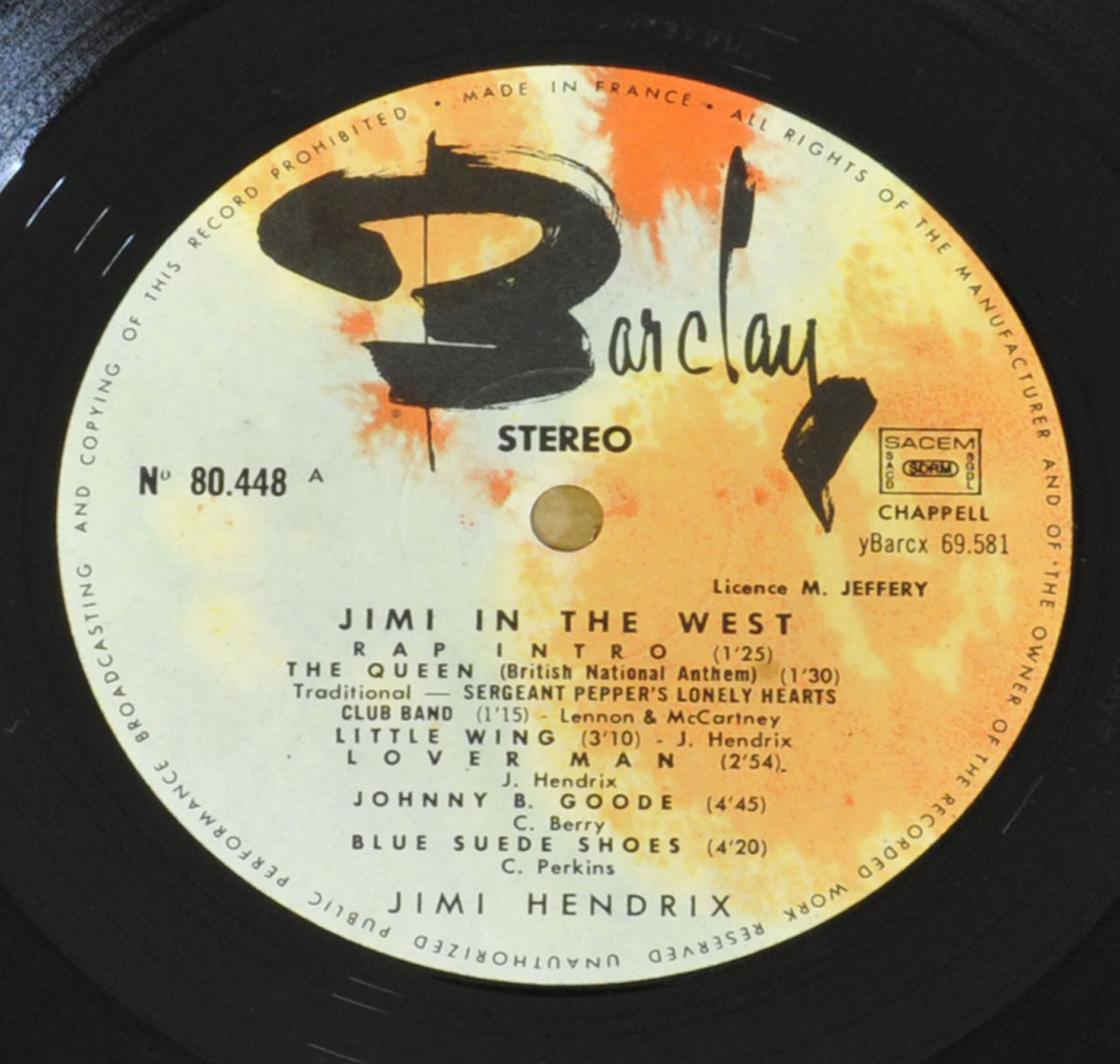 Note: The images on this page are photos of the actual album. Slight differences in color may exist due to the use of the camera's flash. Images can be zoomed in/out ( eg pinch with your fingers on a tablet or smartphone ).
---