---
JIMI HENDRIX AXIS BOLD AS LOVE FRANCE BARCLAY PANACHE 12" LP VINYL ALBUM
"Axis: Bold as Love" is the second studio album by "The Jimi Hendrix Experience". Under pressure from their record company to follow-up the successful debut of their May 1967 album "Are You Experienced". The album was recorded to fulfill the band's contract, which stated that they must produce two albums in 1967. Even so, it was not released in the USA until 1968 due to fears that it might disturb the sales of the first album.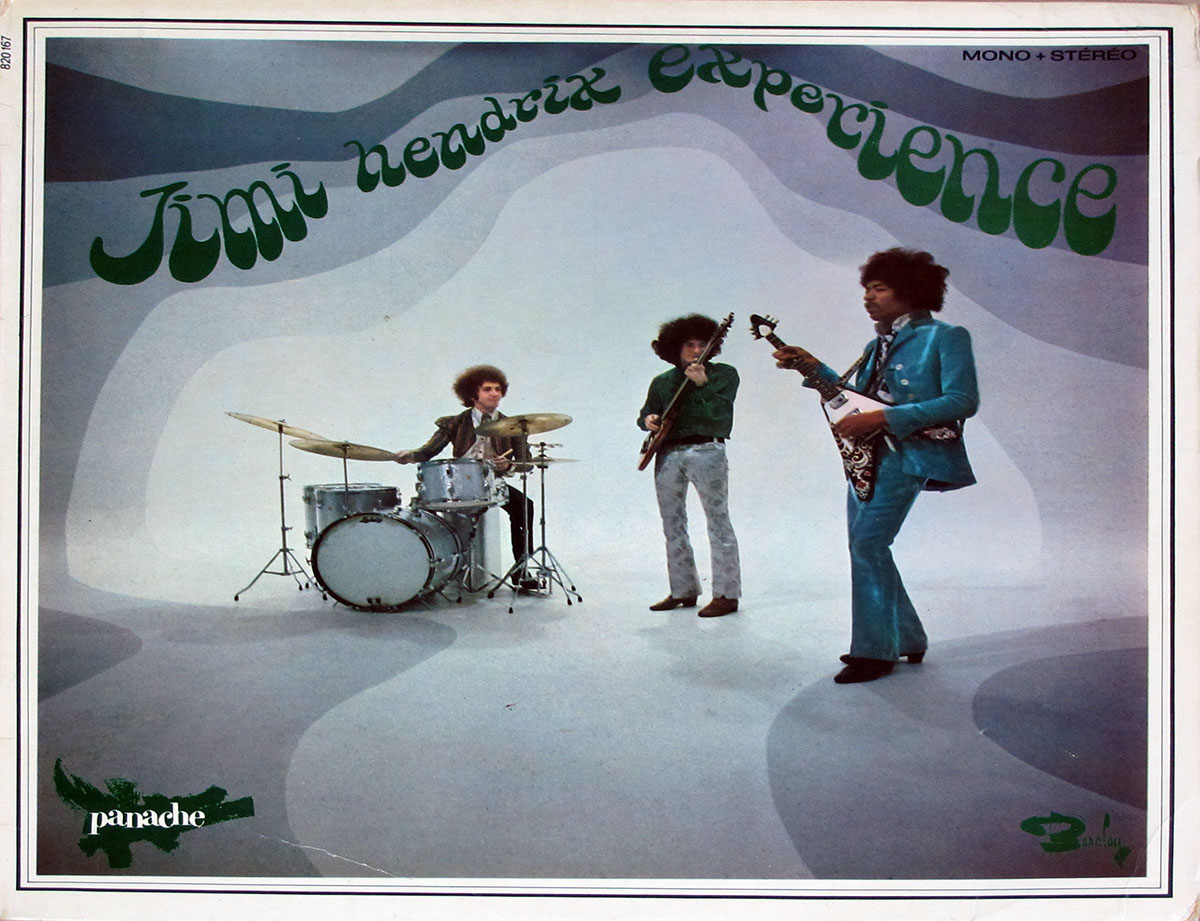 Rare French release with different album cover, pressed on 150 grams vinyl
Music Genre:

Acid Psych Prog Blues Rock

Album Production Information:

The album: "JIMI HENDRIX - Axis Bold As Love" was produced by: Chas Chandler

This album was recorded at: May–June, October 1967 Olympic Studios (London, England)

Album Liner Notes (In French) Jean-Noel Coghe

Label Information:

Barclay 0820167 , Panache , License Yameta

Media Format:

12" LP Vinyl Stereo Gramophone Record
Total Album (Cover+Record) weight: 230 gram

Year & Country:

1967 Made in France
Personnel/Band Members and Musicians on: JIMI HENDRIX - Axis Bold As Love
Band-members, Musicians and Performers
Jimi Hendrix – guitar, vocals, piano, flute, voice of "Mr. Paul Caruso" on "EXP"
Mitch Mitchell – drums, glockenspiel on "Little Wing", backing vocals, "interviewer" on "EXP"
Noel Redding – 8 string bass, backing vocals, foot stamping on "If 6 Was 9", lead vocals on "She's So Fine".
Complete Track-listing of the album "JIMI HENDRIX - Axis Bold As Love"
The detailed tracklist of this record "JIMI HENDRIX - Axis Bold As Love" is:
Side One:
"EXP" 1:55
"Up from the Skies" 2:55
"Spanish Castle Magic" 3:00
"Wait Until Tomorrow" 3:00
"Ain't No Telling" 1:46
"Little Wing" 2:24
"If 6 Was 9" 5:32
Side Two:
"You Got Me Floatin'" 2:45
"Castles Made of Sand" 2:46
"She's So Fine" (Noel Redding) 2:37
"One Rainy Wish" 3:40
"Little Miss Lover" 2:20
"Bold as Love" 4:11
High Quality Photo of Album Front Cover "JIMI HENDRIX - Axis Bold As Love"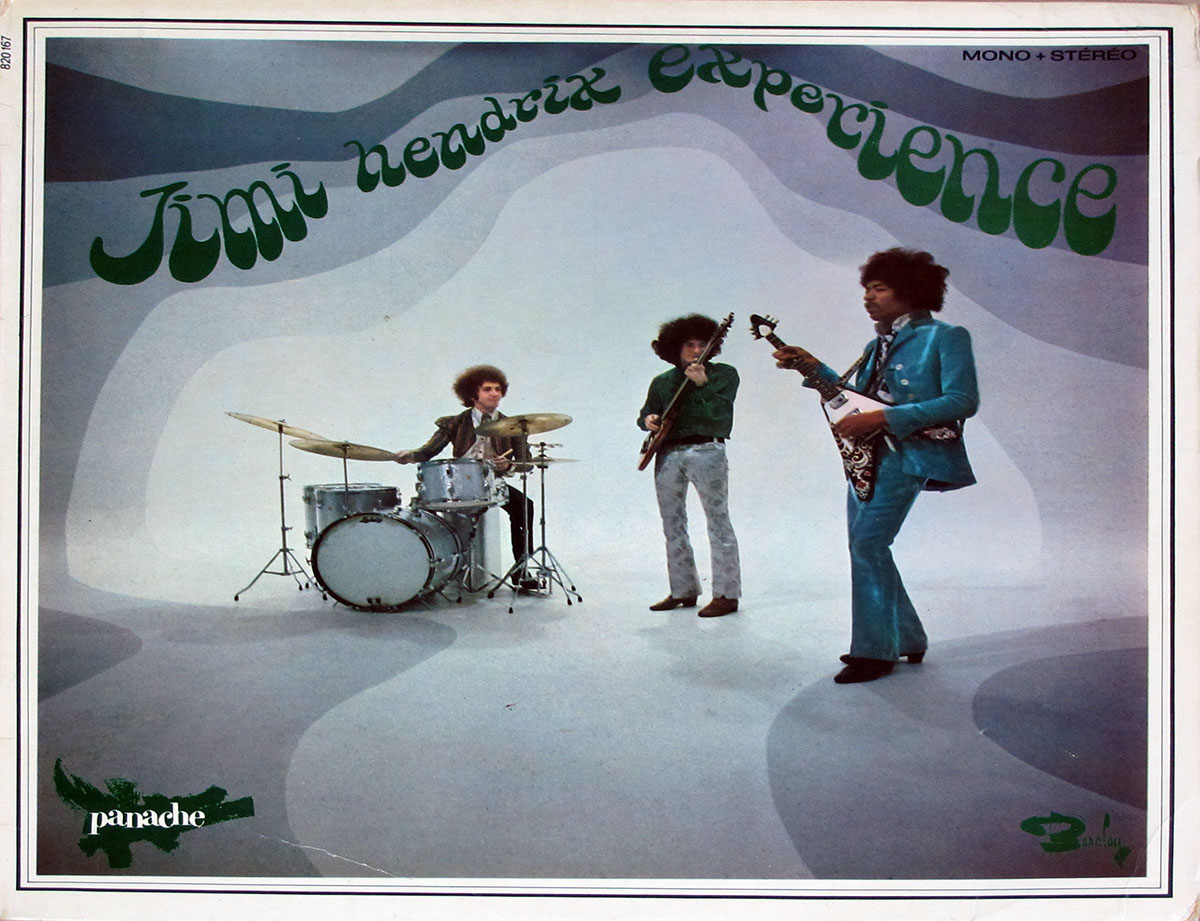 High Resolution Photo Album Back Cover with the liner notes by Jean-Noel Coghe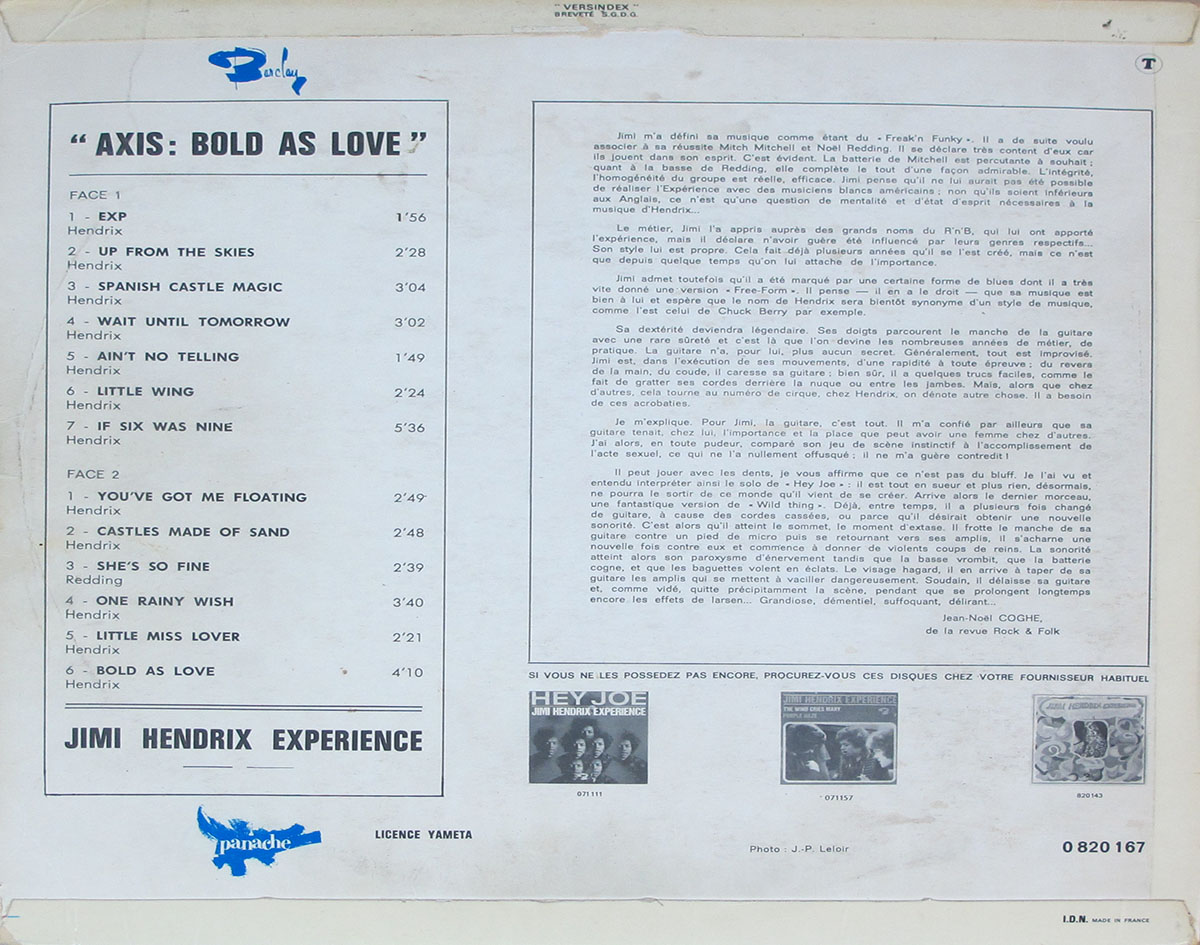 High Resolution Photo of the LP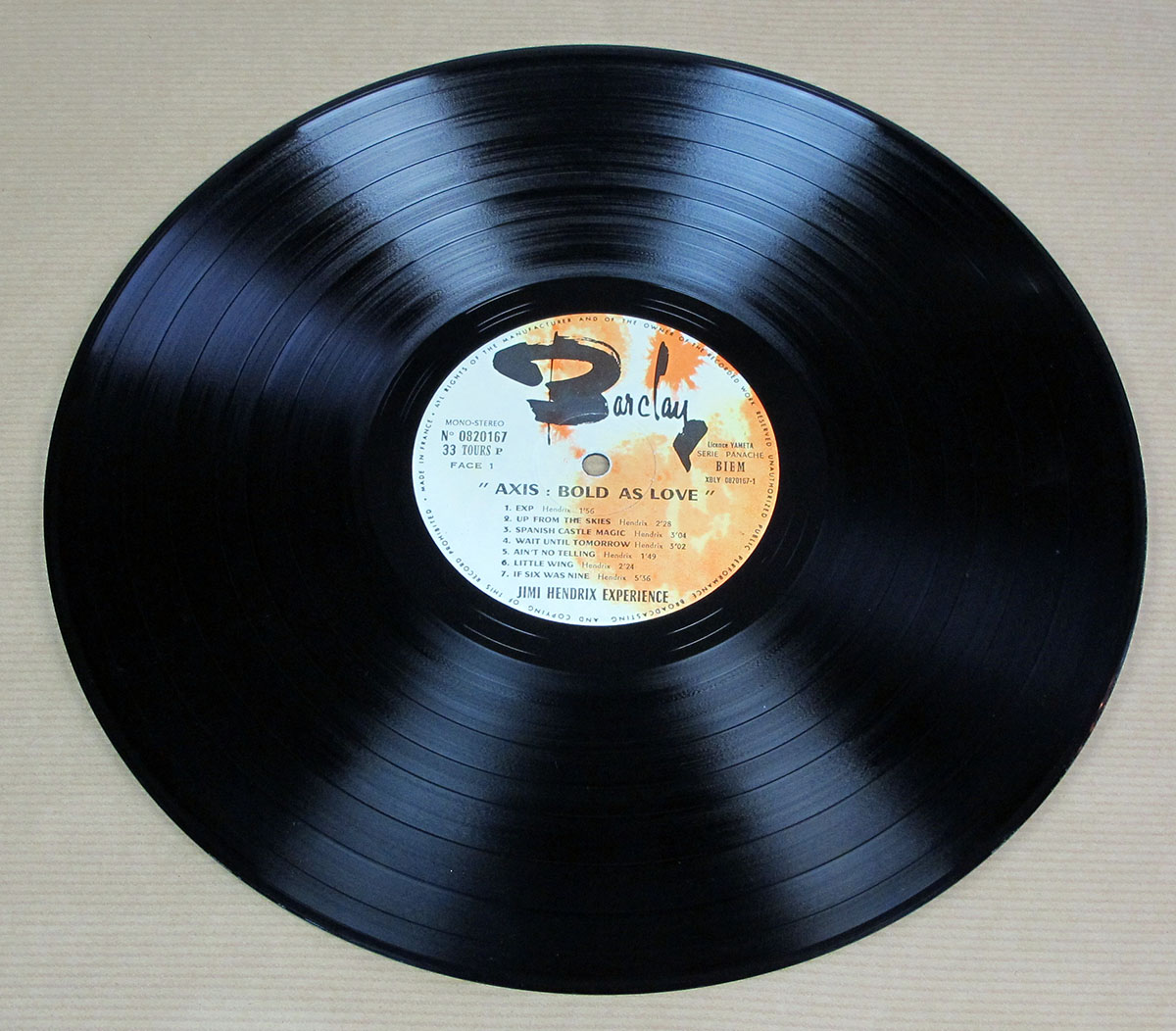 Enlarged High Resolution Photo of the Record's "BARCLAY" Label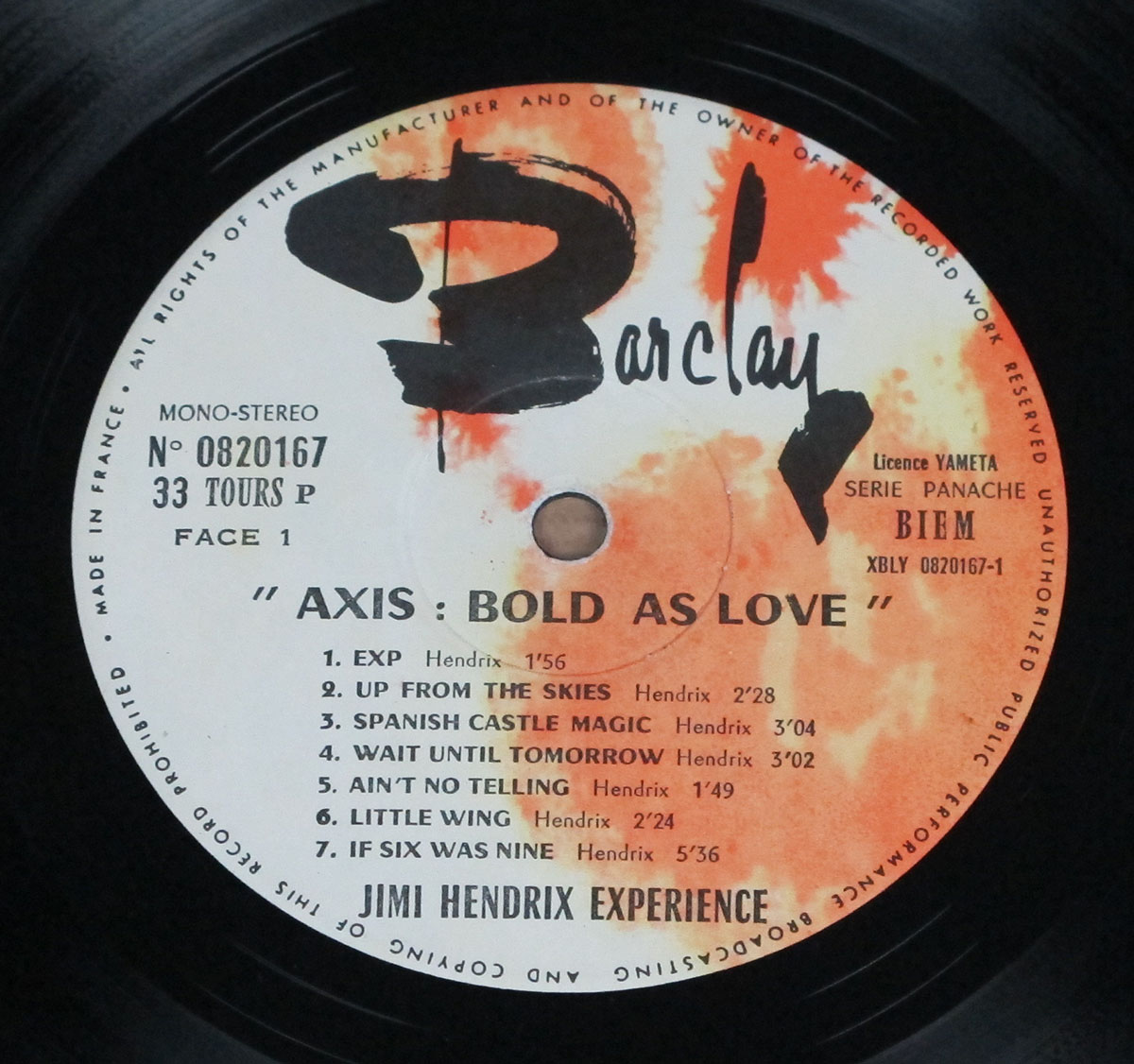 Note: The images on this page are photos of the actual album. Slight differences in color may exist due to the use of the camera's flash.
---