---
MOTLEY CRUE - Girls, Girls, Girls Elektra 960 725 12" VINYL LP ALBUM
"Girls, Girls, Girls" is MOTLEY CRUE's fourth studio album, released 1987. The record features a more blues-influenced sound than their previous album and contains the hits "Wild Side" and "Girls, Girls, Girls." The record also reflects the band's hard-living lifestyle, and pays homage to their love of riding Harley Motorcycles, drinking whiskey, life on the Sunset Strip, and spending nights at strip clubs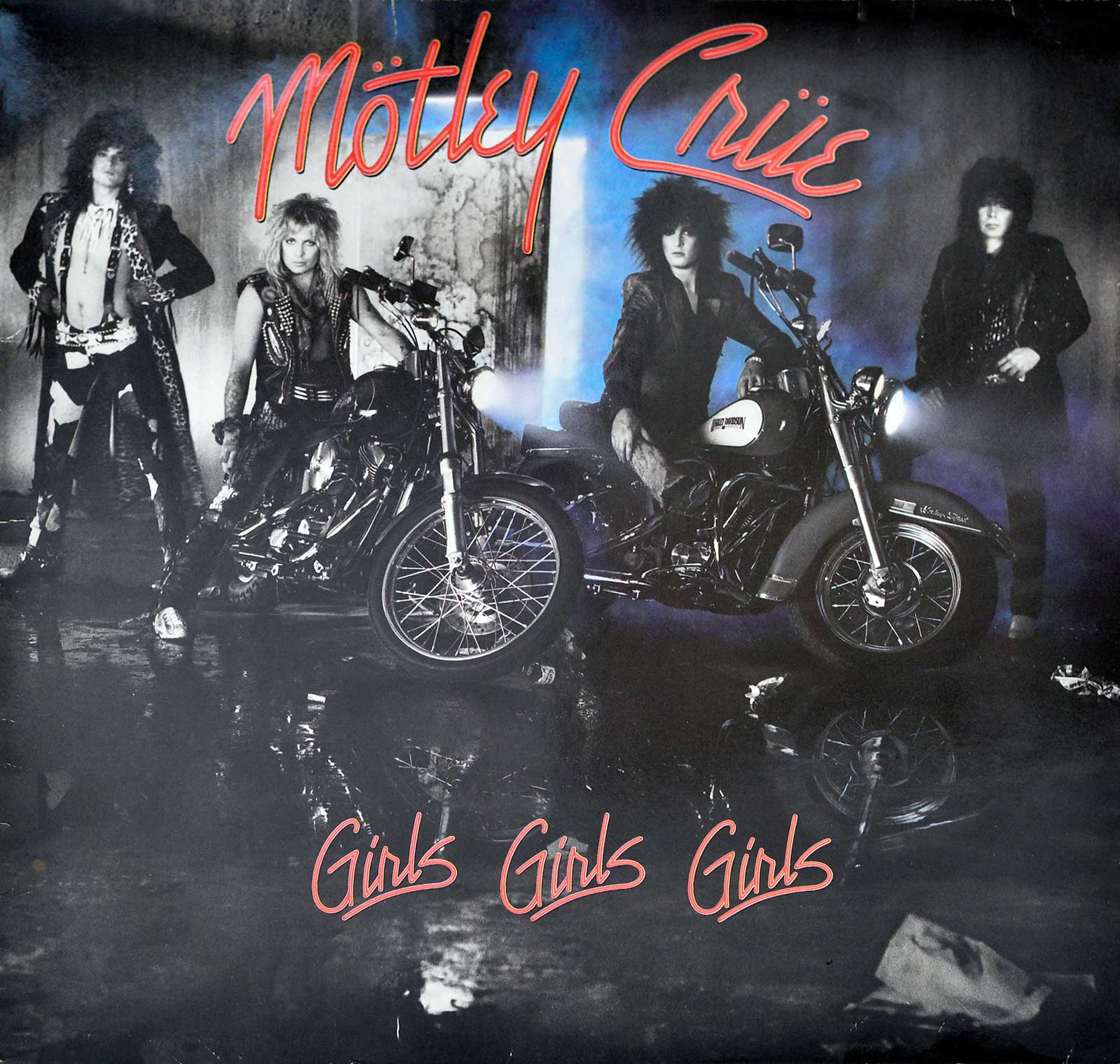 Essential Album Information For: MOTLEY CRUE - Girls, Girls, Girls Elektra 960 725
Music Genre:
Heavy Metal / Glam Metal
Label & Catalognr:
Elektra 960 725
Media Format:
Record Format: 12" Vinyl Stereo Gramophone Record
Total Album (Cover+Record) weight: 230 gram
Year & Country:
1987 Europe
MOTLEY CRUE - Girls, Girls, Girls Elektra 960 725 Production & Recording Information
Album Packaging
This album includes the original custom inner sleeve, with on one side a large photo of "Motley Crue" in a strip club and on the other lyrics of all the songs.
Producers:
Tom Werman - Producer
Tom Werman an American Music producer who has produced (during the 1980s) many hard rock, heavy metal, glam rock bands and in particular: Dokken, Junkyard, Motley Crue, Ted Nugent, Twisted Sister and many others.
Sound & Recording Engineers:
Duane Baron - Sound Engineer
Duane Baron, a sound engineer and producer who has been working on 2 dozen of Heavy Metal albums during the 1980s
Bob Ludwig - Mastering Engineer
Bob Ludwig is an experienced and well-known mastering engineer, he has mastered thousands of music records. He has been vice-president of Sterling Sound, vice-president and chief engineer at Masterdisk and in 1993 owned his own mastering
Recording Location:
This album was mixed at: Conway Recording Studios, LA.
Mastered at: Masterdisk, New York
Album Cover Design & Artwork:
Nikki Sixx - Album Cover Design
Photography:
Barry Levine - Photography
---
Musicians:
Vince Neil - vocals
Mick Mars - guitar
Nikki Sixx - bass
Tommy Lee - drums
Tracklisting:
Wild Side 4:40 (Nikki Sixx, Tommy Lee & Vince Neil)

Girls, Girls, Girls (Sixx, Lee & Mick Mars) - 4:30
Dancing on Glass (Sixx & Mars) - 4:18
Bad Boy Boogie (Sixx, Lee & Mars) - 3:27
Nona (Sixx) - 1:27
Five Years Dead (Sixx & Mars) - 3:50
All in The Name of... (Sixx & Neil) - 3:39
Sumthin' for Nuthin' (Sixx) - 4:41
You're All I Need 4:33 - (Sixx & Tommy Lee)
Jailhouse Rock (Live) (Originally performed by Elvis Presley) 4:39
---
MOTLEY CRUE - Girls, Girls, Girls Elektra 960 725 High Resolution & Quality Photos
Front Cover Photo Of MOTLEY CRUE - Girls, Girls, Girls Elektra 960 725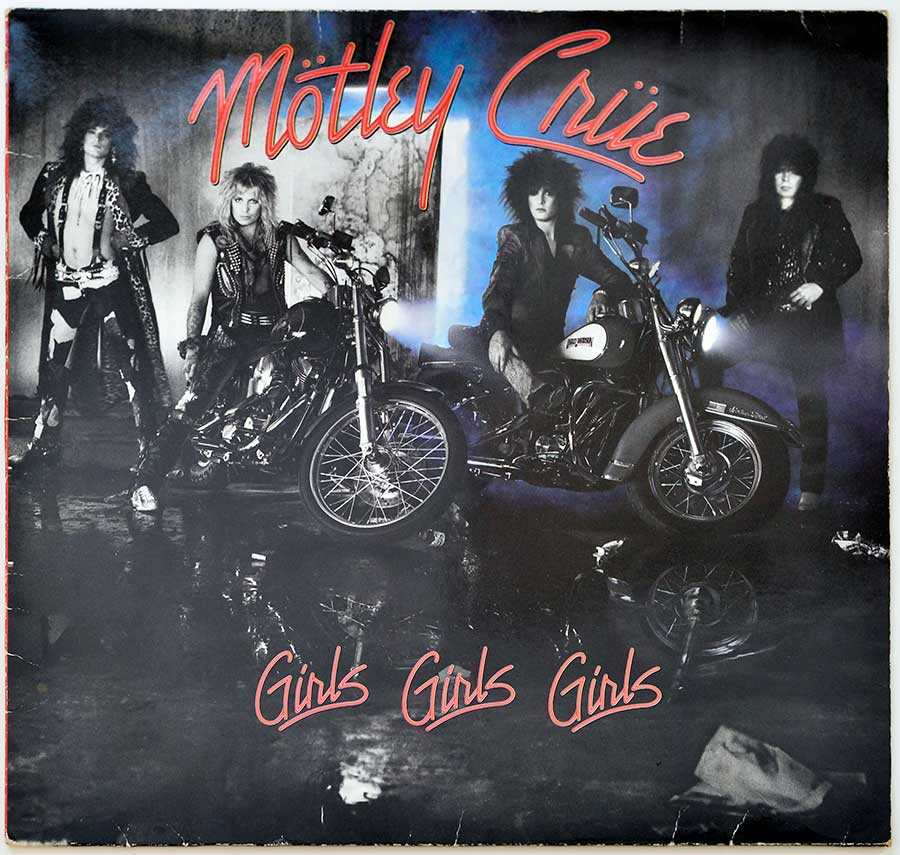 Note: The images on this page are photos of the actual album. Slight differences in color may exist due to the use of the camera's flash. Images can be zoomed in/out ( eg pinch with your fingers on a tablet or smartphone )
Photo Of The Back Cover MOTLEY CRUE - Girls, Girls, Girls Elektra 960 725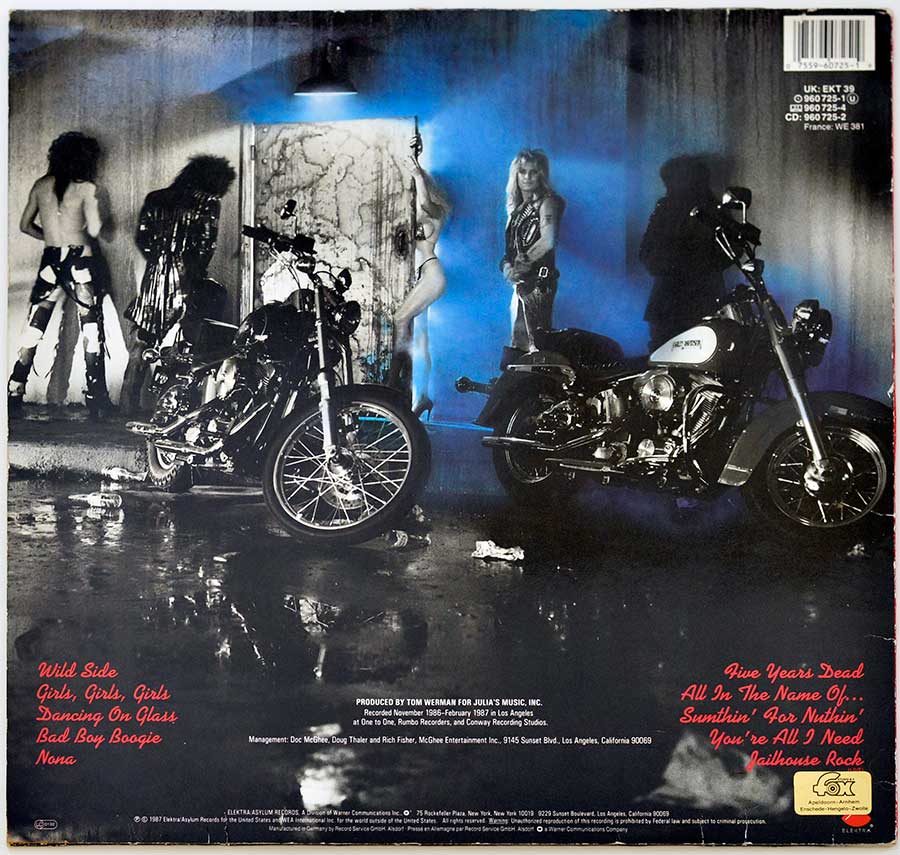 Photo #1 of the custom inner sleeve MOTLEY CRUE - Girls, Girls, Girls Elektra 960 725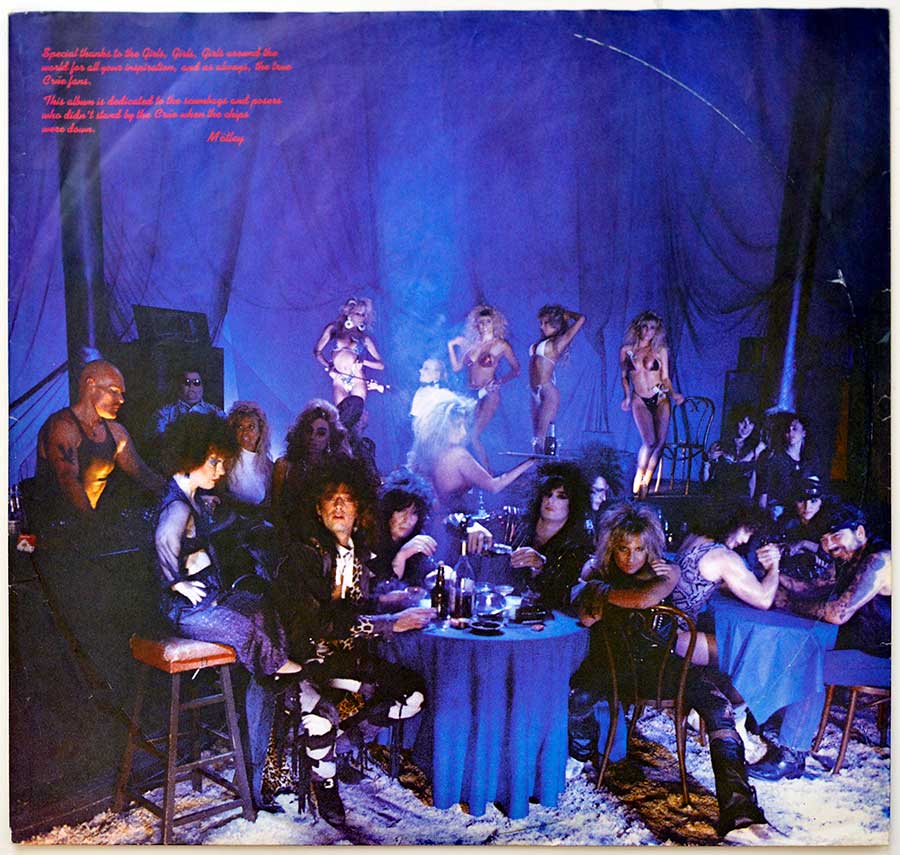 Photo #2 of the custom inner sleeve MOTLEY CRUE - Girls, Girls, Girls Elektra 960 725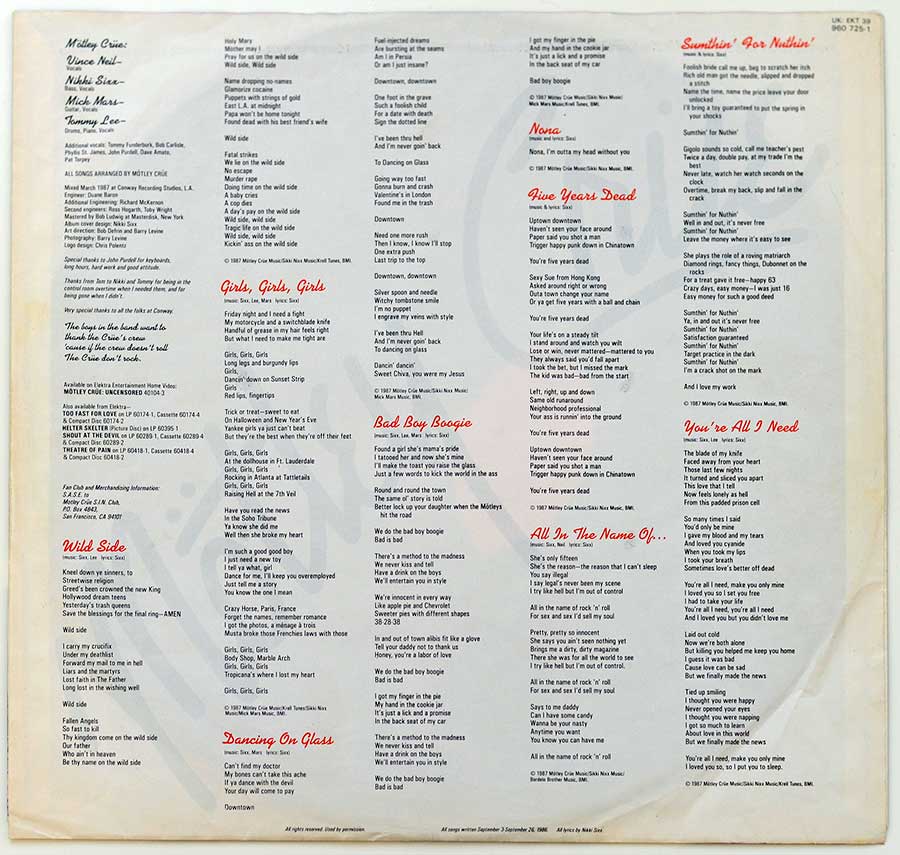 Photo of record Side One: MOTLEY CRUE - Girls, Girls, Girls Elektra 960 725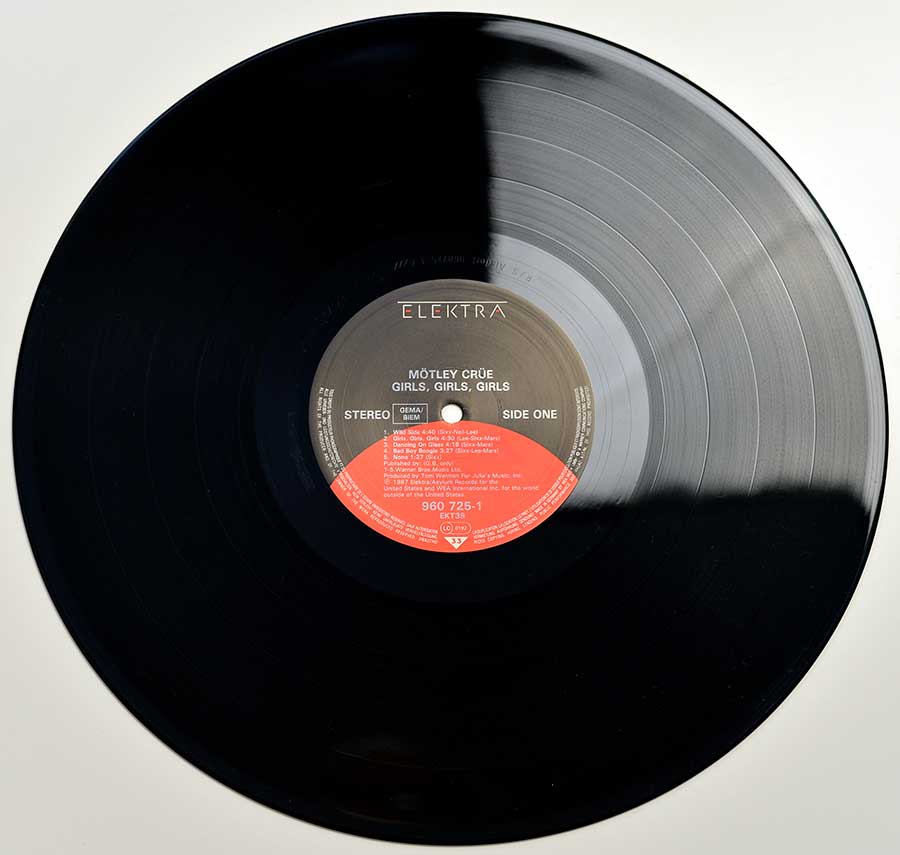 Photo of record Side Two: MOTLEY CRUE - Girls, Girls, Girls Elektra 960 725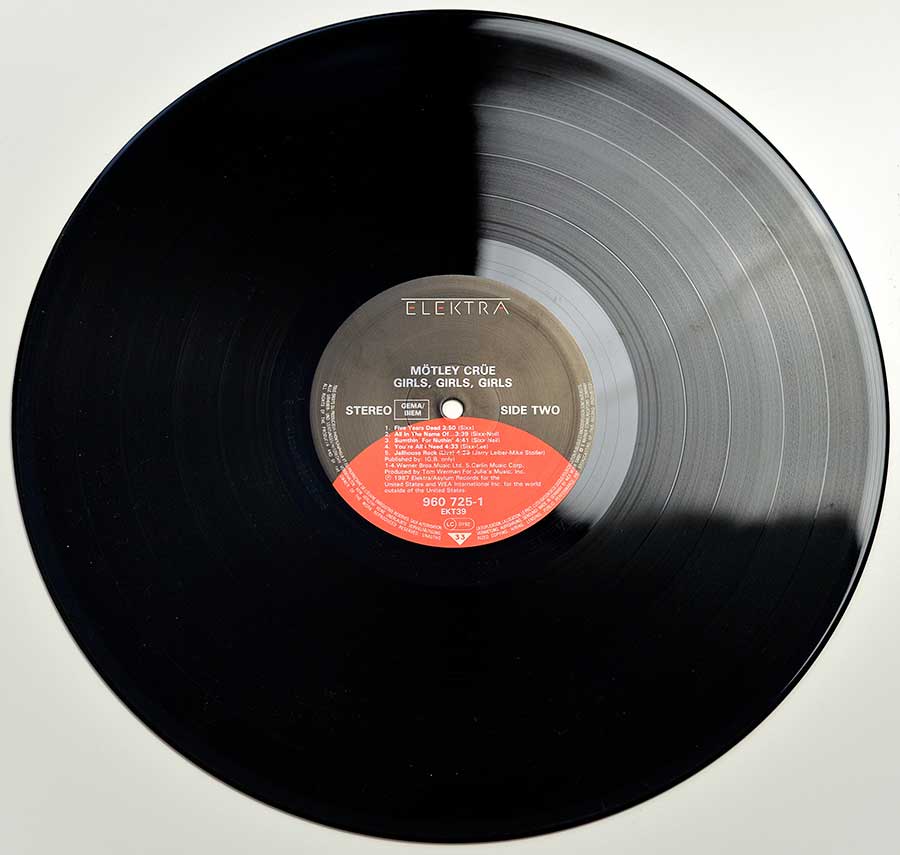 ---
---
---