---
SANTANA 3 THIRD III NON-GATEFOLD Holland 12" LP VINYL
This album "SANTANA - 3 Third" Santana is the third studio album by Santana. The band's second self-titled album, it is often referred to as III to distinguish it from the band's 1969 debut album. The album was also known as Man with an Outstretched Hand. It was the third and last album by the Woodstock-era lineup, and it was also considered by many to be the band's peak commercially and musically, as subsequent releases aimed towards more experimental jazz and Latin music.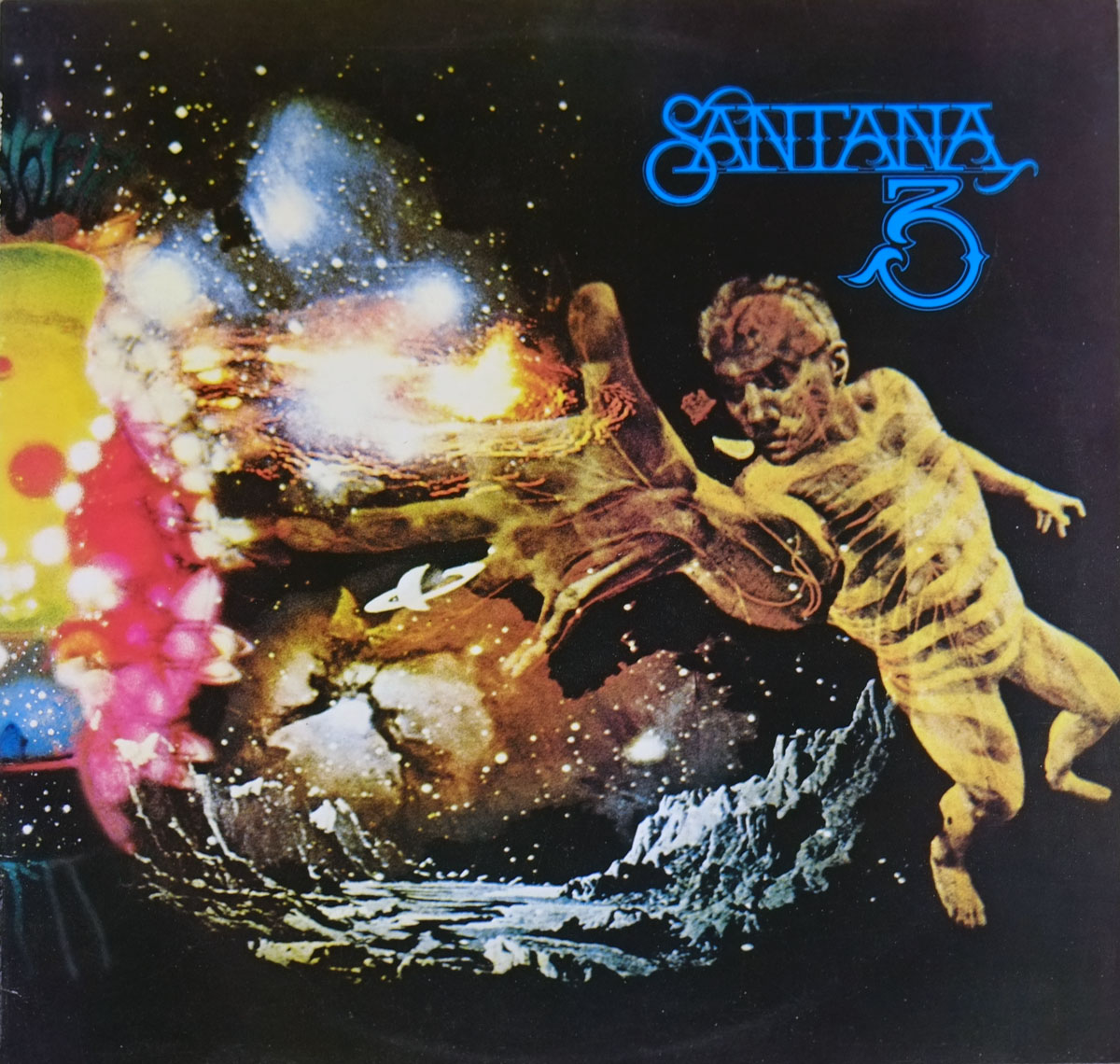 Music Genre:

Latin Fusion Pop Rock

Album Production Information:

The album: "SANTANA - 3 Third" was produced by: Santana Musicians

Sound/Recording Engineer(s): Glen Kolotkin

This album was recorded at: Columbia Studios, San Francisco

Album cover design: Heavy Water Light Show

Album cover photography: Joan Chase,

Label Information:

CBS 32058

Media Format:

12" LP Vinyl Stereo Gramophone Record
Total Album (Cover+Record) weight: 230 gram

Year & Country:

1971 Made in Holland
Personnel/Band Members and Musicians on: SANTANA - 3 Third
Band-members, Musicians and Performers
Michael Shrieve Drums, Percussion, Producer
José Chepito Areas Percussion, Conga, Timbales, Drums, Producer
Gregg Rolie Keyboards, Piano, Vocals
David Brown Bass, Producer, Engineer
Mike Carabello Percussion, Conga, Tambourine, Vocals, Producer
John Fiore Engineer
Rico Reyes Percussion, Vocals
Carlos Santana Guitar, Vocals, Producer
Thomas Coke Escovedo Percussion
Neal Schon Guitar, Producer
Mario Ochoa Piano
Tower of Power Horn section
Luis Gasca - Trompet
Linda Tillery - Background Vocalls
Maria Ochoa - Piano
Greg Errico - Tambourine
Complete Track-listing of the album "SANTANA - 3 Third"
The detailed tracklist of this record "SANTANA - 3 Third" is:
Batuka (Areas, Brown, Carabello, Rolie, Shrieve) 3:34
No One To Depend On (Escovedo, Rolie, Carabello) 5:32
Taboo (Areas, Rolie) 5:34
Toussaint L'Overture (Areas, Brown, Carabello, Rolie, Santana, Shrieve) 5:57
Everybody's Everything (Brown, Brown, Moss, Carlos Santana) 3:30
Guajira (Areas, Brown, Reyes) 5:45
Jungle Strut (Ammons) 5:23
Everything's Coming Our Way (Santana) 3:15
Para Los Rumberos (Puente) 2:56
---
---
---