---
ACCEPT - METAL MASTERS 12" Vinyl Double LP ( 2LP Set )
"Metal Masters" is a compilation album of songs by the German Heavy Metal band: ACCEPT. This release was issued as a double LP on the Brain Record label and produced by Frank Marin.
Note: The album front cover of "Metal Masters" is very similar to the front cover of Accept's Self-Titled Debut LP.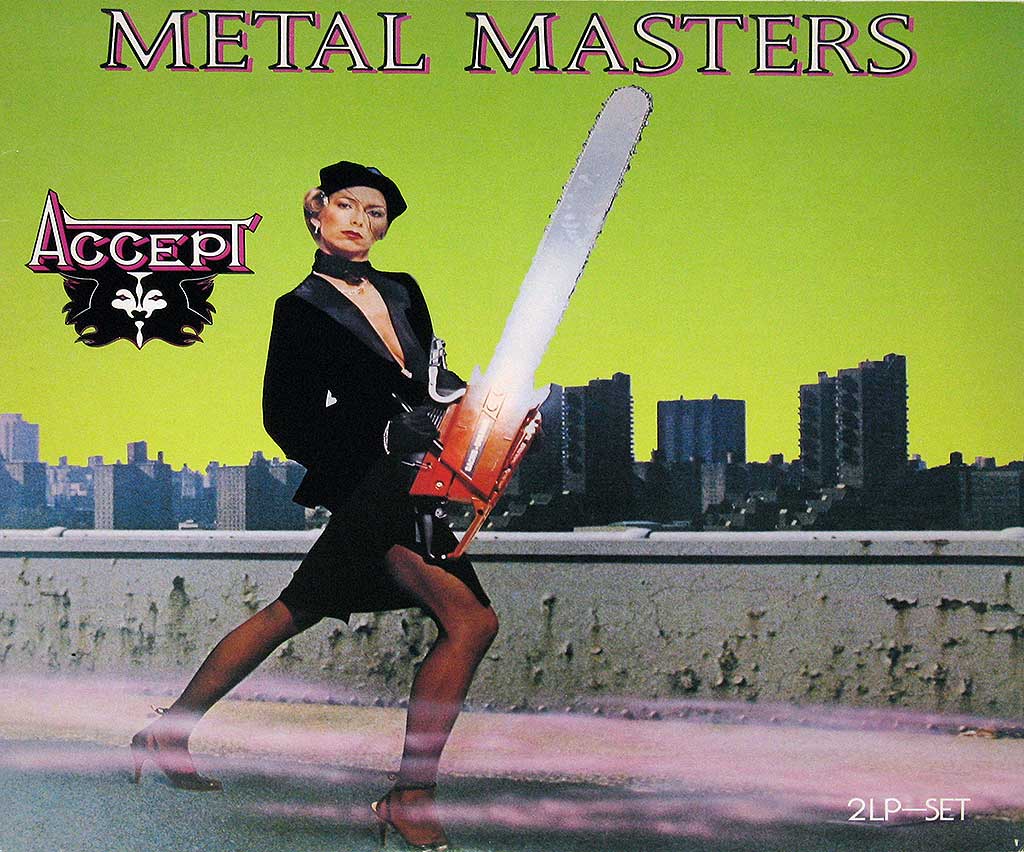 Collectors information / Album Description:

Double LP in non-Gatefold (FOC) cover design



Music Genre:

Heavy Metal

Album
Production information:

The album: "Metal Masters 2LP" was produced by: Frank Martin for Delta Studio Productions

Label Information:

Black Brain 825 171

Media Format:

Double 12" Vinyl Stereo Gramophone Record
Total Album (Cover+Record) weight: 460 gram

Year & Country:

1984 Made in Germany
Album cover photos of : ACCEPT Metal Masters 2LP
Band Members and Musicians on: Accept - Metal Masters
Band-members, Musicians and Performers
Udo Dirkschneider: Vocals

(Udo Dirkschneider is a German heavy metal singer who rose to fame with German heavy metal band Accept. After leaving Accept in 1987, he formed U.D.O., with whom he has enjoyed commercial success as well.During the 1980s he also produced albums for the Heavy Metal bands: Faithful Breath, Raven and Street Fighter.)

Wolf Hoffmann: Guitars
Jörg Fischer: Guitars
Peter Baltes: Bass Guitar
Stefan Kaufmann - Drums

(Stefan Kaufmann joined Accept as drummer early enough to appear on the cover photos for their debut album, but too late to record the drums for the album (that was done by Frank Friedrich

Frank Friedrich - Drums
Track Listing of: "Metal Masters 2LP"
The Songs/tracks on "Metal Masters 2LP" are
Side One:
Lady Lou
Tired of Me
Seawinds
Take him in my Heart
Sounds of War
Side Two:
Free me Now
Glad to be Alone
That's Rock and Roll
Helldiver
Streetfighter
Side Three:
I'm a Rebel
Save Us
No Time to Lose
Thunder & Lightning
Side Four:
China Lady
I Wanna Be No Hero
The King
Do It
Woman with a Chainsaw on the Front Cover of the Album Metal Masters by ACCEPT.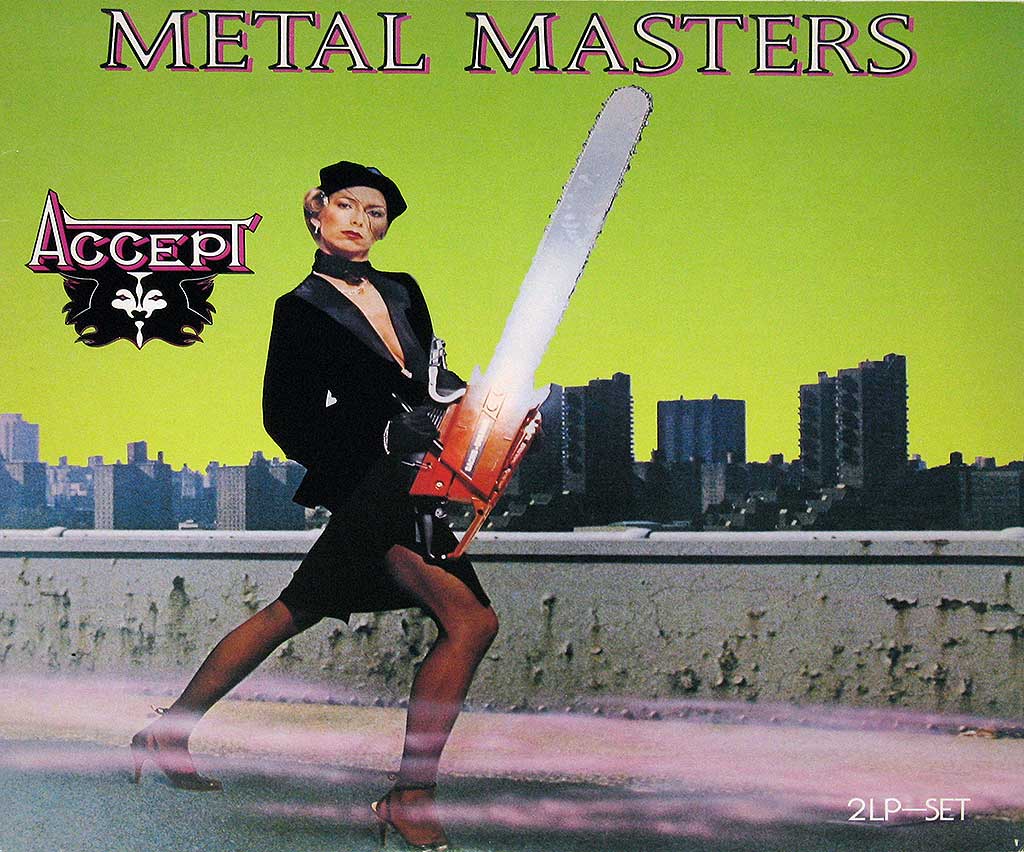 Lion Sword on the album back cover of Metal Masters by Accept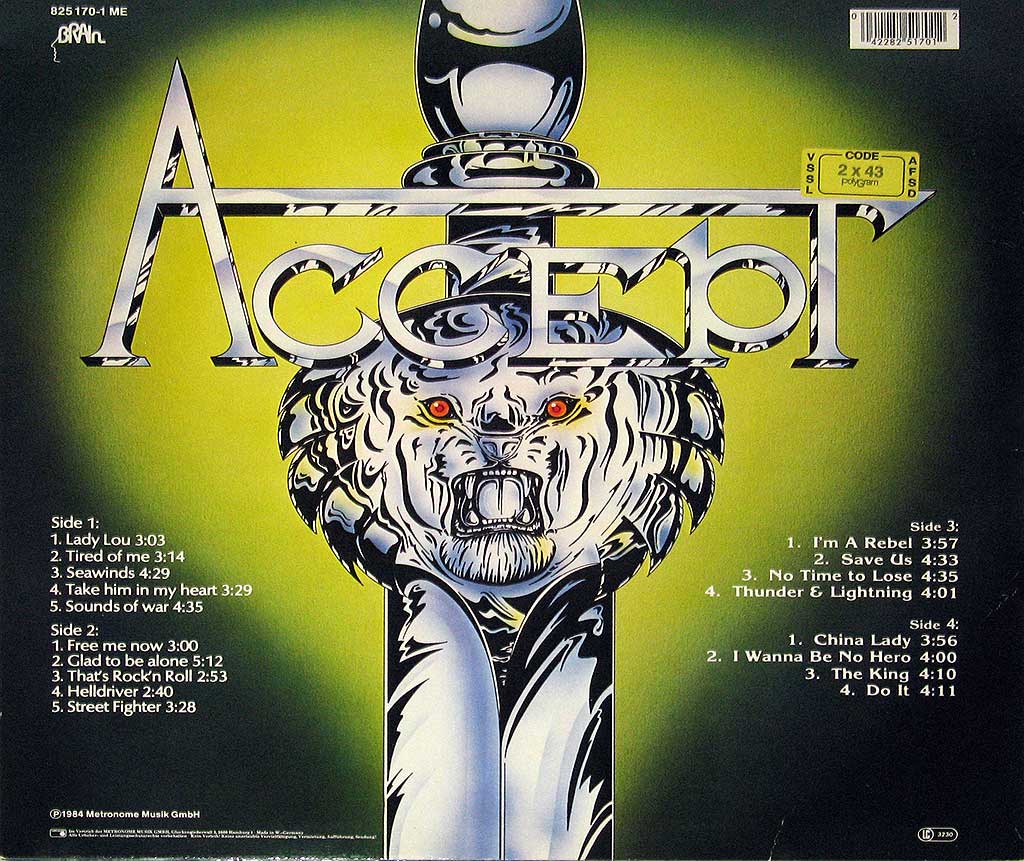 Close-up photo of the Black "BRAIN" Records Label with catalognr: 825 171-1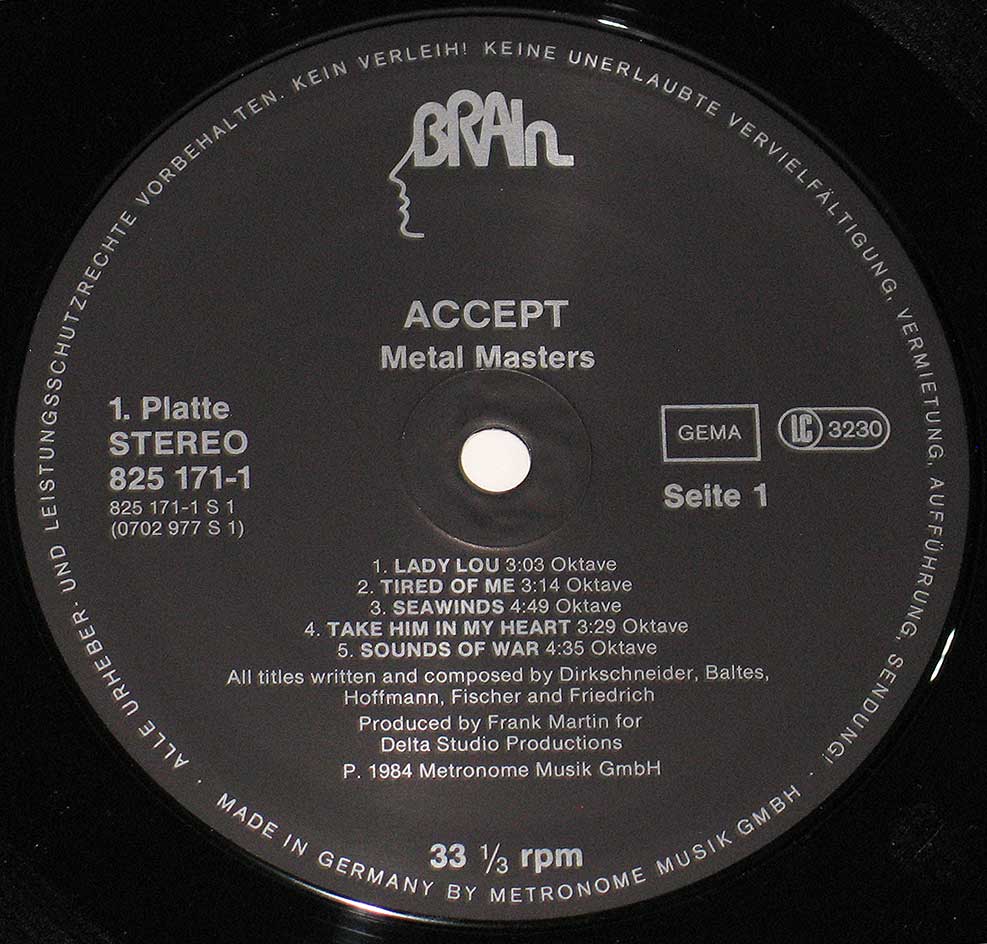 Note: The images on this page are photos of the actual album. Slight differences in color may exist due to the use of the camera's flash.