---
Roy Buchanan - Second Album - blues-rock, jazz fusion 12" VINYL LP ALBUM
Roy Buchanan - Second Album" is the second studio album by American guitarist Roy Buchanan, released in 1972. This album features Buchanan's signature blues-rock guitar style, showcasing his virtuosity and soulful playing. It includes a mix of original compositions and covers of popular blues and rock songs, including "Pony Blues" by Charley Patton and "Hey Joe" by Billy Roberts.
The album received positive reviews upon its release and has since become a classic of the blues-rock genre. Buchanan's guitar playing, characterized by his fluid, soulful solos and inventive use of string bends and vibrato, has been widely praised and has inspired many guitarists over the years.
Overall, "Roy Buchanan - Second Album" is considered a classic of blues-rock music and a must-listen for fans of the genre, as well as for anyone who appreciates great guitar playing.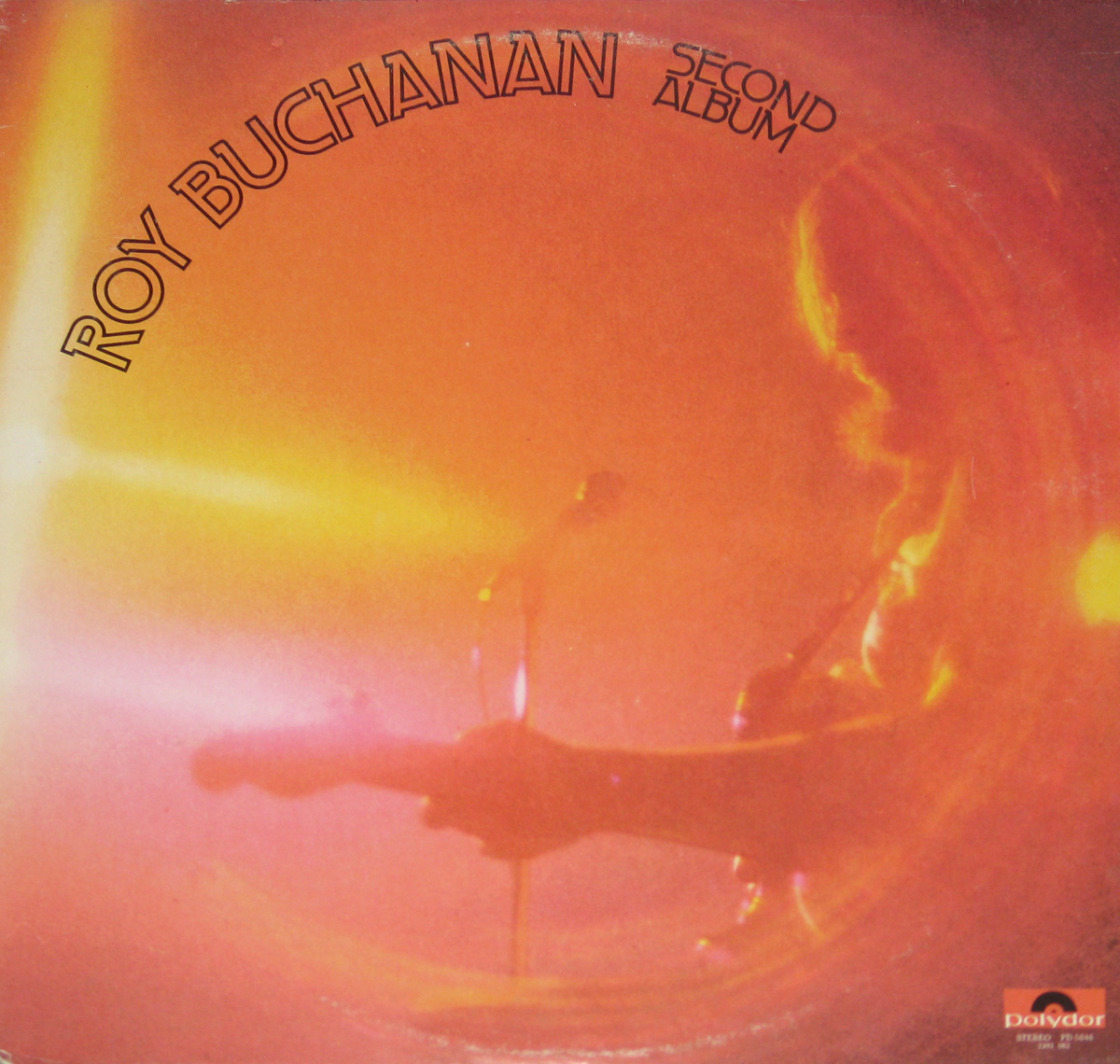 Album Production information:
The album: "Second Album" was produced by: Peter Kieve Siegel
Recorded at the Record Plant East, New York City
Music Genre:
American Blues Jazz Fusion Rock
Record Company Label & Catalog-nr:
Polydor PD 5046
Media Format:
12" Vinyl LP Gramophone Record
Album weight: 250 gram

Year and Country:

1973 Made in USA
Band Members and Musicians on: Roy Buchanan Second Album
Band-members, Musicians and Performers
Roy Buchanan
Dick Heintze
Teddy Irwin
Jerry Mercer
Don Payne
Chuck Tiley
Ned Davis
Track Listing of: "Second Album"
The Song/tracks on "Second Album" are
Side One:

Filthy Teddy
After Hours
Five String Blues
Thank You Lord
Side Two:

Treat Her Right
I Won't Tell You Lies
Tribute to Elmore James
She Once Lived Here
---
Front Cover Photo Of ROY BUCHANAN - Second Album - 12" VINYL LP ALBUM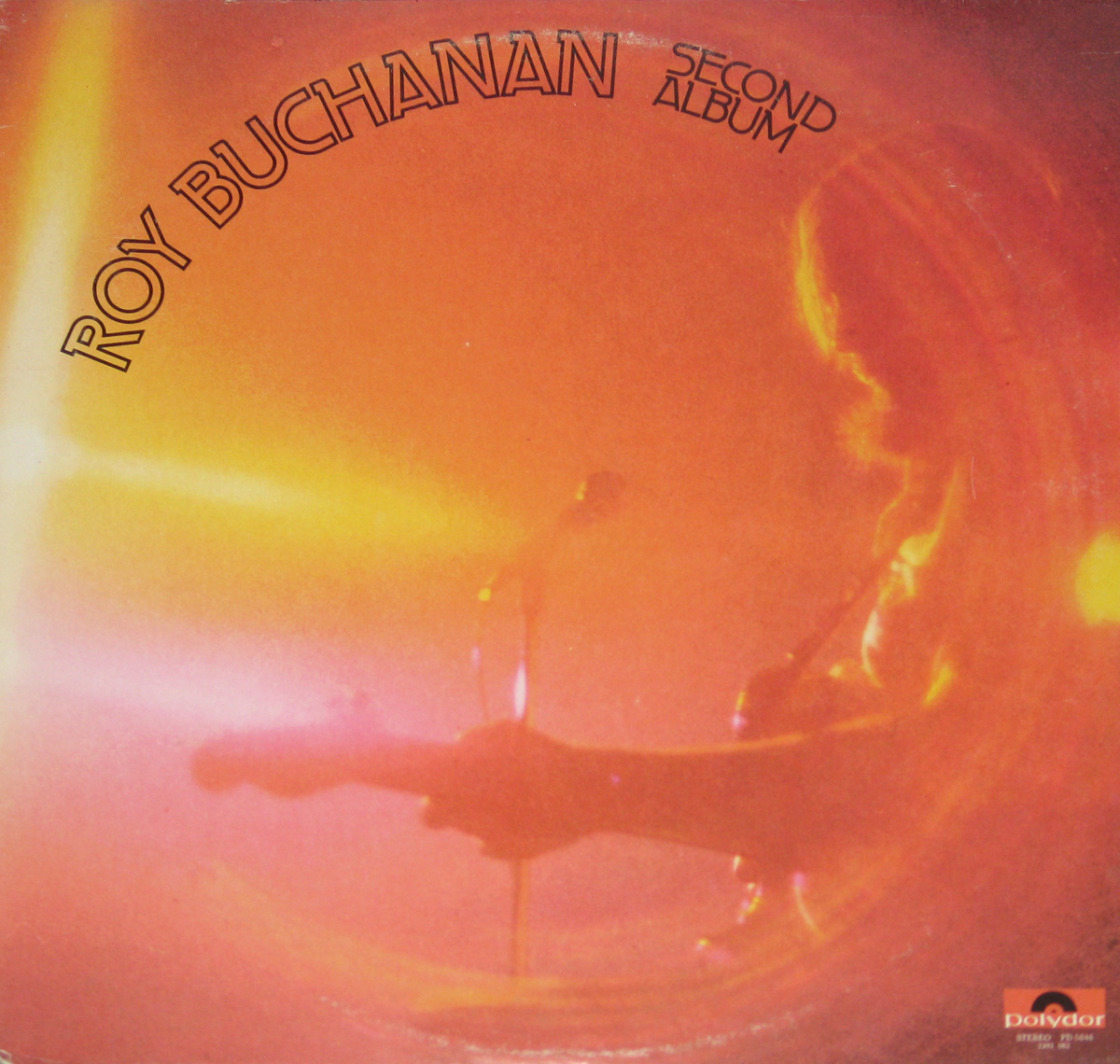 Note: The photos on this page are taken from albums in my personal collection. Slight differences in color may exist due to the use of the camera's flash. Images can be zoomed in/out ( eg pinch with your fingers on a tablet or smartphone ).
Photo Of The Back Cover ROY BUCHANAN - Second Album - 12" VINYL LP ALBUM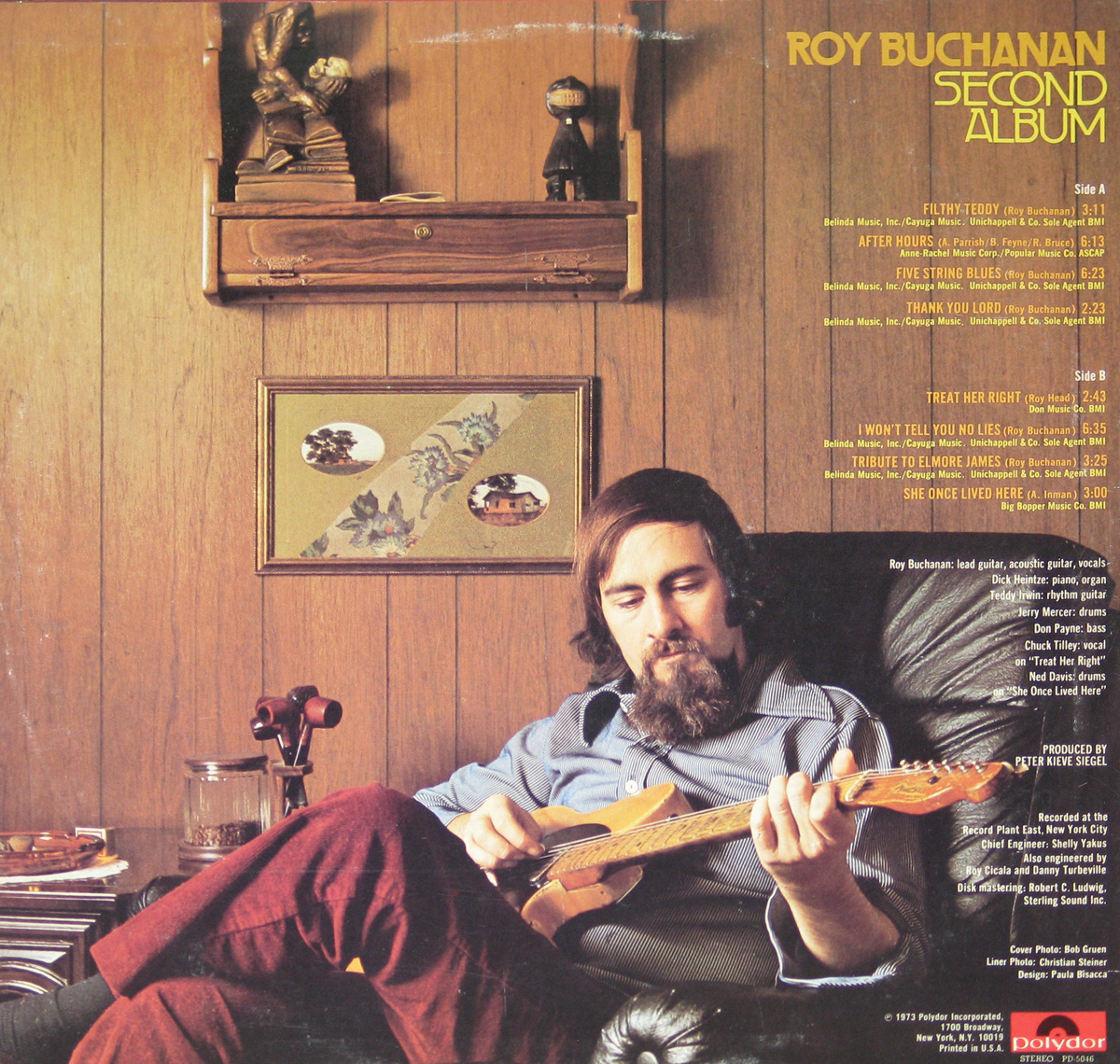 Close up of Side One record's label ROY BUCHANAN - Second Album - 12" VINYL LP ALBUM
"Second Albumy by Roy Buchanan" Record Label Details: Polydor PD 5046 ℗ 1973 Polydor Incorporated Sound Copyright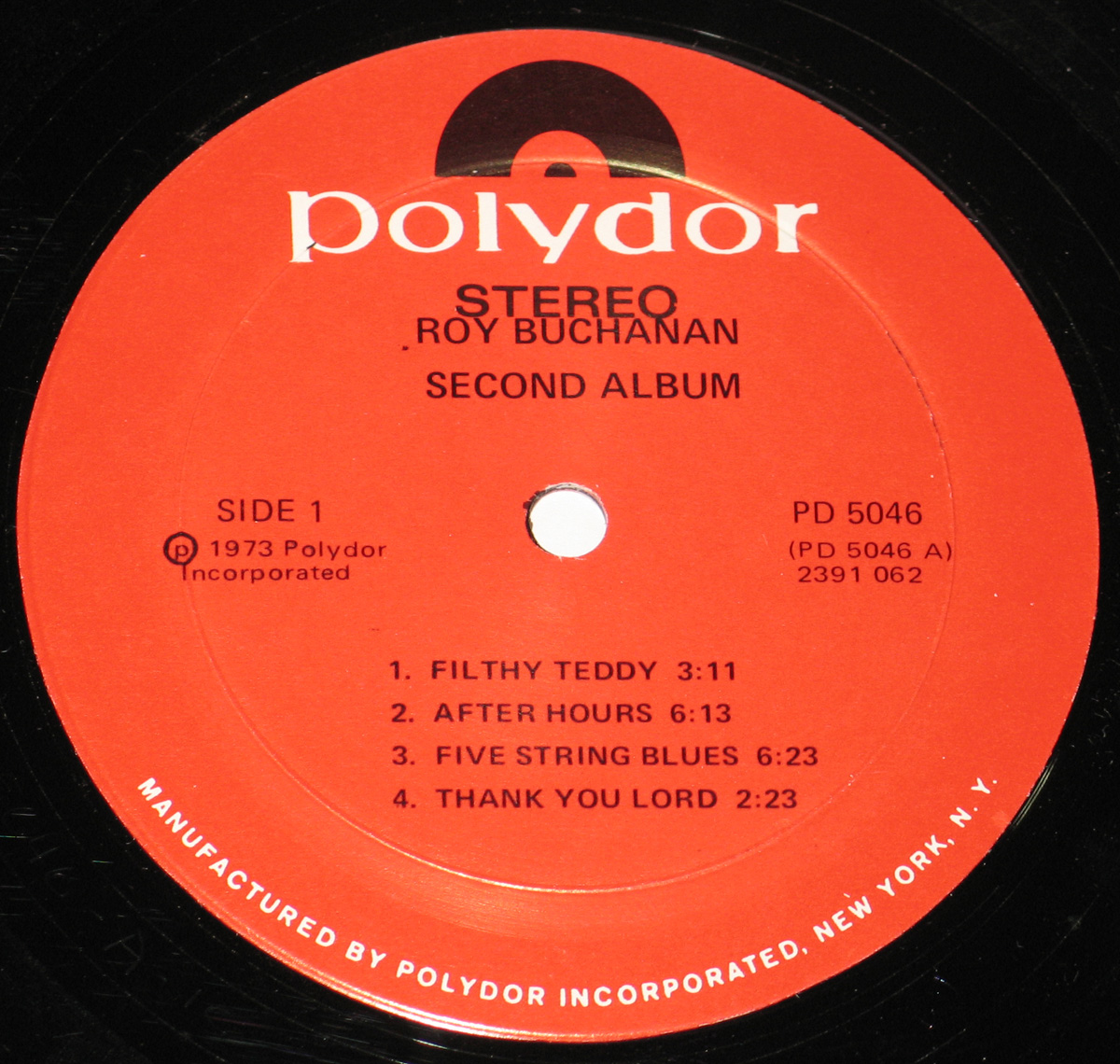 Biography of: Roy Buchanan (Real-name: Leroy Buchanan ) was an American guitarist and blues musician, born on 23 September 1939, in Ozark, Arkansas. He was known for his innovative and eclectic style that blended elements of blues, country, rock, and jazz. Buchanan first gained recognition in the 1960s and 1970s for his virtuoso guitar playing and was considered one of the greatest guitarists of all time by many musicians and fans.
He released numerous albums throughout his career, including "A Street Called Straight" (1976), "When a Guitar Plays the Blues" (1977), and "Dancing on the Edge" (1987). Buchanan's signature song, "Sweet Dreams", became one of his biggest hits.
Buchanan struggled with personal and financial problems throughout his life and died on August 14, 1988, at the age of 48. Despite his troubled life, he remains an influential figure in the world of blues and rock music.
---