---
IGGY POP - Party new wave punk Rock 12" LP album
Description: Party is the last of Pop's three albums with Arista Record
Party is a 1981 album by Iggy Pop. For this album, Iggy Pop collaborated with Ivan Kral, who is best known as guitar and bass player for Patti Smith in the 1970s It peaked at number 166 on Billboard's Top 200 albums.

When Arista heard the album, they brought in former Monkee producer, Tommy Hart, to remix "Bang Bang".[citation needed] It was released as a single, charting at #35 on the Billboard club play singles chart, and was later covered by David Bowie. According to Iggy Pop's autobiography, I Need More, he wrote "Bang Bang" as Arista Records wanted a single and he promised them a commercial album. He originally wanted Phil Spector or Mike Chapman to produce the song. Iggy claimed he got idea for the song from reading All the Right Stuff at a local bookstore.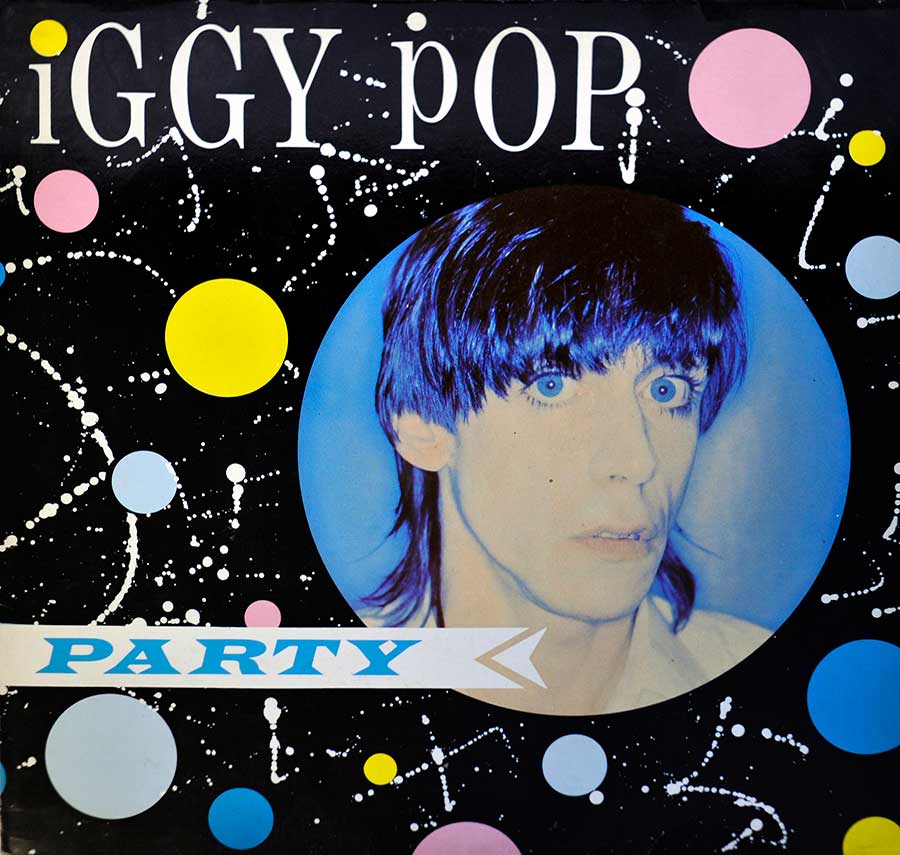 Collectors information & Description:

Music Genre:

New Wave, Pop Rock

Album Production Information:

The album: "IGGY POP Party" was produced by: Tommy Boyce, Thom Panunzio

Label Information:

Arista 203 806

Media Format:

12" Vinyl Stereo Gramophone Record
Total Album (Cover+Record) weight: 230 gram

Year & Country:

1981 Made in EU / EEC
Personnel/Band Members and Musicians on: IGGY POP Party
Band-members, Musicians and Performers
Iggy Pop - vocals
Ivan Kral - guitar, keyboards
Rob Duprey - guitar
Michael Page - bass
Douglas Bowne - drums
Jimmy Whizner - arrangements on "Sea of Love", "Bang Bang", "Time Won't Let Me"
The Uptown Horns - brass on "Pleasure", "Sincerity", "Houston Is Hot Tonight", "Happy Man"
Complete Track-listing of the album "IGGY POP Party"
The detailed tracklist of this record "IGGY POP Party" is:
"Pleasure" 3:10
"Rock and Roll Party" 4:11
"Eggs on Plate" 3:41
"Sincerity" 2:38
"Houston Is Hot Tonight" 3:30
"Pumpin' for Jill" 4:30
"Happy Man" 2:19
"Bang Bang" 4:08
"Sea of Love" (George Khoury, Phil Phillips) 3:49
"Time Won't Let Me" (Tom King, Chet Kelley) 3:22
---
IGGY POP - Party new wave punk Rock 12" LP album High Resolution & Quality Photos
Photo Of The Back Cover IGGY POP - Party new wave punk Rock 12" LP album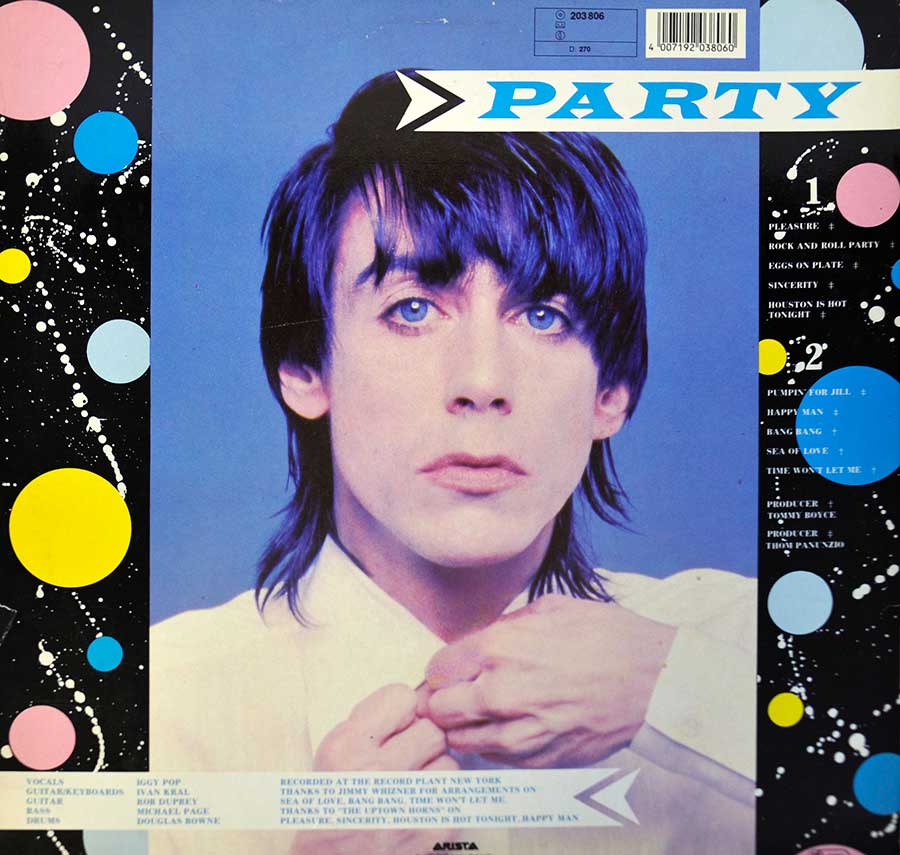 ---
Close up of record's label IGGY POP - Party new wave punk Rock 12" LP album Side One: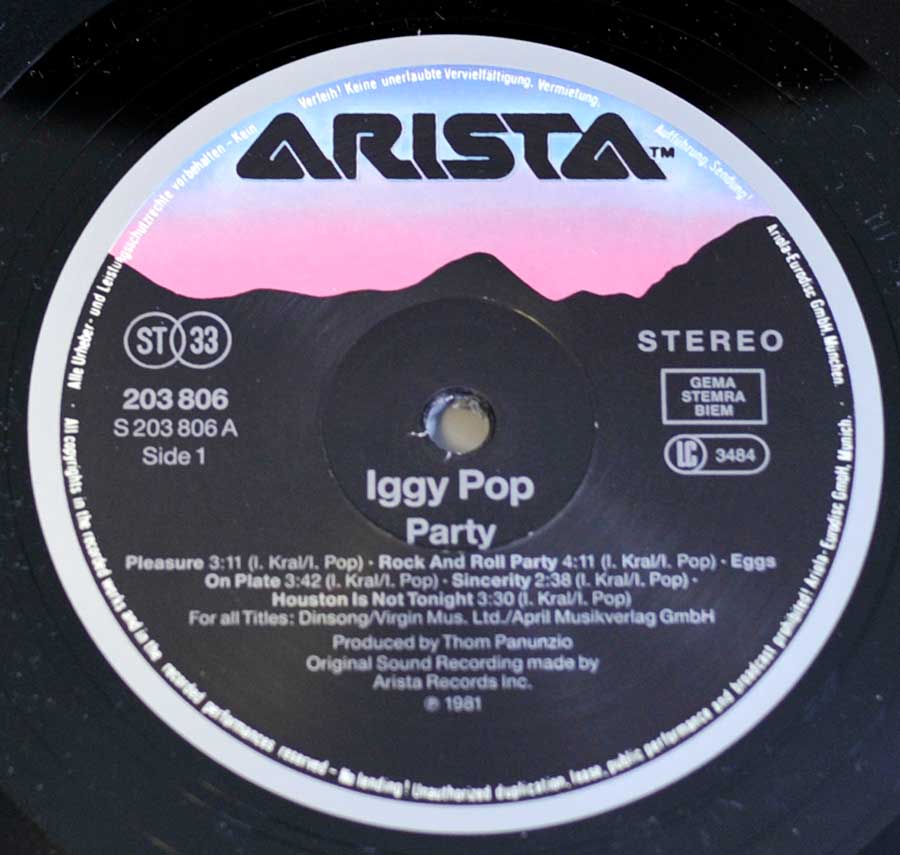 ARISTA 203 806 Record Label Details: GEMA / STEMRA / BIEM ℗ 1981
---
---
---