---
Woodstock Music from the original soundtrack USA 180g SD3-500 Vinyl 3LP Album
The biggest musical event in music history captured on 3 records. With historical performances of Richie havens, Joe Cocker, Santana, Ten Years After, Jimi Hendrix and many many others. This web-page has hi-res photos of the album covers, record label and a detailed description.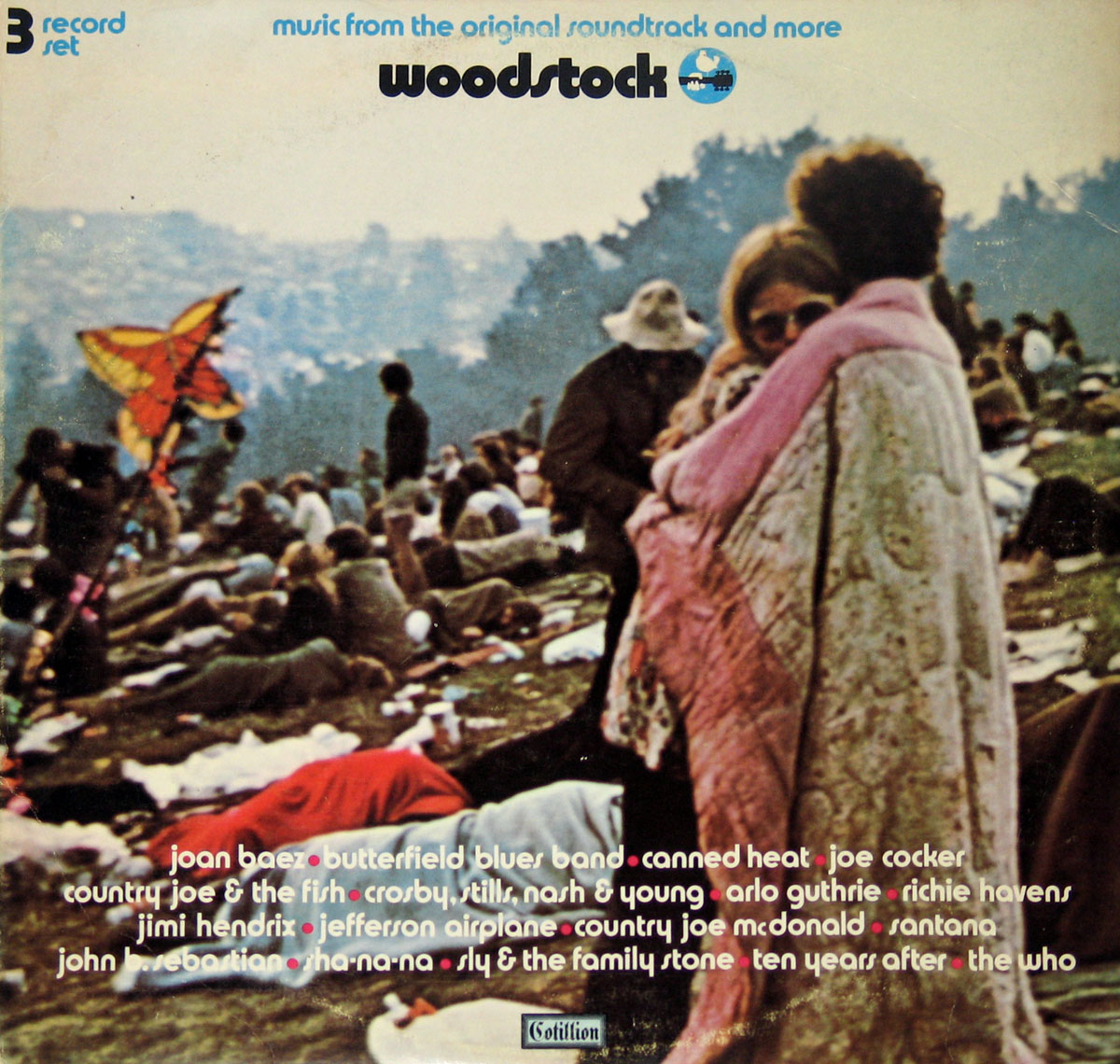 Album Production Information:

3LP Set Gatefold (FOC) cover design with artwork / photos on the inside cover pages.




Music Genre:

American Acid Psyck Rock 60s

Album Production Information:

The album: "Woodstock 69" was produced by: Eric Blackstead

Label Information:

Cotillion SD 3-500

Media Format:

3x 12" Vinyl Stereo Full-Length Long-Play Gramophone Record


3x 180 grams vinyl


Album weight: 820 gram

Year & Country:

1970 Made in USA
Track Listing of: "Woodstock 69"
Side One:
John B Sebastian - I Had a Dream
Canned Heat - Going Up The Country
Richie Havens - Freedom
Country Joe & The Fish - Rock & Soul Music
Arlo Guthrie - Coming into Los Angeles
Sha-Na-Na
At the Hop
Side Two:
Country Joe McDonald - The "Fish" Cheer
Joan Baez - Drug Store Truck Drivin' Man
Joan Baez - Joe Hill
Crosby, Stills & Nash - Suite: Judy Blue Eyes
Crosby, Stills, Nash & Young - Sea of Madness
Side Three:
Crosby, Stills, Nash & Young - Wooden Ships
The Who - We're not Gonna Take it (from "Tommy")
Joe Cocker - With a Little Help of my Friends
Side Four:
Santana - Soul Sacrifice
Ten Years After - I'm Going Home
Side Five:
Jefferson Airplane - Volunteers
Max Yasgur
Sly & The Family Stone

Dance To the Music
Music Lover
I Want to Take You Higher

John b. Sebastian - Rainbows All Over Your Blues
Side Six:
Butterfield Blues Band - Love March
Jimi Hendrix - Star Spangled Banner
Jimi Hendrix - Purple Haze & Instrumental Solo
Album cover photos of : Woodstock Music from the original soundtrack 3LP
Photo of "Woodstock 69" Album's Front Cover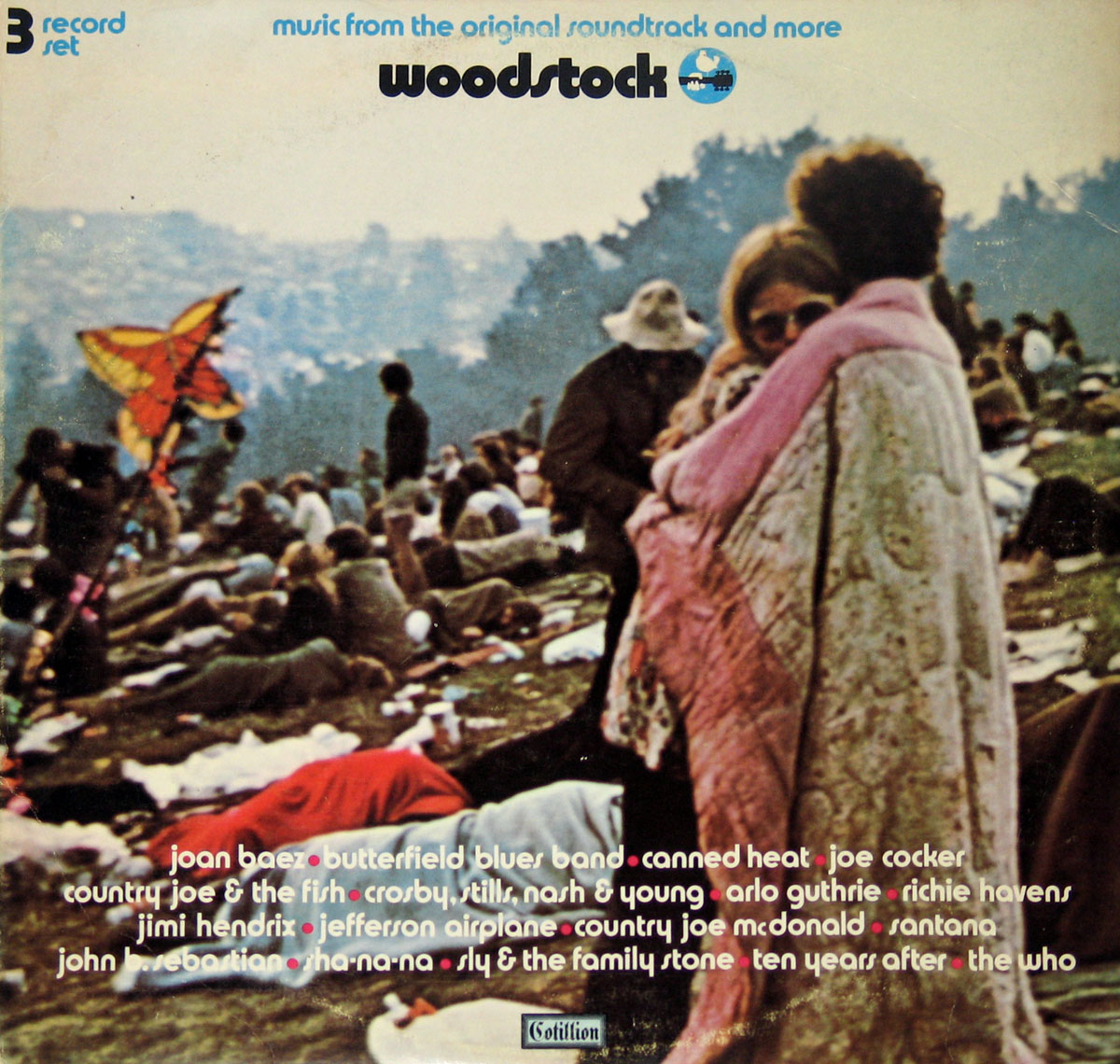 Photo of "Woodstock 69" Album's Back Cover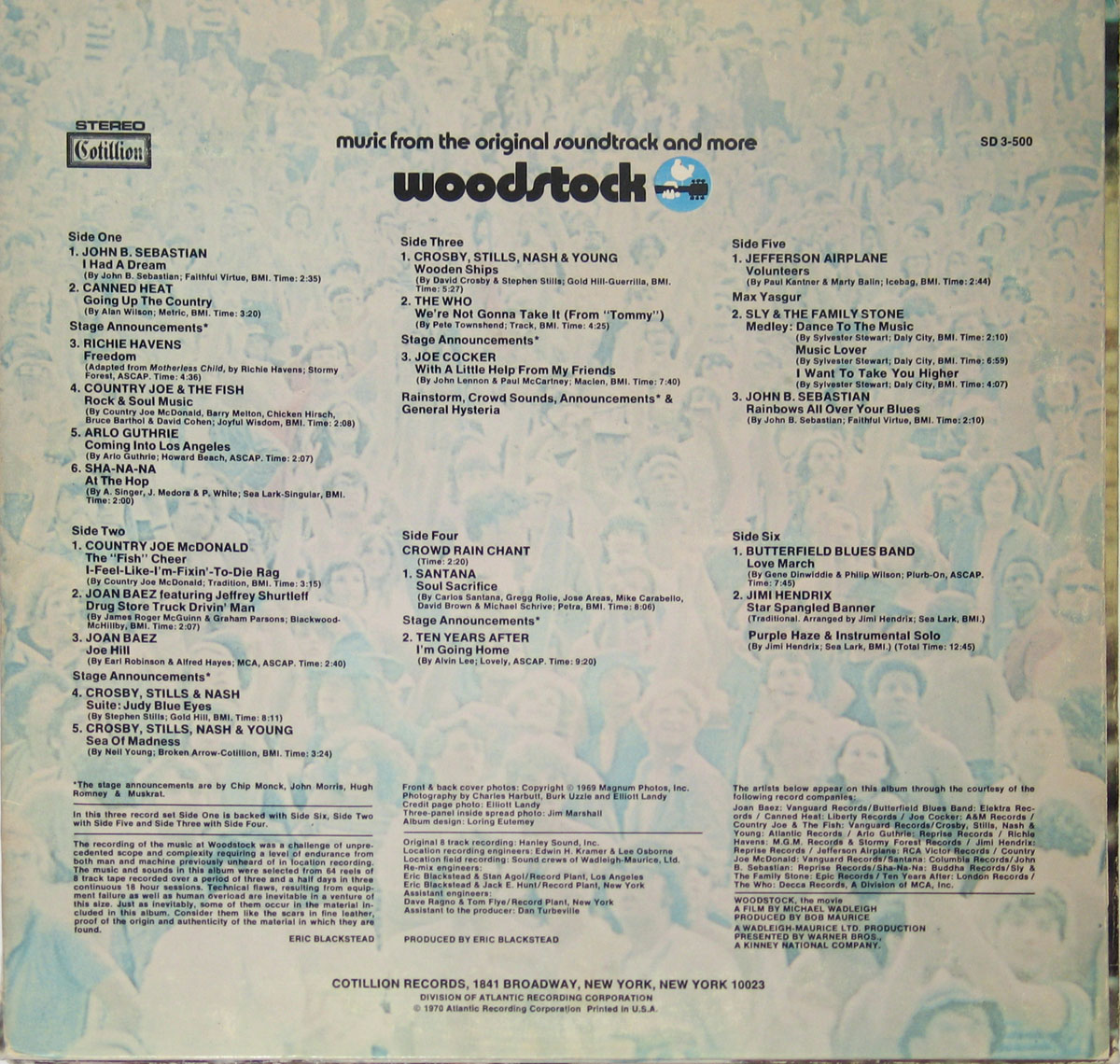 Photo of "Woodstock 69" Album's Inner Cover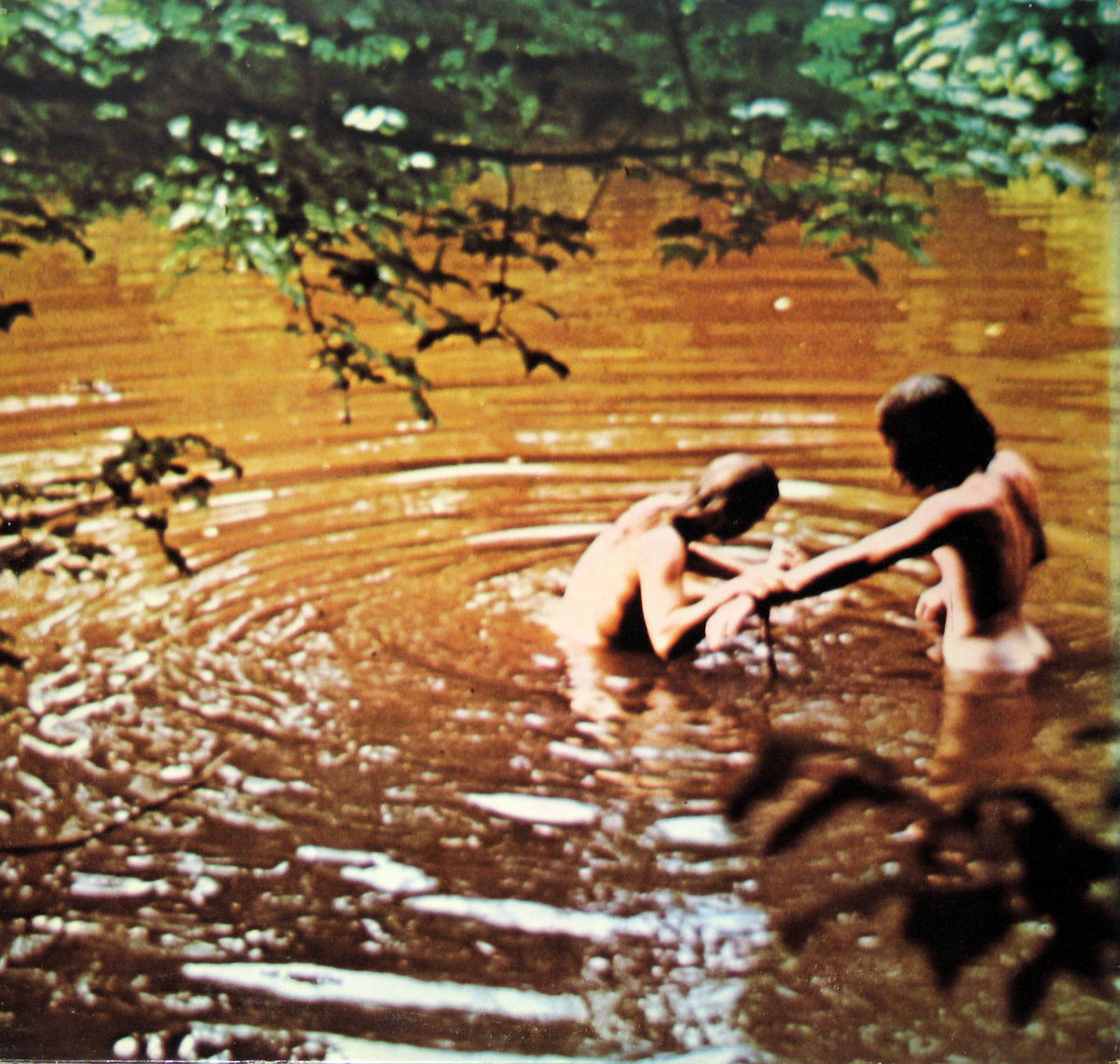 Close-up Photo of "Woodstock 69" Record Label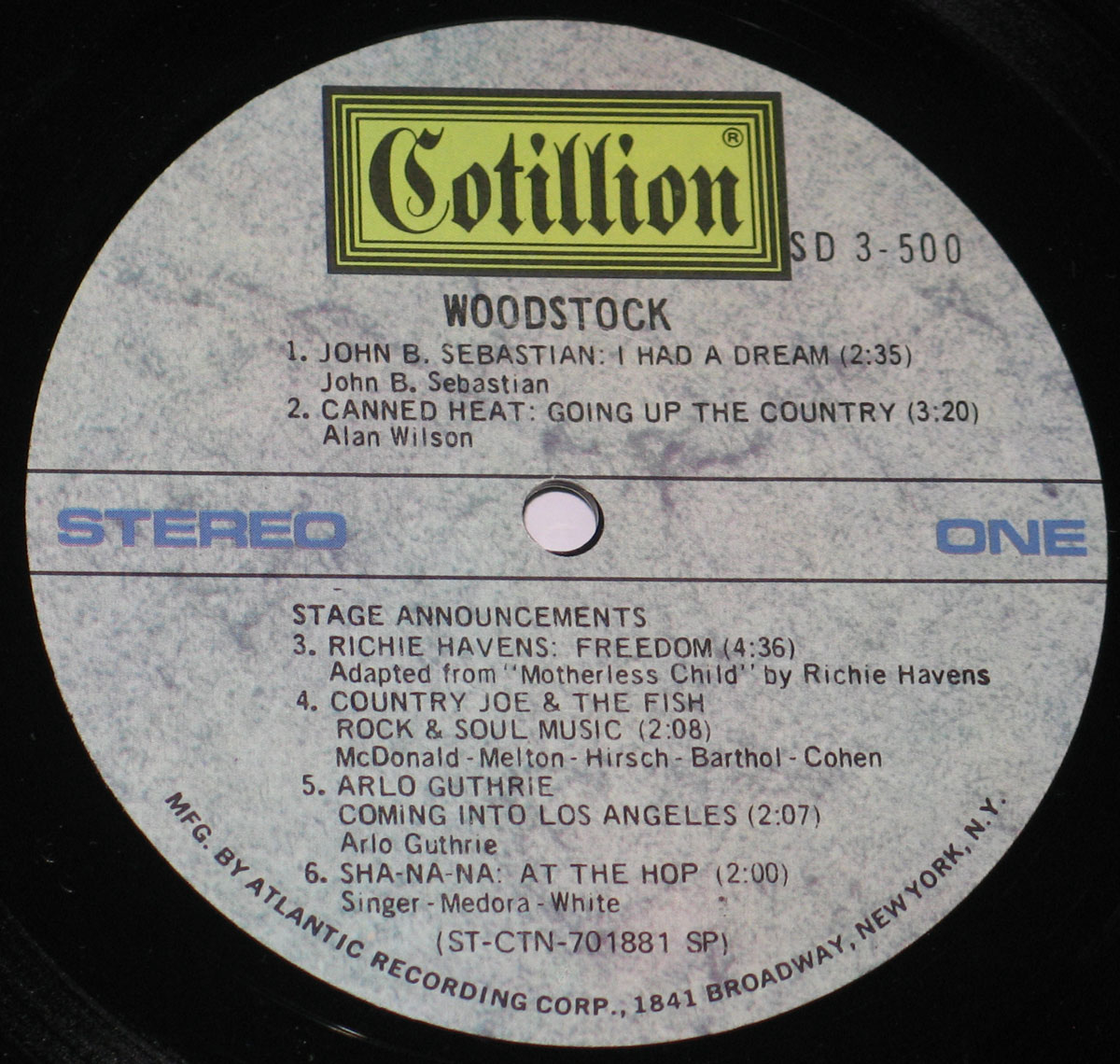 Note: The images on this page are photos of the actual album. Slight differences in color may exist due to the use of the camera's flash.
---