---
ANTI-PASTI - THE LAST CALL - UK Punk 12" LP VINYL ALBUM
Anti-Pasti was a British punk band, founded by vocalist Martin Roper and guitarist Dugi Bell in 1978, featuring Kev Nixon on drums and Will Hoon on bass guitar. Later they were joined by a second guitarist, Olly Hoon.
This album "ANTI-PASTI - The Last Call" is their first album, and spent seven weeks in the UK Albums Chart, peaking at #31.
This web page has photos of album covers, inner sleeves, record labels together with production details, musicians and track-listing.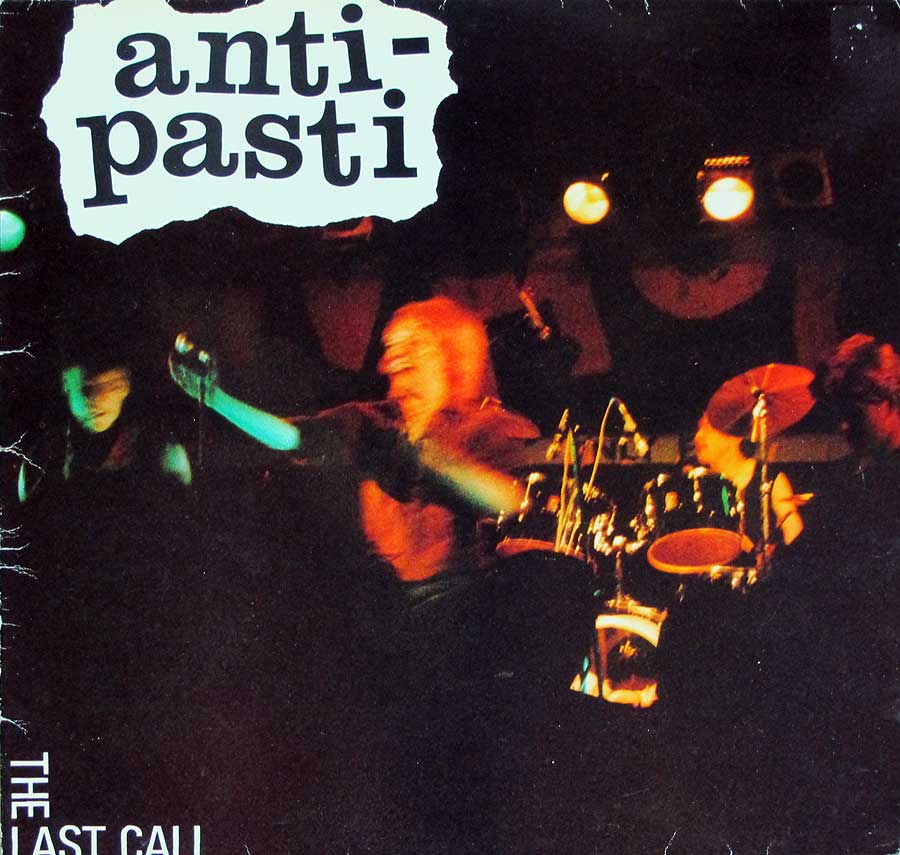 Matrix/Stamper Codes:
Side A: <Boppin' Bob> ABOUT 5A-1
Side B: CTS/A.L.L. - ABOUT' 5B-1
170 gram vinyl
Album Description & Collectors information:
Music Genre:

Early British Punk

Album Production Information:

The album: "ANTI-PASTI - The Last Call" was produced by: Ollie and Anti-Pasti

Sound/Recording Engineer(s): Colin Richardson

Album cover photography: Kev Lamb

Record Label Information:

Rondelet Music & Records About 5

Media Format:

12" 170 gram Vinyl Stereo Gramophone Record
Total Album (Cover+Record) weight: 230 gram

Year & Country:

1981 Made in UK / England
Personnel/Band Members and Musicians on: ANTI-PASTI - The Last Call
Band-members, Musicians and Performers
Bass – Will Hoon
Drums – Kev Nixon
Guitar – Dugi Bell
Vocals – Martin Roper
Complete Track-listing of the album "ANTI-PASTI - The Last Call"
The detailed tracklist of this record "ANTI-PASTI - The Last Call" is:
Track-listing Side One:

No Government 2:09

Brew Your Own 1:40
Another Dead Soldier 2:37
Call The Army (I'm Alive) 1:57
City Below 2:35
24 Hours 2:08
Night Of The Warcry 2:20
Track-listing Side Two:

Freedom Row 2:27

St. George (Gets His Gun) 2:17
The Last Call 2:06
Ain't Got Me 1:22
Truth And Justice 2:43
Hell 1:10
I Wanna Be Your Dog 2:33
---
ANTI-PASTI - The Last Call High Resolution & Quality Photos
Photo Of The Back Cover ANTI-PASTI - The Last Call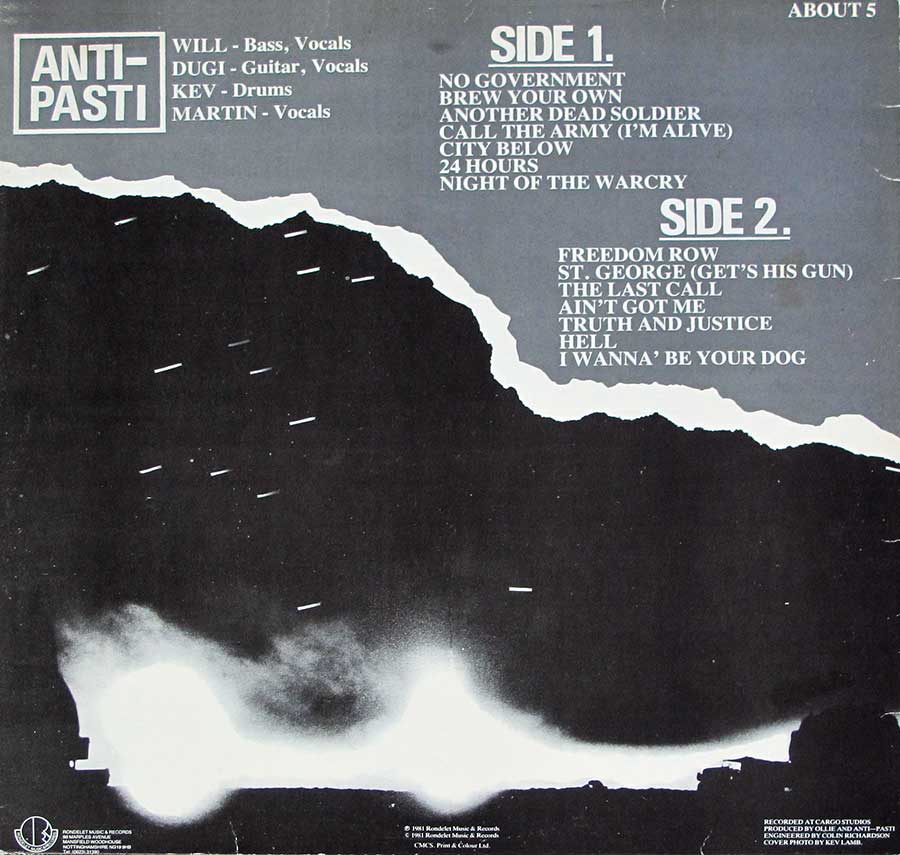 Close up of record's label ANTI-PASTI - The Last Call Side One: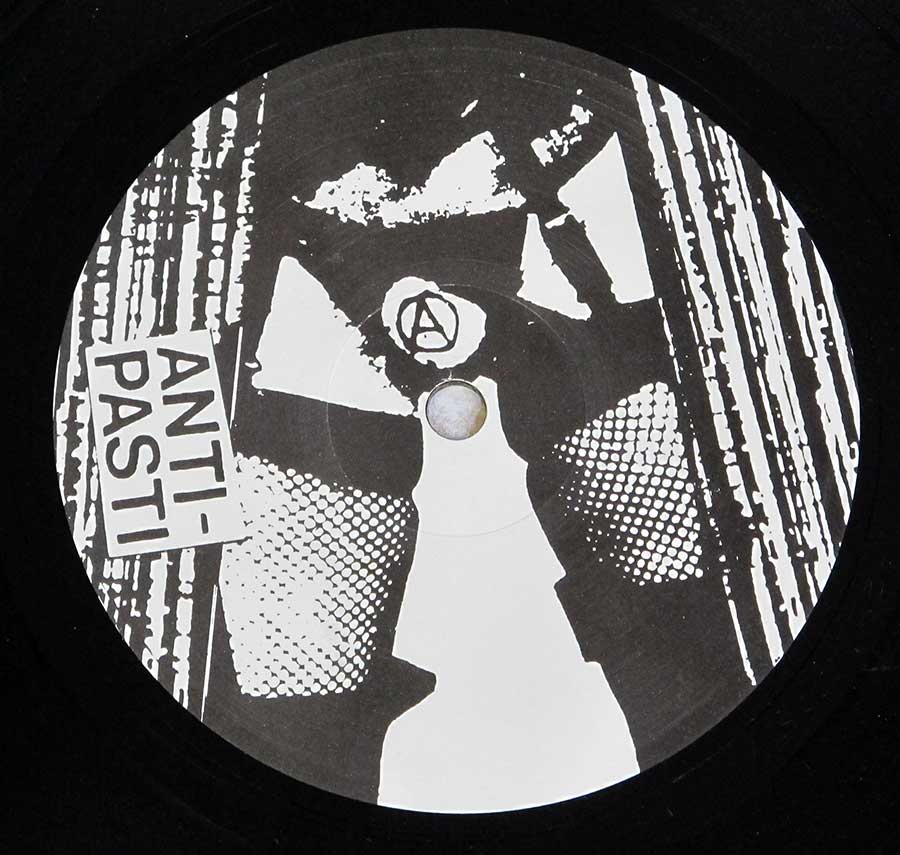 Close up of record's label ANTI-PASTI - The Last Call Side Two: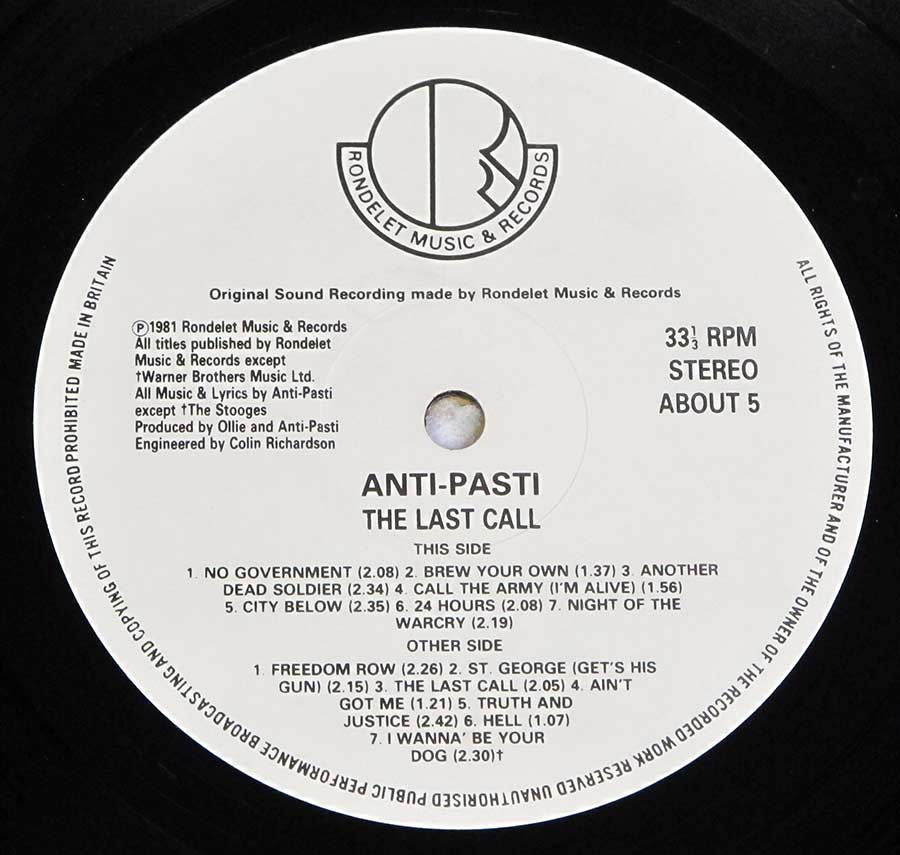 ---
---