---
PINK FLOYD'S DAVID GILMOUR ABOUT FACE 12" VINYL LP ALBUM
Pink Floyd guitarist and vocalist David Gilmour's second solo album entitled About Face was released in March of 1984 in both the US and UK. The album reached #32 in the US and was certified Gold by the RIAA. The album was co-produced by Bob Ezrin and David Gilmour. All songs, except as noted were penned by Gilmour himself. Two songs were co-written by The Who's Pete Townshend.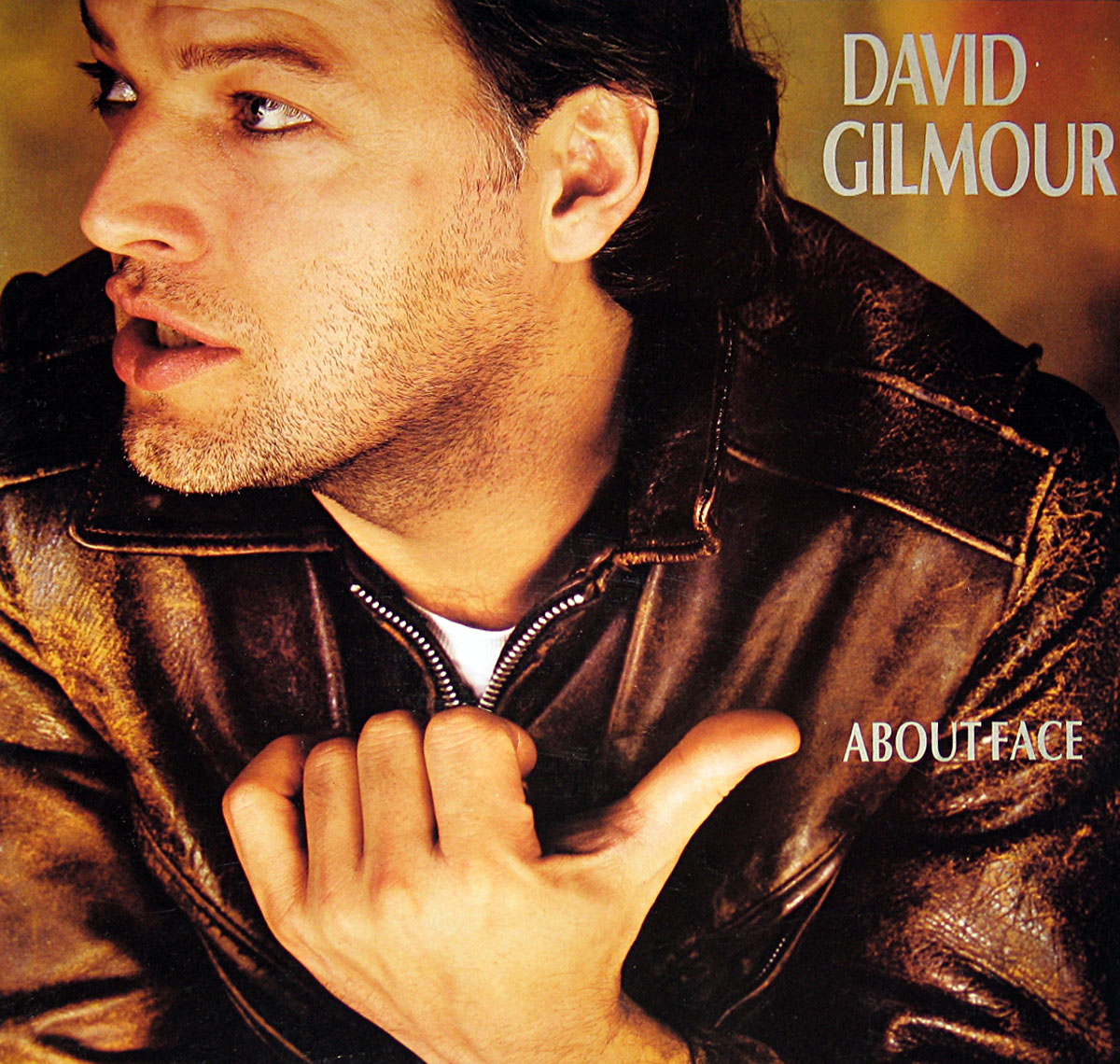 Description

Music Genre:

Rock, Pop
Trivia:
Produced by Bob Ezrin and David Gilmour

Album Production:

Original custom inner sleeve with album details, lyrics and photos.

Label Information:

Harvest 1C 064 2400791

Vinyl Format:

12" LP

Year and Country:

1984 Made in Germany for distribution in Germany and the Netherlands
Photos of the LP's cover: PINK FLOYD'S DAVID GILMOUR ABOUT FACE
Album's Front Cover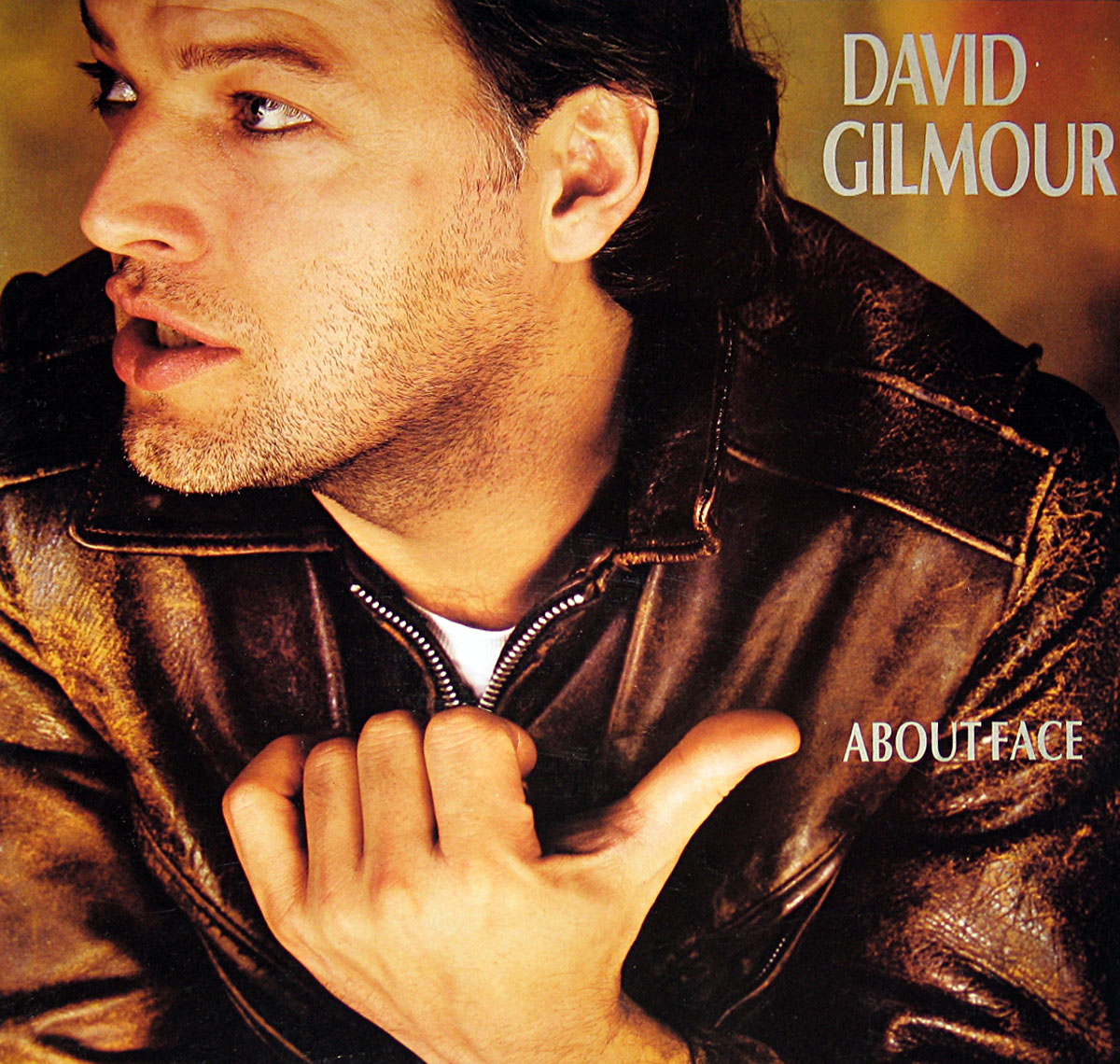 Album's Back Cover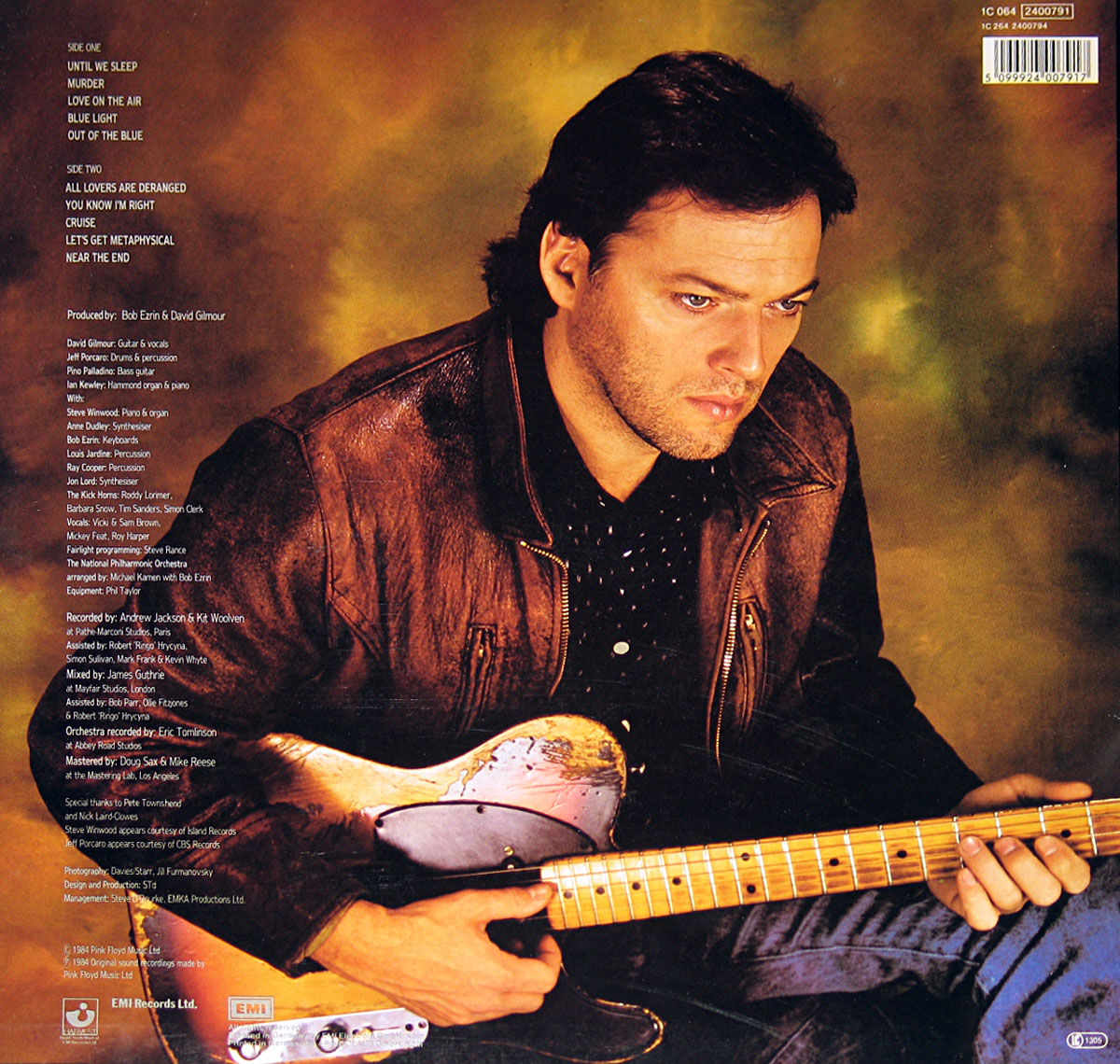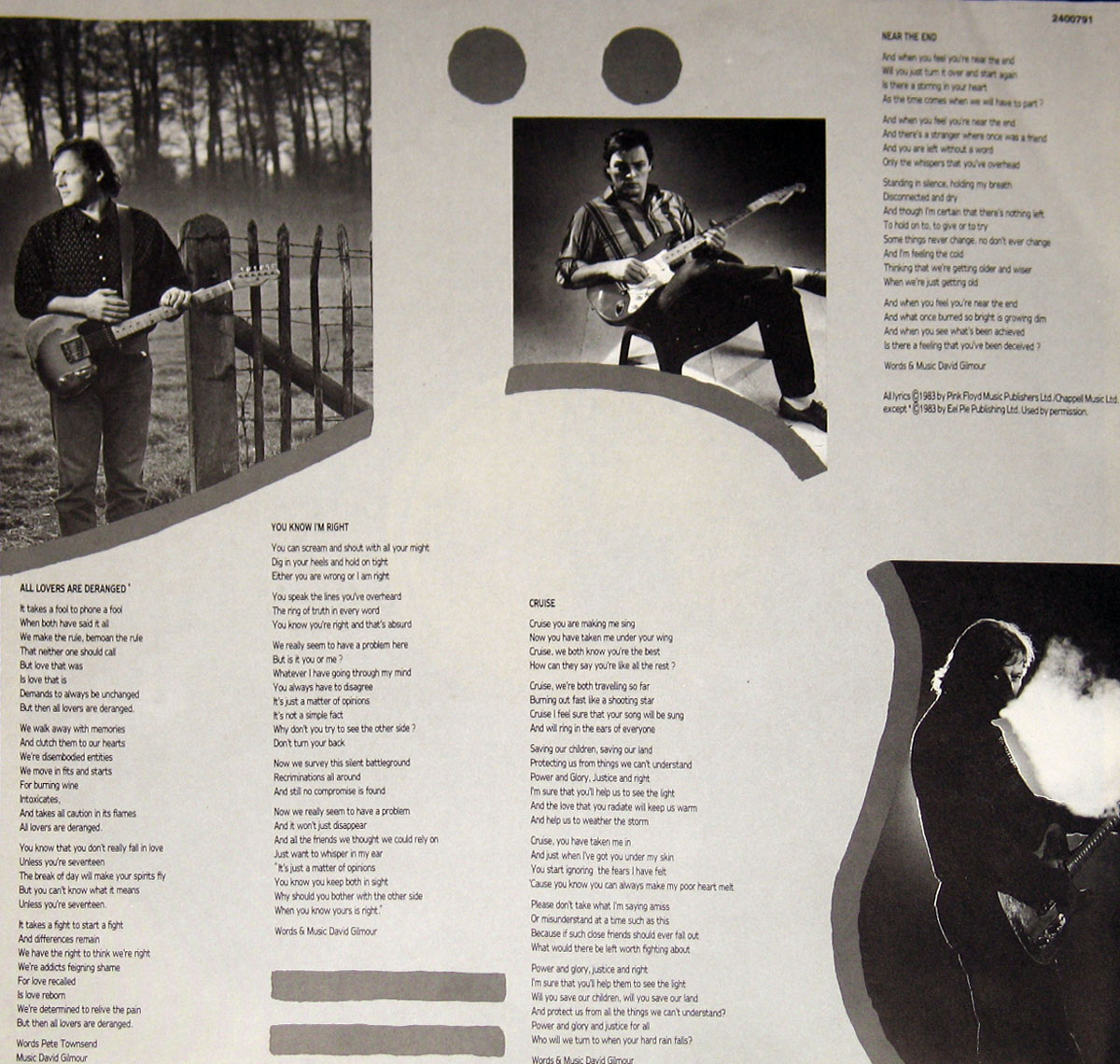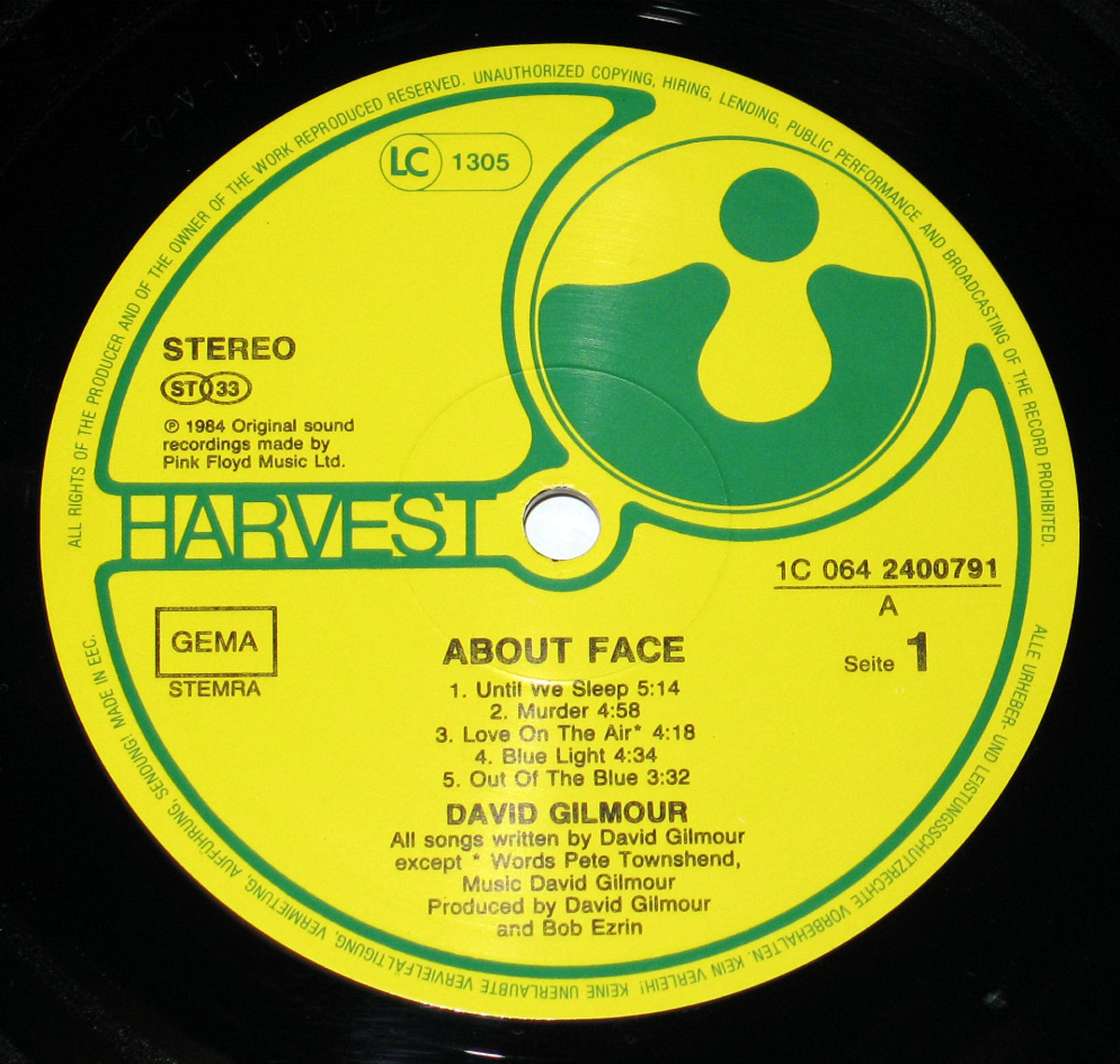 Note: The images on this page are photos of the actual album. Slight differences in color may exist due to the use of the camera's flash. Images can be zoomed in/out ( eg pinch with your fingers on a tablet or smartphone ).
Band Members and Musicians on: PINK FLOYD'S DAVID GILMOUR ABOUT FACE
David Gilmour's band includes

David Gilmour - Guitar, Vocals
Jeff Porcaro - drums
Pino Palladino - bass
Ian Kewley - keyboards
Steve Winwood - organ, piano
Anne Dudley - synthesizer
Bob Ezrin - keyboards
Louis Jardine - percussion
Ray Cooper - percussion
Jon Lord - synthesizer
Track Listing of: PINK FLOYD'S DAVID GILMOUR ABOUT FACE
Side One:

Until we sleep
Murder
Love on the Air
Blue Light
Out of the Blue
Side Two:

All Lovers are deranged
You know I'm right
Cruise
Let's get metaphysical
Near The End
---