---
LITFIBA 17 RE RARE FRANCE ReleasE IRA 12" LP VINYL Album
Album Info: 17 RE is the 2nd full length studio album from Italian rock band Litfiba and the second part of the "Trilogy of power" started with first album Desaparecido. It is often considered the band's best album from their new-wave era.
This web page has photos of album covers, inner sleeves, record labels together with production details, musicians and track-listing.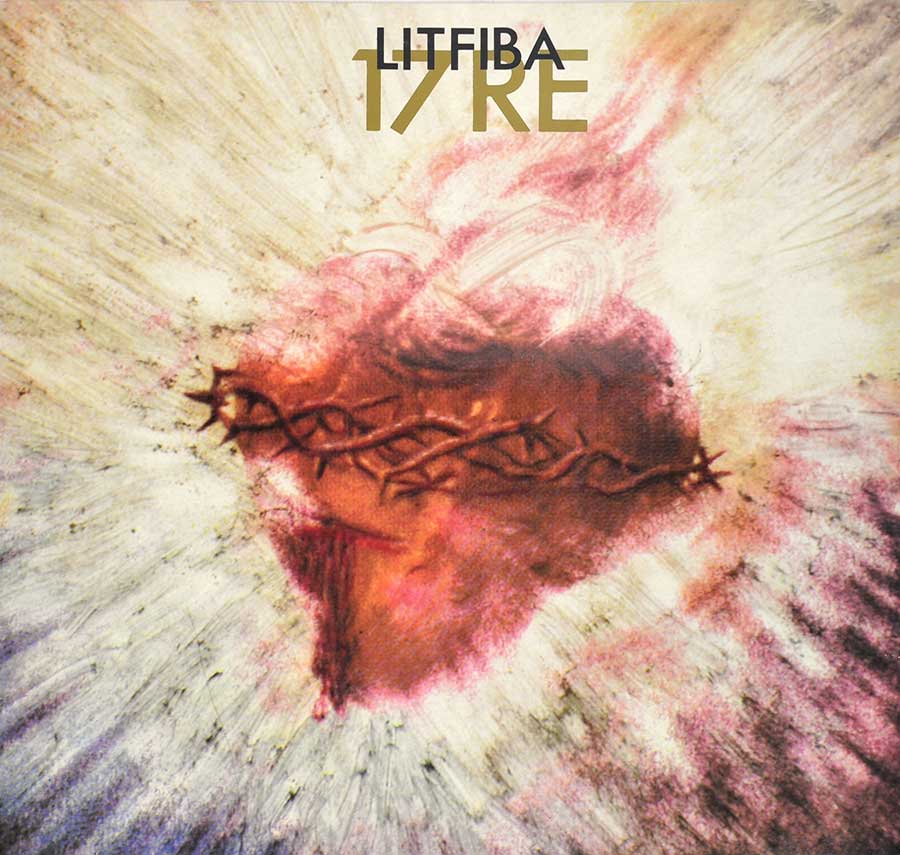 Album Description & Collectors information:

This album "LITFIBA 17 RE" includes the original custom inner sleeve with album details, complete lyrics of all songs by and artwork/photos.




Music Genre:

Italo New Wave

Album Production Information:

The album: "LITFIBA 17 RE" was produced by: Alberto Pirello

Record Label Information:

I.R.A. 102

Media Format:

12" Vinyl Stereo Gramophone Record
Total Album (Cover+Record) weight: 230 gram

Year & Country:

1987 Made in France
Personnel/Band Members and Musicians on: LITFIBA 17 RE
Band-members, Musicians and Performers
Piero Pelù - Vocals
Ghigo Renzulli - Guitars
Ringo de Palma - Drums
Antonio Aiazzi - Keyboards
Gianni Maroccolo - Bass
Francesco Magnelli - Piano
Complete Track-listing of the album "LITFIBA 17 RE"
The detailed tracklist of this record "LITFIBA 17 RE" is:
"Resta" 2:53
"Re del silenzio" 4:06
"Cafè, Mexcal e Rosita" 3:11
"Vendetta" 5:30
"Pierrot e la Luna" 3:58
"Tango" 4:33
"Come un Dio" 5:10
"Febbre" 3:47
"Apapaia" 4:59
"Univers" 5:19
"Sulla terra" 4:18
"Ballata" 3:53
"Gira nel mio cerchio" 3:37
"Cane" 2:50
"Oro nero" 3:45
"Ferito" 4:26
---
LITFIBA - 17 RE 12" Vinyl LP Album High Resolution & Quality Photos
Photo Of The Back Cover LITFIBA - 17 RE 12" Vinyl LP Album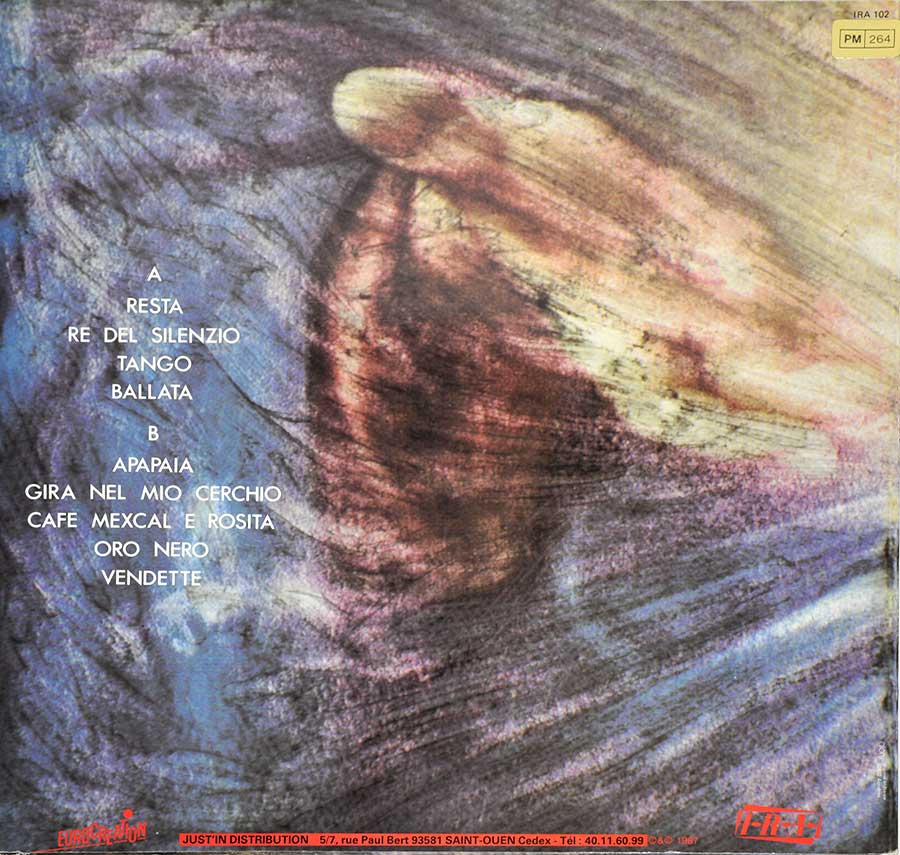 ---
Photo One Of The Original Custom Inner Sleeve LITFIBA - 17 RE 12" Vinyl LP Album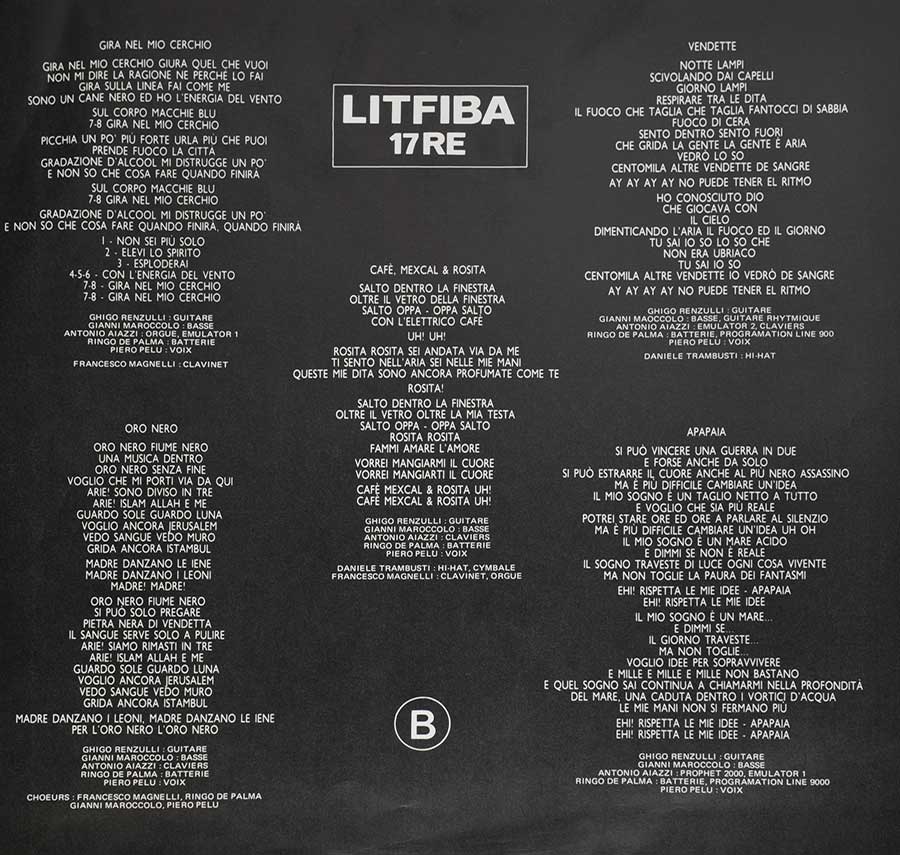 ---
Close up of record's label LITFIBA - 17 RE 12" Vinyl LP Album Side One: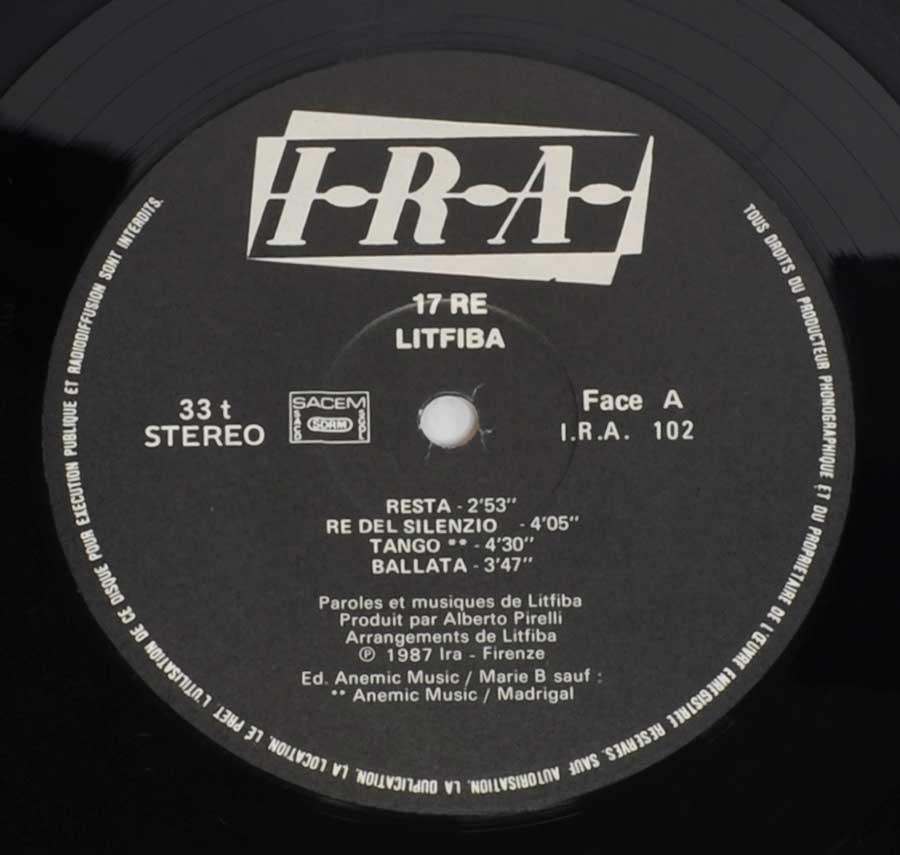 ---