---
Foreigner Head Games White Label 12" VINYL LP ALBUM
"Head Games" is perhaps as famous (or infamous) for its extremely lurid album cover, depicting a young, scantily clad girl in a filthy men's room.
"Head Games" is the 1979 album released by the British-American Rock band "Foreigner". It is the last album with the two founding band-members Ian McDonald and Al Greenwood. The model in the photograph on the front cover is American actress and film producer Lisanne Falk.
This web page has photos of album covers, inner sleeves, record labels together with production details, musicians and track-listing.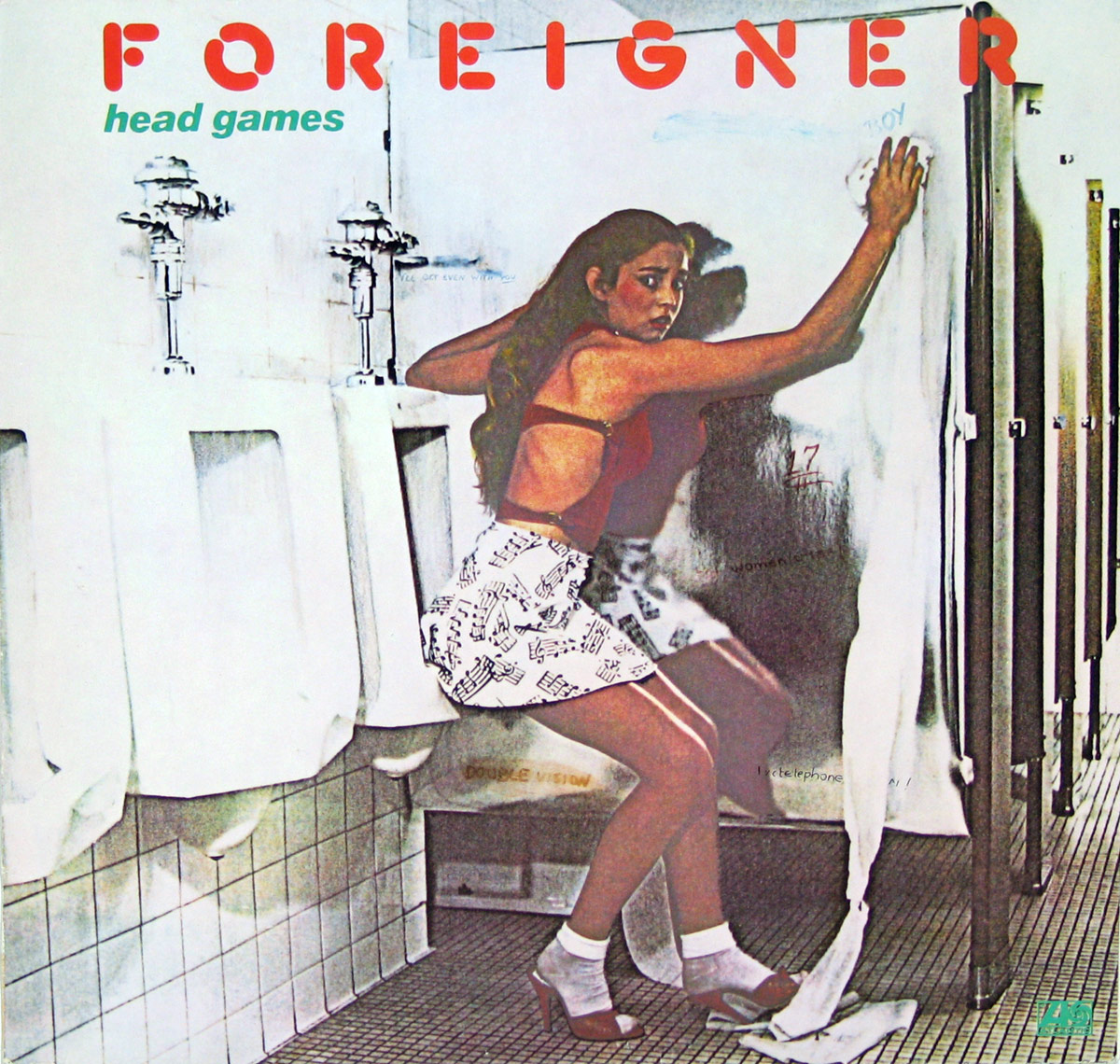 Music Genre:

70s & 80s Rock

Album Production Information:

The album: "Head Games" was produced by: Roy Thomas Baker,
Mick Jones, Ian McDonald

Label Information:

Atlantic ATL 50 561

Media Format:

12" Vinyl Full-Length Stereo Long-Play Gramophone Record
Album weight: 200 gram

Year & Country:

1979 Made in Germany
Band Members and Musicians on: Foreigner Head Games
Band-members, Musicians and Performers
Dennis Elliott - drums, vocals
Lou Gramm - lead vocals, percussion
Al Greenwood - synthesizer, keyboard
Mick Jones - guitar, piano, keyboard, vocals
Ian McDonald - guitar, drums, keyboard, vocals
Rick Wills - bass, vocals
Track Listing of: "Head Games"
The Songs/tracks on "Head Games" are
Dirty White Boy (Gramm, Jones) 3:37
Love on the Telephone (Gramm, Jones) 3:18
Women (Jones) 3:25
I'll Get Even With You (Jones) 3:40
Seventeen (Gramm, Jones) 4:43
Head Games (Gramm, Jones) 3:37
The Modern Day (Jones) 3:26
Blinded by Science (Jones) 4:54
Do What You Like (Gramm, McDonald) 3:58
Rev on the Red Line (Gramm, Greenwood) 3:35
Album cover photos of : Foreigner Head Games
Photo of "Head Games" Album's Front Cover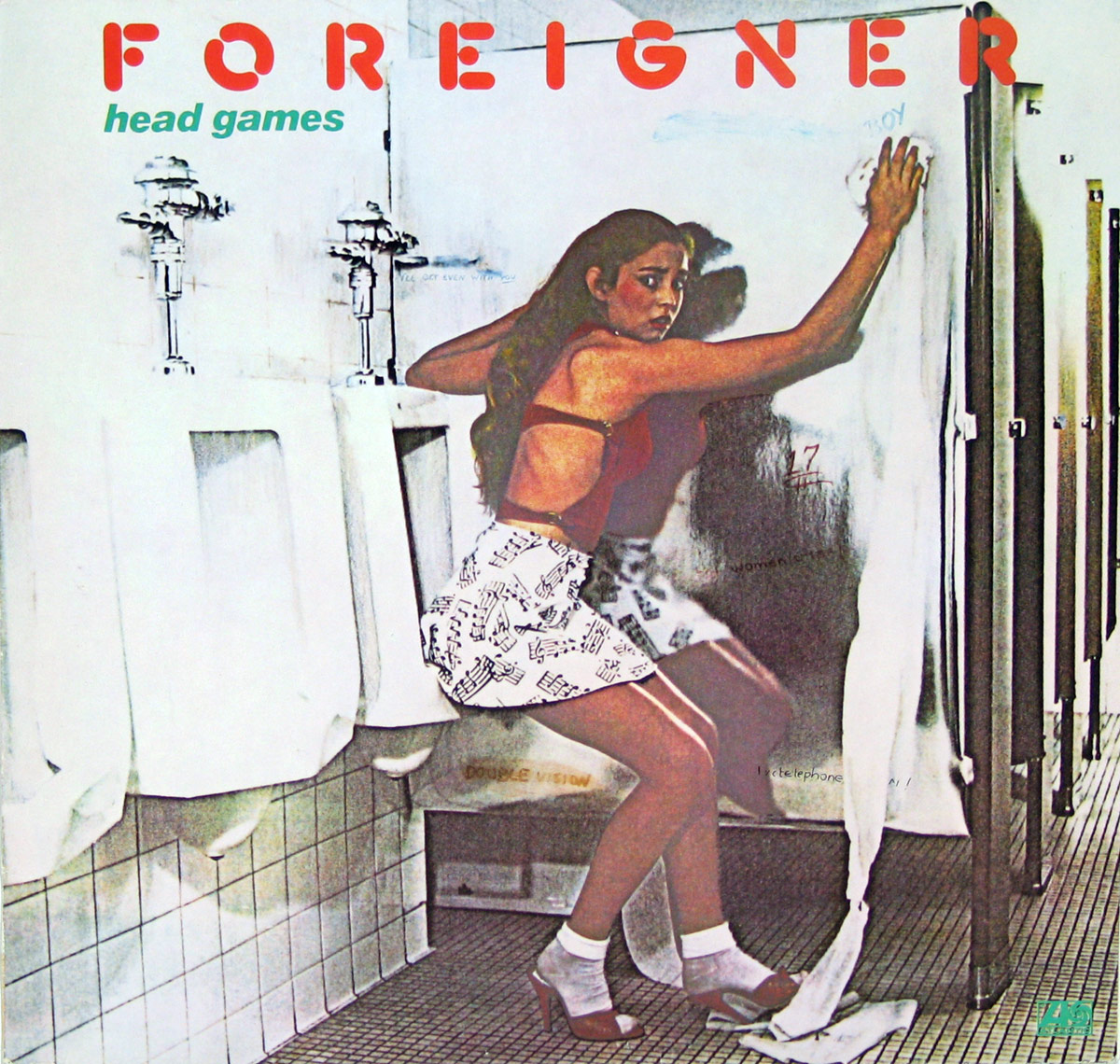 Photo of "Head Games" Album's Back Cover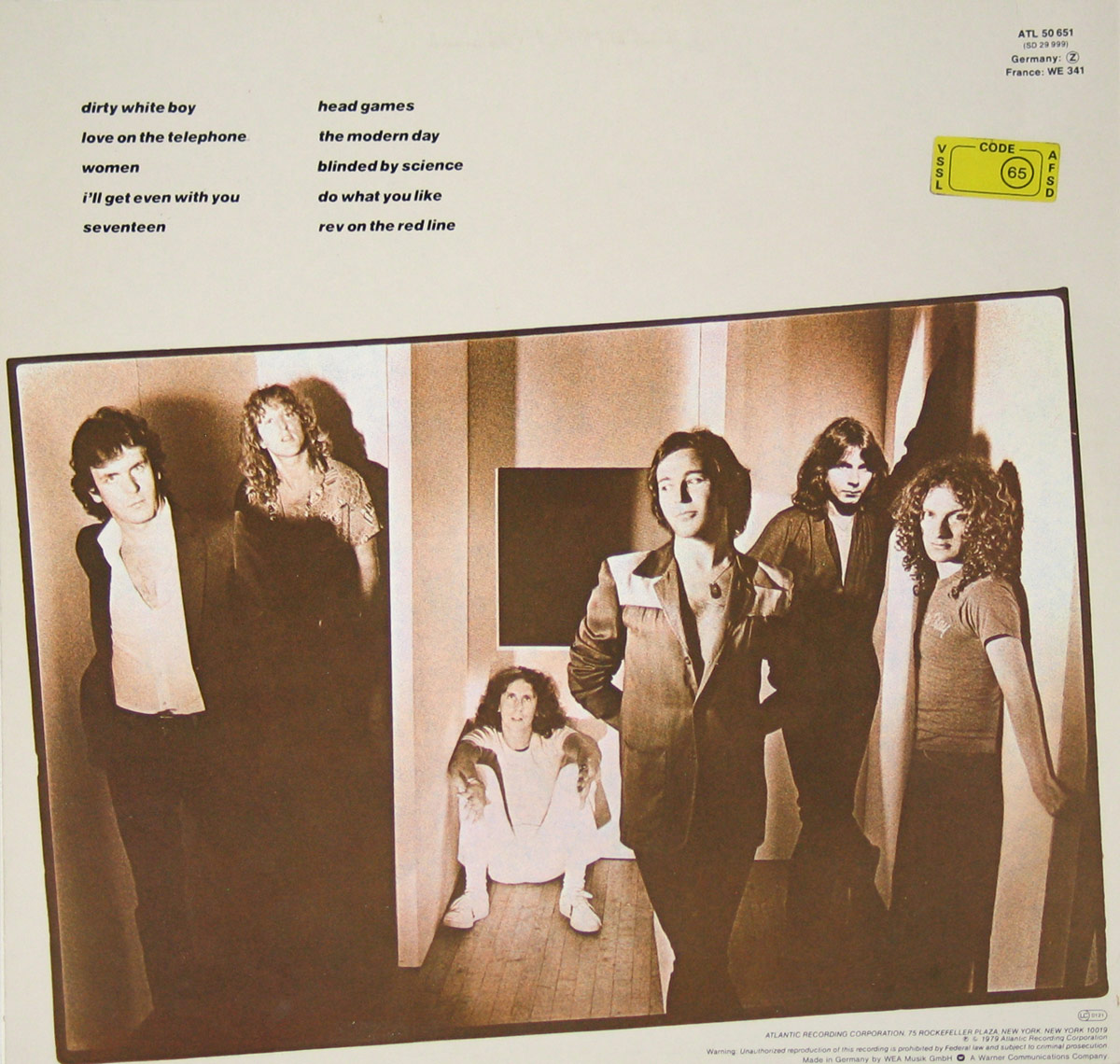 Portrait Photos of Foreigner's band members on "Head Games" Album's Inner Sleeve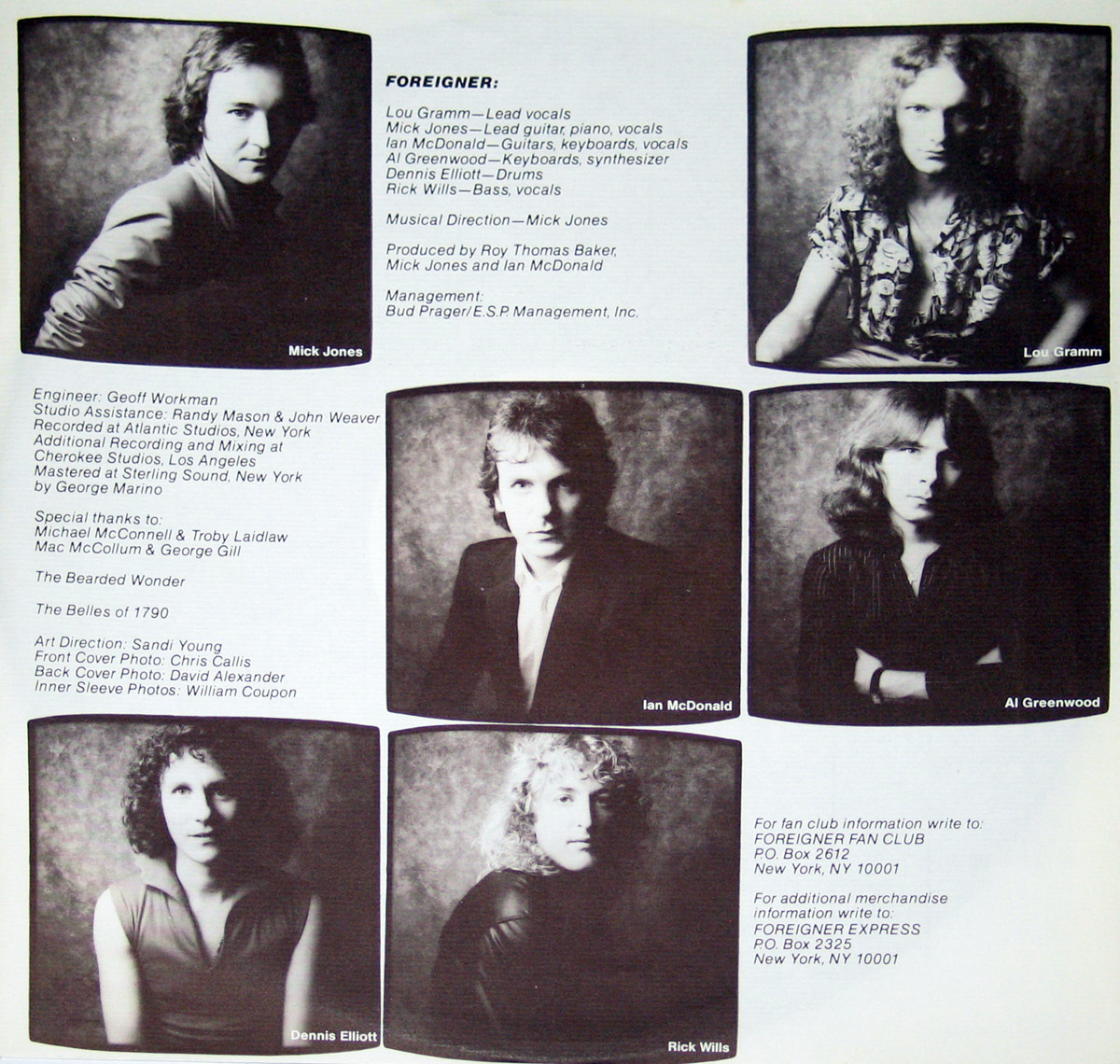 Close-up Photo of "Head Games" White Atlantic Record Label with catalognr ATL 50 651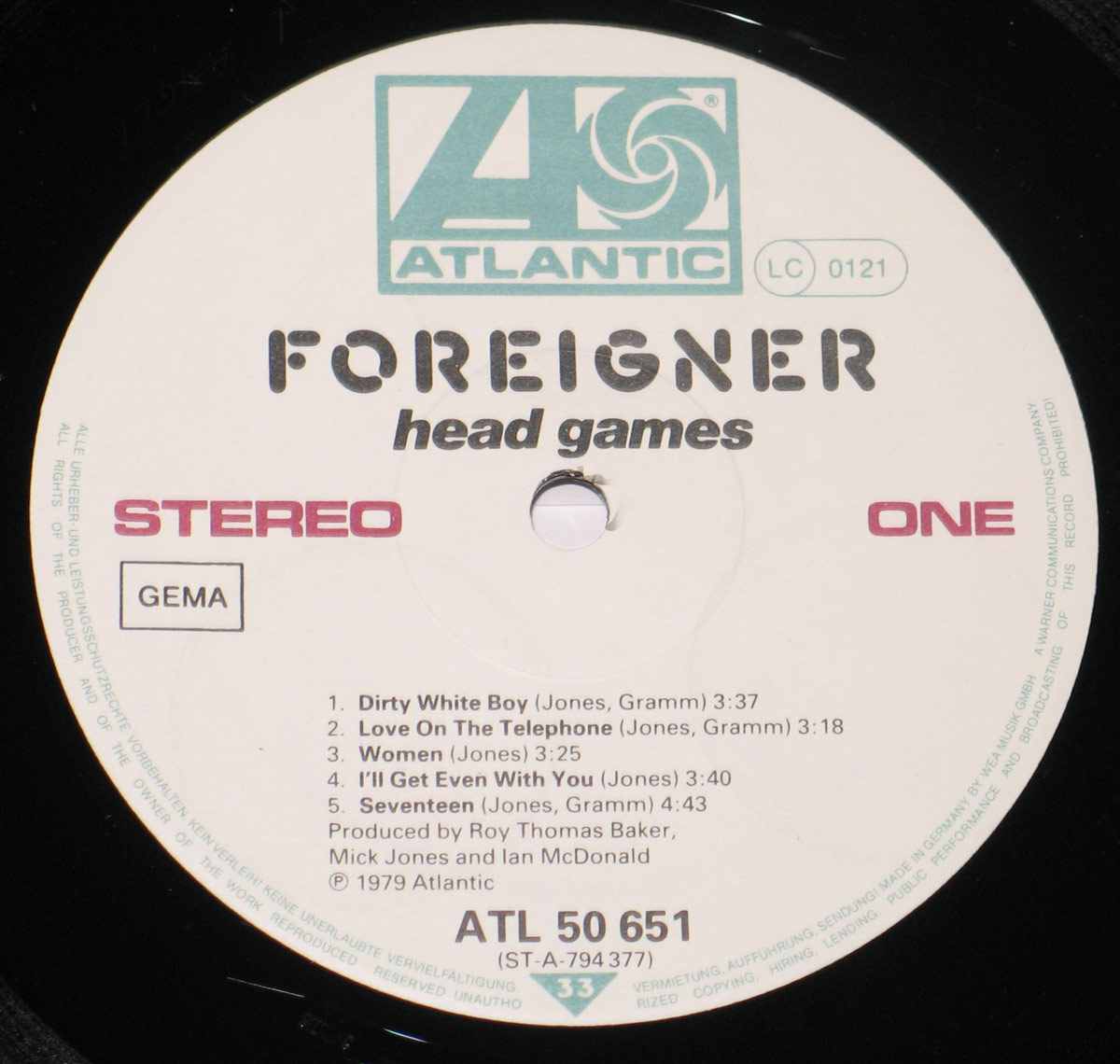 Note: The images on this page are photos of the actual album. Slight differences in color may exist due to the use of the camera's flash.
---
---
---