---
RISK - Hell's Animals SteamHammer Records 12" Vinyl LP Album
"Hell's Animals" is the second full-length studio ( and third record ) released by the German Power / Thrash Metal band "RISK", it was released in 1989. The album front cover illustration was by "Sebastian Krüger. This web-page has hi-res photos of the album covers, record label and a detailed description.
The band "RISK" is founded by three ex-members of "Faithfull Breath" namely Heinrich Mikus, Jurgen Dusterloh, Peter Dell and was complemented with Roman Keymer and Thilo Hermann. The RISK band has been active from 1986 until 1993.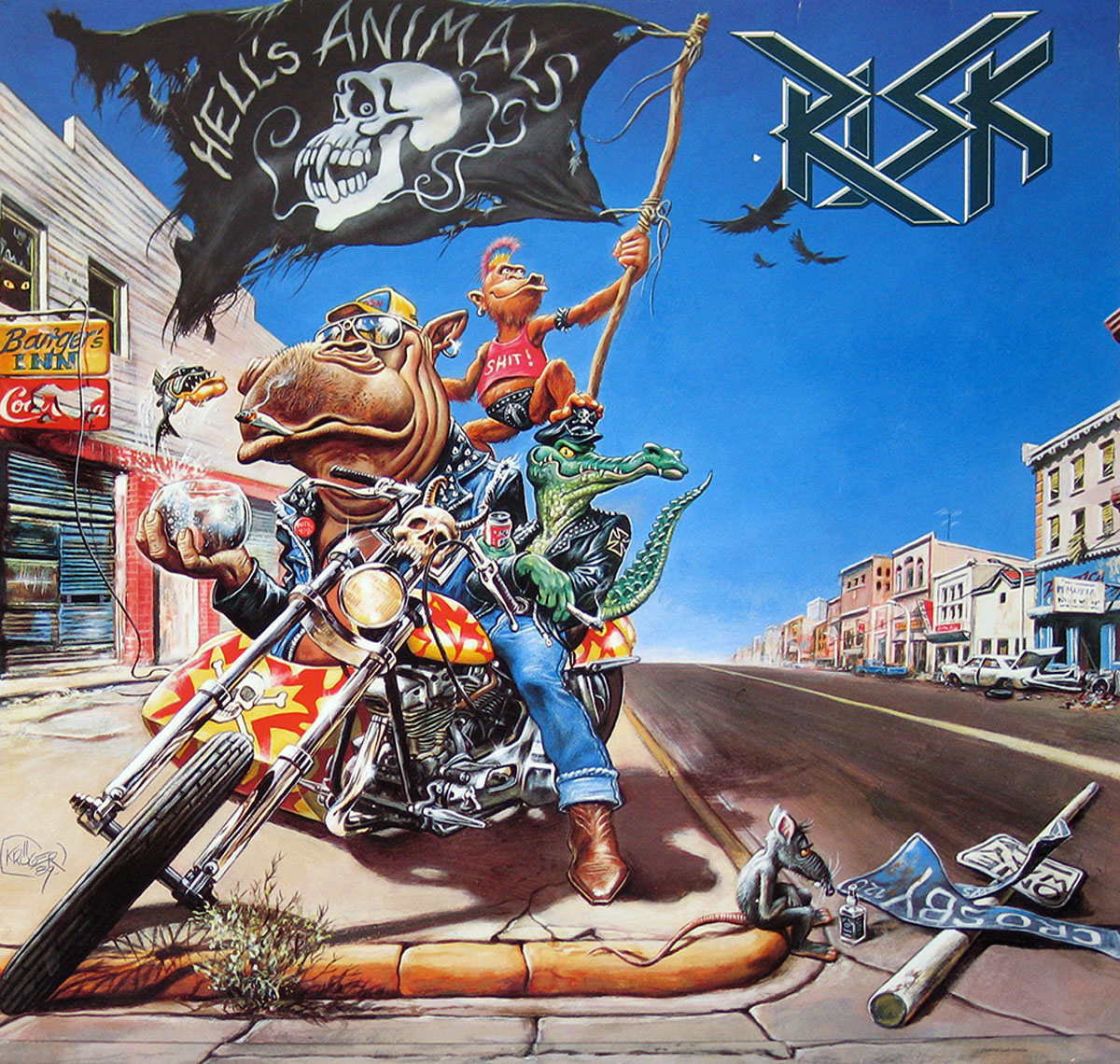 Album Description & Collectors information:

This album "RISK - Hell's Animals" includes the original custom inner sleeve with album details, complete lyrics of all songs by and photos.

Music Genre:

Speed / Thrash Metal

Album Production information:

The album: "RISK - Hell's Animals" was produced by: H.R. Mikus

Sound/Recording Engineer(s): H.R. Mikus & Detlev Mohrmann

Sebastian Krüger a German Illustrator who has (during the 1980s) drawn around two dozen of album covers for bands like: Destruction, Risk, Sodom, Tankard, Running Wild.

Record Label Information:

SteamHammer SPV 08-7592

Record Format

12" LP Vinyl Stereo Gramophone Record
Total Album (Cover+Record) weight: 230 gram

Year & Country

1989 Made in West Germany
Band Members and Musicians on: RISK - Hell's Animals
Band-members, Musicians and Performers
Vocals: Heinz Mikus

( Heinrich "Heinz" Mikus - Singer, Lead Guitar and Sound Engineer. He started in 1967 in the German Hard Rock / Heavy Metal band "Faithful Breath". He was faithful to this band until 1986 when he joined the German Thrash metal band: "RISK" until 1993. In the late 1990s he was also sound engineer on a couple of albums for Liar and Morgoth.)

Guitars: Roman Keymer
Guitars: Thilo Hermann
Bass: Peter Dell

( Peter Dell - Bass, Moog Pedal. Timeline 1985-1986 Faithful Breath 1986-1993 Risk)

Drums: Jürgen Düsterloh

(Jurgen Dusterloh - Drums. Timeline: 1982-1986 Faithful Breath, 1986-1993 Risk)
Track Listing of: "RISK - Hell's Animals"
The Songs/tracks on "RISK - Hell's Animals" are
Monkey Business 03:07
Perfect Kill 03:47
Dead or Alive 03:08
The Secret of Our Destiny 04:29
Sicilian Showdown 03:33
Torture and Pain 03:36
Mindshock 02:51
Megalomania 04:11
Russian Nights 04:27
Epilogue 02:58
Album cover photos of : RISK - Hell's Animals
Front Cover Photo of "RISK - Hell's Animals" Album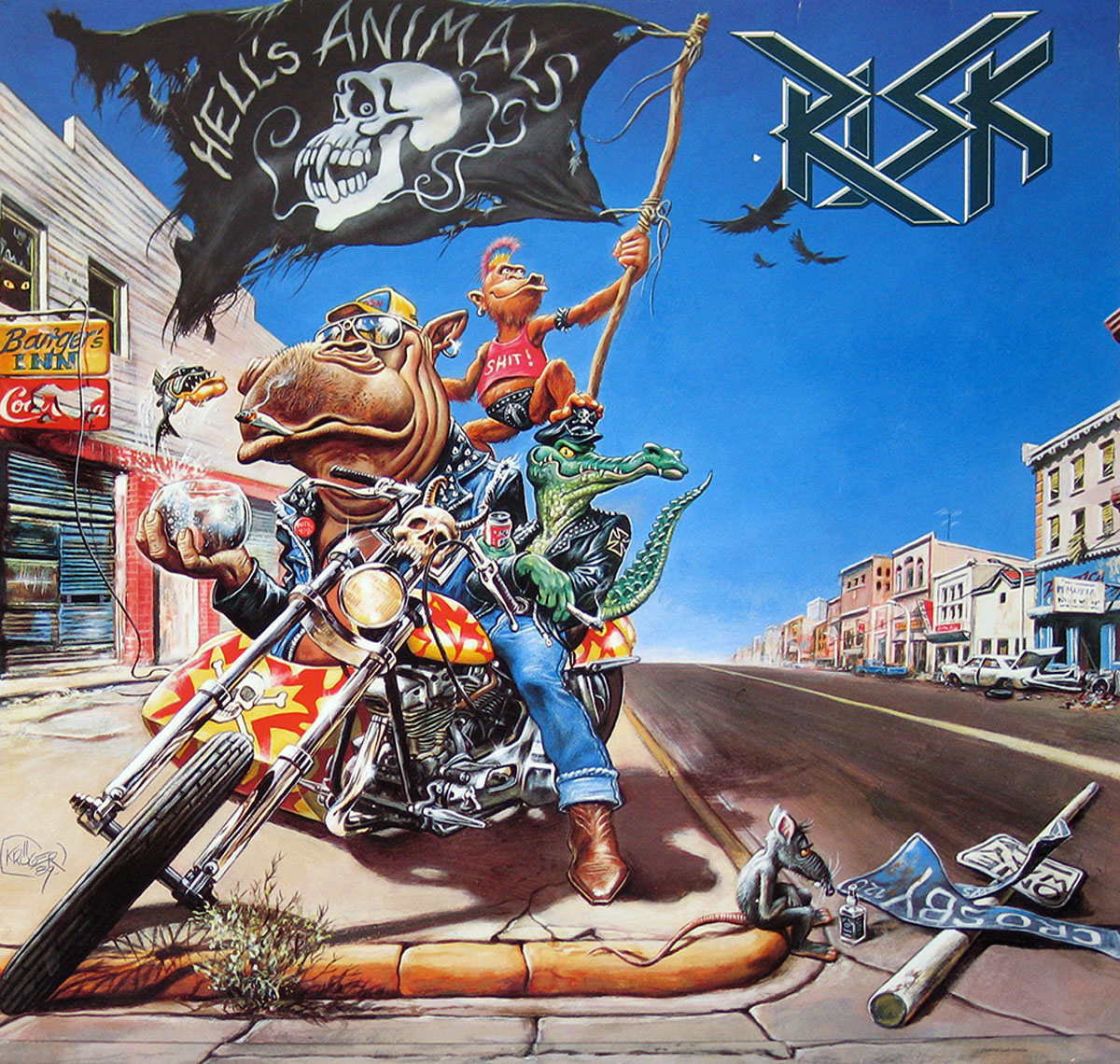 Note: The images on this page are photos of the actual album. Slight differences in color may exist due to the use of the camera's flash. Images can be zoomed in/out ( eg pinch with your fingers on a tablet or smartphone ).
Back Cover Photo of "RISK - Hell's Animals" Album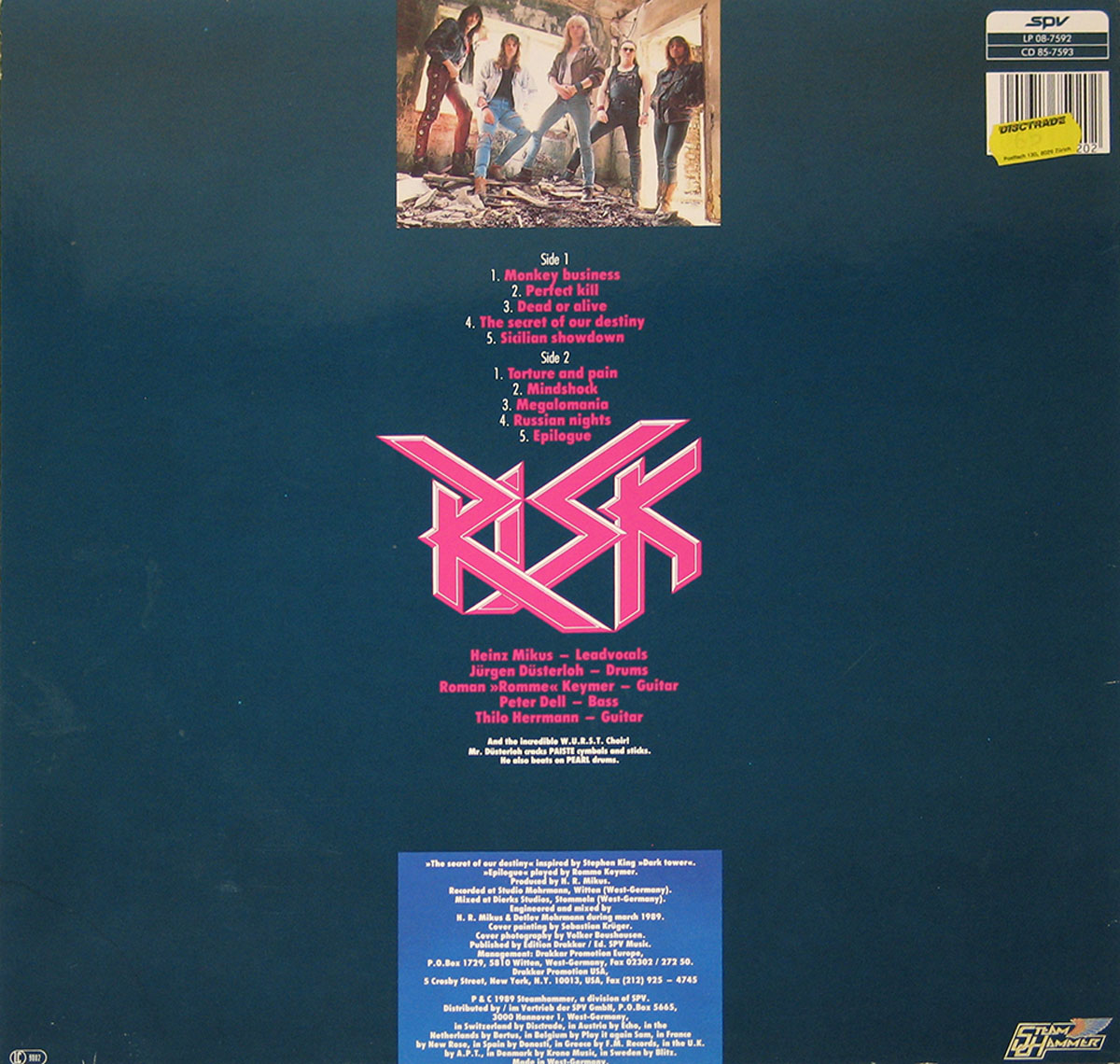 Inner Cover of "RISK - Hell's Animals" Album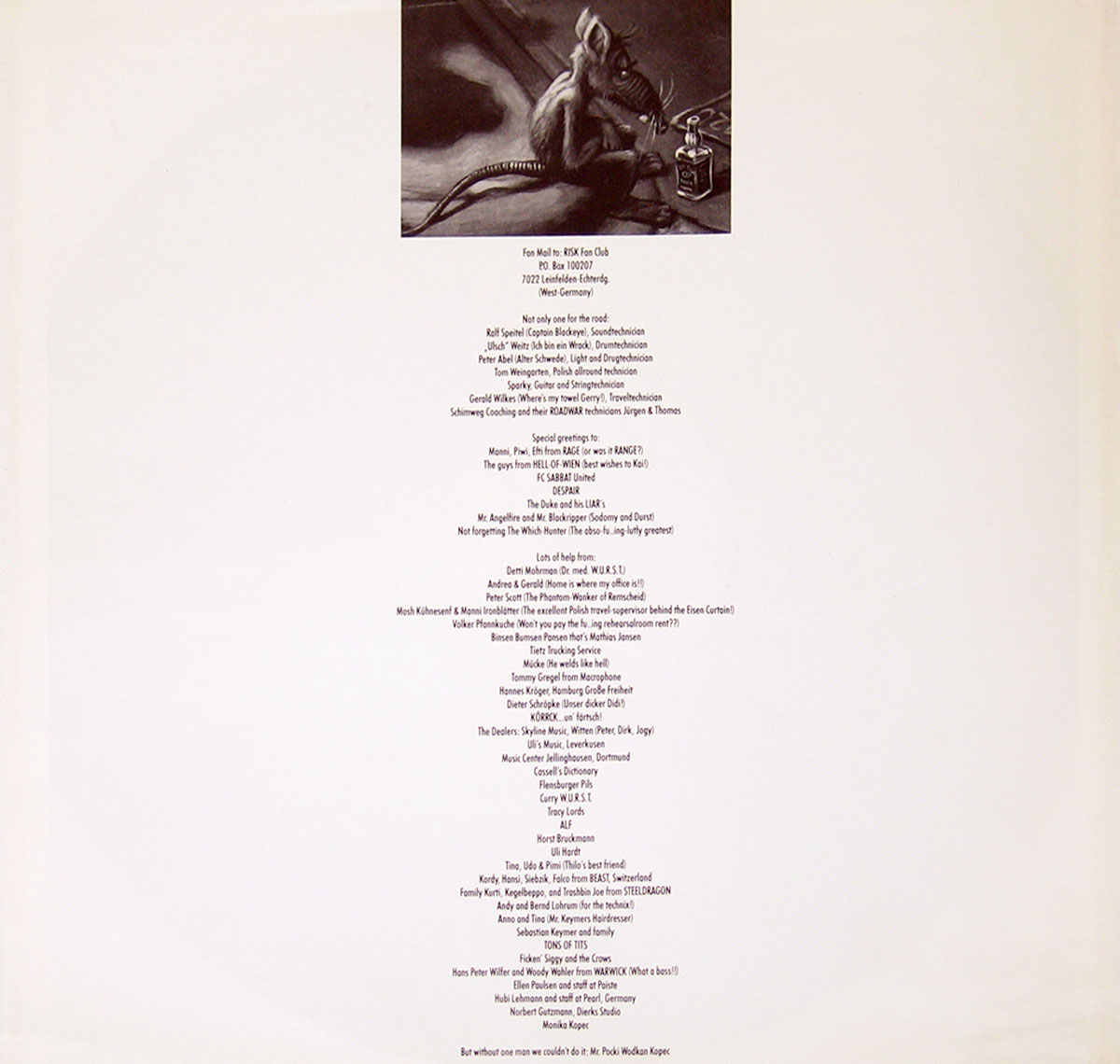 Close-up Photo of "RISK - Hell's Animals" Record Label