---
EXODUS FABULOUS DISASTER MFN 12" VINYL LP ALBUM
"Fabulous Disaster" is the third album by Exodus. UK label Music for Nations released the album in 1988, but in the USA, it was released in January 1989 by Combat/Relativity Records. In 1999, Century media remastered and reissued the band's first three albums in Europe only. This was Tom Hunting's last album with Exodus .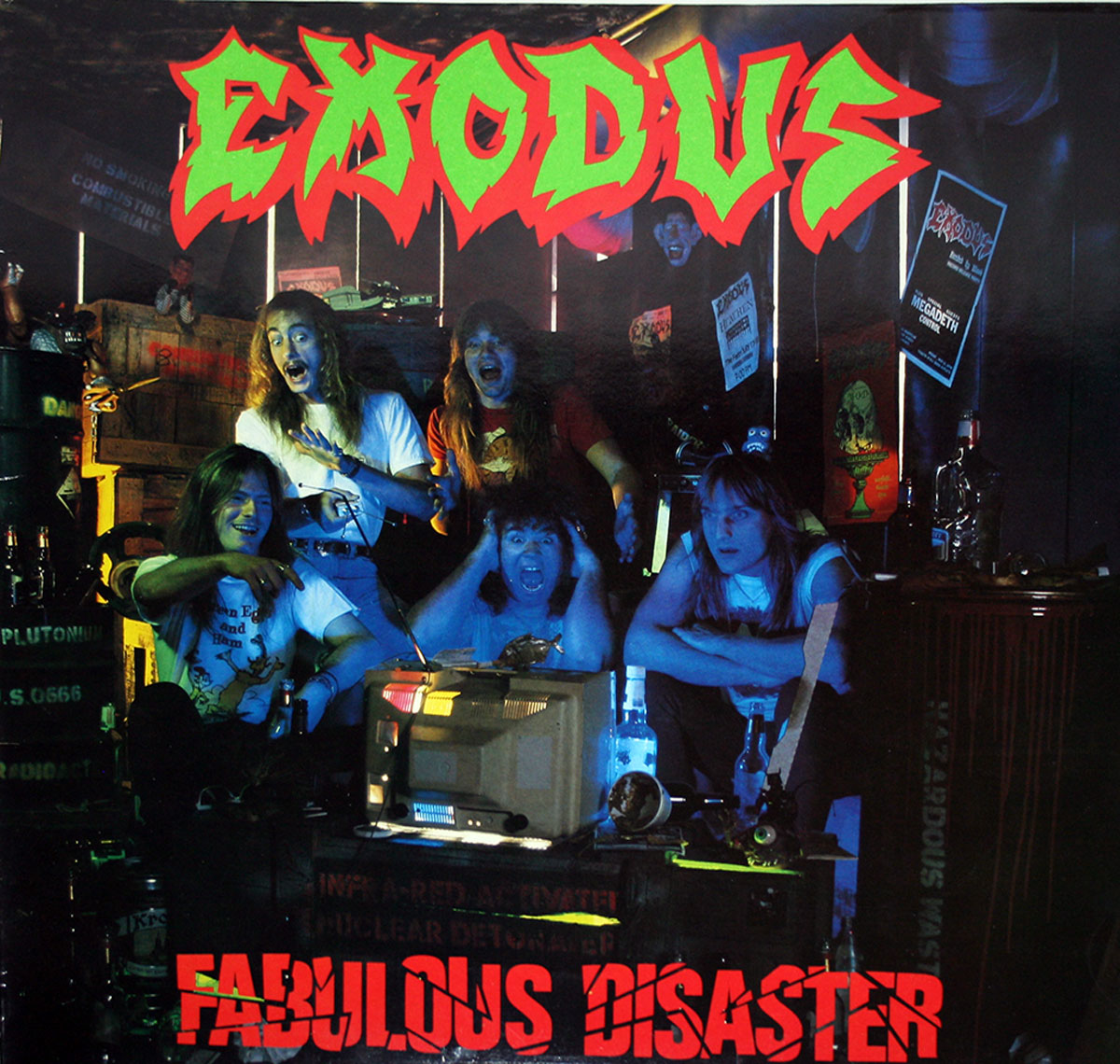 Summary:

The track "Low Rider" is a must for all fans of Cheech & Chong

Music Genre:

Speed Thrash Metal Music

Collector's info:

This album includes the original green custom inner sleeve with album details, complete lyrics of all songs by Exodus and photos.
Recorded in 1988 by Marc Senesac and David Plank at Alpha & Omega Recording, San Francisco, California, USA
Produced and mixed by Marc Senesac, Gary Holt, and Rick Hunolt
Mixed at Different Fur Studios, San Francisco, California, USA
Mixing assisted by Chad Munsey
Mastered by Bernie Grundman, Los Angeles, California, USA

Bernie Grundman - Mastering Engineer from Minneapolis, Minnesota, USA and has been very successful. Between 1982 and 1990 he has been mastering at least 3 dozen of heavy metal albums.

Label Information:

Music for Nations MFN 90
Feeding Frenzy Music

Media Format:

12" LP

Year & Country:

1988 Made in France
Band Members and Musicians on: Exodus Fabulous Disaster
Band-members, Musicians and Performers
Steve Souza vocals
Gary Holt guitar
Rick Hunolt guitar
Rob McKillop bass
Tom Hunting drums
Brian Mantilla additional percussion on Low Rider
Dov Christopher
Track Listing of: Exodus Fabulous Disaster
Tracks:
The Last Act of Defiance 4:38
Fabulous Disaster 4:49
The Toxic Waltz 4:45
Low Rider (Allen, Brown, Dickerson, Goldstein, Jordan, Leviton, Miller, Scott) 2:44
Cajun Hell 5:58
Like Father, Like Son 7:58
Corruption 5:44
Verbal Razors 4:01
Open Season 3:51
Album cover photos of : Exodus Fabulous Disaster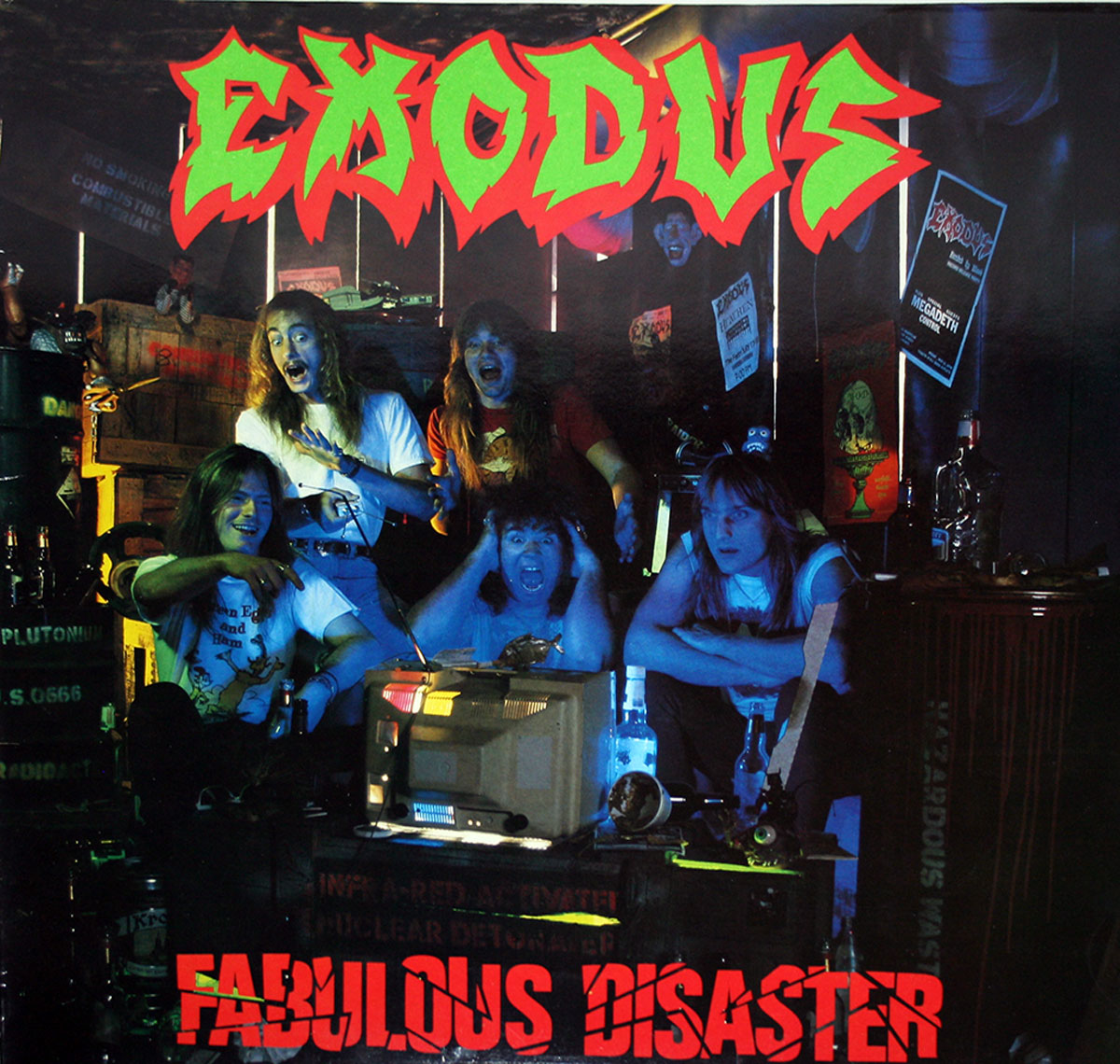 Hires photo of the album back cover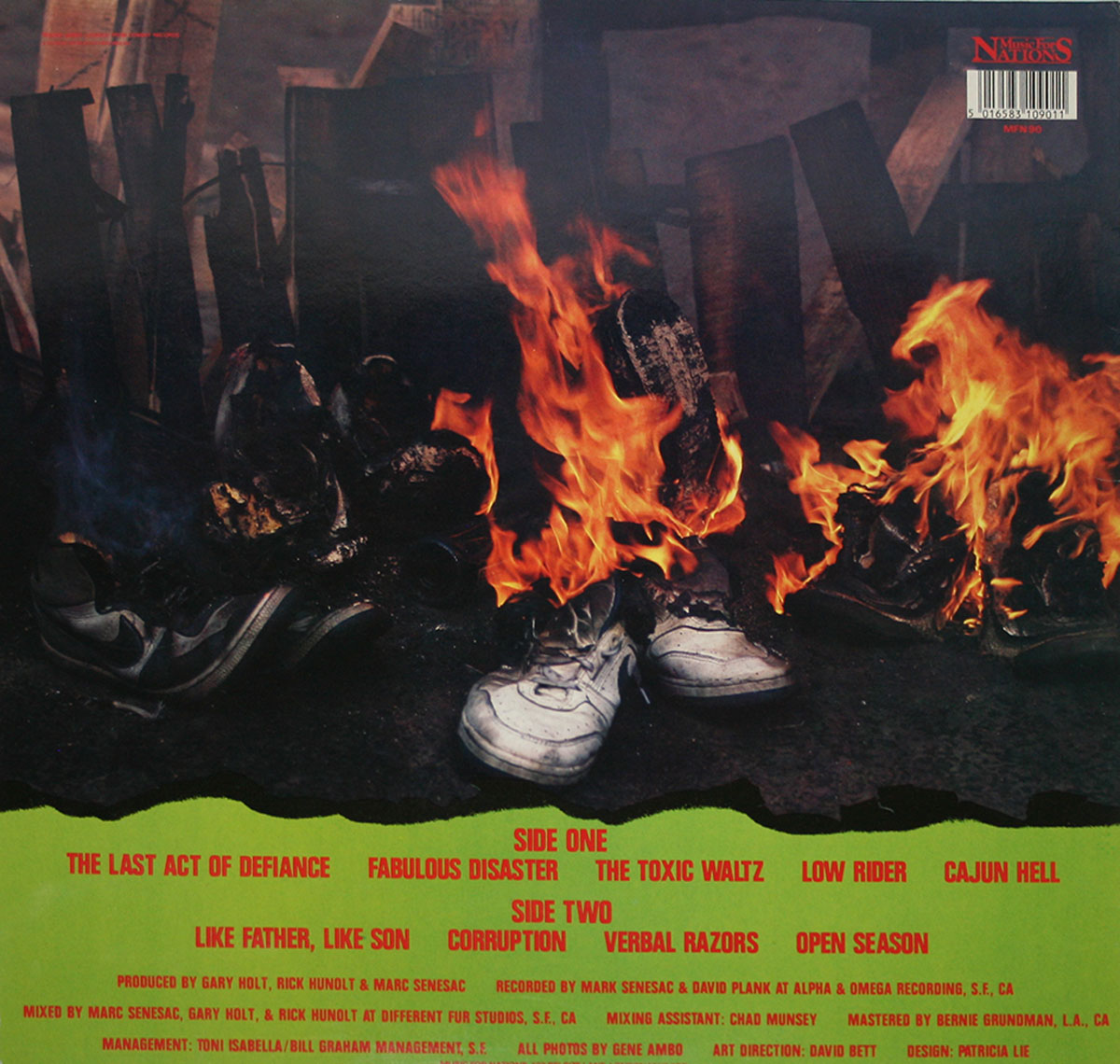 Hires photo of the custom inner sleeve with photos of the Exodus band-members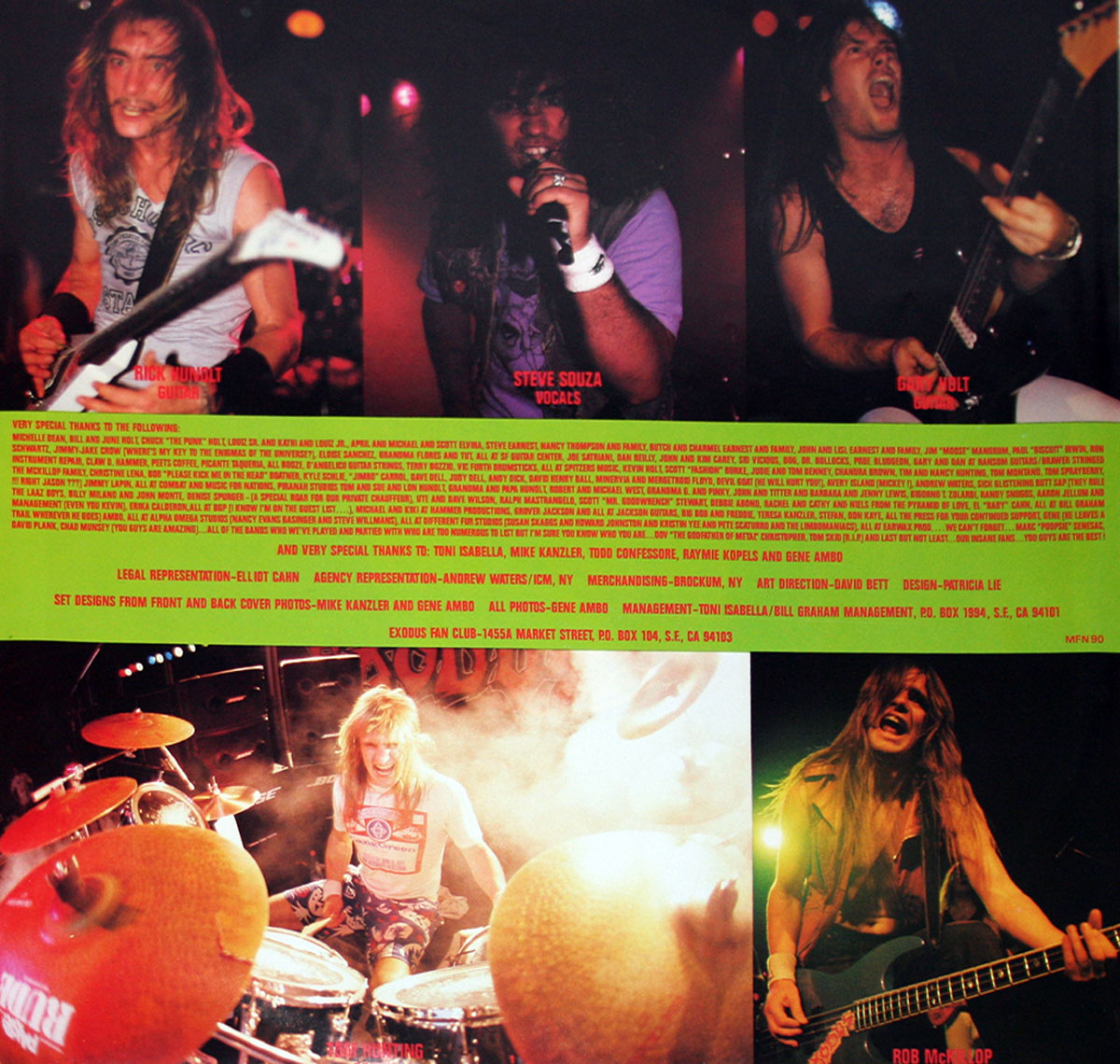 sampletext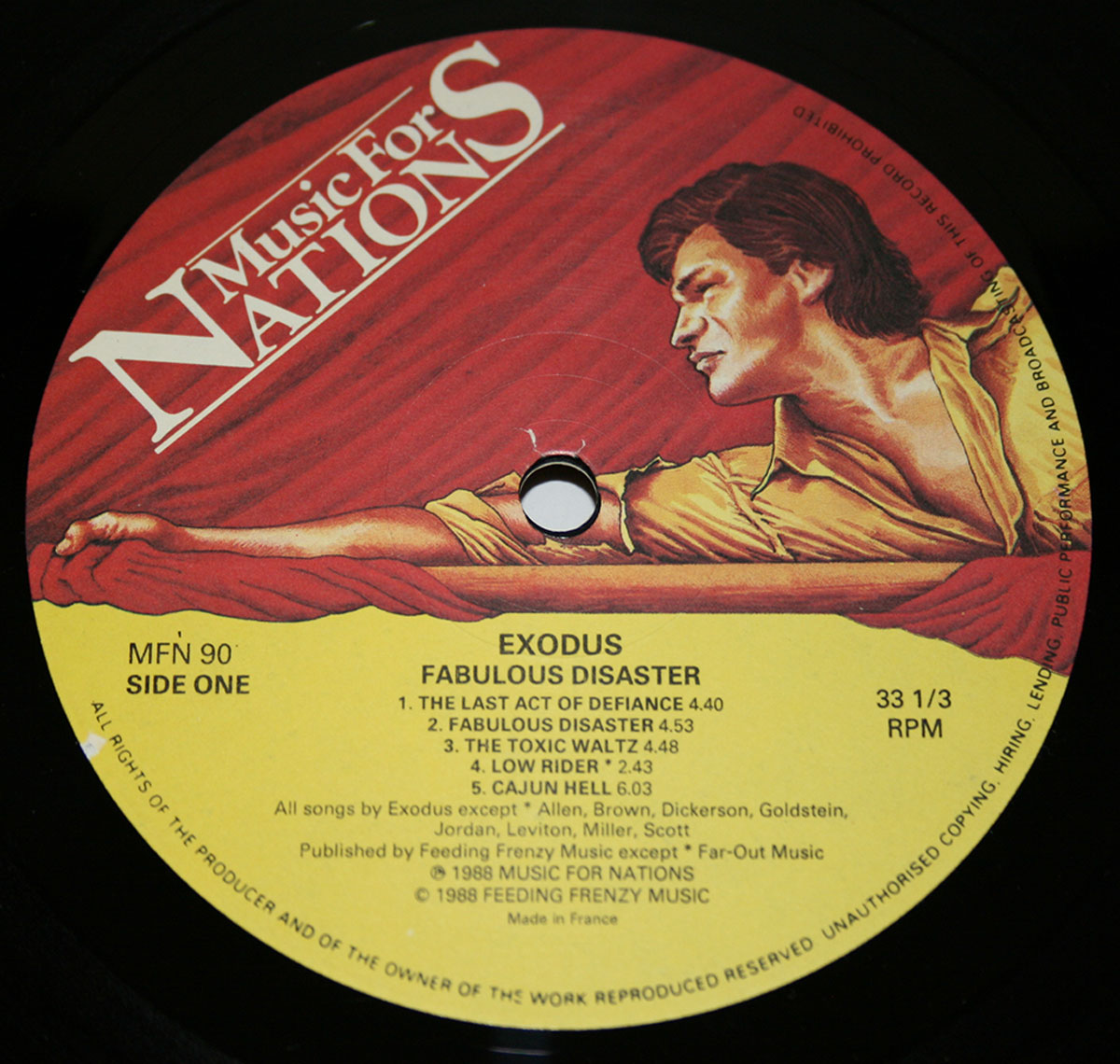 Note: The images on this page are photos of the actual album. Slight differences in color may exist due to the use of the camera's flash. Images can be zoomed in/out ( eg pinch with your fingers on a tablet or smartphone ).
---
---