---
ROBIN TROWER - Bridge of Sighs - 12" LP VINYL ALBUM
"Bridge of Sighs" is the second solo album by the English guitarist and songwriter Robin Trower. It was released in 1974. "Bridge of Sighs," his second album after leaving "Procol Harum", was a breakthrough album for Trower. Songs from this album, such as "Bridge of Sighs", "Too Rolling Stoned", "Day of the Eagle", and "Little Bit of Sympathy", have become live concert staples for Trower . The album was produced by organist Matthew Fisher, formerly Trower's bandmate in Procol Harum. Acclaimed Beatles engineer Geoff Emerick was this album's sound engineer. The album was named after the Bridge of Sighs in Venice, Italy
This web page has photos of album covers, inner sleeves, record labels together with production details, musicians and track-listing.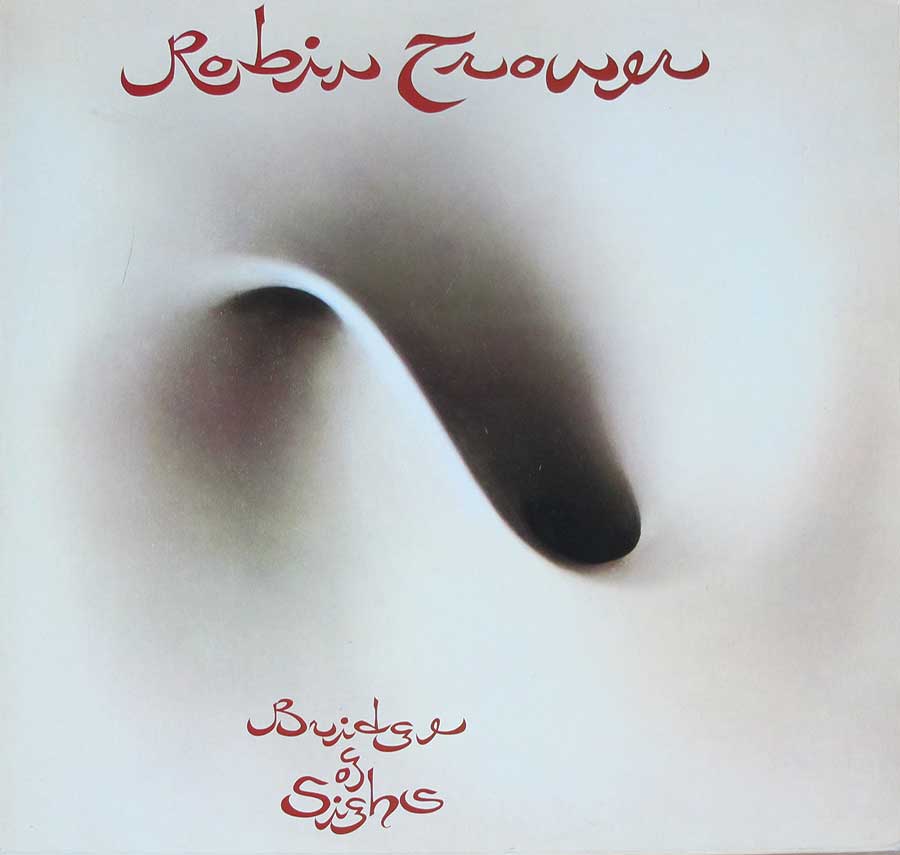 Summary: Bridge of Sighs is the fifth studio album by British guitarist Robin Trower, released in 1974. The album features a more blues-oriented sound than Trower's previous work, and is considered one of his best albums. The album features the singles "Day of the Eagle" and "Bridge of Sighs". Bridge of Sighs was a critical and commercial success, and helped to establish Trower as a leading figure in the blues-rock genre.
Music Genre:

Blues Rock
Album Production Information:
The album: "ROBIN TROWER Bridge of Sighs" was produced by:Matthew Fisher
Sound/Recording Engineer(s): Geoff Emerick
This album was recorded at: Air London Studios
Album cover design: Funky Paul
Record Label Information:

Green Chrysalis 6307 530
Media Format:

12" LP Vinyl Stereo Gramophone Record
Total Album (Cover+Record) weight: 230 gram
Year & Country:

1974 Made in Germany
Personnel/Band Members and Musicians on: ROBIN TROWER Bridge of Sighs
Band-members, Musicians and Performers
Robin Trower - guitar
James Dewar - bass, vocals
Reg Isidore - drums
Complete Track-listing of the album "ROBIN TROWER Bridge of Sighs"
The detailed tracklist of this record "ROBIN TROWER Bridge of Sighs" is:
Track-listing :
"Day of the Eagle" - 4:59
"Bridge of Sighs" - 5:05
"In This Place" - 4:28
"The Fool and Me" (Trower, James Dewar) - 3:57
"Too Rolling Stoned" - 7:29
"About to Begin" - 3:43
"Lady Love" (Trower, James Dewar) - 3:21
"Little Bit of Sympathy" - 4:20
---
ROBIN TROWER - Bridge of Sighs 12" Vinyl LP Album High Resolution & Quality Photos
Photo Of The Back Cover ROBIN TROWER - Bridge of Sighs 12" Vinyl LP Album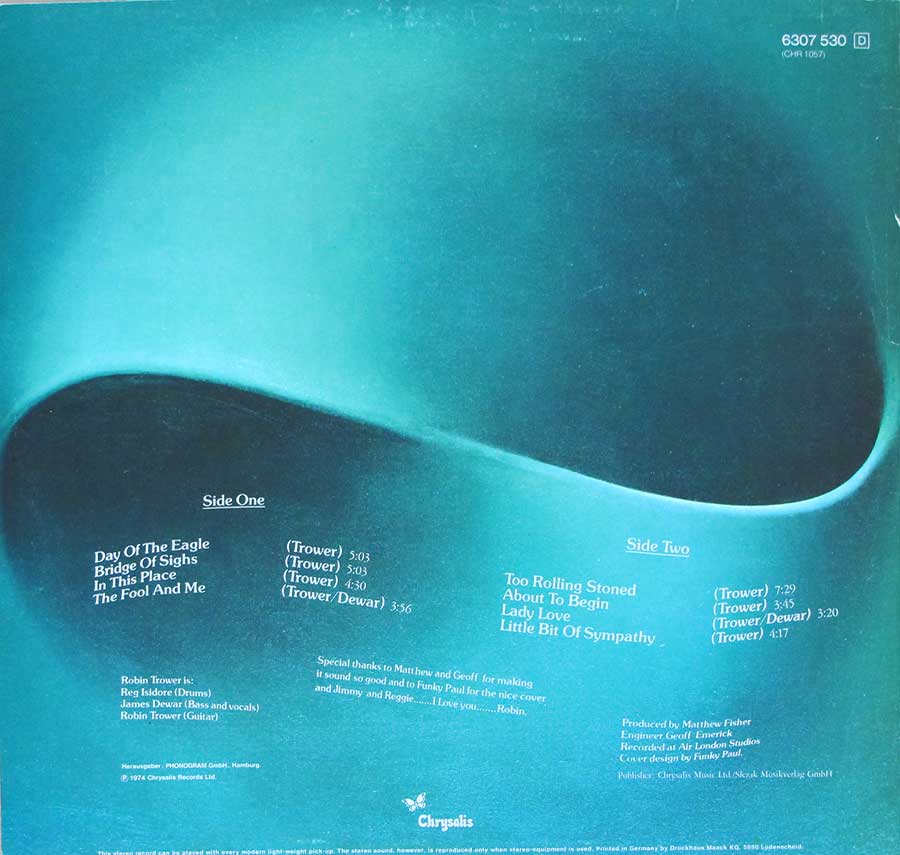 ---
Close up of record's label ROBIN TROWER - Bridge of Sighs 12" Vinyl LP Album Side One: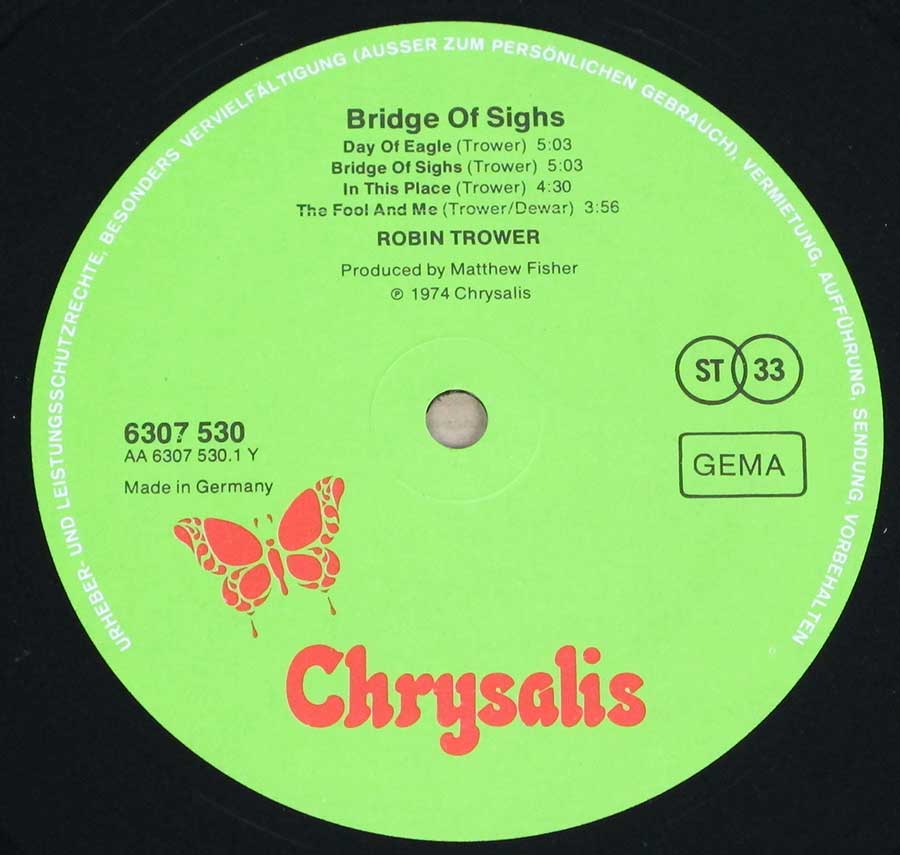 Green Colour with Butterfly Chrysalis 6307 530 Record Label Details: GEMA, Made in Germany ℗ 1974 Chrysalis Sound Copyright
---