BITCH's Band Description:
"Bitch" is an American heavy metal band that was formed in the 1980s. They are known for their aggressive style of music, which is characterized by fast tempos, heavy guitar riffs, and powerful vocals. They released several albums throughout the 1980s and 1990s, and are considered to be one of the pioneers of the American heavy metal scene.
Some of Bitch's most popular songs include "Be My Slave," "Live for the Whip," and "Ain't None of Your Business." The band has been credited with influencing many other heavy metal and hard rock acts, and they continue to tour and perform to this day.
Bitch is known for their high-energy live performances, and they have been praised for their musicianship and stage presence. Despite facing criticism and controversy due to the explicit lyrics and subject matter in their music, they have remained popular among heavy metal fans and continue to be respected in the metal community.
BITCH - Be My Slave 12" Vinyl LP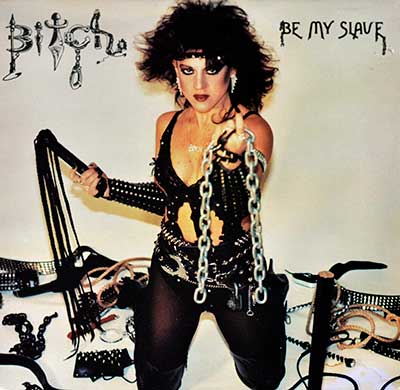 Noise – N 001 , 1983 , Germany
"Be My Slave" is the first official full-length album released by the female fronted American Heavy Metal band "Bitch". This album was produced by Phil Pecora with Brian Slagel as Executive Producer and Bill Metoyer being Sound Engineer.
Show Details
BITCH - The Bitch is Back 12" Vinyl LP
  Metal Blade Records RR 9627 , 1987 , Holland
  "Bitch is Back" is the 1987 album released by the American Heavy Metal band "Bitch" from Los Angeles. The album-name "Bitch is Back" comes from the cover song the band did , from the Elton John / Bernie Taupin song.
Show Details