---
ZZ Top - El Loco - blues-rock 12" VINYL LP ALBUM
El Loco is the seventh studio album by he American blues rock band ZZ Top, released in 1981 The title means "The Crazy One" in Spanish. Guitarist/singer Billy Gibbons has stated that the recordings of this album was the first time the three members of the band were isolated from one another in the studio, rather than recording simultaneously in the same room. It also foreshadowed ZZ Top's New Wave direction later in the decade, with early experimentations in synthesizer backing on certain tracks.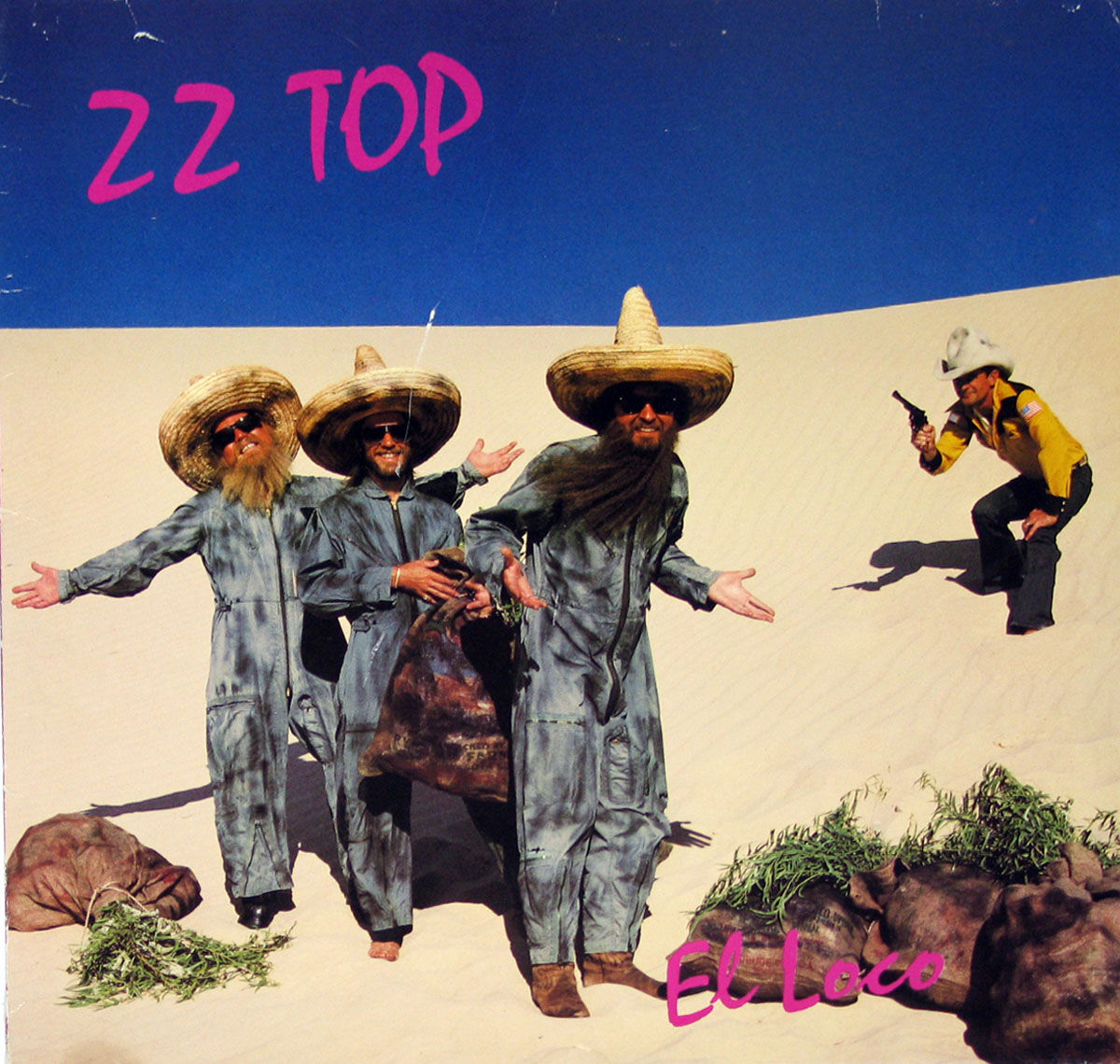 Collector Notes:

Music Genre:

American Texas Tex-Mex Blues Hard Rock

Collector's info:

This album includes the original custom brown inner sleeve with album details,
Album: Production information: Produced by Bill Ham
Audio Sound Engineers Terry Manning, Bob Ludwig

Bob Ludwig is an experienced and well-known mastering engineer, he has mastered thousands of music records. He has been vice-president of Sterling Sound, vice-president and chief engineer at Masterdisk and in 1993 owned his own mastering

Label Information:

Warner Bros (WB) Records 56 929 (56929)

Media Format:

12" Vinyl LP Gramophone Record
Album weight: 210 gram

Year & Country:

1981 Made in Germany
Album cover photos of : ZZ Top El Loco
Photo of ZZ Top El Loco Album's Front Cover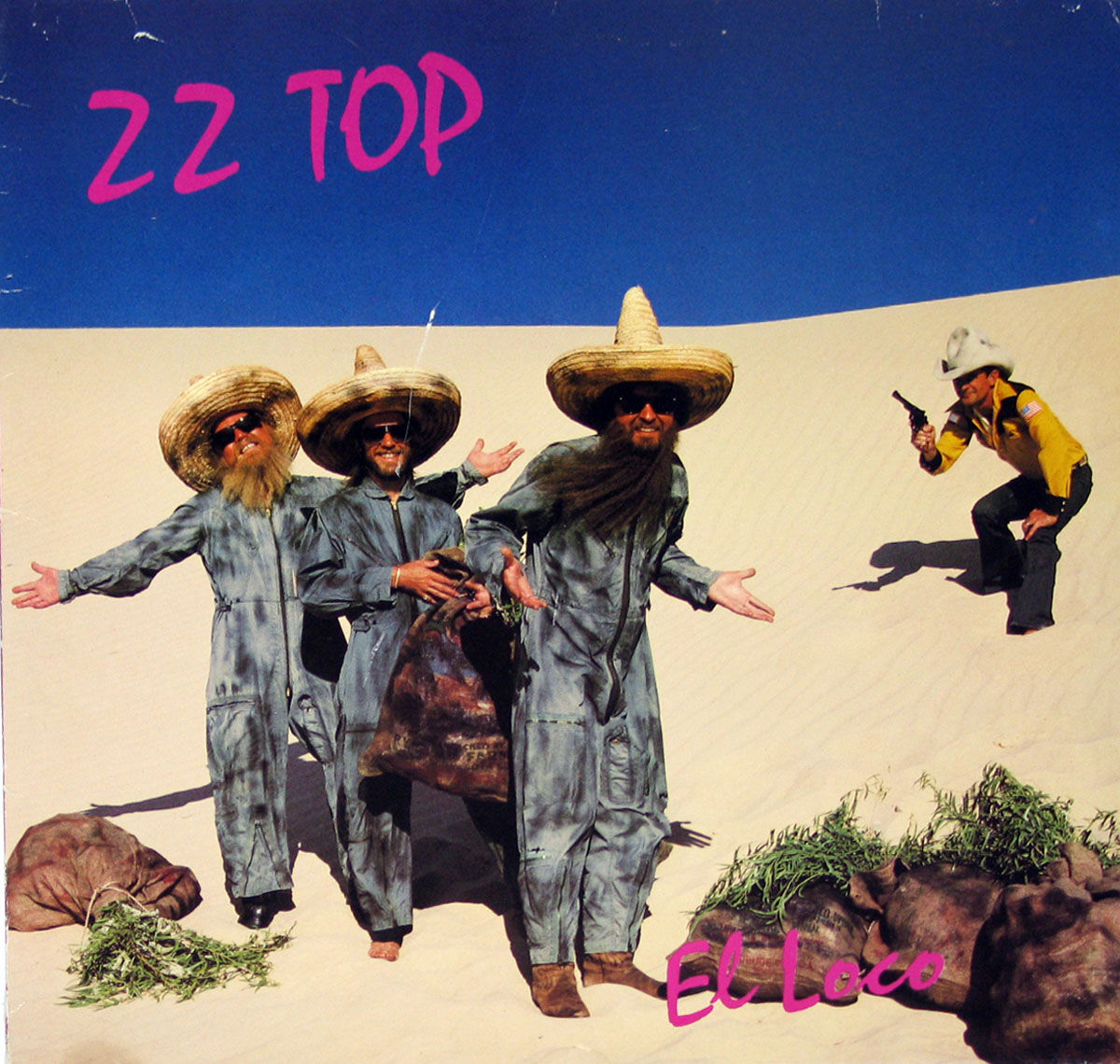 Close-up Photo of ZZ Top El Loco Record Label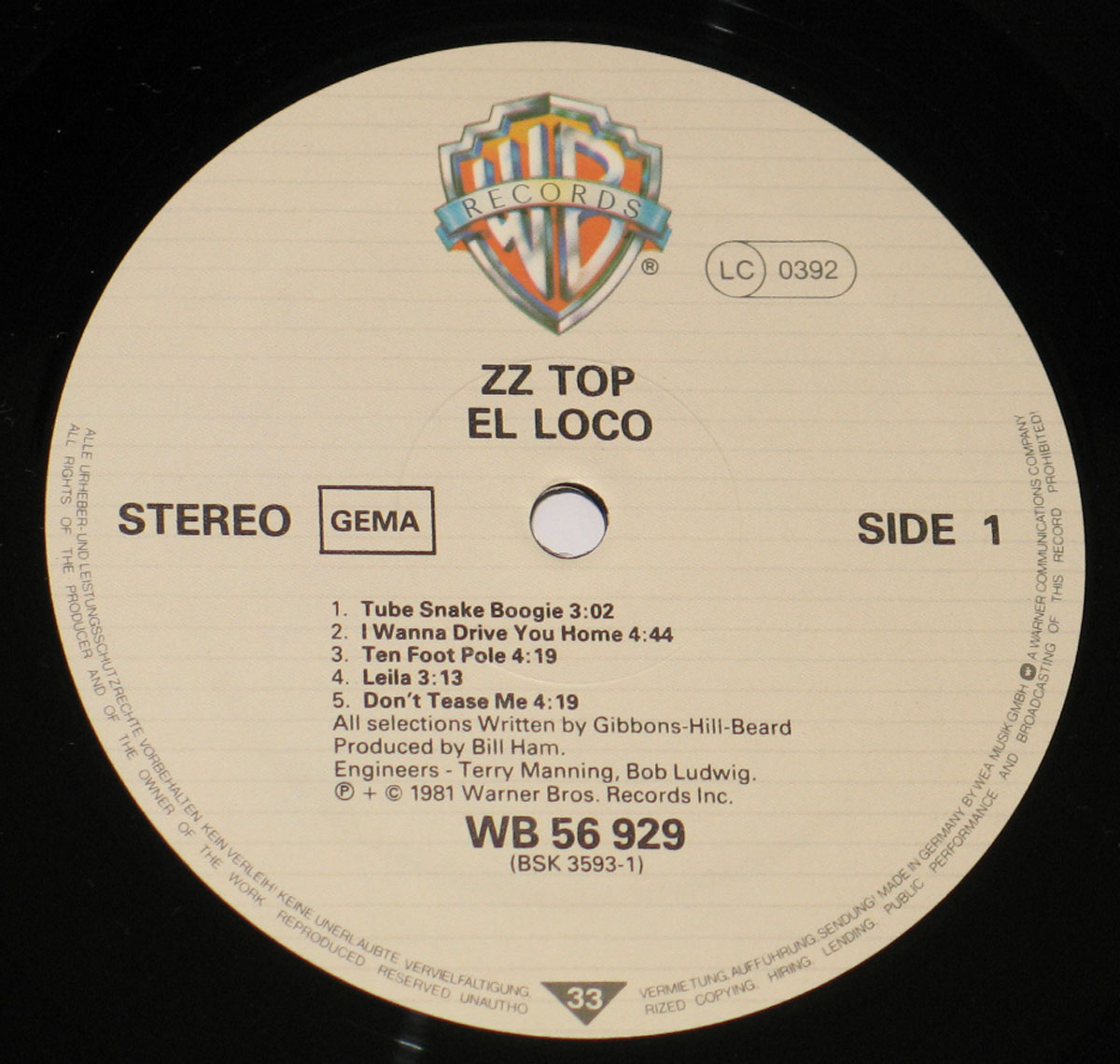 Note: the above pictures are actual photos of the album and allow you to judge the quality of cover. Slight differences in color may exist due to the use of the camera's flash.
Band Members and Musicians on: ZZ Top El Loco
Band-members, Musicians and Performers
Frank Beard drums
Billy Gibbons guitar, lead vocals
Dusty Hill bass, vocals
Track Listing of: ZZ Top El Loco
The Song/tracks on "ZZ Top El Loco" are
Tube Snake Boogie 3:03 - Lead vocals: Billy Gibbons
I Wanna Drive You Home 4:44 - Lead vocals: Billy Gibbons
Ten Foot Pole 4:19 - Lead vocals: Billy Gibbons
Leila 3:13 - Lead vocals: Billy Gibbons
Don't Tease Me 4:20 - Lead vocals: Billy Gibbons & Dusty Hill
It's So Hard 5:12 - Lead vocals: Billy Gibbons
Pearl Necklace 4:02 - Lead vocals: Billy Gibbons
Groovy Little Hippie Pad 2:40 - Lead vocals: Billy Gibbons
Heaven, Hell or Houston 2:32 - Lead vocals: Billy Gibbons
Party on the Patio 2:49 - Lead vocals: Dusty Hill
---
---
---