---
VARIOUS ARTISTS - Teutonic Invasion Part One RoadrunneR Records 12" LP ALBUM VINYL
This compilation album was created by staff of the German magazine ROCK HARD. Rock Hard magazine started in the 80's to focus on HARDER Rock and underground metal.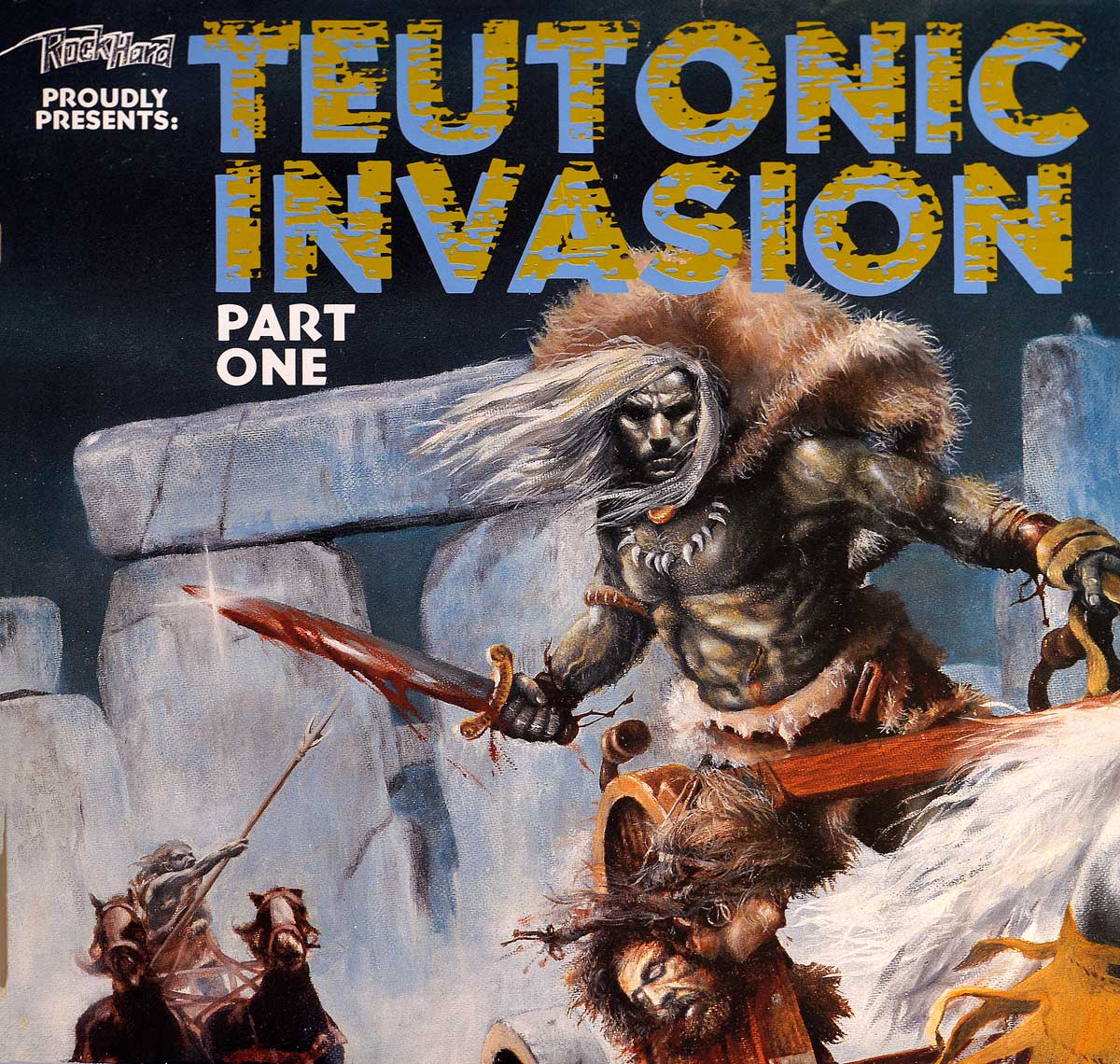 Album Description & Collectors information:
This album contains many early demo tracks (which were not previously released) from bands like Crows, Morgan Le Fay, Minotaur, Paradox, Poison, Violent Force, Warnyng and Xandril.
Surely this record is a must for all the fans of Heavy Metal from Germany and anyone listening to new metal music at that time
Liner notes: For 3 1/2 years ROCK HARD magazine has been right in the frontline to support underground metal in Germany. The last several months have shown an explosion of new bands, some good some less good. We wanted to prove that there are still undiscovered talents and after listening to hundreds of demo- and rehearsal-tapes we've chosen the following eight bands. Enjoy'em! Holger Stratmann & Uwe Lerch, February 1987.
Music Genre:

Death , Power, Thrash Metal

Album Production Information:

Produced by: Rock Hard Magazine (Germany)
Published by: Roadster Music
Idea and Organisation: Uwe Lerch

All songs remixed at: Grooveland Studios, Dortmund

Cover artwork:Jim Burns for Young Artwork

Record Label Information:

Roadrunner Records - RR 9624

Media Format:

12" Vinyl Stereo Gramophone Record
Total Album (Cover+Record) weight: 230 gram

Year & Country:

1987 Netherlands
Detailed track and band information

Song:

Band

Information details

Final Fight

CROWS

This song "Final Fight" has not been released on any official CROWS records.

CROWS was a German Power Metal band fron 1981 until 1991.

Musicians:
Bruno Mattukat (Vocals)
Vinnie Hirsch (Guitars)
Stefan Knauer (Guitars)
Siggi Kromotka (Bass)
Bobby Schottkowski (Drums)

Killer Without a Face

MORGAN LE FAY

"Killer Without a Face" has not been released on any official recording before.

Musicians
Paul Heller (Vocals)
Torsten Anlauf (Guitar)
Dirk Hartl (Guitar)
Thomas May (Bass)
Mirko Dahm (Drums)

Planed Head

MINOTAUR

"Planed Head" by MINOTAUR is from the 2nd Demo recording by this band and has not been released previously.

Musicians
Andreas Richwien (Vocals, Guitar)
Ulf Kaiser (Guitar)
Thomas Witte (Bass)
Joerg Bock (Drums)

Pray to the Godz of Wrath

PARADOX

This song "Pray to the Godz of Wrath" by Paradox, was one of the first tracks recorded by Paradox and was first released on their Demo nr 1.

Musicians
Charly Steinhauer (Vocals, Guitars)
Markus Spyth (Guitar)
Roland Stahl (Bass)
Axel Blaha (Drums)

Sphinx

POISON

The song "Sphinx" was taken from the POISON abum "Into the Abyss"

Musicians
Weber (Vocals) Real name: Armin Weber
Uli H. (Guitar) Real name: Uli Hildenbrand
Krampe (Bass) Real name:Andy Krampute
Alex Gilliar (Drums)

Soulbursting

VIOLENT FORCE

The track Soulbursting was taken from the album "Malevolent Assault of Tomorrow" by VIOLENT FORCE.

Musicians:
Lemmy (Vocals, Guitar) Real name: Frank Fellinger
Stachel (Guitar)
Waldy (Bass)
Hill (Drums) Real name:
Jürgen Hillebrand

Revelation

WARNYNG

The "WARNYNG" band was founded in 1985 and produced 2 demo's before they split. Revelation is a track from their first demo recording.

Musicians
Ingmar Viertel (Vocals)
Dirk Pauer (Guitar)
Holger Kullik (Guitar)
Peter Kohnke (Bass)
Matthias Lipinski (Drums)

Terminal Breath

XANDRIL

"Terminal Breath" is a track from Xandril's first demo (1985)

Musicians:
Bettina Paschen (Vocals)
Stephan Phillip (Guitar)
Joerg Schroer (Guitar)
Andre Phillip (Bass)
Marlon Erdmann (Drums)
High Quality Photo of Album Front Cover "VA VARIOUS ARTISTS - Teutonic Invasion Part One"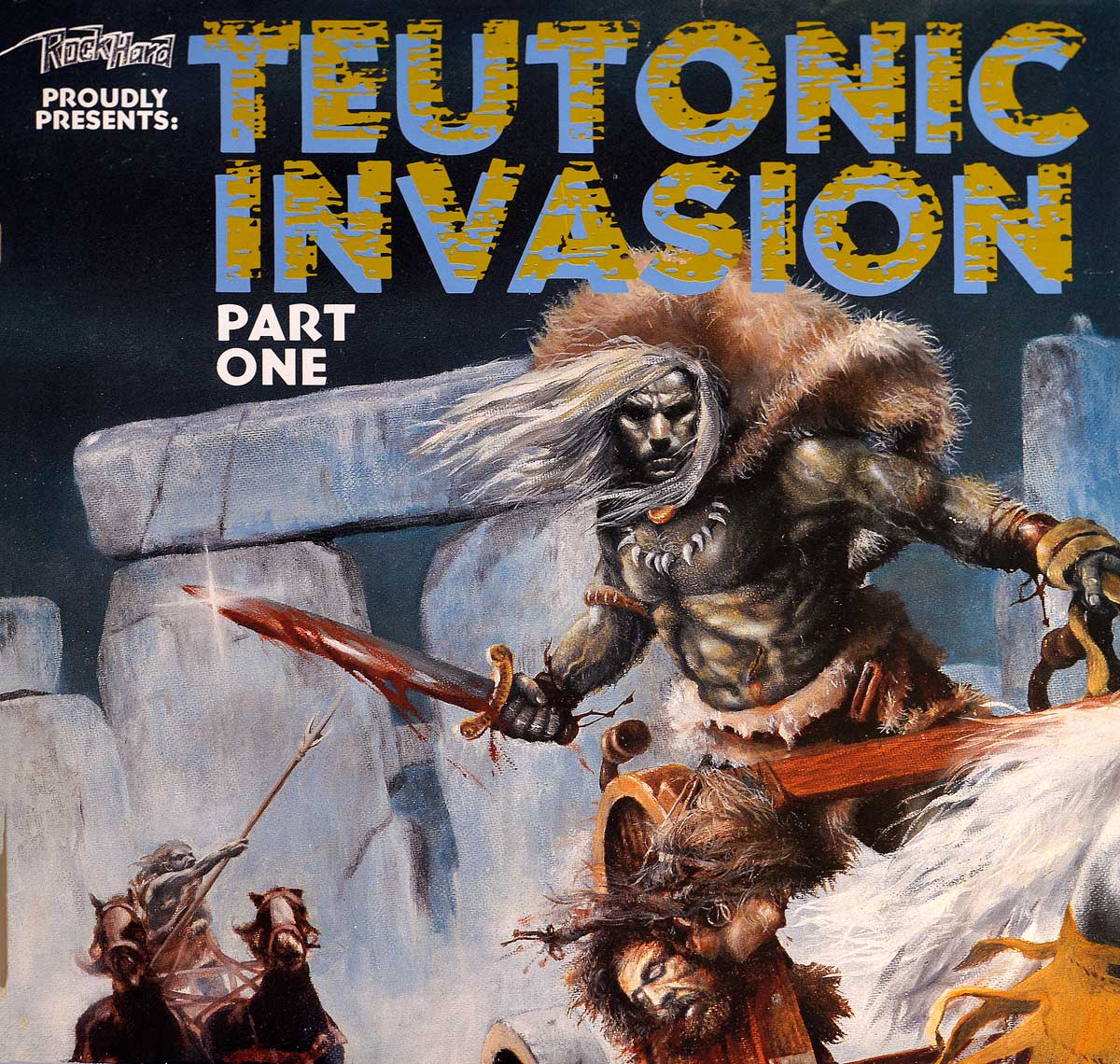 Album Back Cover Photo of "VA VARIOUS ARTISTS - Teutonic Invasion Part One"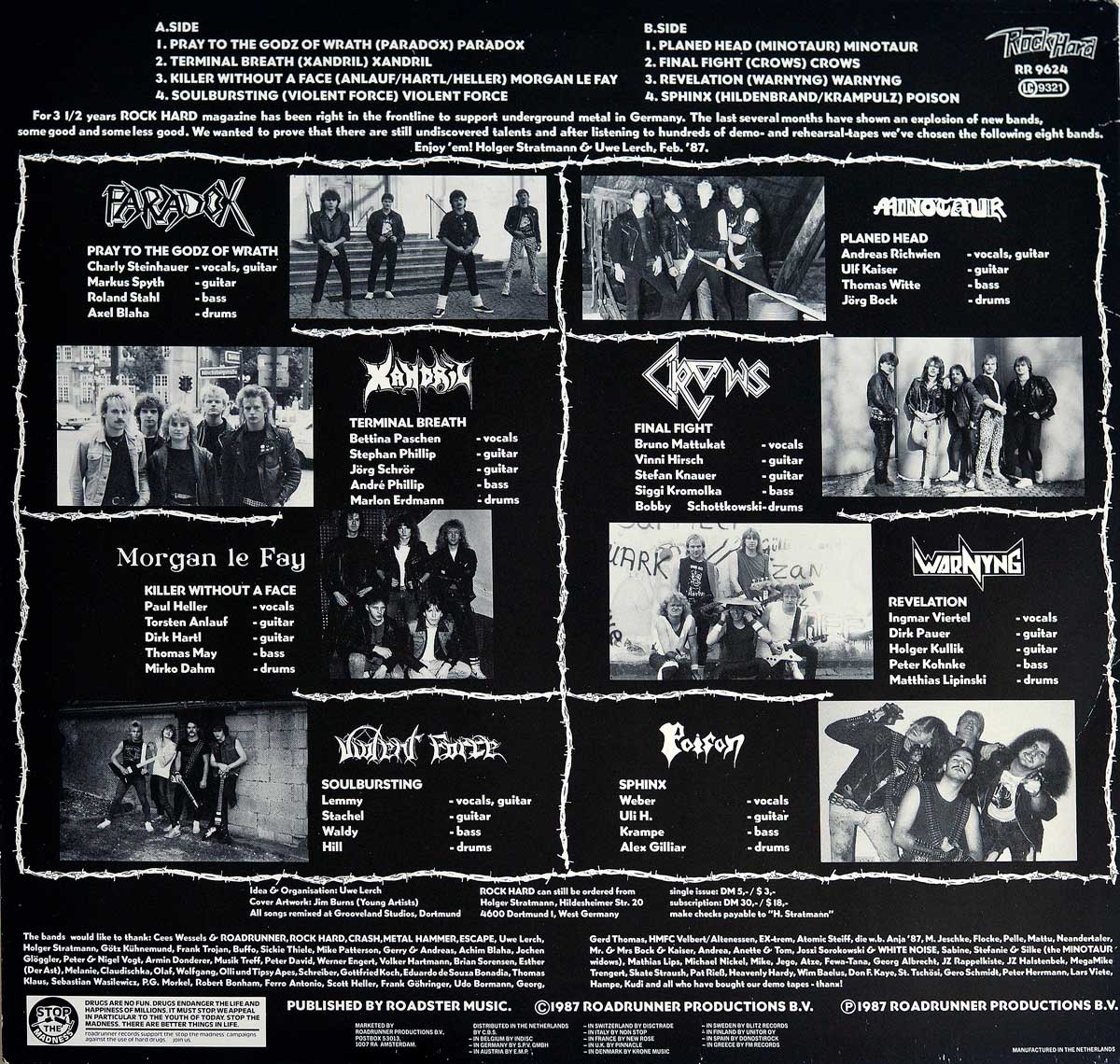 Photo of "VA VARIOUS ARTISTS - Teutonic Invasion Part One" 12" LP Record - Side One: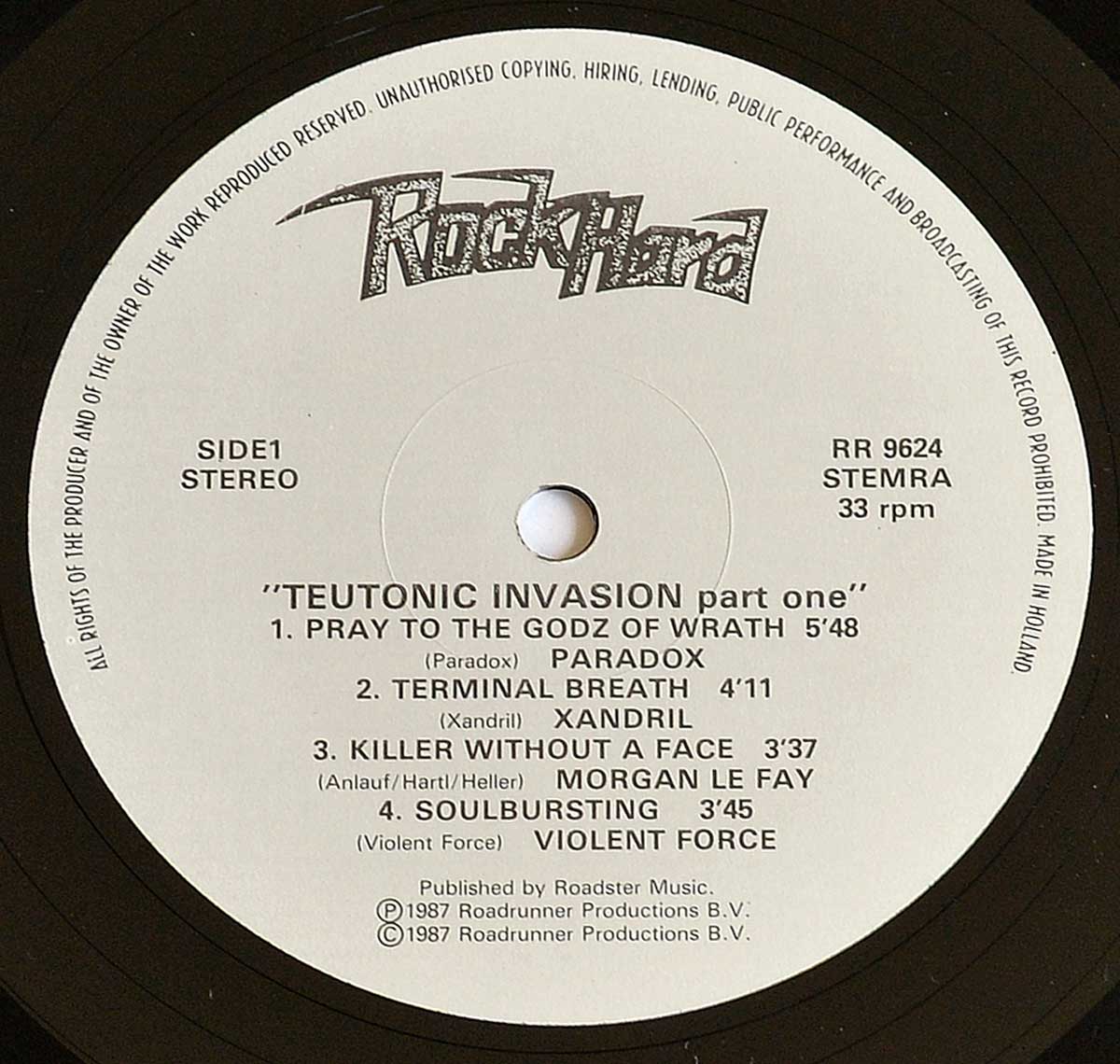 Photo of "VA VARIOUS ARTISTS - Teutonic Invasion Part One" 12" LP Record - Side Two: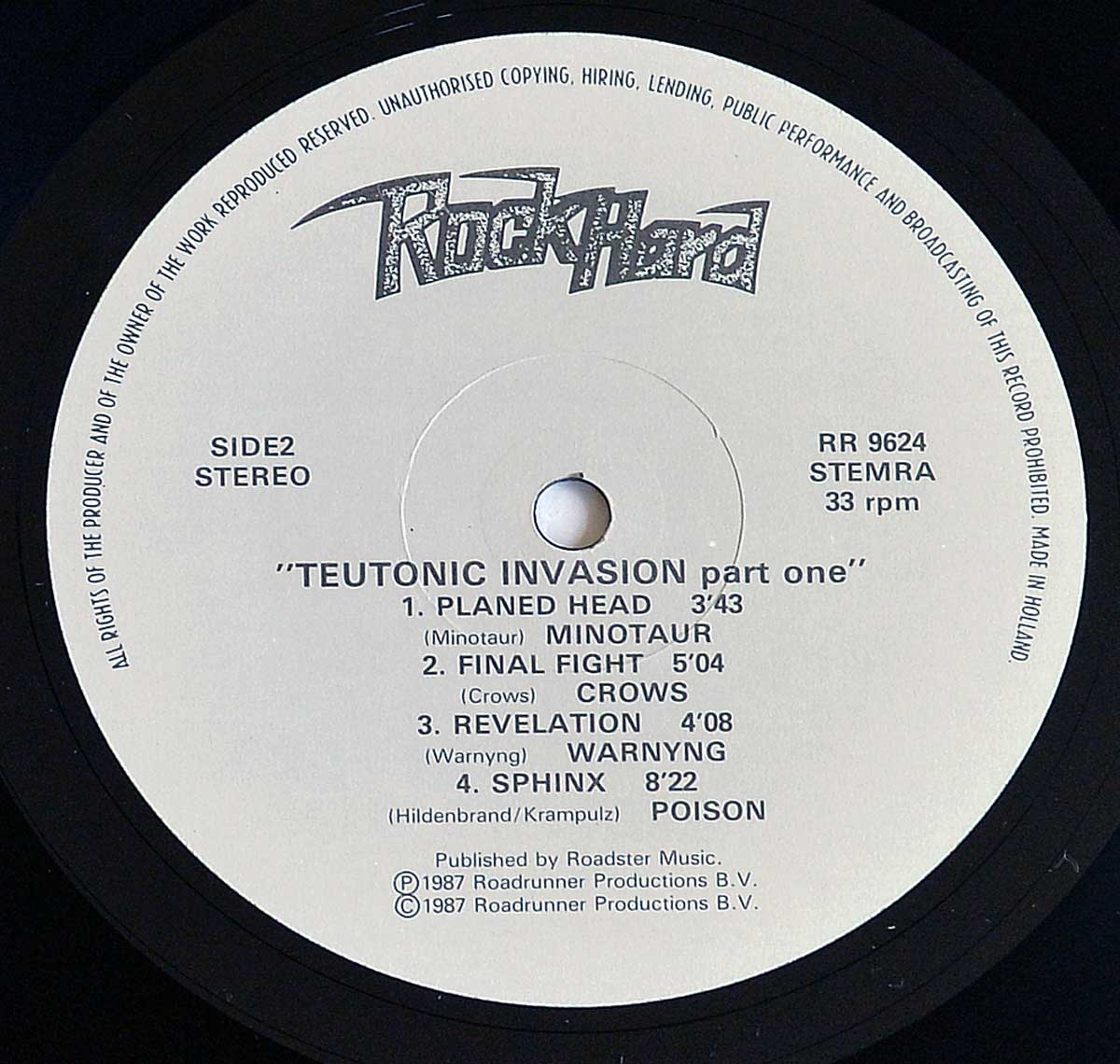 Note: The images on this page are photos of the actual album. Slight differences in color may exist due to the use of the camera's flash. Images can be zoomed in/out ( eg pinch with your fingers on a tablet or smartphone ).