---
Sacrifice Forward to Termination 12" VINYL LP ALBUM
Description: Sacrifice is a Canadian thrash metal band from Toronto, Ontario. The band was formed by guitarists Rob Urbinati and Joe Rico in 1983. Sacrifice played a prominent role in the '80s underground metal scene in Toronto, and grew to release four studio albums before parting ways in 1993.
HQ 160 Grams pressing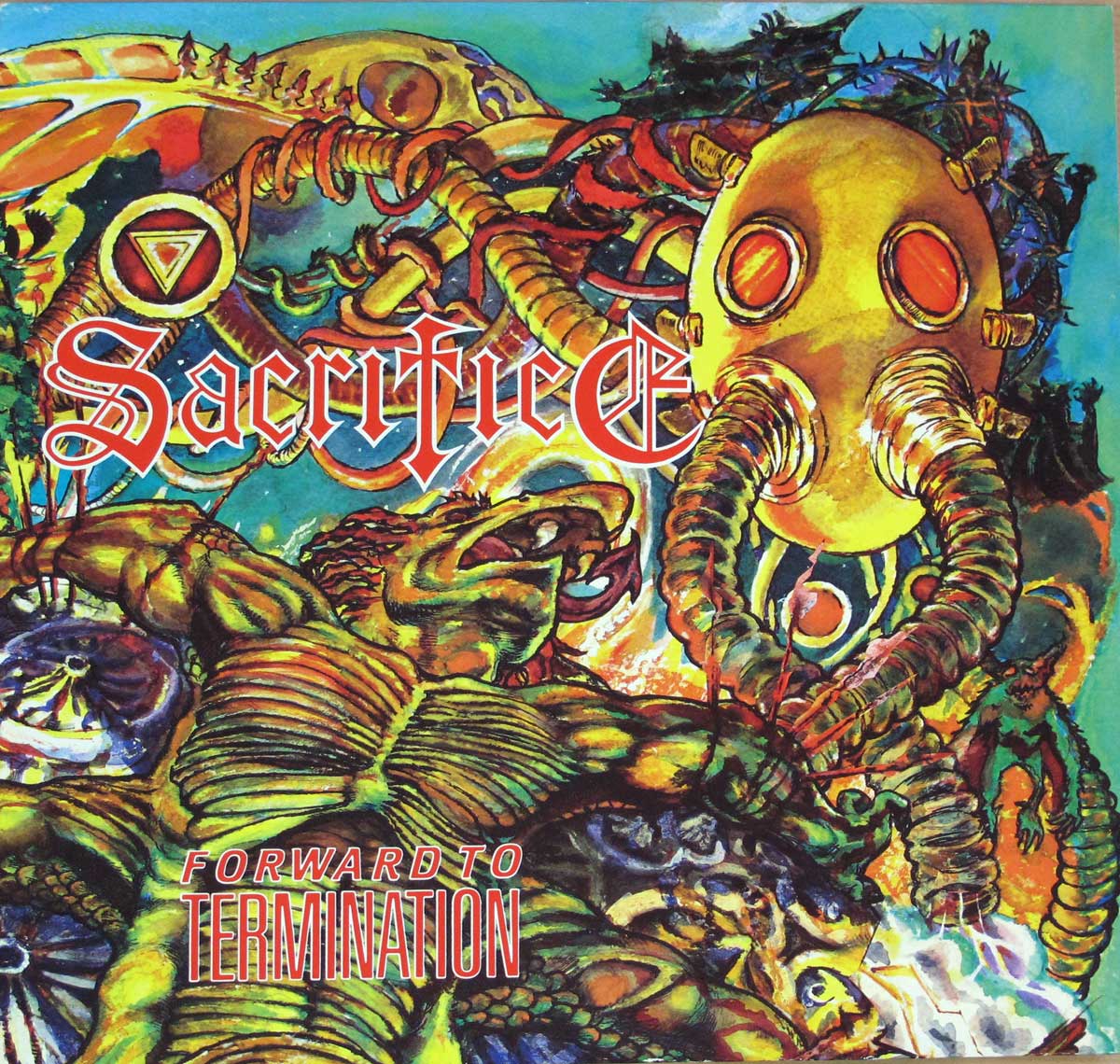 Summary:
This album includes the original custom inner sleeve with album details, complete lyrics of all songs by Sacrifice and photos.

Music Genre:

Thrash Metal Music

Collector's information:

Album Production:

Produced by Brian Taylor and Sacrifice
Recorded and mixed at Grant Avenue Studio, February-April 1987
Sound Engineers: Bob Doidge, Roman Zak
Front cover art: David McGregor
Layout and design: Mike Busija
Jacket photo by: Patrick Harbron
Sleeve photos by: Evil Eye and Wesley Rassa

Notes on the production team:

Brian Taylor - during the mid-1980s until early 1990s produced and/or sound engineered a dozen of Heavy Metal albums

Record Label Information:

Roadrunner RR 9595 / Fringe Product / Diabolic Force Production

Media Format:

12" Vinyl LP Record 160grams vinyl

Year & Country:

1987 Made in Holland
Band Members and Musicians on: Sacrifice Forward to Termination
Band-members, Musicians and Performers
Joe Rico - Guitars
Gus Pynn - Drums
Scott Watts - Bass
Rob Urbinati - Vocals, guitars
Track Listing of: Sacrifice Forward to Termination
Side One:
Forward to Termination
Terror Strikes
Re-Animation
Afterlife
Flames of Armageddon
Side Two:
The Entity
Forever Enslaved
Cyanide
Light of the End
Pyrokinesis
Album cover photos of : Sacrifice Forward to Termination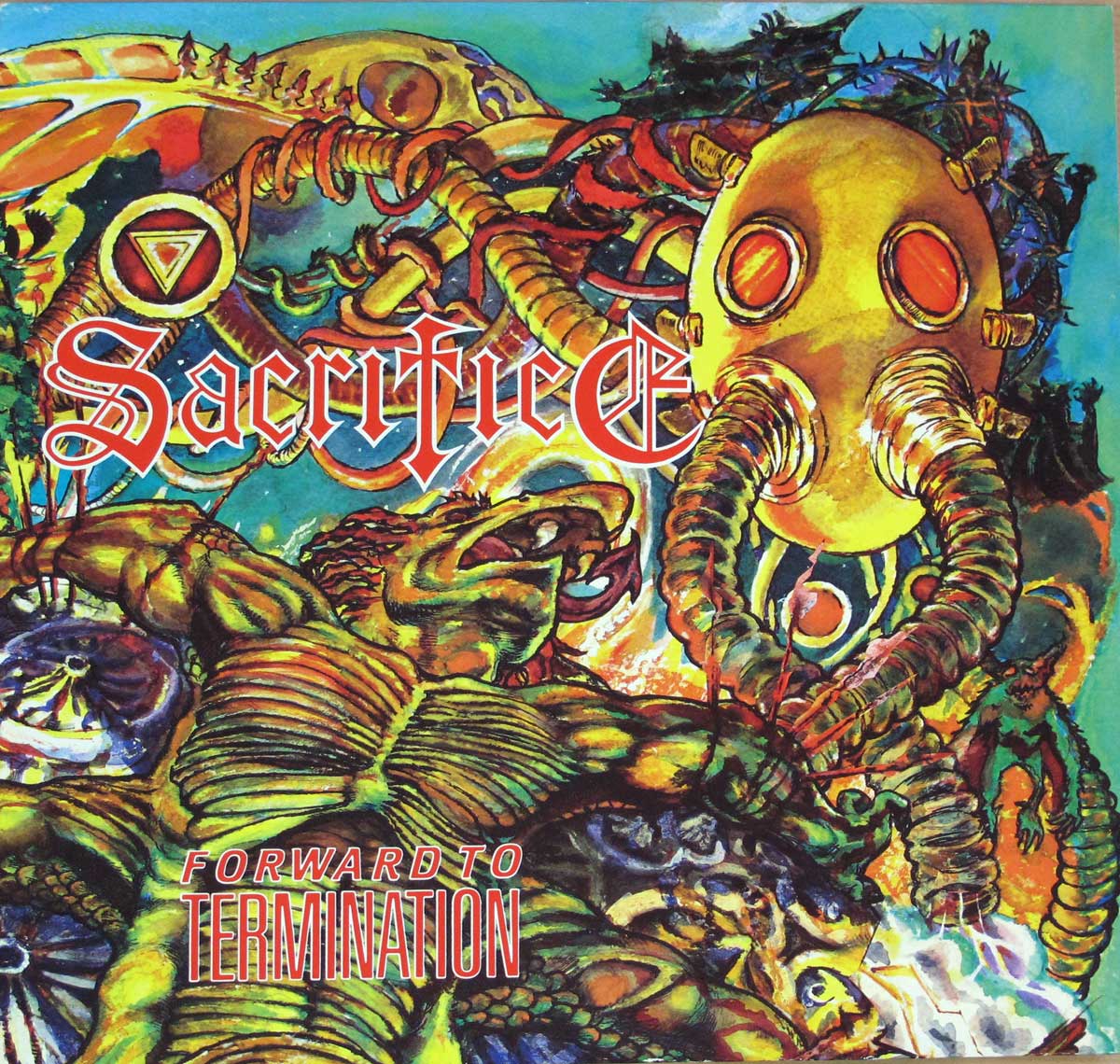 Photo of Album's Back Cover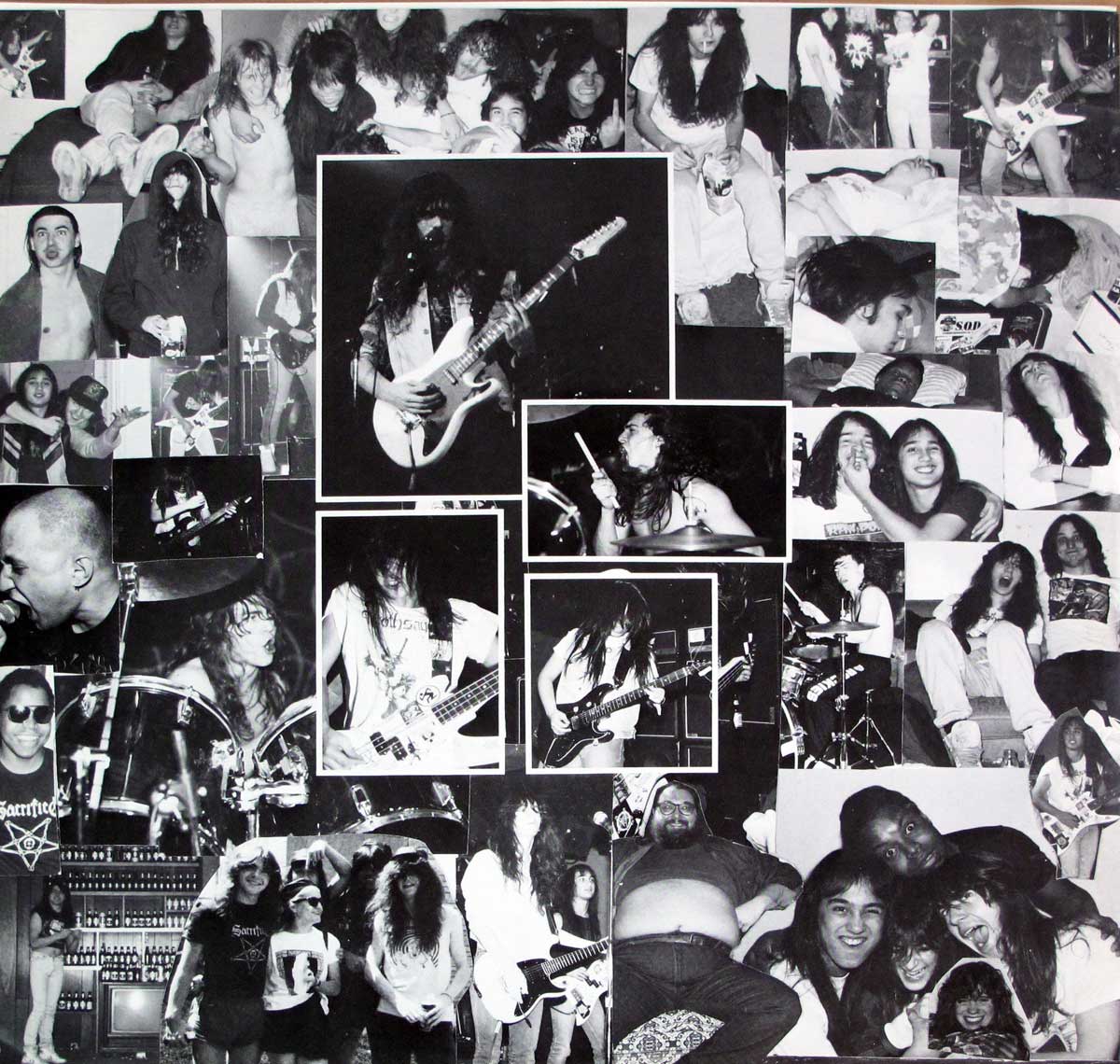 Photo of Album's custom inner sleeve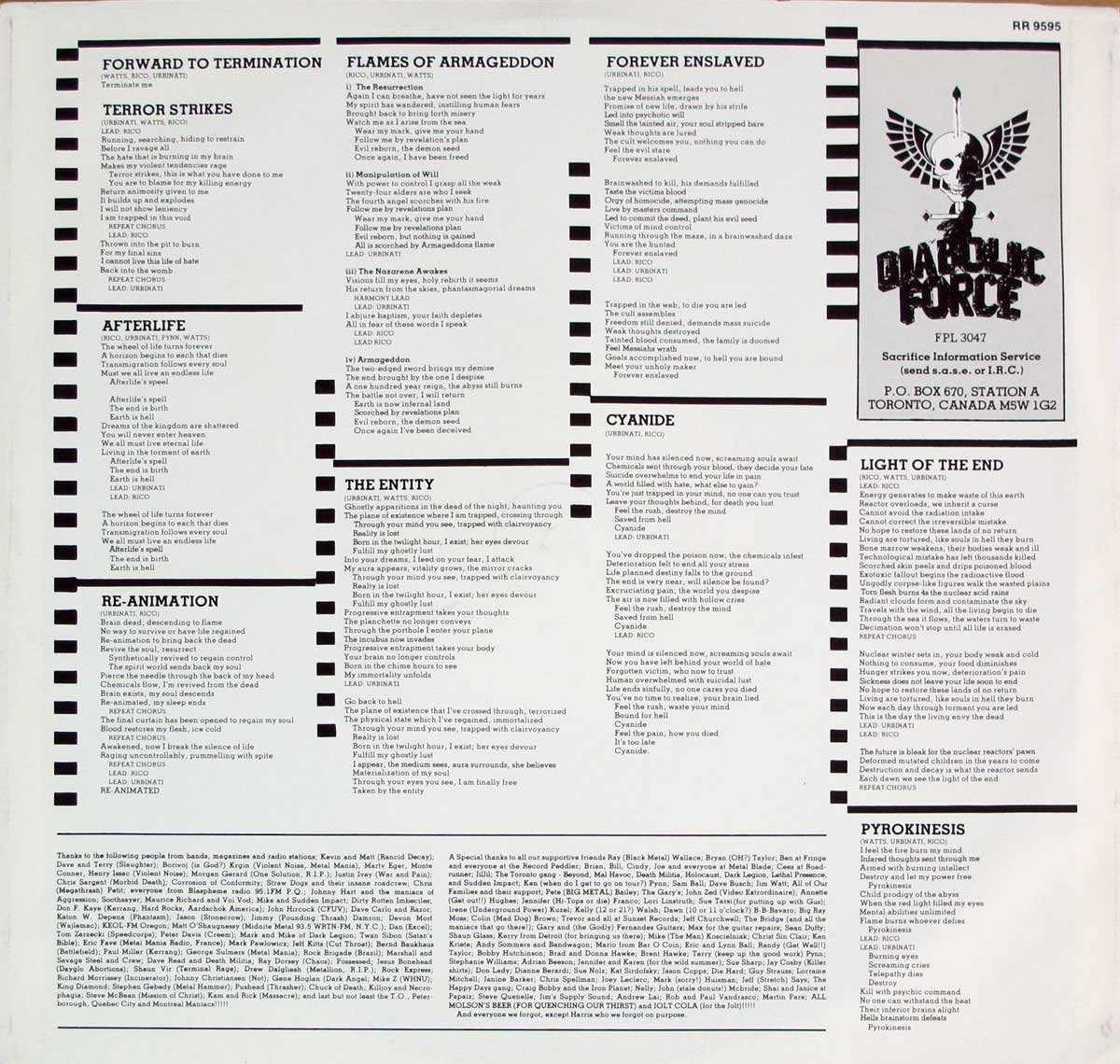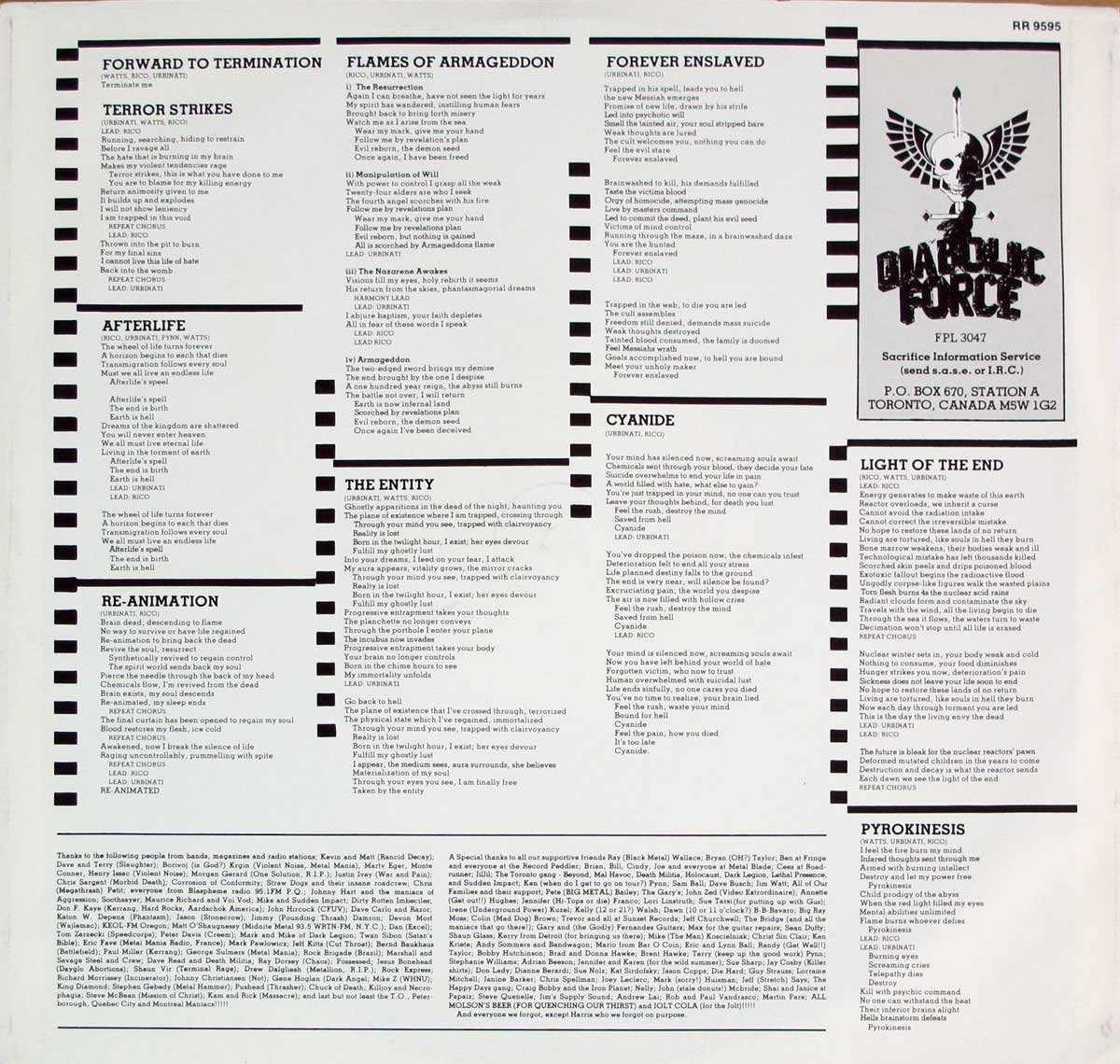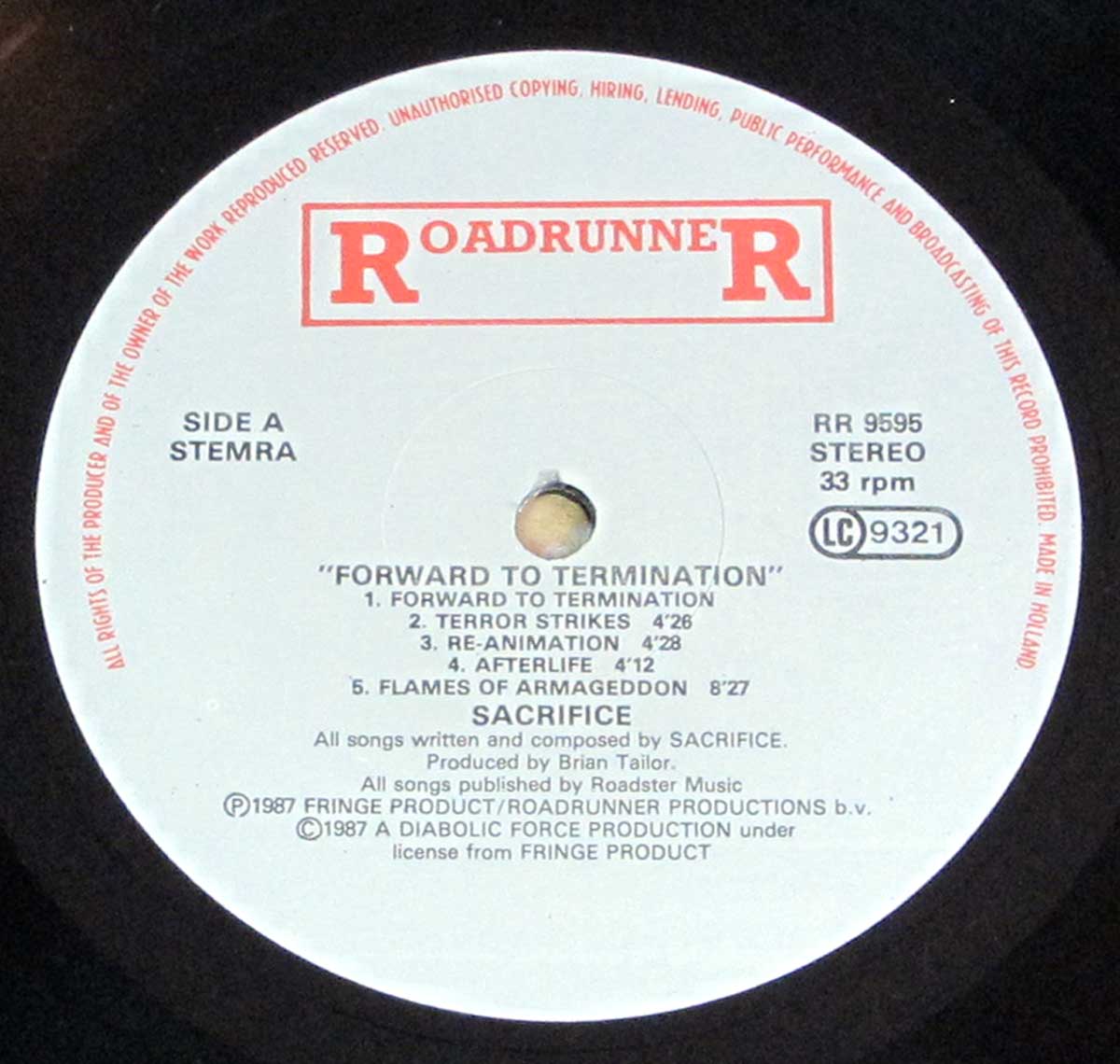 Note: The images on this page are photos of the actual album. Slight differences in color may exist due to the use of the camera's flash. Images can be zoomed in/out ( eg pinch with your fingers on a tablet or smartphone ).