---
HOODOO GURUS - STONEAGE ROMEOS - 12" LP VINYL Album
"Hoodoo Gurus" (referred to as the Gurus by fans) are an Australian rock band, formed in Sydney in 1981, by the mainstay Dave Faulkner (songwriter, lead singer and guitarist) and later joined by Richard Grossman (bass), Mark Kingsmill (drums), and Brad Shepherd (guitar, vocals, harmonica). Their popularity peaked in the mid to late 1980s with albums Mars Needs Guitars!, Blow Your Cool! and Magnum Cum Louder.
Hoodoo Gurus had a string of acclaimed pop-rock singles including "Leilani" (1982), "Tojo" (1983), "My Girl" (1983), "I Want You Back" (1984), "Bittersweet", "Like Wow - Wipeout!", and "What's My Scene?". After touring the United States from 1984 onwards they gained popularity on the U.S. college rock circuit with singles "Come Anytime" (1989) reaching #1 and "Miss Freelove '69" (1991) reaching #3 on the Billboard Modern Rock Tracks chart. Gurus' biggest Australian hit single was their 1987 Top 3 hit song "What's My Scene?" or, as modified for the National Rugby League 2000s theme, "That's My Team".
Hoodoo Gurus' iconic status on the Australian rock scene was acknowledged when they were inducted into the 2007 ARIA Hall of Fame. Their induction announcement stated that the Gurus were one of the most "inventive, lyrically smart and exciting" bands from Australia. From 1960s power pop, and wild garage punk to hard driving rock and funky psychedelic kitsch their music stood out from Sydney's Detroit-inspired bands.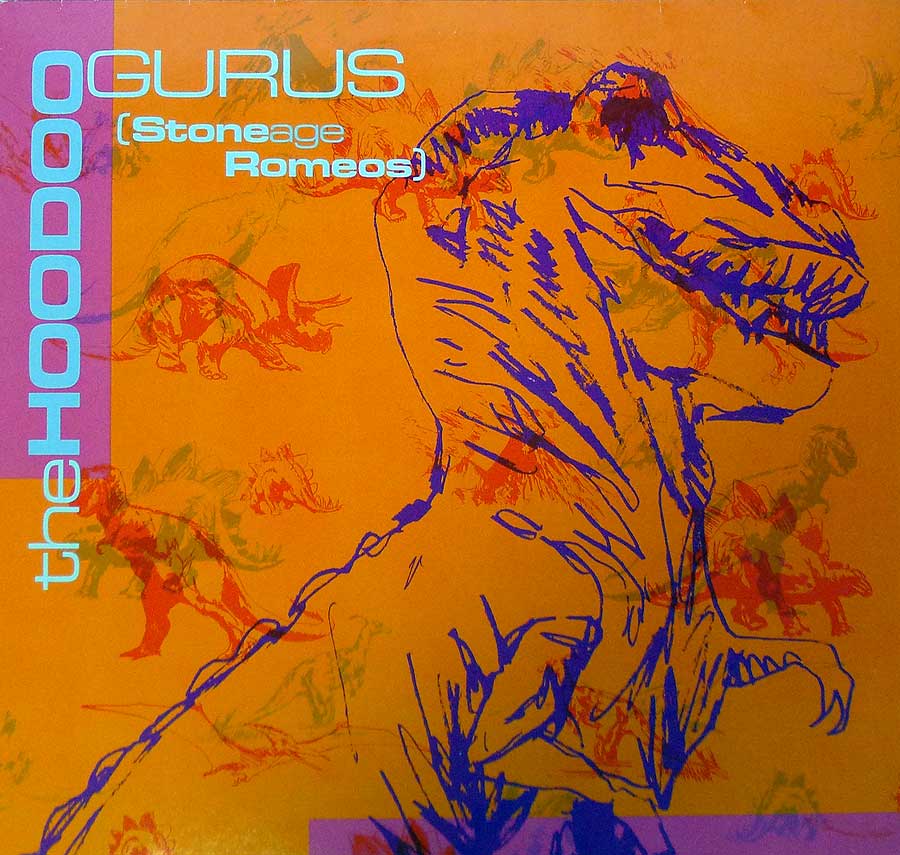 Album Description & Collectors information:

Music Genre:

Australian Rock

Album Production Information:

The album: "HOODOO GURUS Stoneage Romeos" was produced by: Alain Thorne

This album was recorded at: Trafalgar Studio

Record Label Information:

A&M, Big Time Records 395 012

Media Format:

12" Vinyl Stereo Gramophone Record
Total Album (Cover+Record) weight: 230 gram

Year & Country:

1984 Made in Germany
Personnel/Band Members and Musicians on: HOODOO GURUS Stoneage Romeos
Band-members, Musicians and Performers

James Baker — drums
Clyde Bramley — bass, vocals
Dave Faulkner — guitar, lead vocals, keyboards
Brad Shepherd — lead guitar, vocals, harmonica, percussion
Michael Farmer — additional percussion
Complete Track-listing of the album "HOODOO GURUS Stoneage Romeos"
The detailed tracklist of this record "HOODOO GURUS Stoneage Romeos" is:
I Want You Back - 3:12
Tojo - 3:23
Leilani (Faulkner, James Baker, Roddy Radalj, Kimble Rendall)[7] - 5:36
Arthur (Faulkner, Radalj)[7] - 3:10
Dig It Up - 3:36
(Let's All) Turn On (Baker, Darcy Condon, Faulkner, Radalj)[7] - 3:04
Death Ship (Faulkner, Radalj, Alan Sharples)[7] - 2:37
In The Echo Chamber - 3:44
Zanzibar - 3:25
I Was A Kamikaze Pilot - 3:12
My Girl - 2:40
---
Front Cover Photo Of HOODOO GURUS - Stoneage Romeos 12" LP VINYL Album
Illustration of a T-Rex on a Orange Colour background
Note: The photos on this page are taken from albums in my personal collection. Slight differences in color may exist due to the use of the camera's flash. Images can be zoomed in/out ( eg pinch with your fingers on a tablet or smartphone ).
Photo Of The Back Cover HOODOO GURUS - Stoneage Romeos 12" LP VINYL Album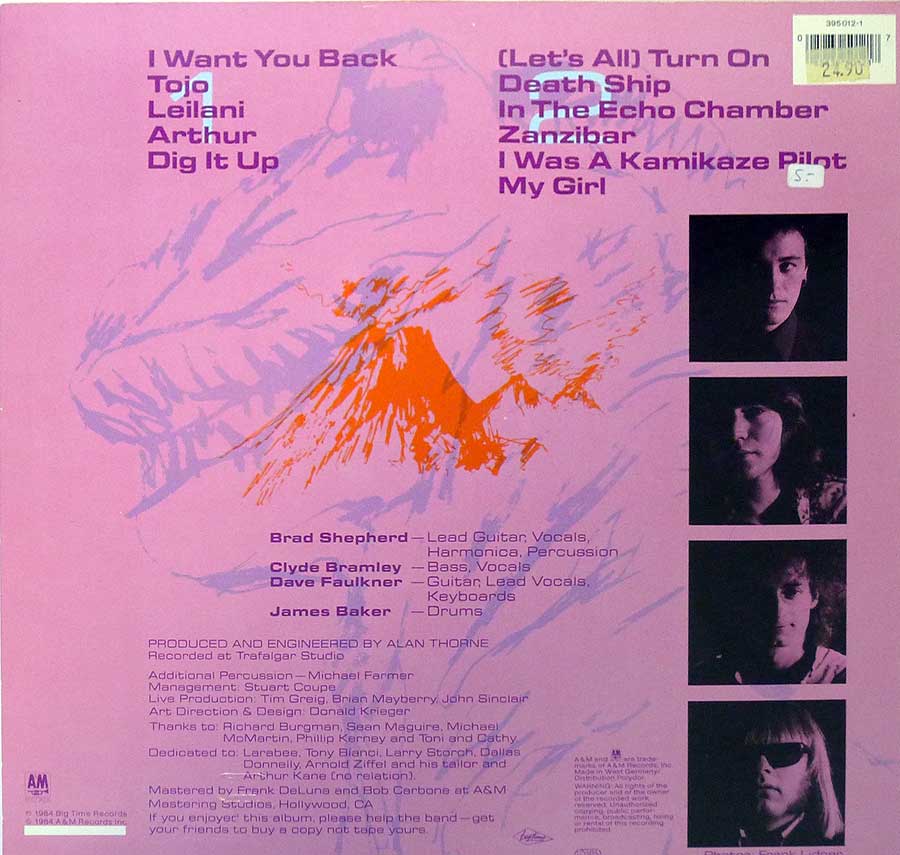 Close up of Side One record's label HOODOO GURUS - Stoneage Romeos 12" LP VINYL Album
" Stoneage Romeos " Record Label Details: A&M, Big Time Records 395 012 ℗ 1984 Big Time Records Sound Copyright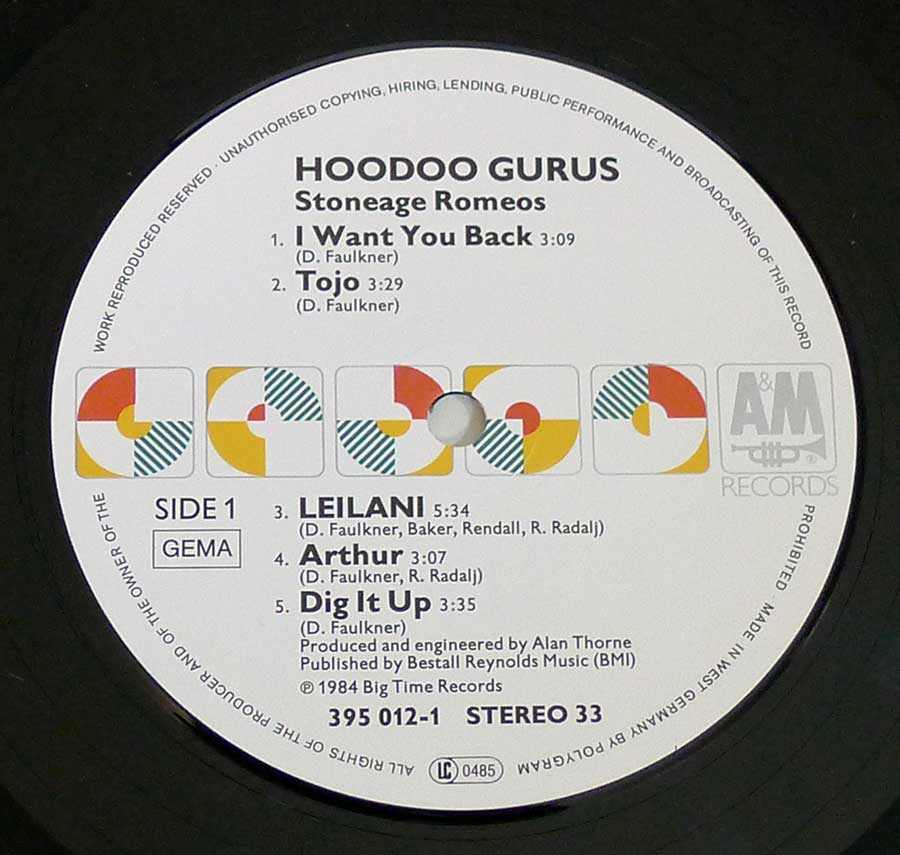 ---