---
PETER TOSH LEGALIZE IT EEC with BUNNY WAILER, RITA MARLEY EEC 12" VInyl LP ALBUM
Album Info: "Legalize It" was Peter Tosh' debut album as a solo artist. The album was recorded at Treasure Isle and Randy's, Kingston, Jamaica
This web page has photos of album covers, inner sleeves, record labels together with production details, musicians and track-listing.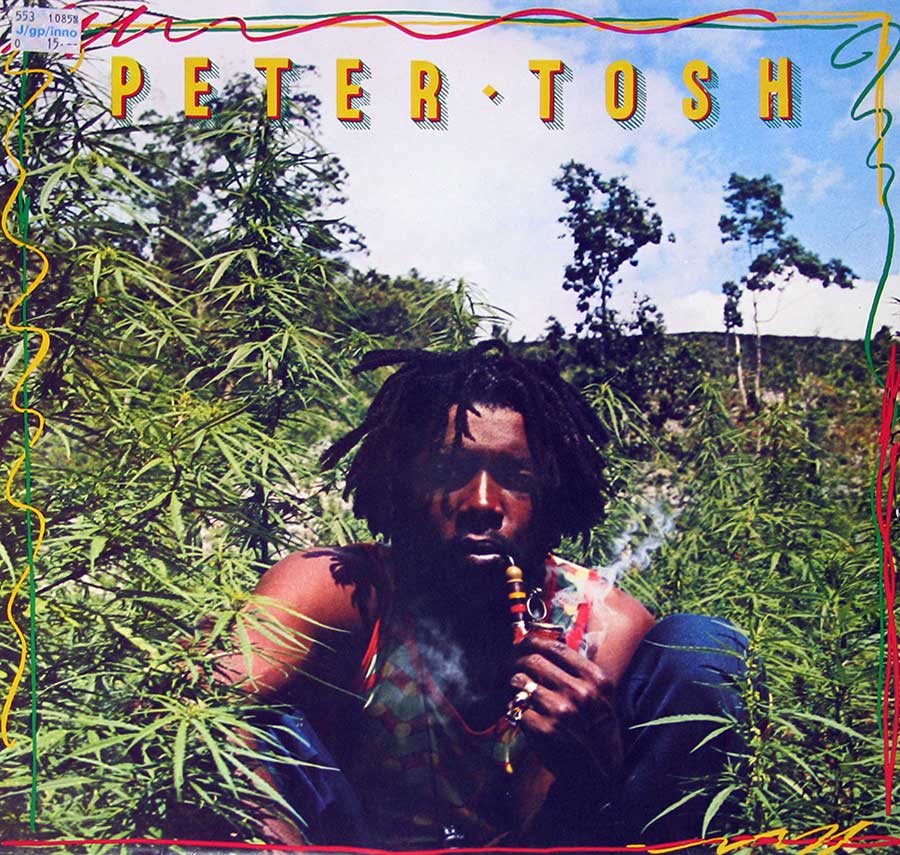 Collectors information & Description:




Music Genre:

Jamaican Reggae

Album Production Information:

The album: "PETER TOSH - Legalize It" was produced by: Peter Tosh . Vocals: Peter Tosh, Bunny Wailer, Rita Marley. Recorded in Kingston Jamaica

Label Information:

Orange CBS 32202

Media Format:

12" LP Vinyl Stereo Gramophone Record
Total Album (Cover+Record) weight: 230 gram

Year & Country:

1976 Made in EEC
Band Members and Musicians on: PETER TOSH - Legalize It
Band:
Peter Tosh
Carlton Barrett
Aston Barrett
Robbie Shakespeare
Rita Marley
Judy Mowatt
Bunny Wailer
Al Anderson
Donald Kinsey
Robbie & Ras lee
Track Listing of: "PETER TOSH - Legalize It"
The Songs/tracks on "PETER TOSH - Legalize It" are
Side One:
Legalize it
Burial
Whatcha gonna do?
No Sympathy
Why must I cry
Side Two:
Igziabeher(let Jah be praised)
Ketchy Shuby
Till your well runs dry
Brand new second hand
Album cover photos of : PETER TOSH - Legalize It
Front Cover Photo of "PETER TOSH - Legalize It" Album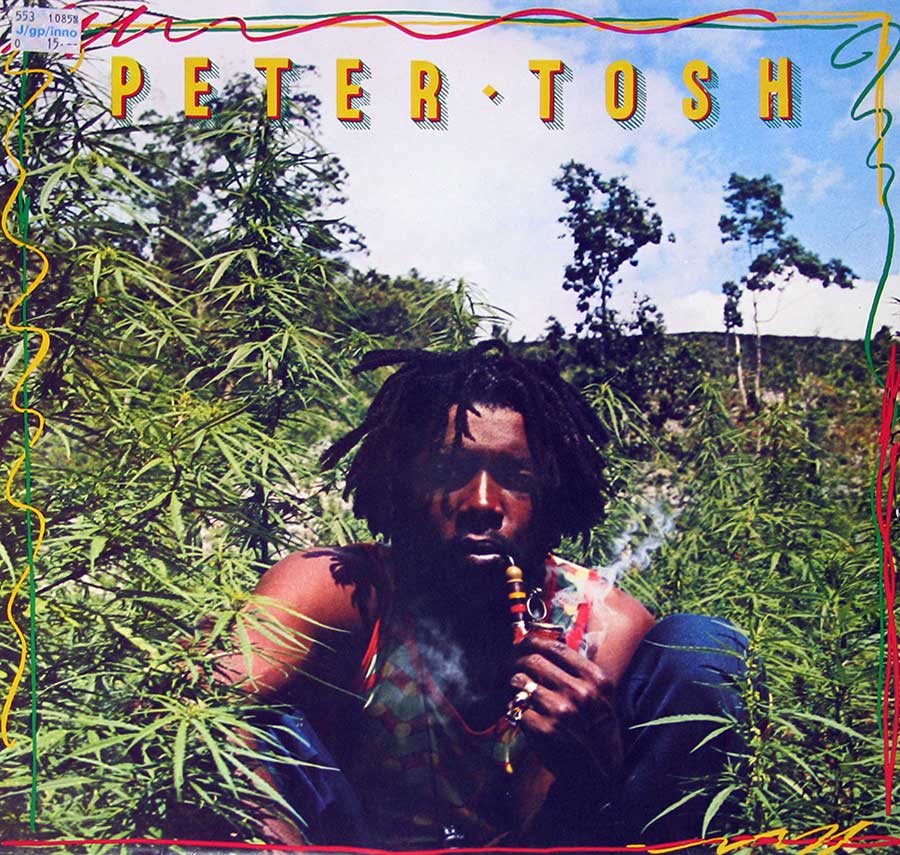 Back Cover Photo of "PETER TOSH - Legalize It" Album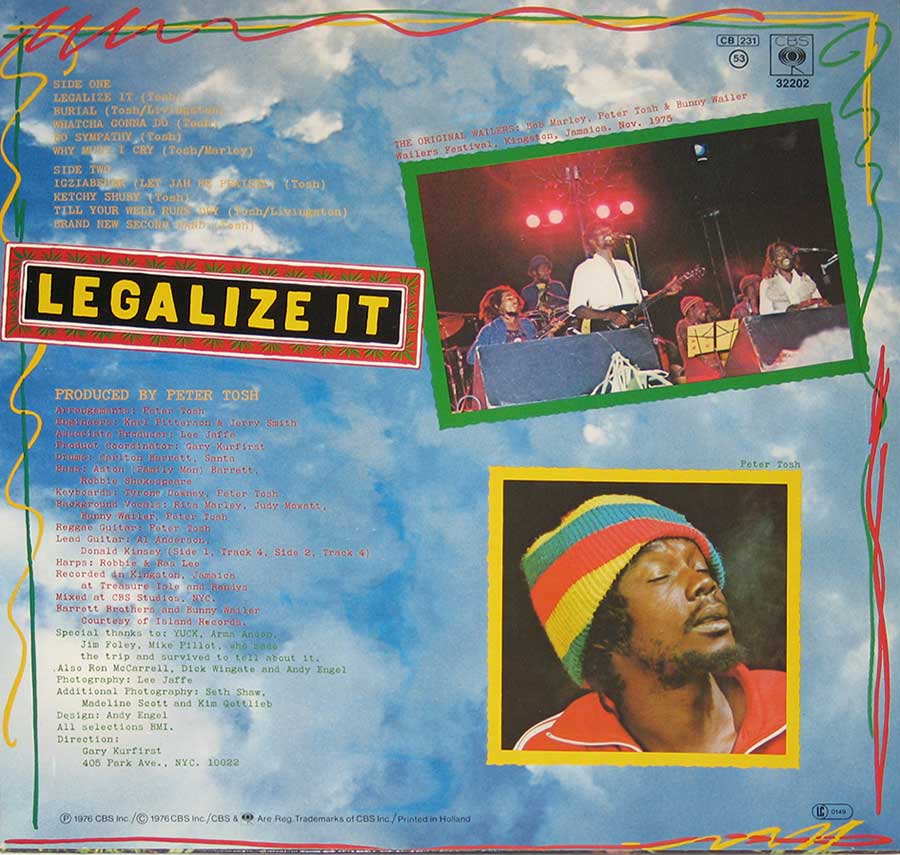 Close-up Photo of "PETER TOSH - Legalize It" Record Label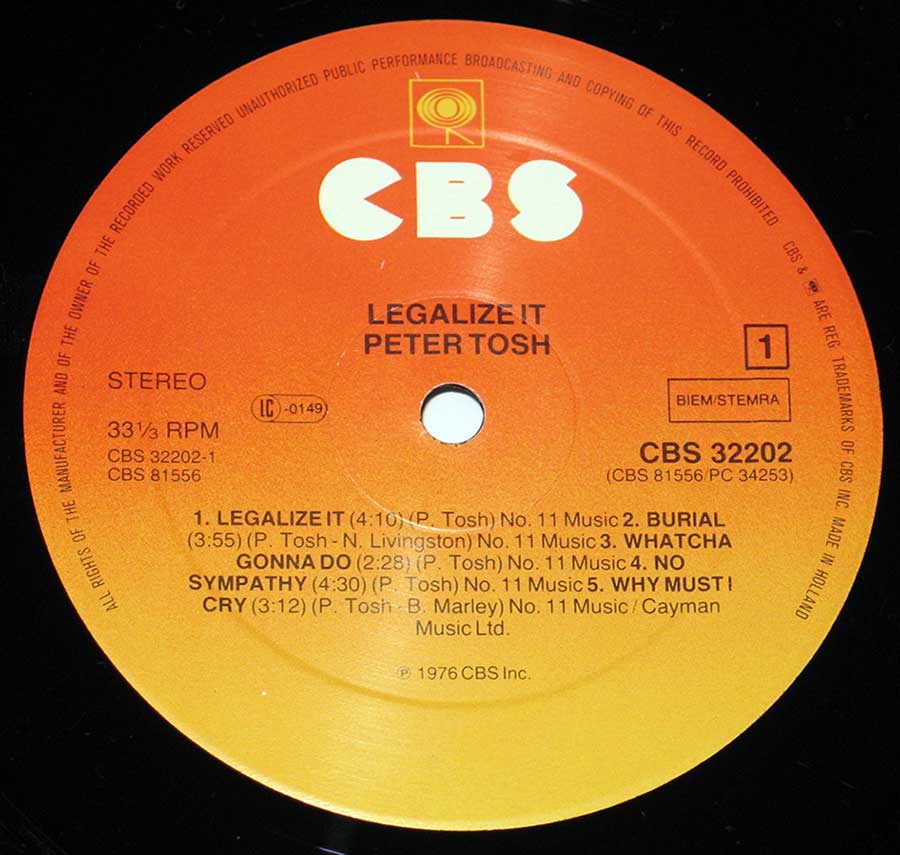 ---
---
---