---
Gang Green - You Got It 12" VINYL LP ALBUM
"You Got It" is the 1987 studio album by the American Hardcore Punk / Speed Metal band "Gang Green". This web-page has hi-res photos of the album covers, record label and a detailed description.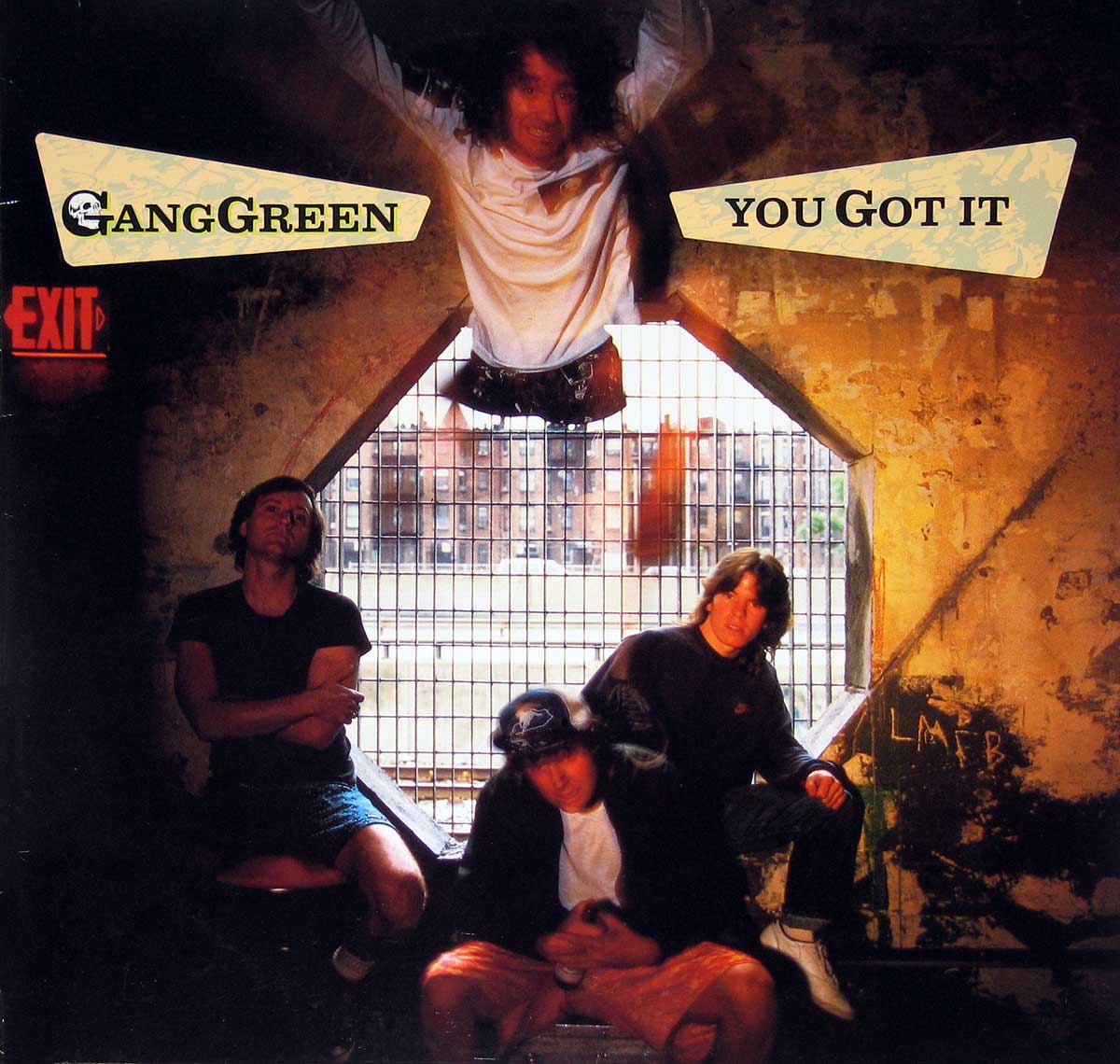 Music Genre:

Hardcore Punk Crossover Thrash Metal Music

Collector Notes:

This album includes the original custom inner sleeve with album details, complete lyrics of all songs by Gang Green and photos.

Album Production information:

Produced and engineered by: Thom Moore


Assistent Sound Engineer: Mark Wessels


Additional guitar tracks by: Tony Nichols


Recorded at Blue Jay Recording Studio


Mastered at Masterdisk


Photography by Fran Janik


Logo artwork and jacket design Mark Falls

Record Label Information:

Roadrunner RR 9591

Media Format:

12" LP Vinyl Gramophone Record

Year & Country:

1987 Made in Holland
Album cover photos of : Gang Green You Got It
Photo of Front Cover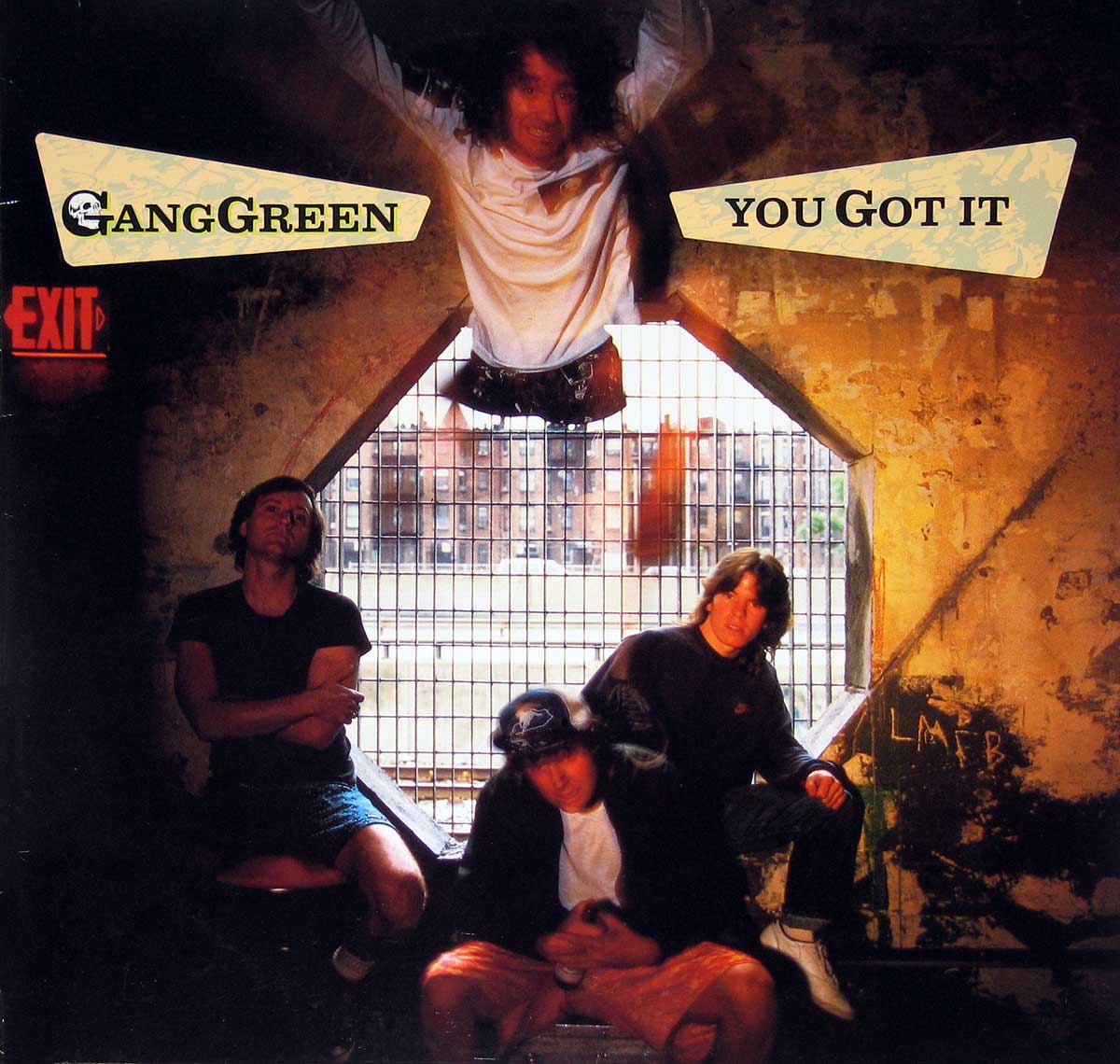 Photo of Album's Back Cover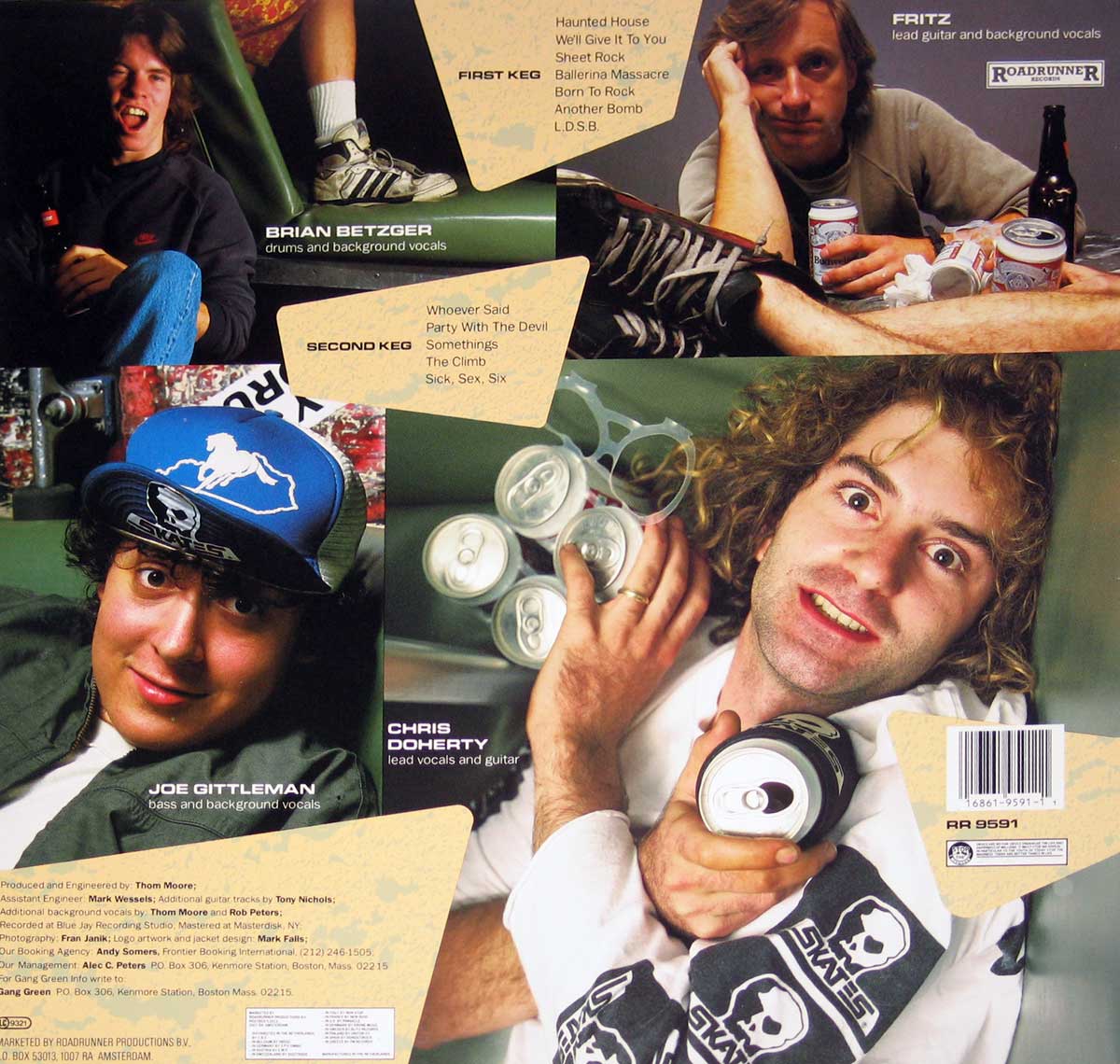 Photo of Album's Inner Sleeve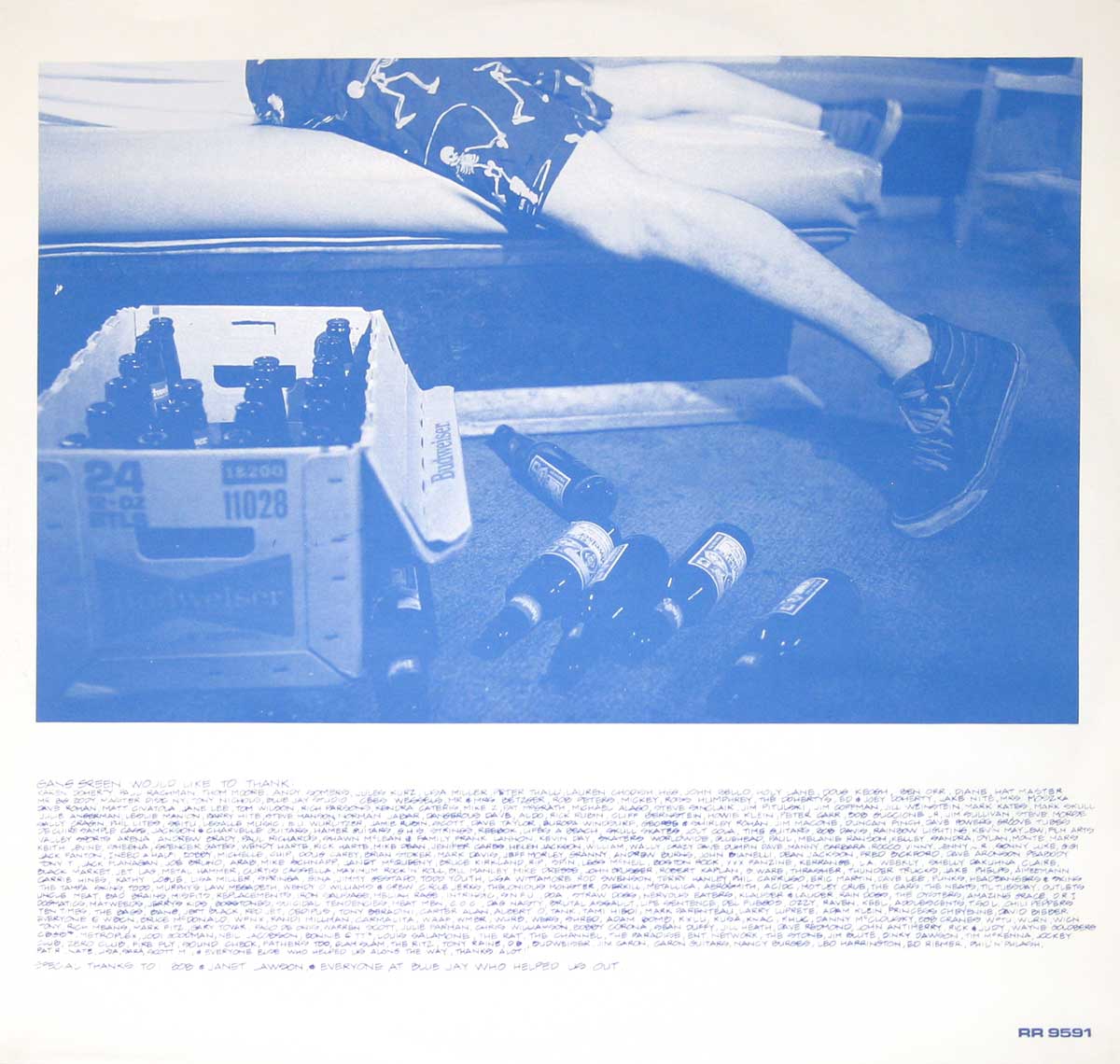 Photo of Record Label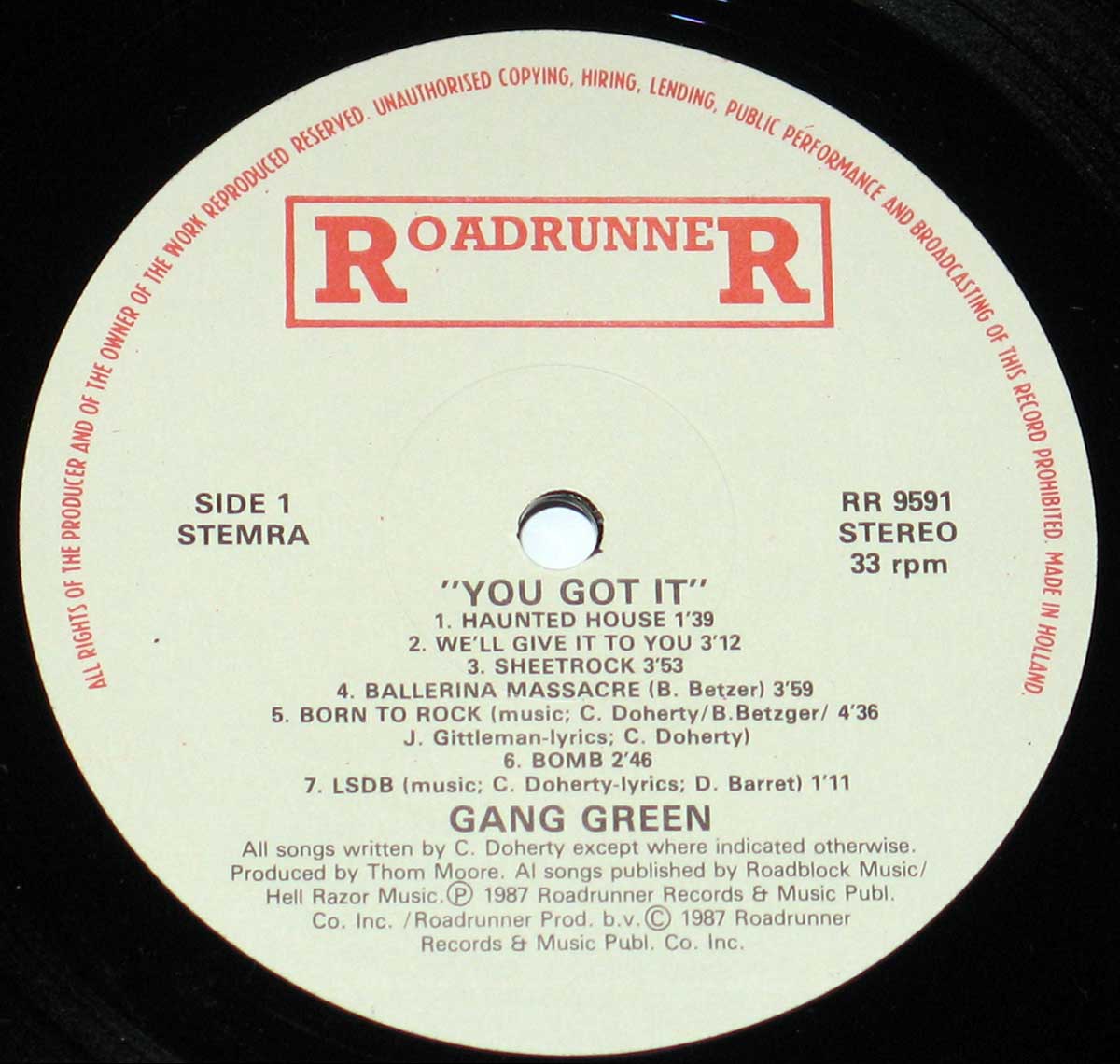 Note: The images on this page are photos of the actual album. Slight differences in color may exist due to the use of the camera's flash. Images can be zoomed in/out ( eg pinch with your fingers on a tablet or smartphone ).
Band Members and Musicians on: Gang Green You Got It
Gang Green Band-members, Musicians and Performers
Chris Doherty - Vocals, guitars
Fritz Ericson - Guitars
Joe Gittleman - Bass
Brian Betzger - Drums
Track Listing of: Gang Green You Got It
Side One:
Haunted House 1:39
We'll Give It To You 3:12
Sheet Rock 3:53
Ballerina Massacre (Brian Betzger) 3:59
Born to Rock (Doherty, Betzger, Joe Gittleman) 4:36
Another Bomb 2:46
L.D.S.B. (Doherty, D Barret) 1:11
Side Two:
Whoever Said 3:36
Party With the Devil 3:56
Somethings 2:32
The Climb (Doherty, Betzger) 4:09
Sick, Sex, Six (Betzger) 6:11