---
ADOLESCENTS - Balboa Fun Zone 1989 12" LP ALBUM VINYL
This album "ADOLESCENTS - Balboa Fun Zone" is the third studio album by the American punk rock band, it is also their last official before the band's break-up in 1989. includes the original custom inner sleeve with album details, complete lyrics of all songs by and photos of the Adolescents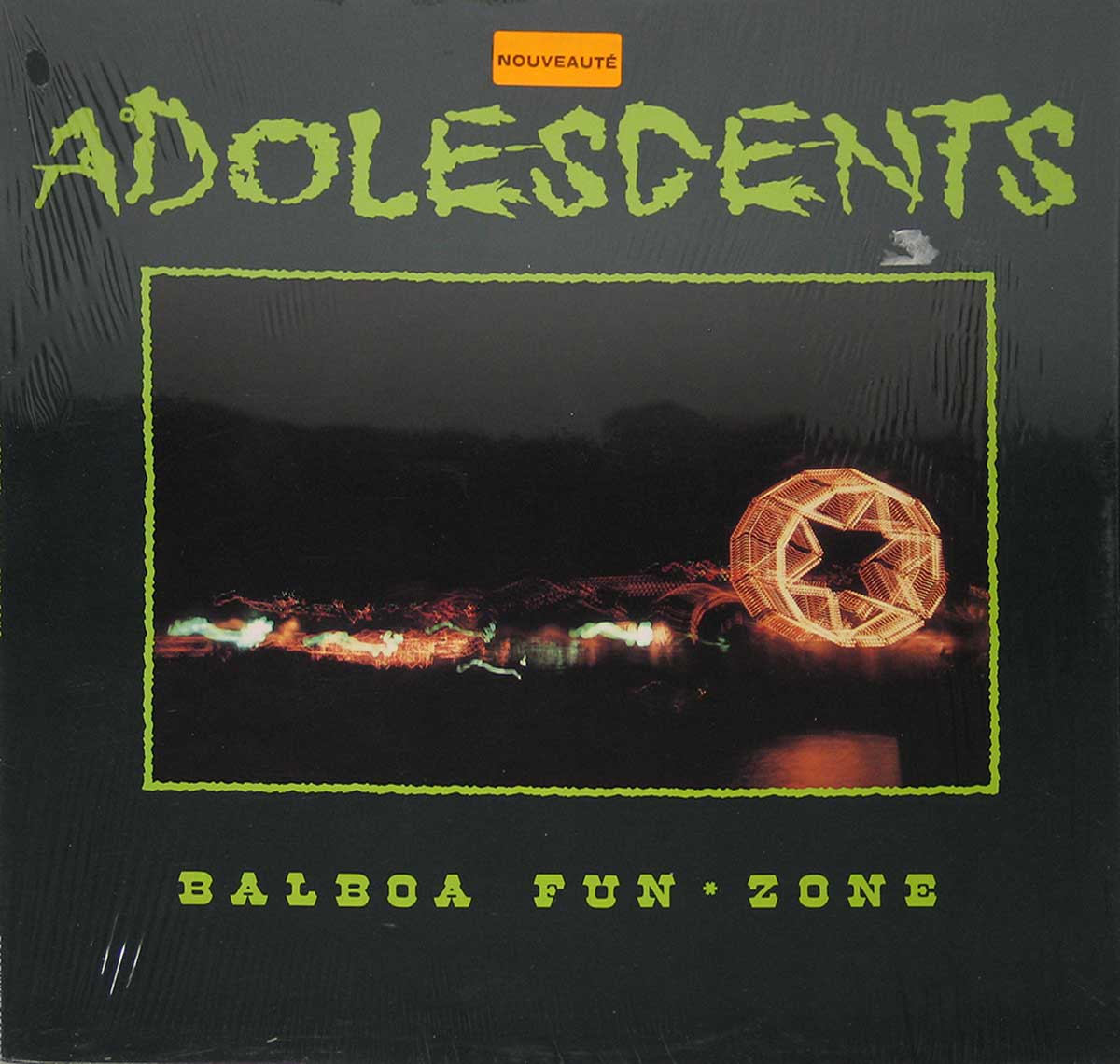 Summary: "Balboa Fun Zone" is the third studio album by the American punk rock band Adolescents. Released in 1988, the album features 11 tracks of high-energy punk rock with a mix of political and personal lyrics. The album marks a departure from the band's earlier hardcore punk sound, incorporating elements of surf rock and pop punk. Standout tracks include "It's Tattoo Time" and "Instant Karma".
Music Genre:

Hardcore Punk Crossover
Album Production Information:
The album: "Balboa Fun Zone" was produced by: Dhaz Ramirez
This album was recorded at: Dasbah Studios
Record Label Information:

Roadrunner RR 9494 / Triple X
Media Format:

12" LP Vinyl Stereo Gramophone Record
Total Album (Cover+Record) weight: 230 gram
Year & Country:

1988 Made in Holland
Personnel/Band Members and Musicians on: Balboa Fun Zone
Band-members, Musicians and Performers
Rikk
Steve
Frank
Sandy
Complete Track-listing of the album "Balboa Fun Zone"
The detailed tracklist of this record "Balboa Fun Zone" is:
Track-listing Side One:
Balboa Fun Zone ( Riot on the Beach)
Just Like Before Instant Karma
Alone Agains the World
Allen Hotel
Frustrated
Track-listing Side Two:
Genius in Pain
Its Tattoo Time
Til She Come down
Modern Day Napoleon
I'm a Victim
Balboa Fun Zone (It's in your Touch)
High Quality Photo of Album Front Cover "Balboa Fun Zone"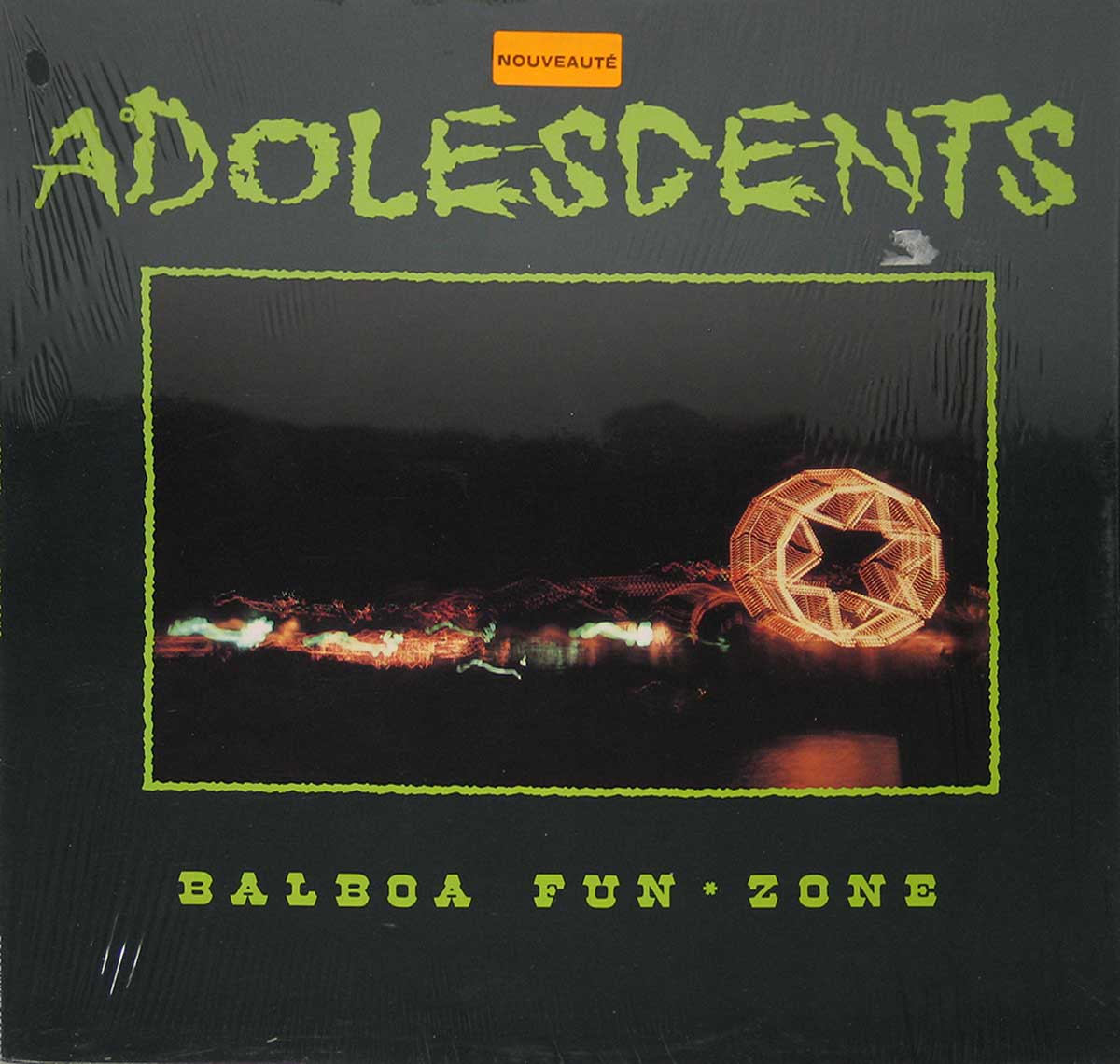 Album Back Cover Photo of "Balboa Fun Zone"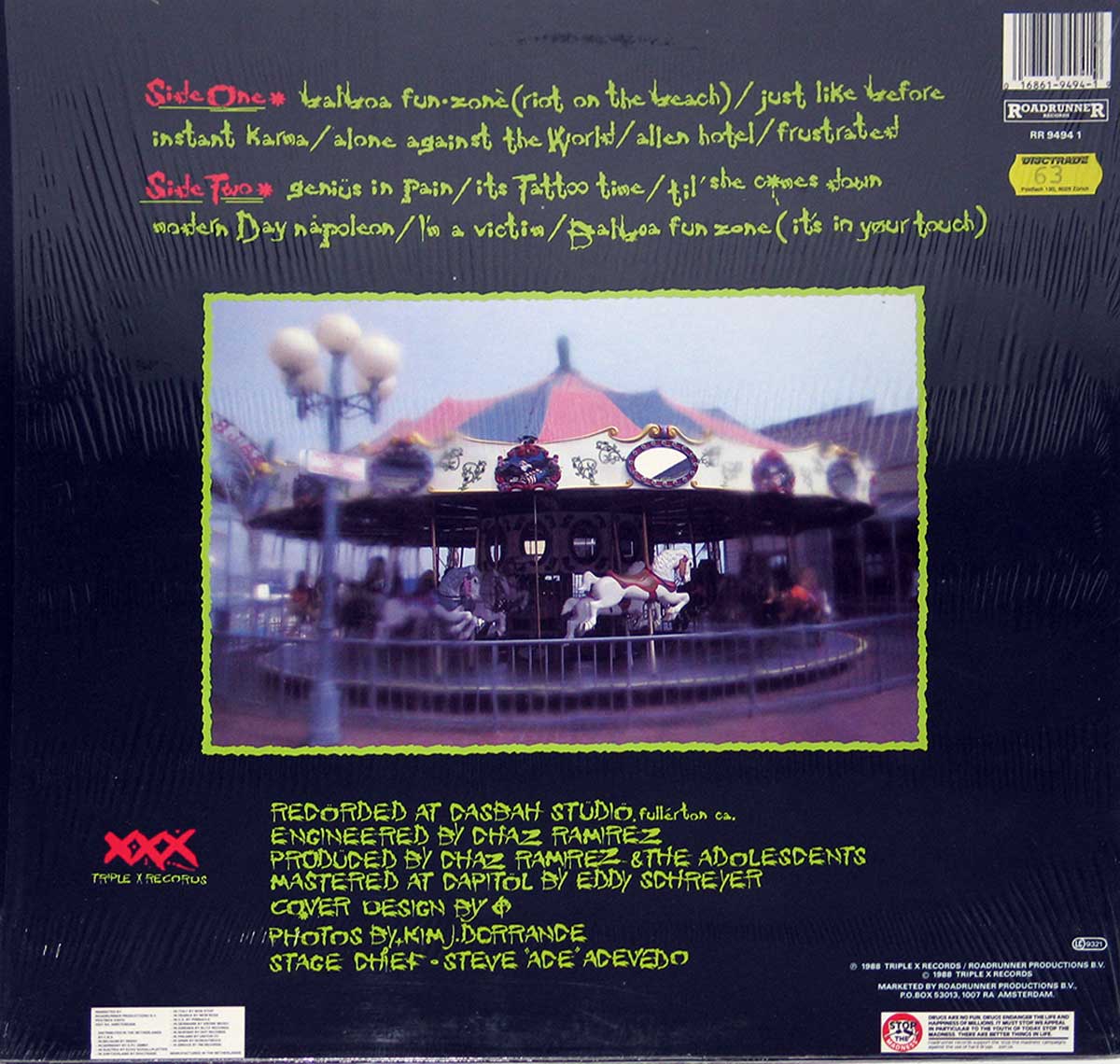 Inner Sleeve of "Balboa Fun Zone" Album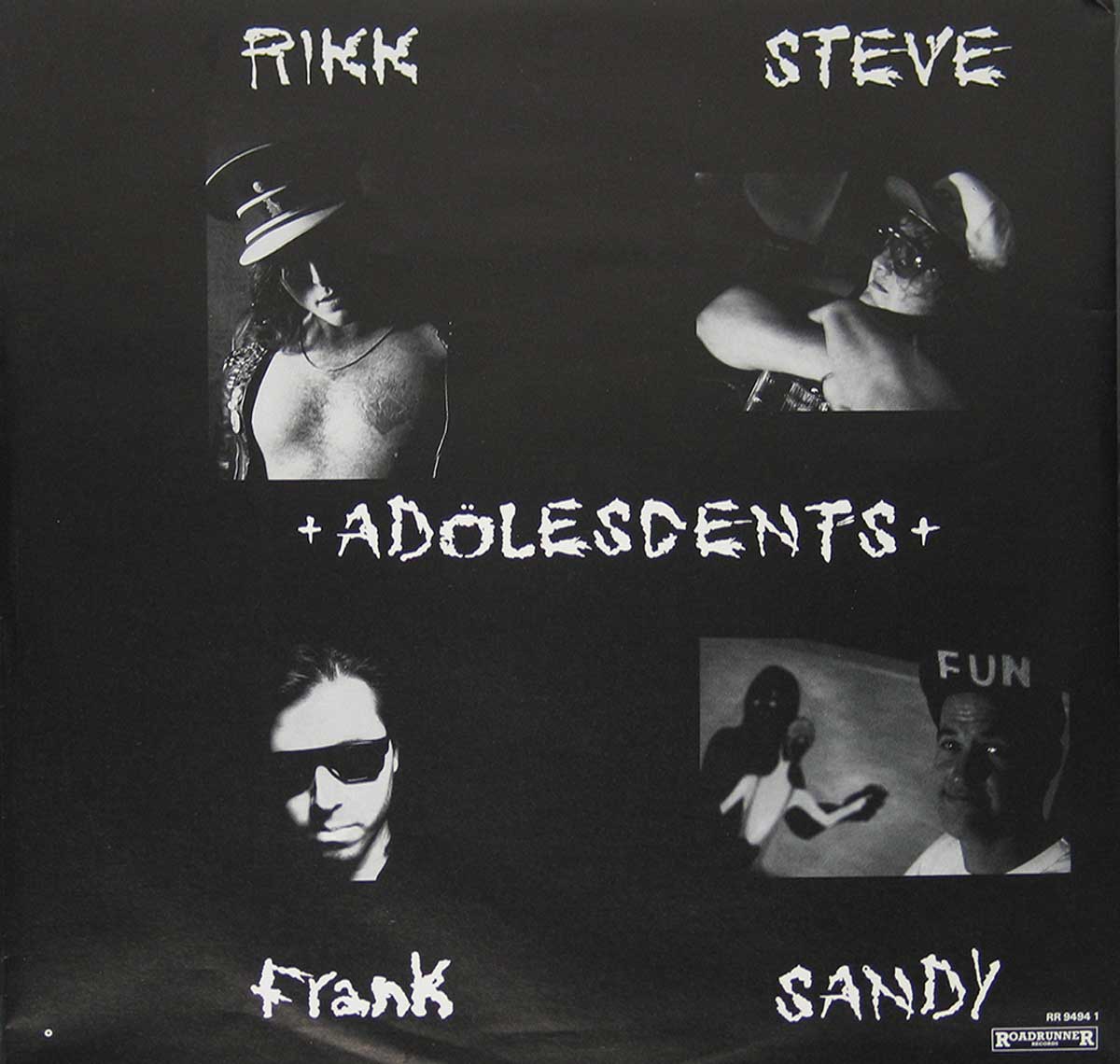 Enlarged & Zoomed photo of "Balboa Fun Zone" Record's Label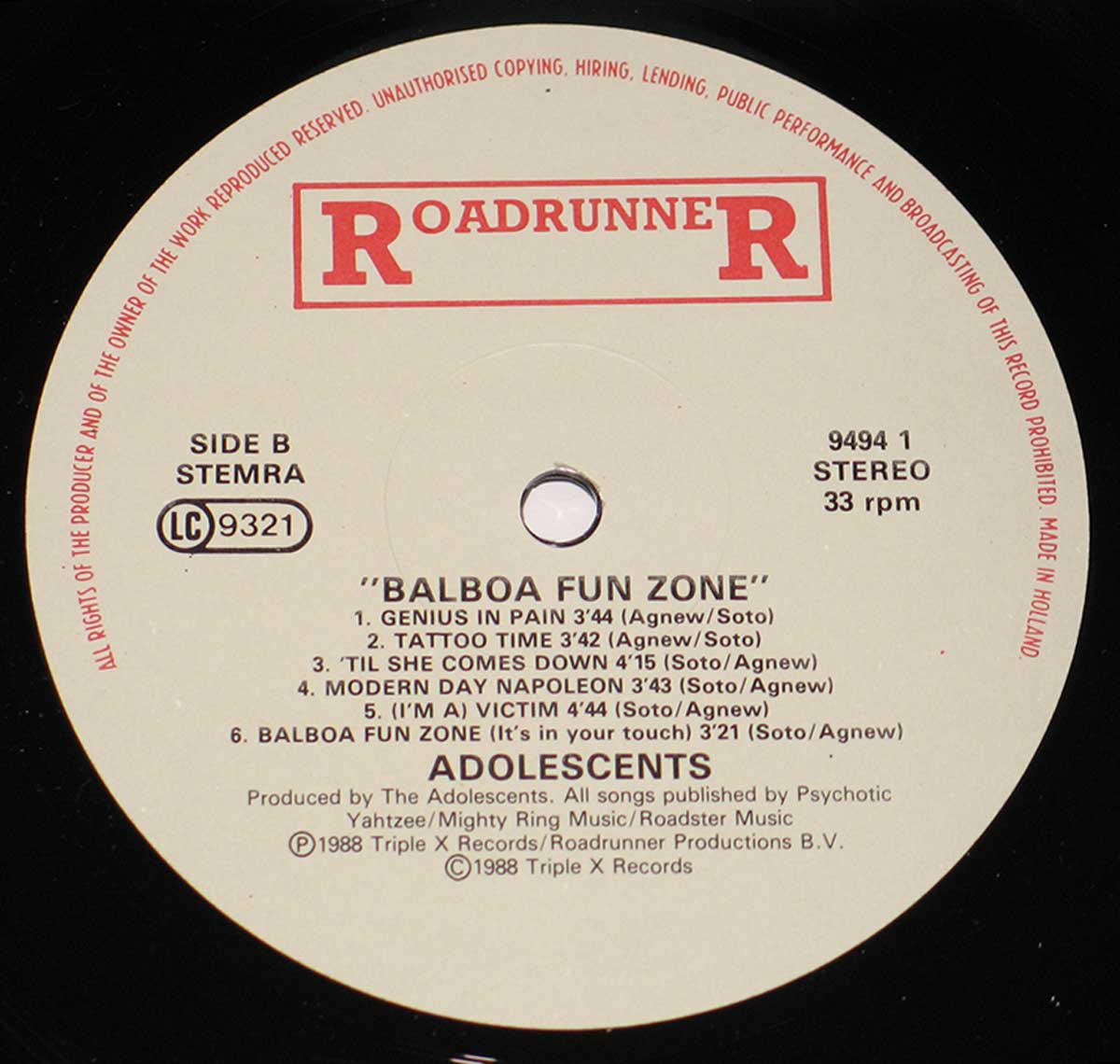 Note: The images on this page are photos of the actual album. Slight differences in color may exist due to the use of the camera's flash. Images can be zoomed in/out ( eg pinch with your fingers on a tablet or smartphone ).
---