---
Jane - III - Krautrock 12" VINYL LP ALBUM
"Jane III" is a quintessential Krautrock 12" VINYL LP ALBUM by the band Jane, featuring Klaus Hess, Wolfgang Krantz, Charly Maucher, and Peter Panka. Released in an era of musical exploration, it boasts tracks like "Comin' Again", "Rock 'n' Roll Star", and "Baby, what you're doin'". This album captures the essence of the band's innovative sound and the spirit of the time it emerged. This web page has photos of album covers, inner sleeves, record labels together with production details, musicians and track-listing.
Album Production Information:

Recorded and Mixed at Conny's Tonstudio GMBH, 5206 Neunkirchen
Album cover design: Dierk Pape
Photography: Marcel Fugere
Produced by Gunter Koerber

Music Genre:

Psych/Acid Krautrock Music

Collector Notes:

Gatefold (FOC) cover design.

Record Label Information:

BRAIN Records 1048

Media Format:

12" LP Vinyl Gramophone Record

Year & Country:

1974 Made in Germany
Band Members and Musicians on: Jane - III
Jane's Band-members, Musicians and Performers
Klaus Hess
Wolfgang Krantz
Charly Maucher
Peter Panka
Track Listing of: Jane - III
The Song/tracks on "Jane III " are:
Comin' Again
Mother, You Don't Know
I Need You
Way To Paradise
Side Two:
Early in the Morning
Jane.session
Rock 'n' Roll Star
King of Thule
Baby, what you're doin'
Album cover photos of : Jane - III
Album back cover of JANE III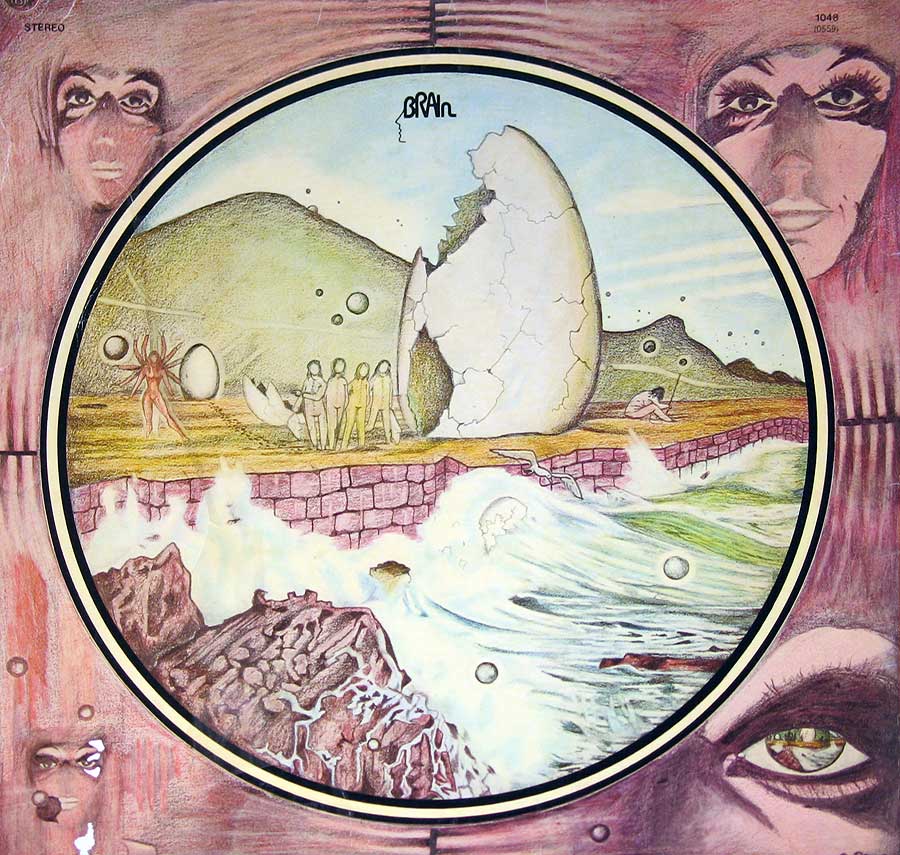 Photos of the JANE band performing on stage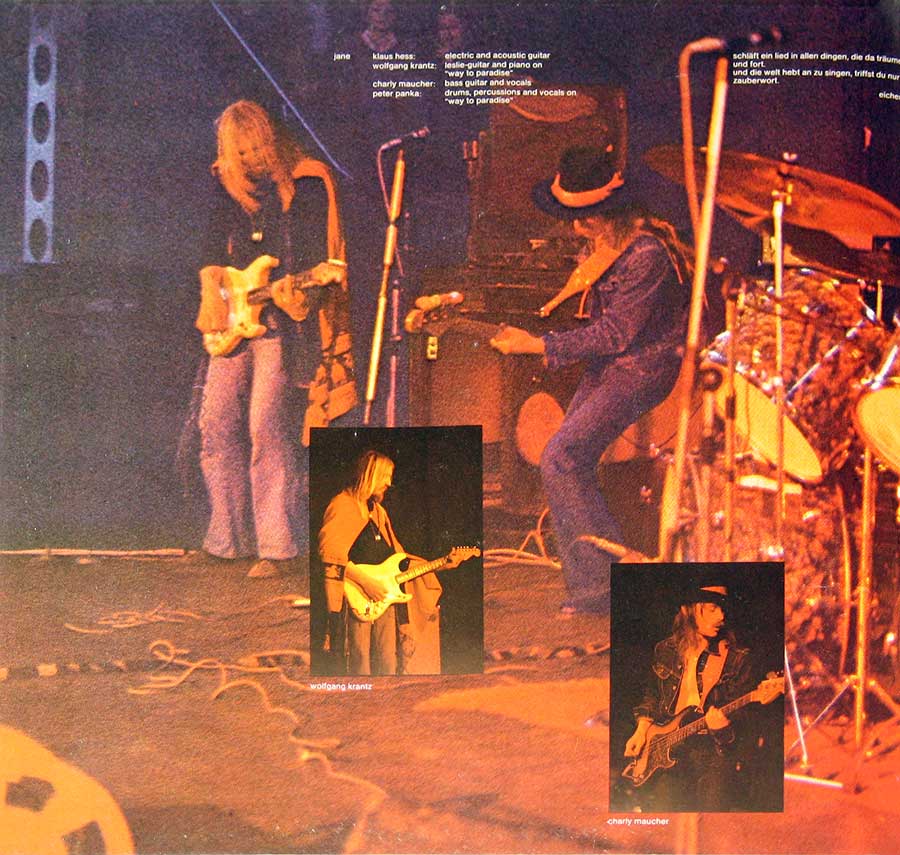 Photos of the JANE band performing on stage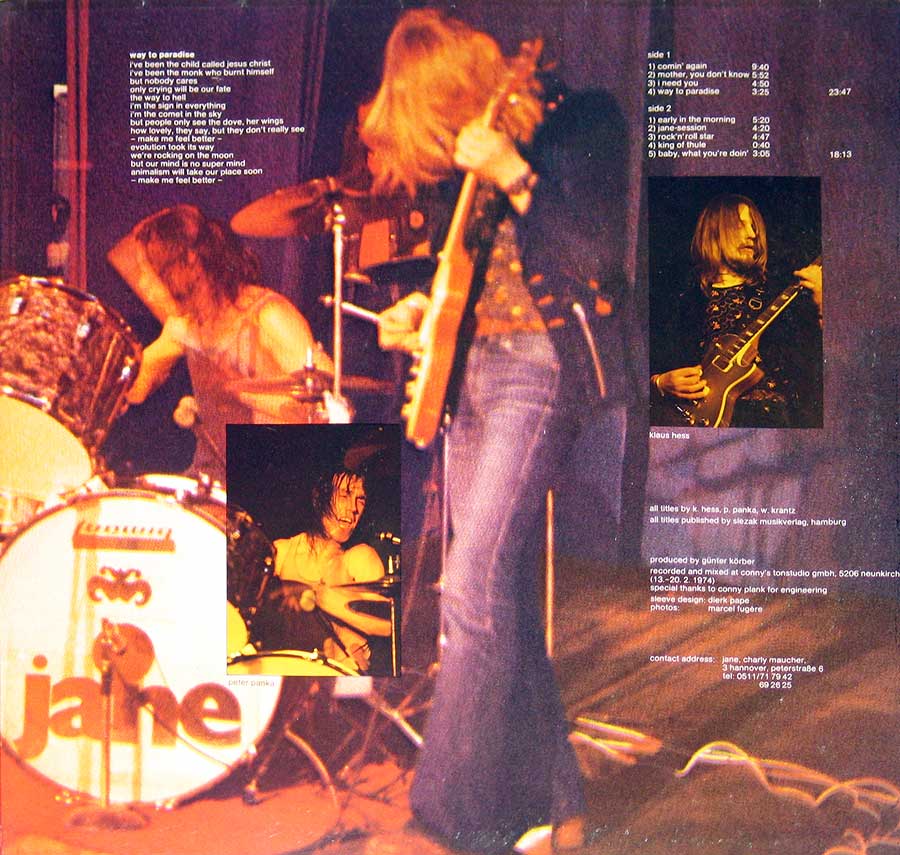 Close-up photo of the Yellowish BRAIN Record Label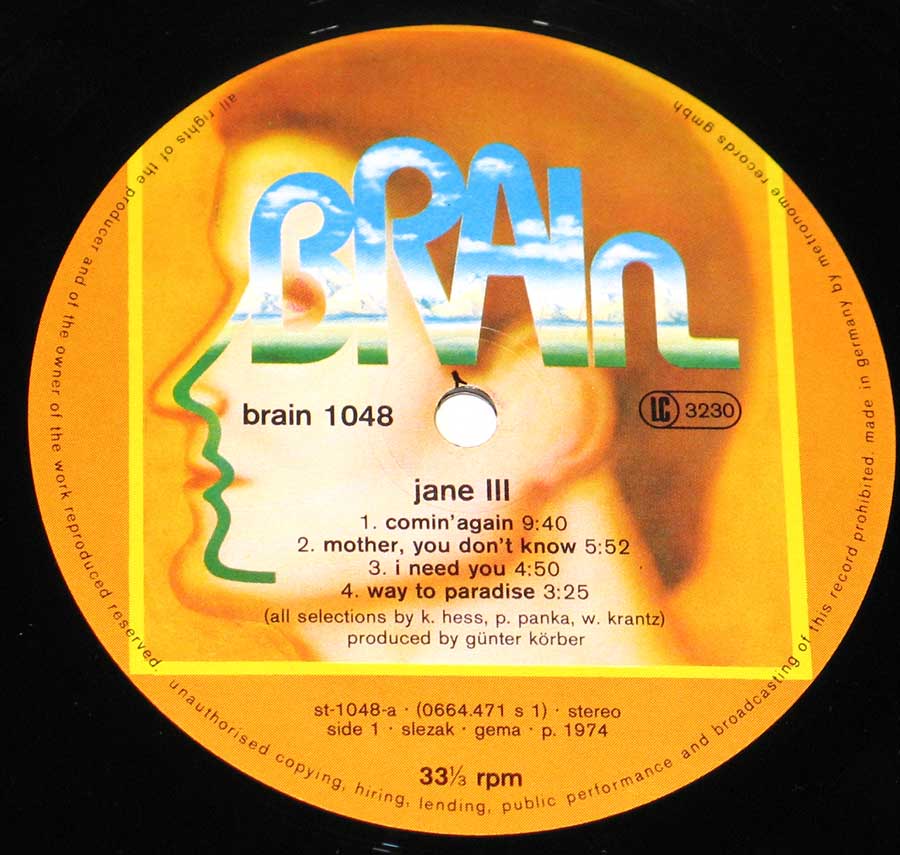 Note: the above pictures are actual photos of the album and allow you to judge the quality of cover. Slight differences in color may exist due to the use of the camera's flash.
JANE Related Vinyl Records
---