---
IRON MAIDEN - WASTED YEARS 12" Vinyl MAXI-SINGLE
"Wasted Years" is the fourteenth single released by Iron Maiden and the first from their Somewhere in Time album. It's the only song on the album that features no synthesizers. Released in 1986, it was the first single solely written by guitarist Adrian Smith. It reached number 18 in the UK Singles Charts.
The cover depicts the band mascot Eddie's point of view as he flies a spaceship chasing the Doctor's TARDIS. A similar Doctor Who reference can be seen on the back of the album's sleeve, where the Doctor's TARDIS is parked on a rooftop.
This web page has photos of album covers, inner sleeves, record labels together with production details, musicians and track-listing.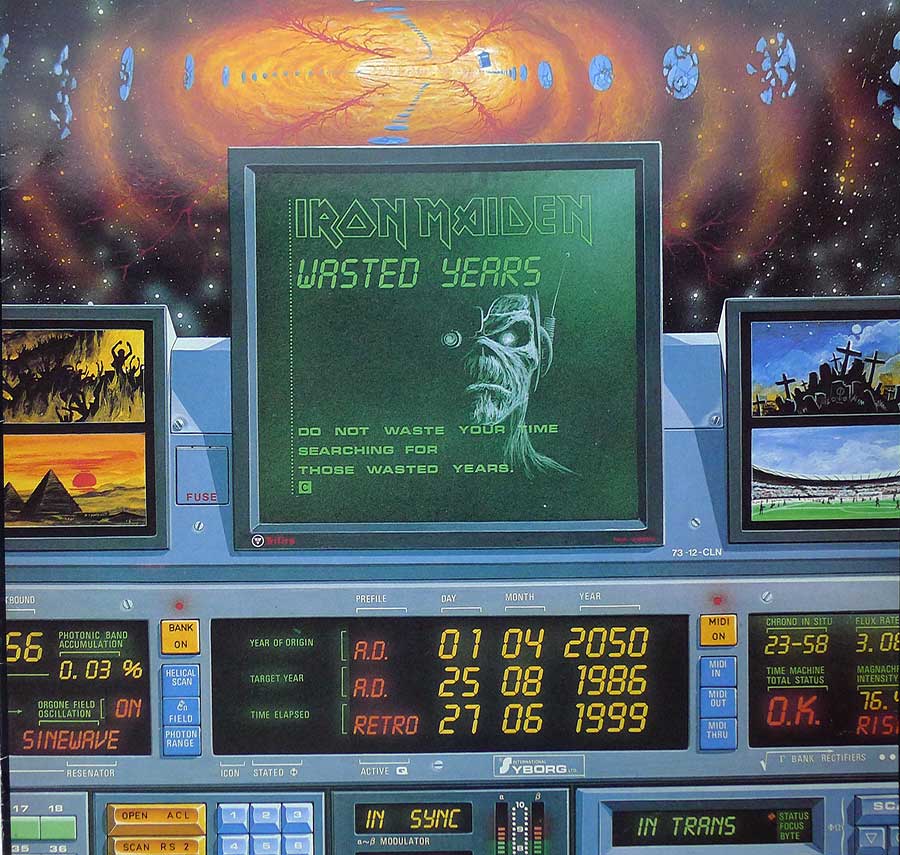 Album Production Information:

Rare 12" EP

Music Genre:

NWOBHM New Wave of British Heavy Metal

Album Production information:

The album: "IRON MAIDEN Wasted Years 12" Maxi-Single" was produced by: Martin Birch

Martin Birch - a British Producer, Sound and Mixing Engineer. In the late 1960s until the end of the 1970s he has worked with British music bands like: "Fleetwood Mac", Rainbow , " Deep Purple " (11 Albums), "Wishbone Ash", Whitesnake , "Jon Lord", " Black Sabbath ". In the 1980s (until 1992) he was dedicated working with "Iron Maiden" (9 Albums) . Martin Birch has used many different nicknames.

Album cover illustration by: Derek Riggs

Derek Riggs is a contemporary British artist best known for creating the band Iron Maiden's mascot, "Eddie". He has used several nicknames. On "Iron Maiden's" "Piece of Mind" he used Derek "Dr Death" Riggs

Photography Aaron Rapoport

Label Information:

EMI 1C K 060-20 1417 6

Media Format:

12" Vinyl Stereo Gramophone Record
Total Album (Cover+Record) weight: xxx gram

Year & Country:

1986 Made in Germany
Track Listing of: IRON MAIDEN Wasted Years 12" Maxi-Single
The Song/tracks on "IRON MAIDEN Wasted Years 12" Maxi-Single" are
Side Two:

Reach Out
Sheriff of Huddersfield
---
---