---
STEELER UNDERCOVER - ANIMAL -Steam Hammer Records 12" VINYL LP ALBUM
Steeler a German heavy metal band that was formed in 1979 in Frankfurt. They were one of the first German heavy metal bands to gain recognition and popularity, and were a well-known live act in the early 1980s. Steeler's early music was heavily influenced by bands like Judas Priest and Iron Maiden, and they are considered a part of the New German Wave of Heavy Metal movement.
Throughout their career, Steeler released several albums and toured extensively, gaining a loyal fanbase. The band experienced several lineup changes over the years, with guitarist Peter Burtz being the only constant member. Steeler released their most recent album, "Unreleased Emotion," in 1992, and although they have not released any new material since then, they continue to perform live and are regarded as an important part of German heavy metal history.
Albums they have released include: teeler (1983), Rulin' the Earth (1984), Strike Back (1985), Undercover Animal (1988), Unreleased Emotion (1992).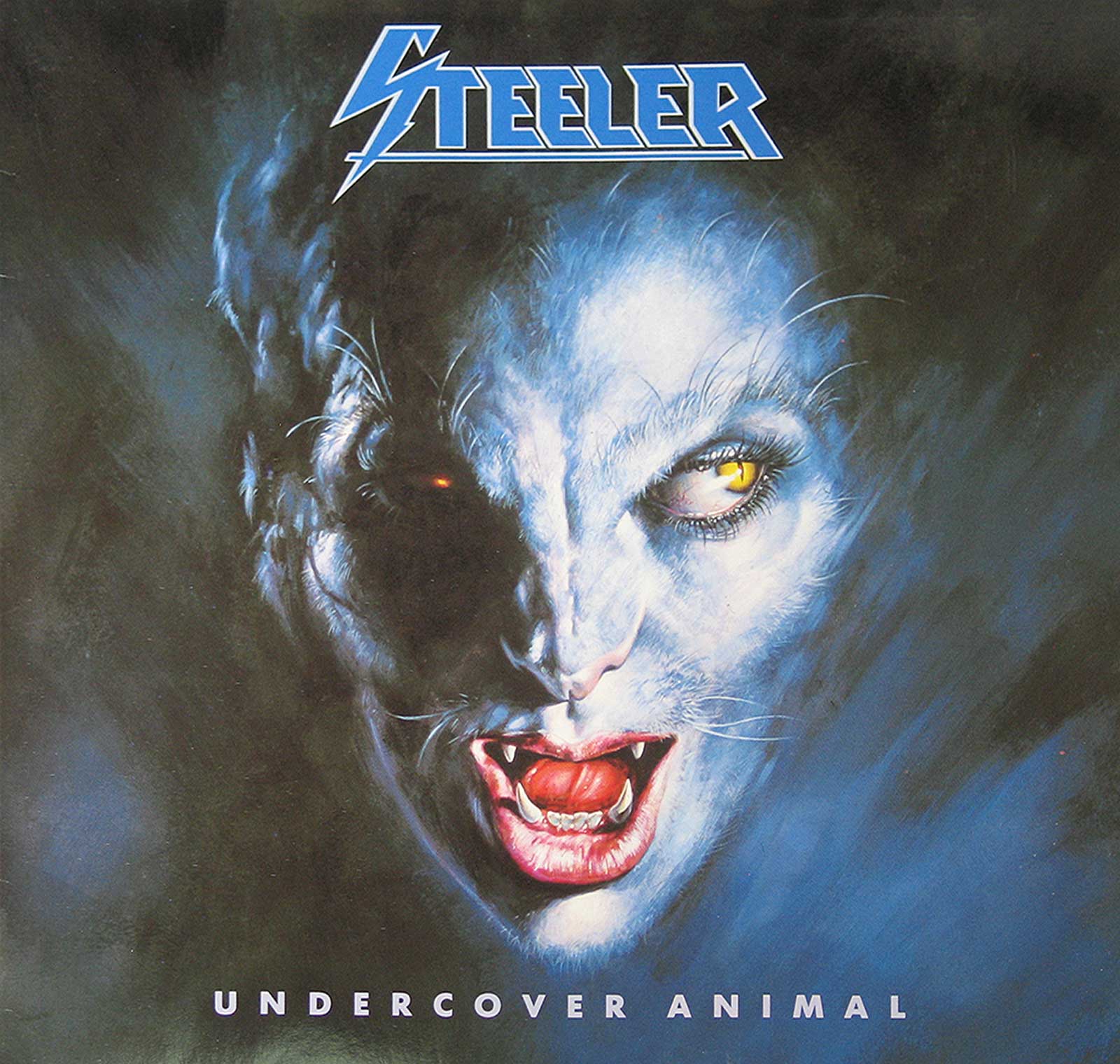 Steeler band description;

Steeler is an American heavy metal band that was formed in 1982 by guitarist Rik Fox. The band was based in Los Angeles and was one of the early pioneers of the U.S. power metal scene. Steeler's original lineup consisted of Fox on guitar, vocalist Ron Keel, bassist Yenz Cheyenne, and drummer Mark Edwards.

In 1983, Steeler released their self-titled debut album, which was well-received by fans of heavy metal and helped to establish the band's reputation as a rising force in the genre. However, despite their early success, the band experienced several lineup changes over the next few years, and their commercial success was somewhat limited.

Despite this, Steeler continued to perform and record music throughout the 1980s, and they released several more albums before disbanding in the late 1980s. In recent years, Steeler has reunited for several reunion shows and has been recognized as one of the pioneering bands of the U.S. power metal scene. Today, Steeler's music continues to be popular among fans of heavy metal and is remembered as an important part of the genre's history.

Album Summary:

This album includes the original custom inner sleeve with album details, complete lyrics of all songs by and photos of Steeler



Music Genre:

German Heavy Metal

Description / Collector's info:

"Undercover Animal" was the 4th and final (last) album of "Steeler"

Album Production information:

The album: "Undercover Animal" was produced by: Tommy Hansen, Tommy Newton, published by Warner Brothers

Tommy Hansen - is a producer and sound engineer from Denmark, during the 1980s he has been working at the Horus Sound Studio for Heavy Metal bands like: Heavens Gate, Helloween , Pretty Maids , Rage , S.A.D.O., Steeler , Tyran' Pace , Victory . "Tommy Hansen" and "Tommy Newton" have been working together (at Horus Sound Studio, Hannover, Germany) on the recording of Heavy Metal albums for the bands like Helloween and Victory.

Tommy Newton is a Guitarist, Producer and Sound Engineer, as guitarist he known for playing in the bands "Fargo" and "Victory" as producer/sound engineer he is known to work with the Germany Heavy Metal band Helloween.

Record Label:

SteamHammer 08-7510

Record Format

12" Vinyl Full-Length Stereo Long-Play Gramophone Record
Album weight: 230 gram
<

Year and Country:

1988 Made in Germany
Band Members and Musicians on: Steeler Undercover Animal
Band-members, Musicians and Performers
Peter Burtz (Vocals)
Axel Rudi Pell (Electric Guitar)
Tom Eder (Electric Guitar)
Roland Hag (Bass)
Jan Yildiral (Drums)
Track Listing of: "Undercover Animal"
The Songs/tracks on "Undercover Animal" are
Hunter or Hunted
Undercover Animal
Shadow in the Redlight
Hard Breaks
Criminal
Rely on Rock
Stand Tall
The Deeper the Night
Knock Me Out
Bad to the Bone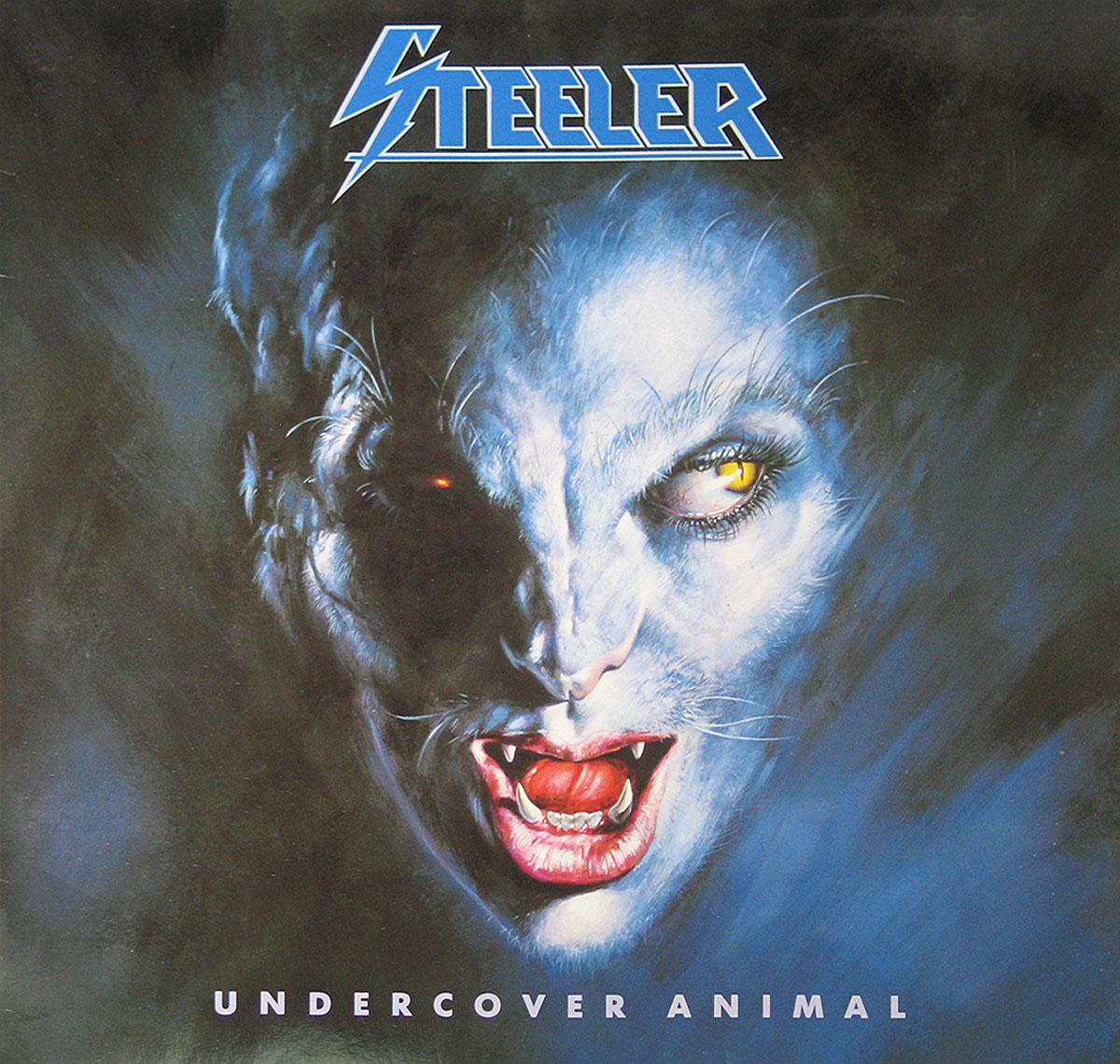 Note: The images on this page are photos of the actual album. Slight differences in color may exist due to the use of the camera's flash. Images can be zoomed in/out ( eg pinch with your fingers on a tablet or smartphone ).
Photo of the "Steeler" band members on the album's inner sleeve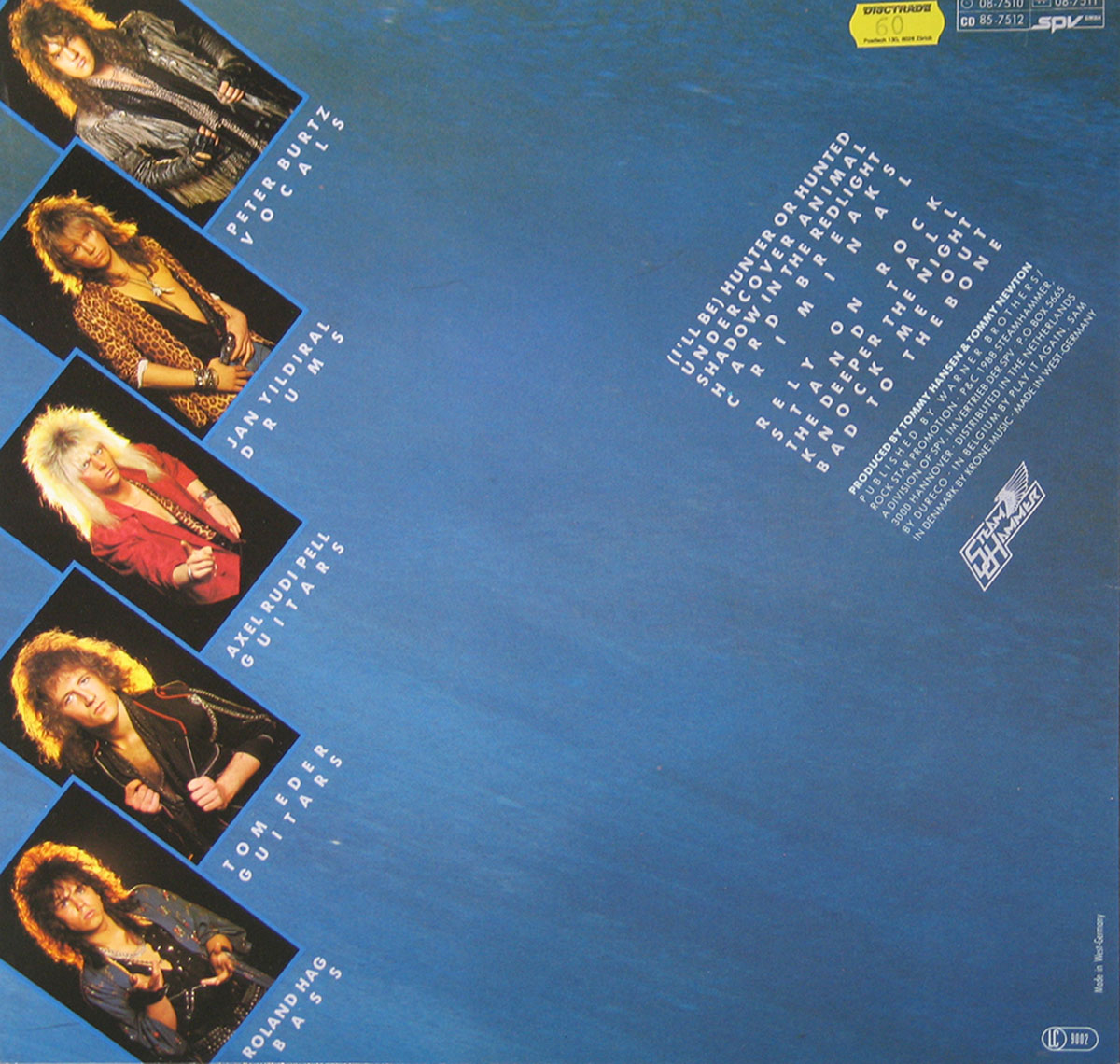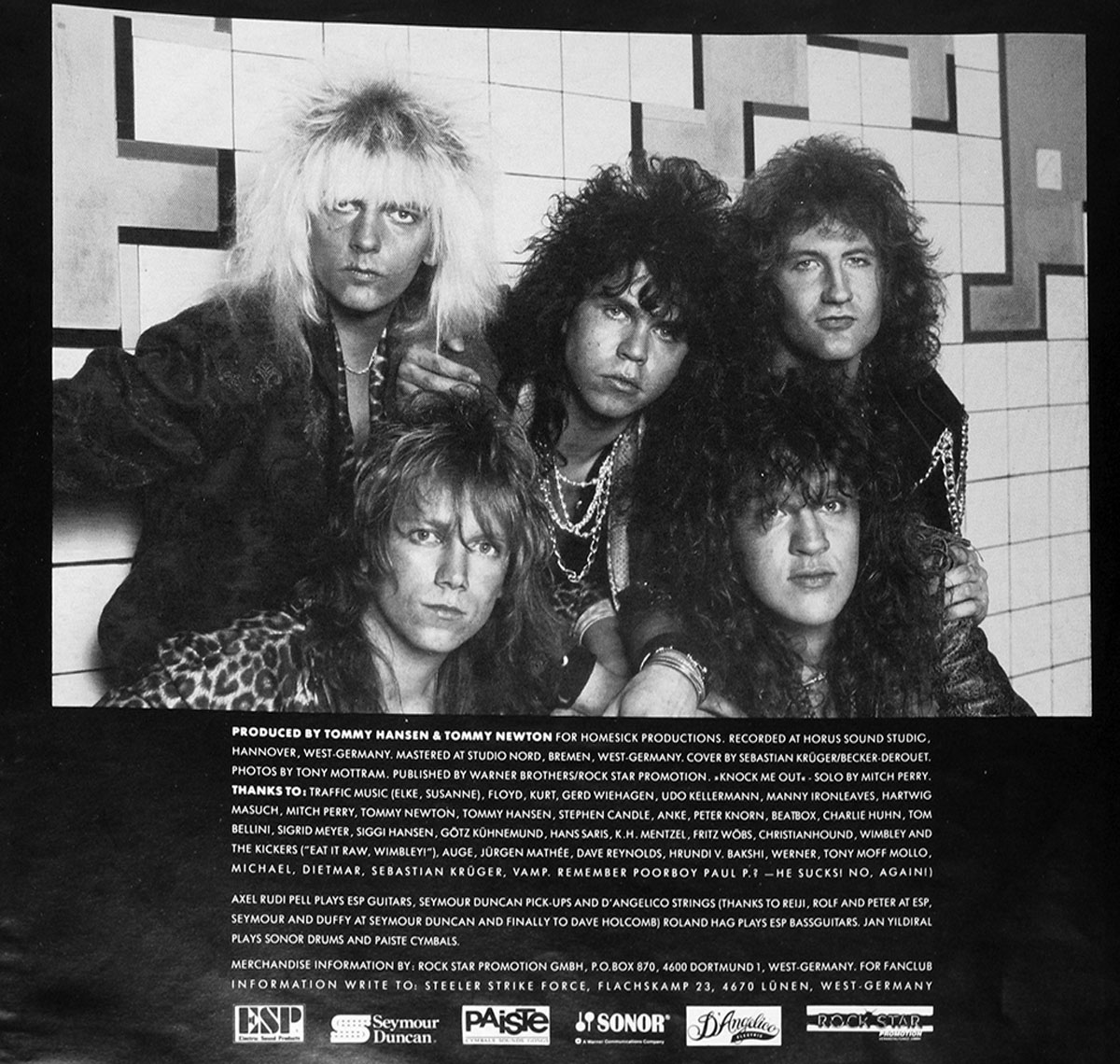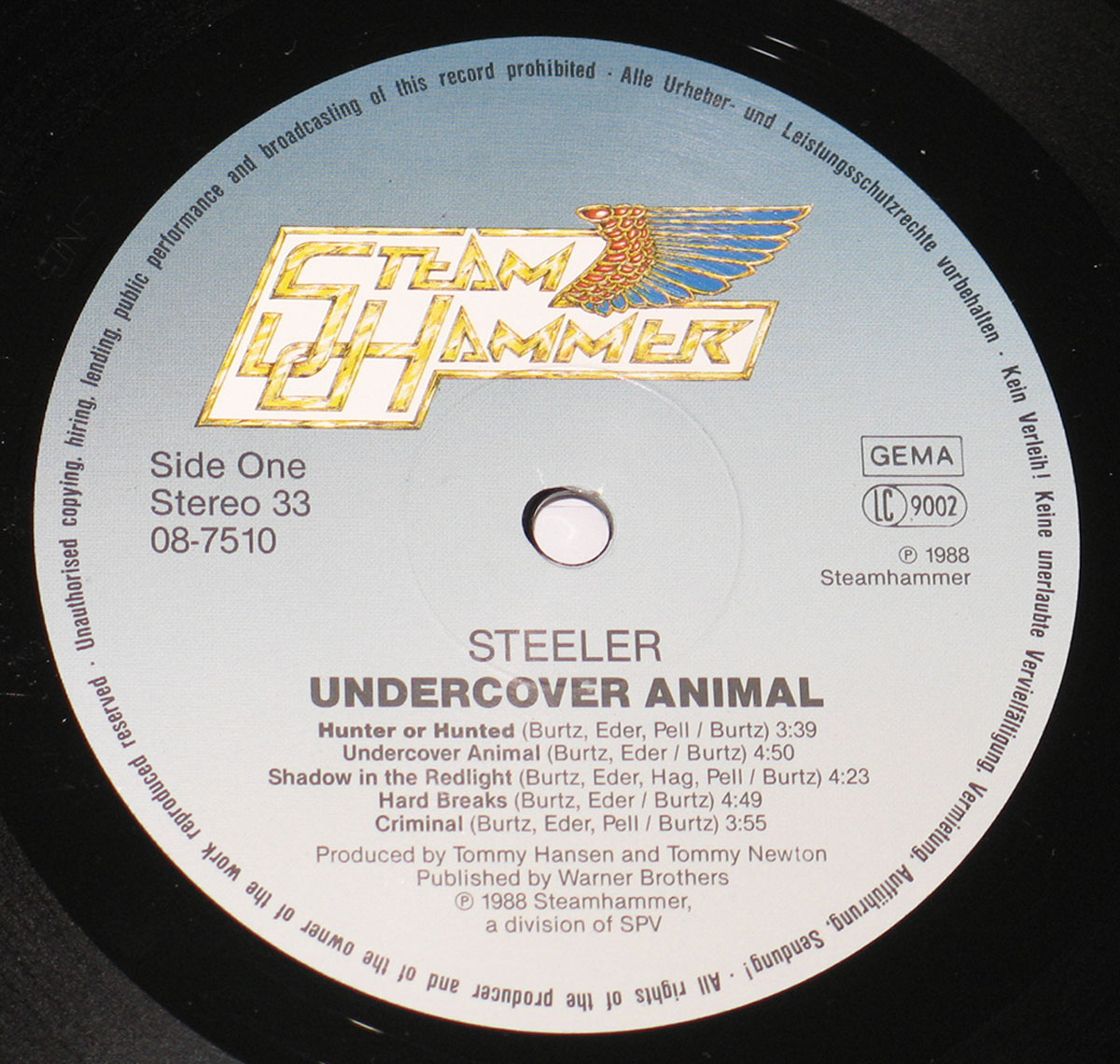 ---