---
44 MAGNUM DANGER OIS 12" LP ALBUM VINYL
Album: DANGER is the first official full-length studio album by the Japanese Heavy Metal band 44 Magnum. It was produced by Hiromi Yoshizawa and recorded at the Rockwell Studio and Sunrise Studios.
This album "44 Magnum – Danger" includes the original custom inner sleeve with album details, complete lyrics of all songs by and artwork/photos. 44 Magnum (stylized as 44MAGNUM) is a heavy metal /hard rock band from Japan, originally formed in 1977.
This web page has photos of album covers, inner sleeves, record labels together with production details, musicians and track-listing.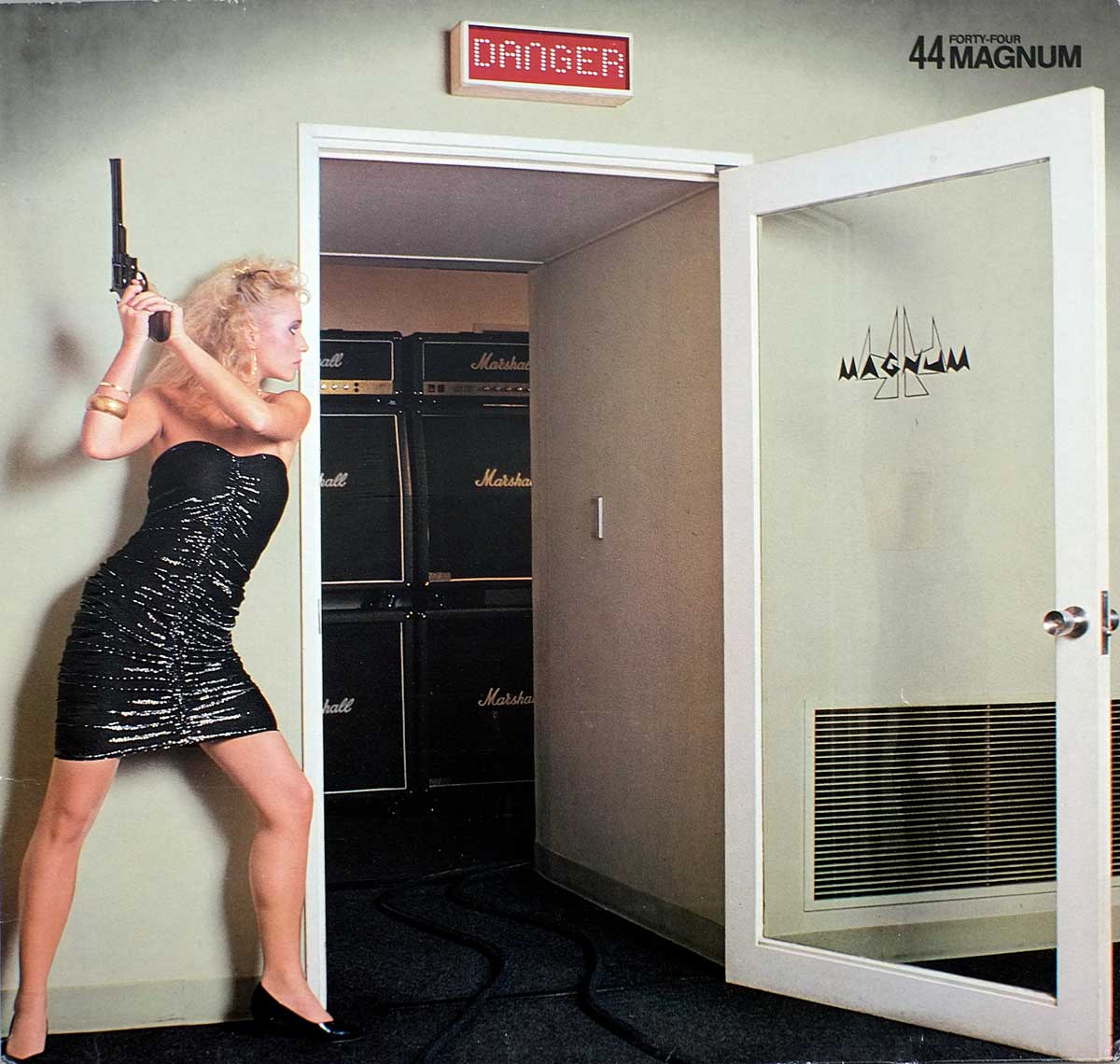 Music Genre:

Heavy Metal / Hard Rock

Album Production Information:

The album: "44 Magnum – Danger" was produced by: Yoshiyuki "Show" Ohno

Associate Producer: Hiromi Yoshizawa
Recording Engineer: Tomohiro Nakamura (Rockwell Studio)
Assistent Engineer: Hirokazu Masuda (Rockwell Studio)
Recorded at Rockwell Studio and Sunrise Studio
Remixed by Yasuo Sato at Onkio Haus
Assisted by Shigeru Takise at Onkio Haus
Disc Mastering engineer: Teppei Kasai
Recording coordination by Masahiro Ohishi (Danger Crue)
Art Direction and Jacket Design Mitsuo Sato, Binta Matsuoka (Zip)
Photographer: Hiroyuki "Otosan" Yoshihama

Label Information:

Roadrunner RR 9805

Media Format:

12" LP Vinyl Stereo Gramophone Record
Total Album (Cover+Record) weight: 230 gram

Year & Country:

1984 Holland
Personnel/Band Members and Musicians on: 44 Magnum – Danger
Band-members, Musicians and Performers
Satoshi "Jimmy" Hirose – guitar
Satoshi "Joe" Miyawaki – drums
Hironori "Ban" Yoshikawa – bass
Tatsuya "Paul" Umehara – vocals
Complete Track-listing of the album "44 Magnum – Danger"
The detailed tracklist of this record "44 Magnum – Danger" is:
Track-listing Side One:

I'm On Fire 3:45

Your Heart 3:52
The Wild Beast 3:57
You Love Me, Don't You? 8:07
Track-listing Side Two:

No Standing Still 3:07

Dirty Lady 4:17
Baby, Come Together 3:41
At Last I'm A Free Man 3:24
Satisfaction
High Quality Photo of Album Front Cover "44 Magnum – Danger"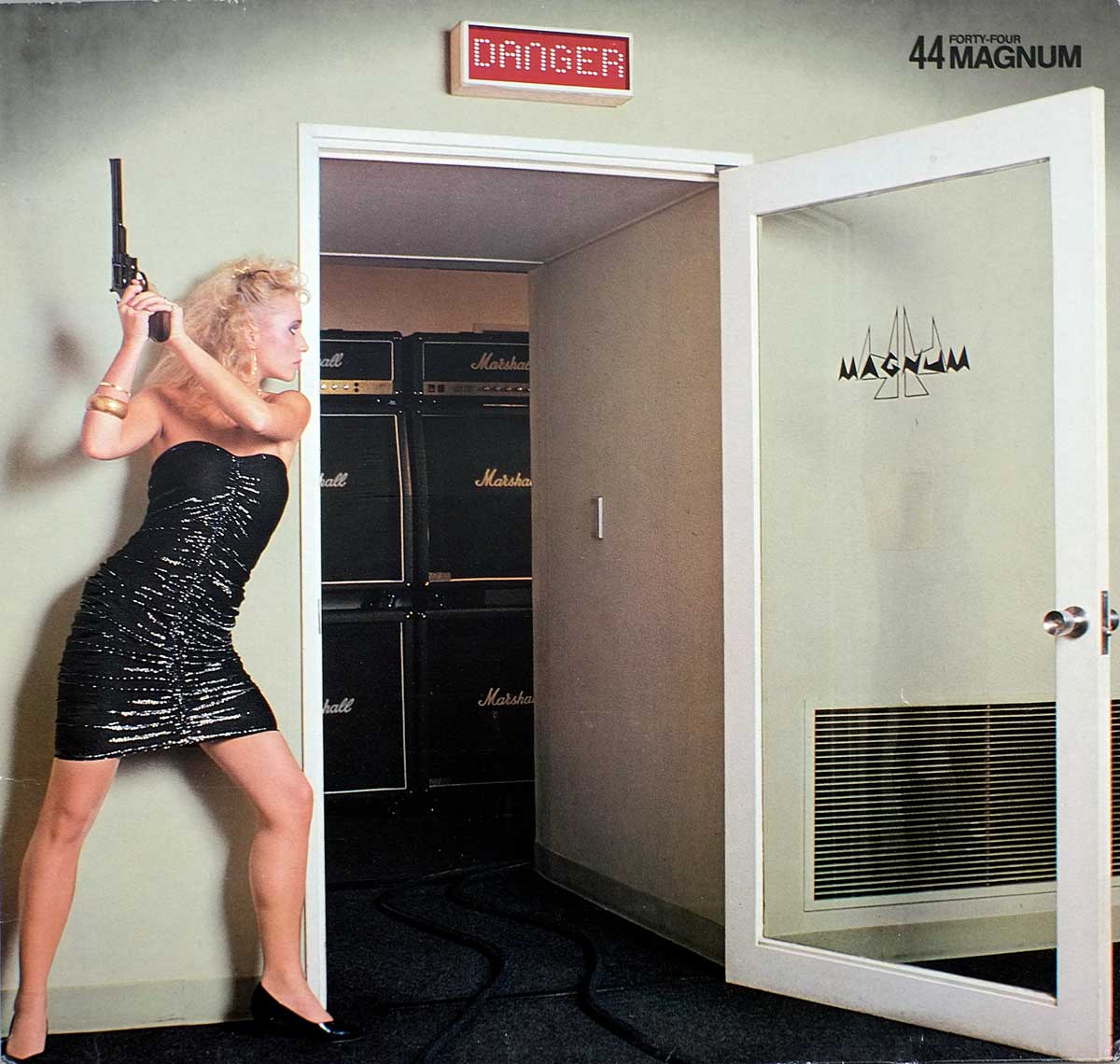 Album Back Cover Photo of "44 Magnum – Danger"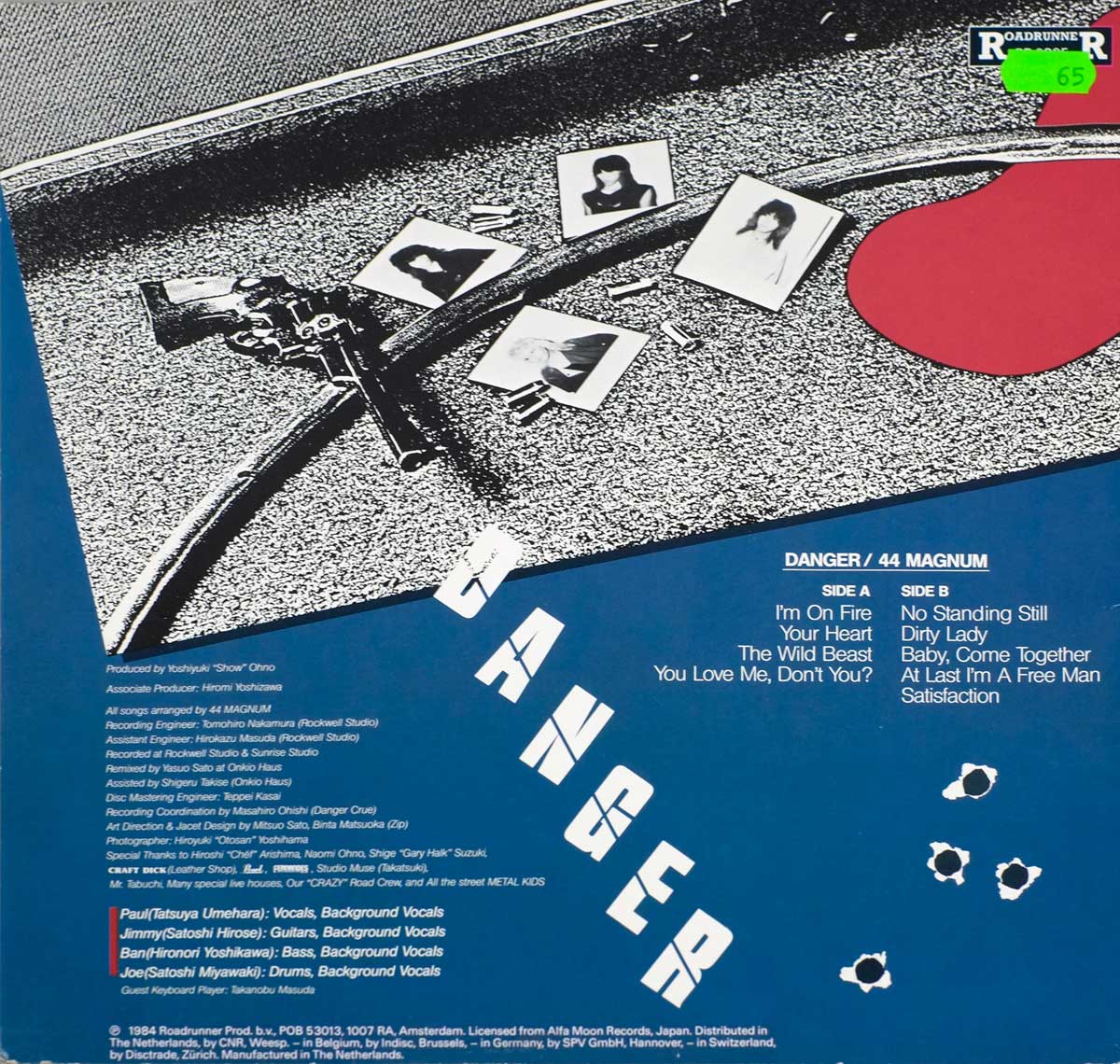 Inner Sleeve of "44 Magnum – Danger" Album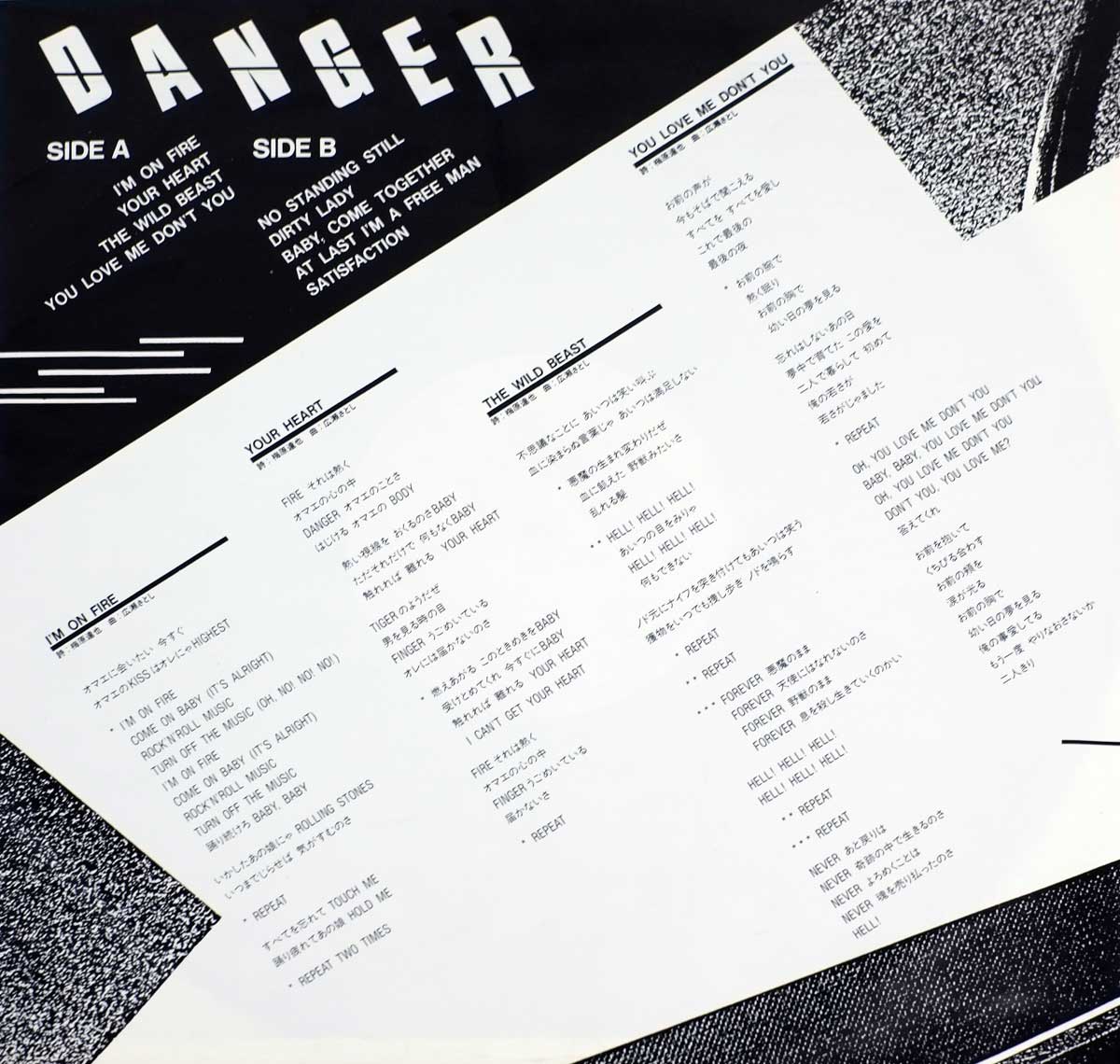 Photo of "44 Magnum – Danger" 12" LP Record's Label - Side One: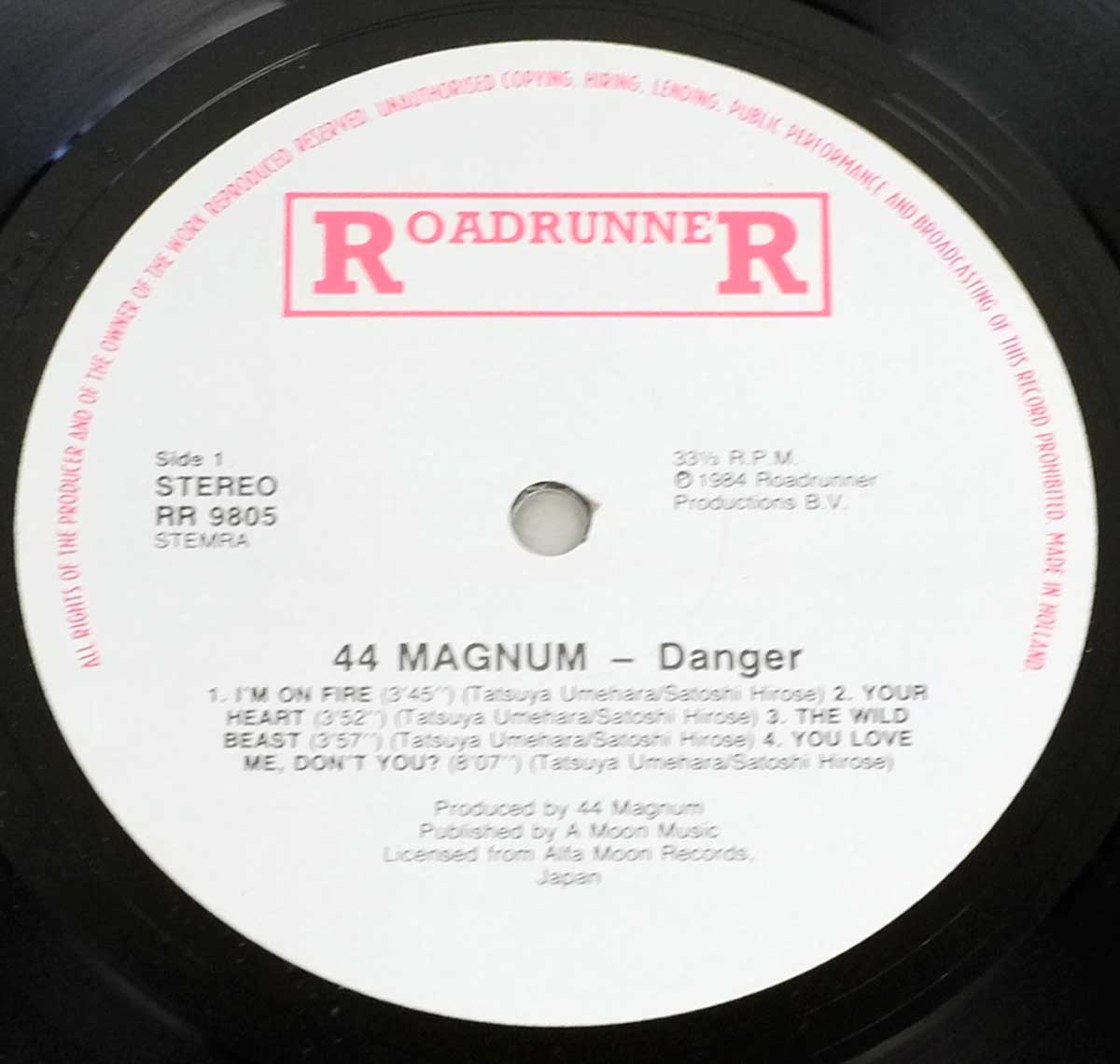 Note: The images on this page are photos of the actual album. Slight differences in color may exist due to the use of the camera's flash. Images can be zoomed in/out ( eg pinch with your fingers on a tablet or smartphone ).
---