---
CUTTY SARK – Heroes Heavy Metal 12" VINYL LP ALBUM
"Heroes" is the third album release by the German Heavy Metal "Cutty Sark", It was their last album released during the 1980s.
"CUTTY SARK" was a German Heavy Metal band from Bonn, the band was formed in 1976 and active from 1976 until 1987 and 1998 until 1999. During the 1980s "CUTTY SARK" released three records "Hard Rock Power" in 1983, "Die Tonight" in 1984 and "Heroes" in 1985, "Regeneration" was released in 1998.
This web page has photos of album covers, inner sleeves, record labels together with production details, musicians and track-listing.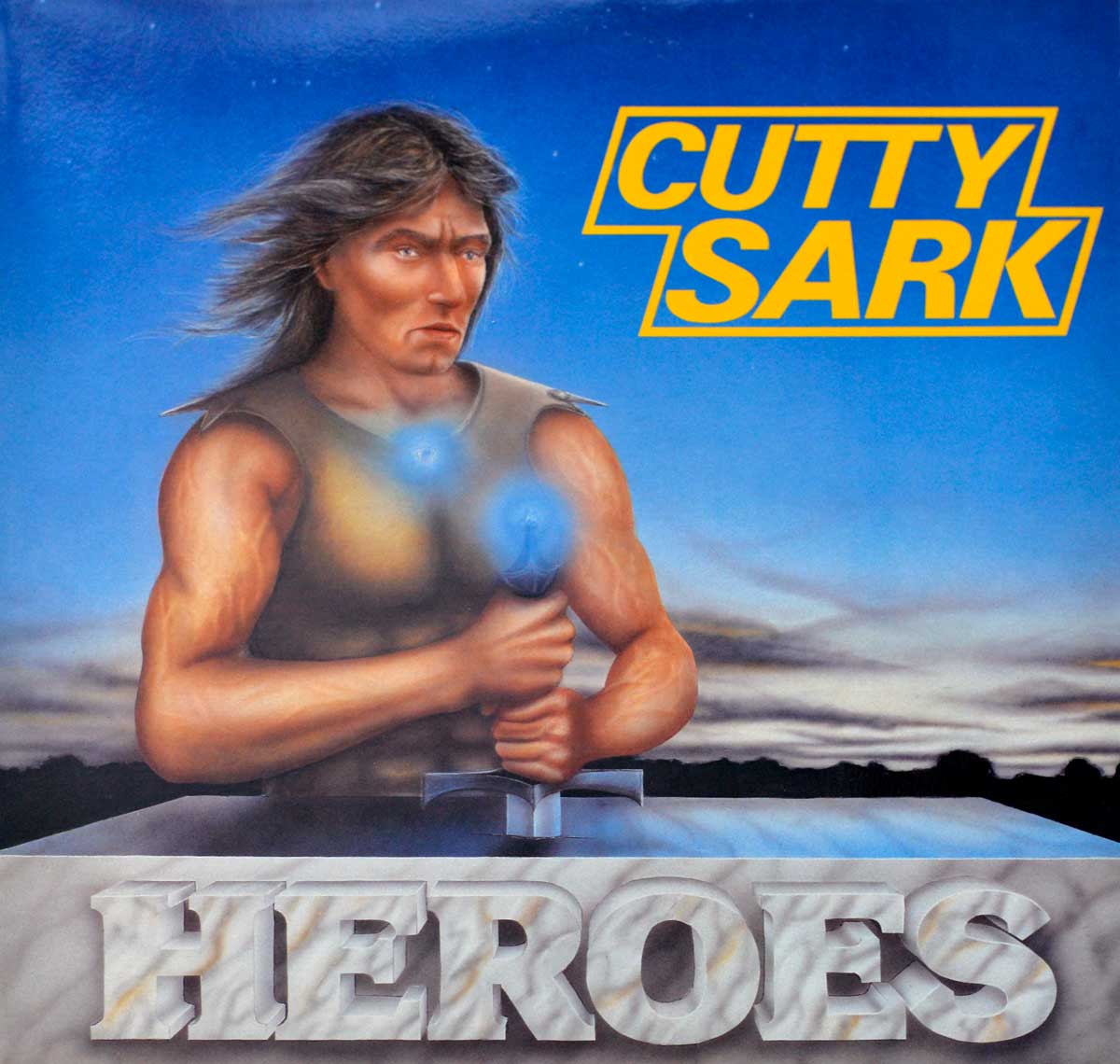 Essential Album Information For: CUTTY SARK – Heroes Heavy Metal 12" Vinyl LP
Media Format:
Record Format: 12" Vinyl Stereo Gramophone Record
Total Album (Cover+Record) weight: 230 gram
Year & Country:
1985 Belgium
CUTTY SARK – Heroes Heavy Metal 12" Vinyl LP Production & Recording Information
Producers:
Corona - Producer
Cutty Sark - Producer
Sound & Recording Engineers:
Betsy - Sound Engineer
Glenn Pocorni - Sound Engineer
Album Cover Design & Artwork:
Harald Hoffmann - Album Front Cover Illustration
---
Musicians:
Conny Schmitt - Lead Vocals

Uwe Cossmann - Guitar

Helge Meier - Bass Guitar

Micki Schmitt - Drums
Tracklisting Side One:
Firebird 5:55
Heroes (...) 5:19
Do Come True 4:10
Smell A Rat 4:47
Tracklisting Side Two:
Sold To Kill 5:07
Love The World Away 6:24
Invitation To Dance 4:10
Let's Go 4:21
---
CUTTY SARK – Heroes Heavy Metal 12" Vinyl LP High Resolution & Quality Photos
Photo Of The Back Cover CUTTY SARK – Heroes Heavy Metal 12" Vinyl LP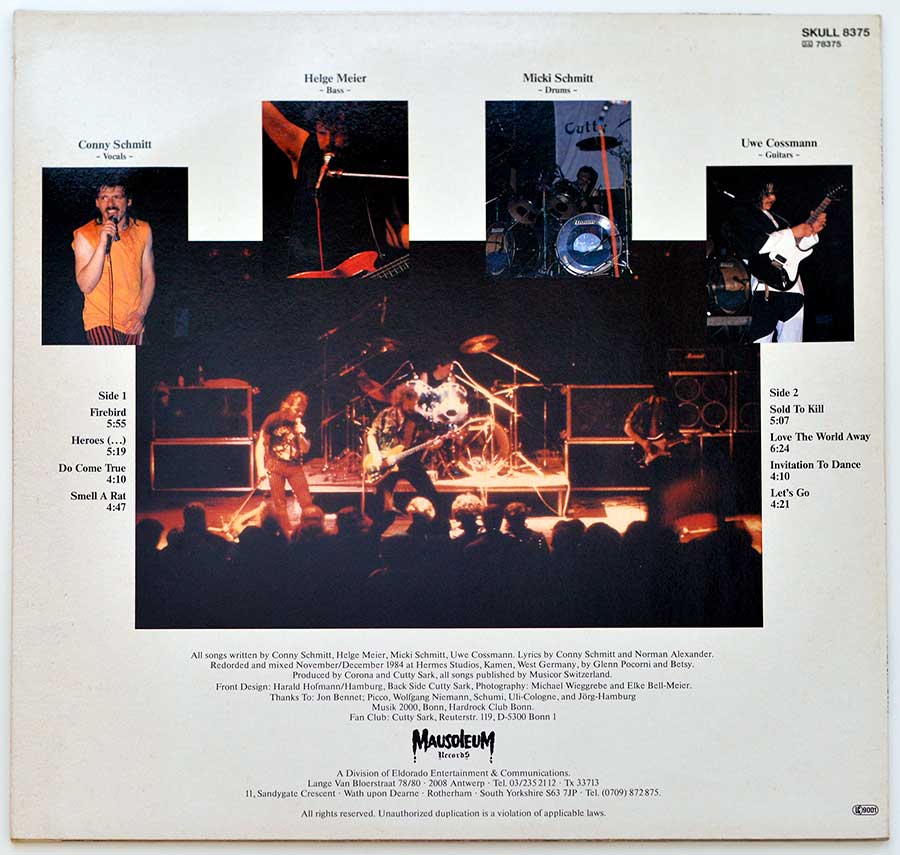 Photo of Side One of CUTTY SARK – Heroes Heavy Metal 12" Vinyl LP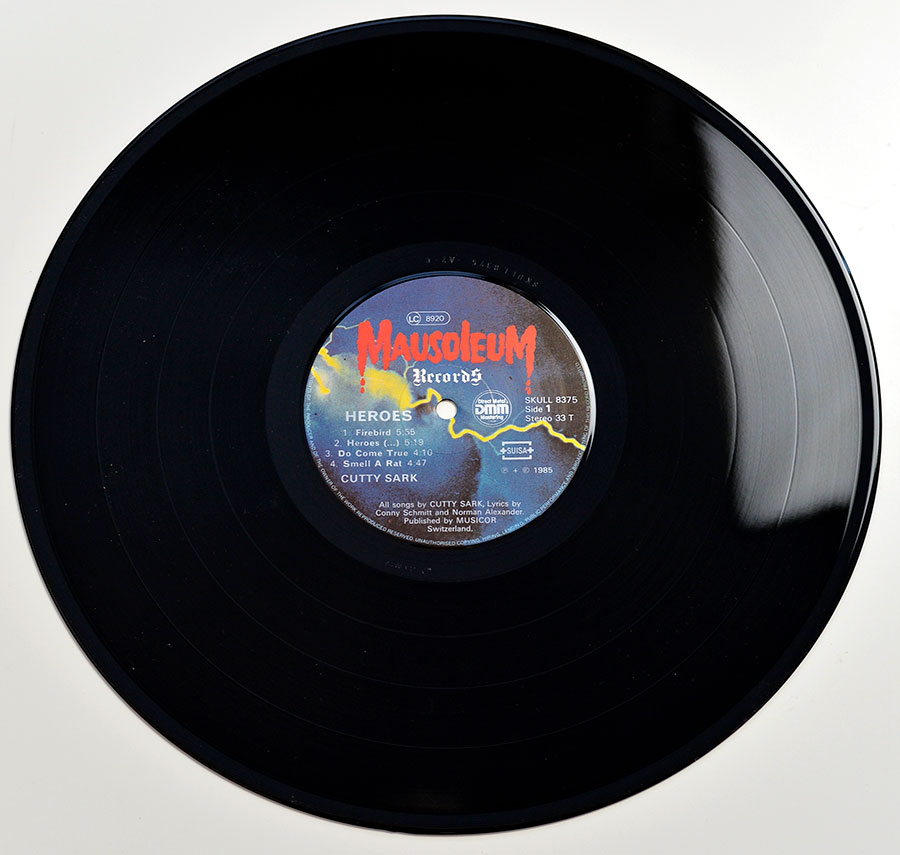 Photo of Side Two of CUTTY SARK – Heroes Heavy Metal 12" Vinyl LP