Carrere 2934 106

CLOUT - self-titled Substitute (1978, West-Germany).
Clout, the pioneering South African all-girl rock group, took the music scene by storm with their self-titled album in 1977. Featuring the iconic hit "Substitute," the album became a million-selling sensation, showcasing the band's talent and leaving an enduring legacy.
Carrere 49.540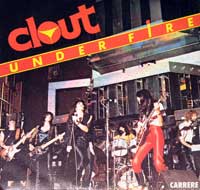 CLOUT - Under Fire / Tommorrow (7" Single) (1979,France)
Clout's 1979 vinyl single "Under Fire" encapsulates the band's fearless departure from the mainstream. With a fusion of rock elements and a captivating B-side, "Tom-Morrow," the single, housed in a visually striking picture sleeve, became a global phenomenon, leaving an indelible mark on the history of rock music.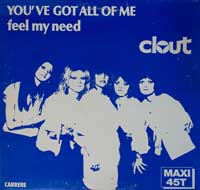 CLOUT - You've Got All of Me 12" Maxi-Single
Clout's 12" Vinyl Maxi-Single, "You've Got All of Me," is a musical odyssey that transcends the boundaries of conventional singles. With its emotive lyrics, instrumental prowess, and captivating cover art, the Maxi-Single stands as a testament to Clout's enduring influence on the 80s rock scene.