---
TOM WAITS RAIN DOGS 12" LP VINYL ALBUM
"Rain Dogs" is the 9th album by American singer-songwriter Tom Waits, released in August 1985 on Island Records. A loose concept album about "the urban dispossessed" of New York City, Rain Dogs is generally considered the middle album of a trilogy that includes Swordfishtrombones and Franks Wild Years. The album, which includes appearances by guitarists Keith Richards and Marc Ribot, is noted for its broad spectrum of musical styles and genres, described by Rolling Stone as merging "Kurt Weill, pre-rock integrity from old dirty blues, [and] the elegiac melancholy of New Orleans funeral brass, into a singularly idiosyncratic American style."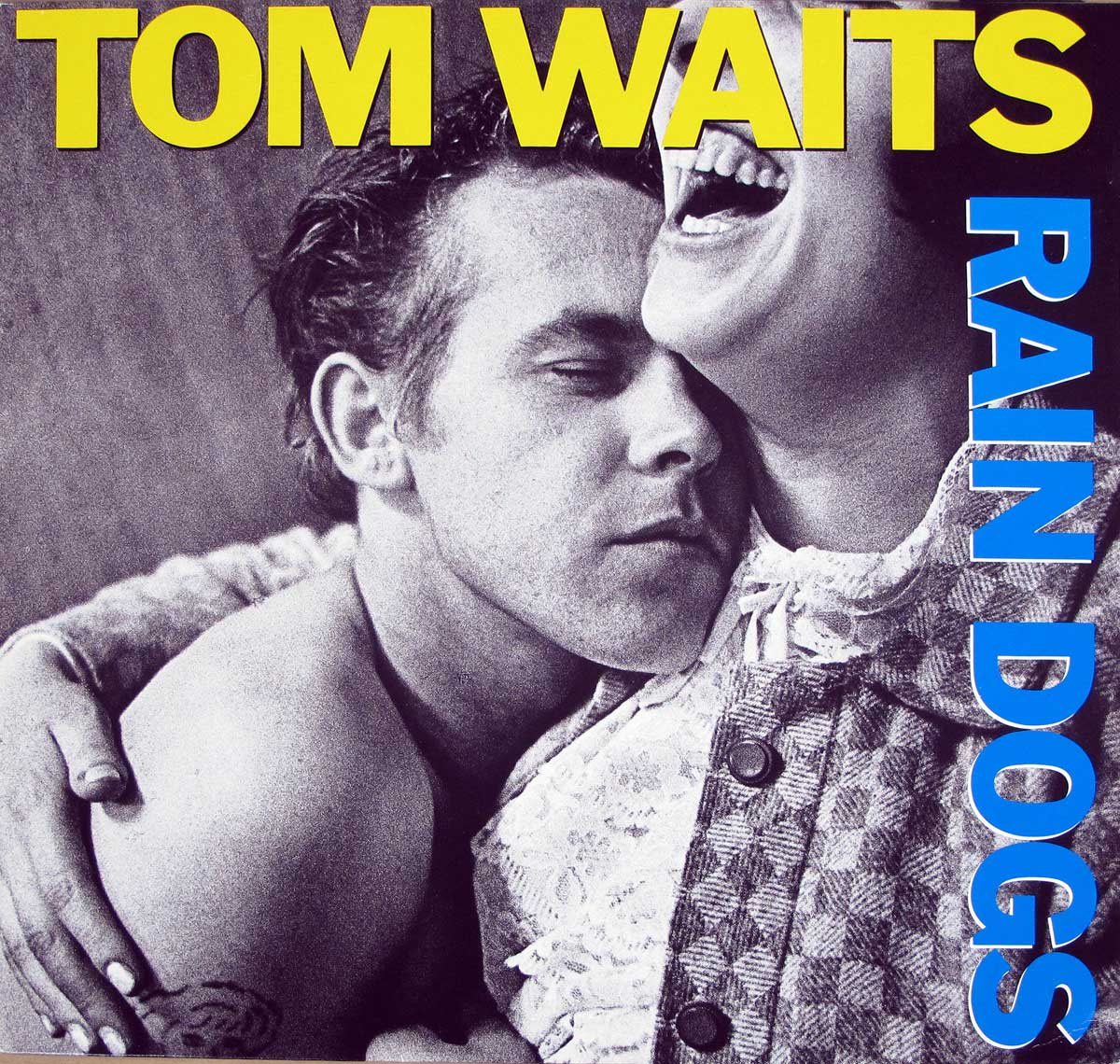 Collectors information & Description:
This album "TOM WAITS - Rain Dogs" includes the original custom inner sleeve with album details, complete lyrics of all songs by and artwork/photos
Music Genre:

Jazz

Album Production Information:

The album: "TOM WAITS - Rain Dogs" was produced by: Tom Waits

This album was recorded : September 1985, RCA Studios

Album cover photography: Robert Frank

Label Information:

Island 207 085

Media Format:

12" LP Vinyl Stereo Gramophone Record
Total Album (Cover+Record) weight: 230 gram

Year & Country:

1985 Made in Germany
Personnel/Band Members and Musicians on: TOM WAITS - Rain Dogs
Band-members, Musicians and Performers
Tom Waits – Vocals
Michael Blair - Percussion Parade Drum
Stephen Taylor Arvizu Hodges - Drums
Larry Taylor - Double Bass
Marc Ribot - Guitar, Lead Guitar
Chris Spedding - Guitar
Hollywood Paul Litteral - Trumpet
Tony Garnier - Double Bass
Bobby Previte - Percussion , Marimba
William Schimmel - Accordion
Bob Funk - Trombone
Ralph Carney - Baritone Sax
Greg Cohen - Double Bass
Keith Richards - Guitar , Backing Vocals
Robert Musso - Banjo
Arno Hecht - Tenor Sax
Complete Track-listing of the album "TOM WAITS - Rain Dogs"
The detailed tracklist of this record "TOM WAITS - Rain Dogs" is:
Track-listing:
"Singapore" 2:46
"Clap Hands" 3:47
"Cemetery Polka" 1:51
"Jockey Full of Bourbon" 2:45
"Tango Till They're Sore" 2:49
"Big Black Mariah" 2:44
"Diamonds & Gold" 2:31
"Hang Down Your Head" Kathleen Brennan, Waits 2:32
"Time" 3:55
Title Length
"Rain Dogs" 2:56
"Midtown" (Instrumental) 1:00
"9th & Hennepin" 1:58
"Gun Street Girl" 4:37
"Union Square" 2:24
"Blind Love" 4:18
"Walking Spanish" 3:05
"Downtown Train" 3:53
"Bride of Rain Dog" (Instrumental) 1:07
"Anywhere I Lay My Head" 2:48
High Quality Photo of Album Front Cover "TOM WAITS - Rain Dogs"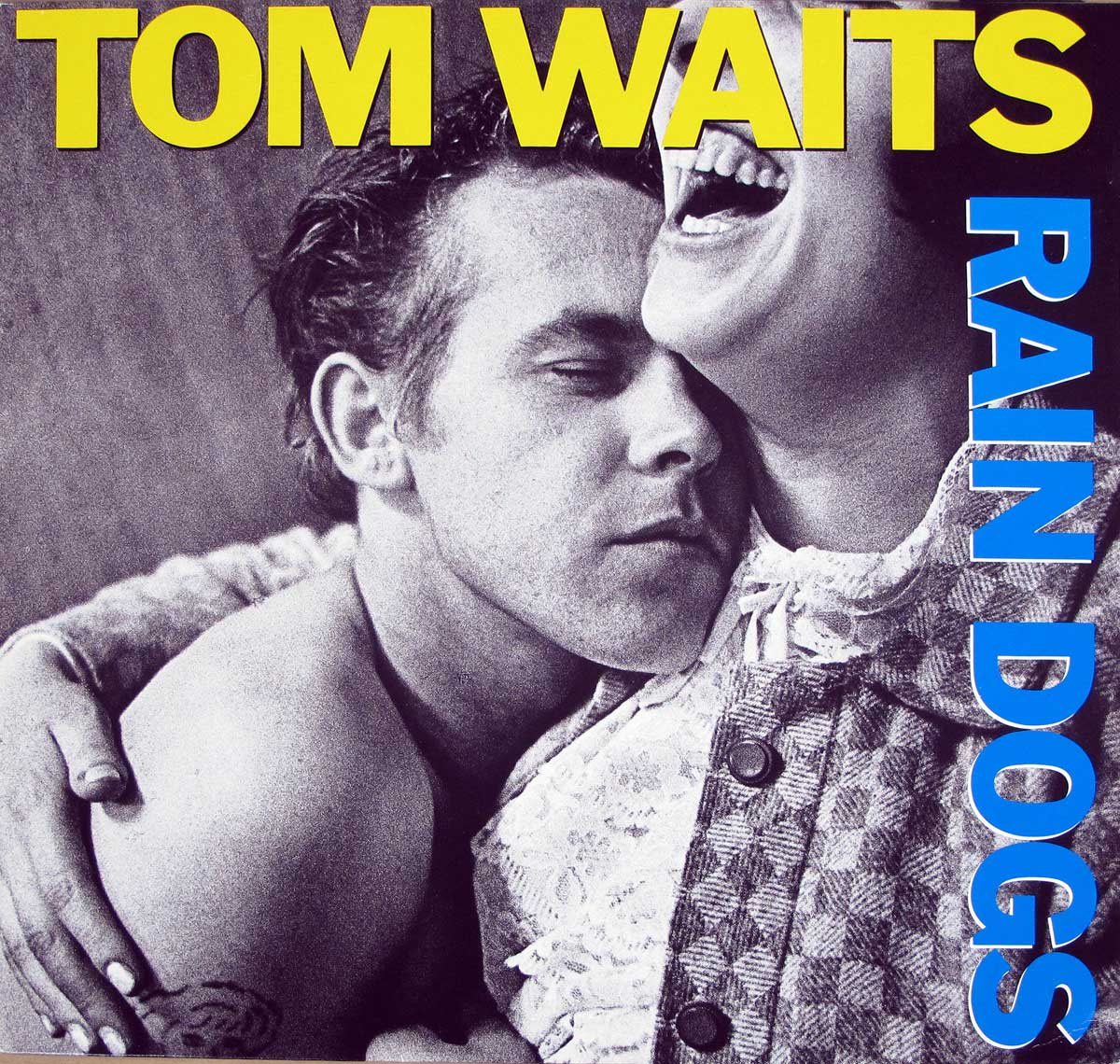 Album Back Cover Photo of "TOM WAITS - Rain Dogs"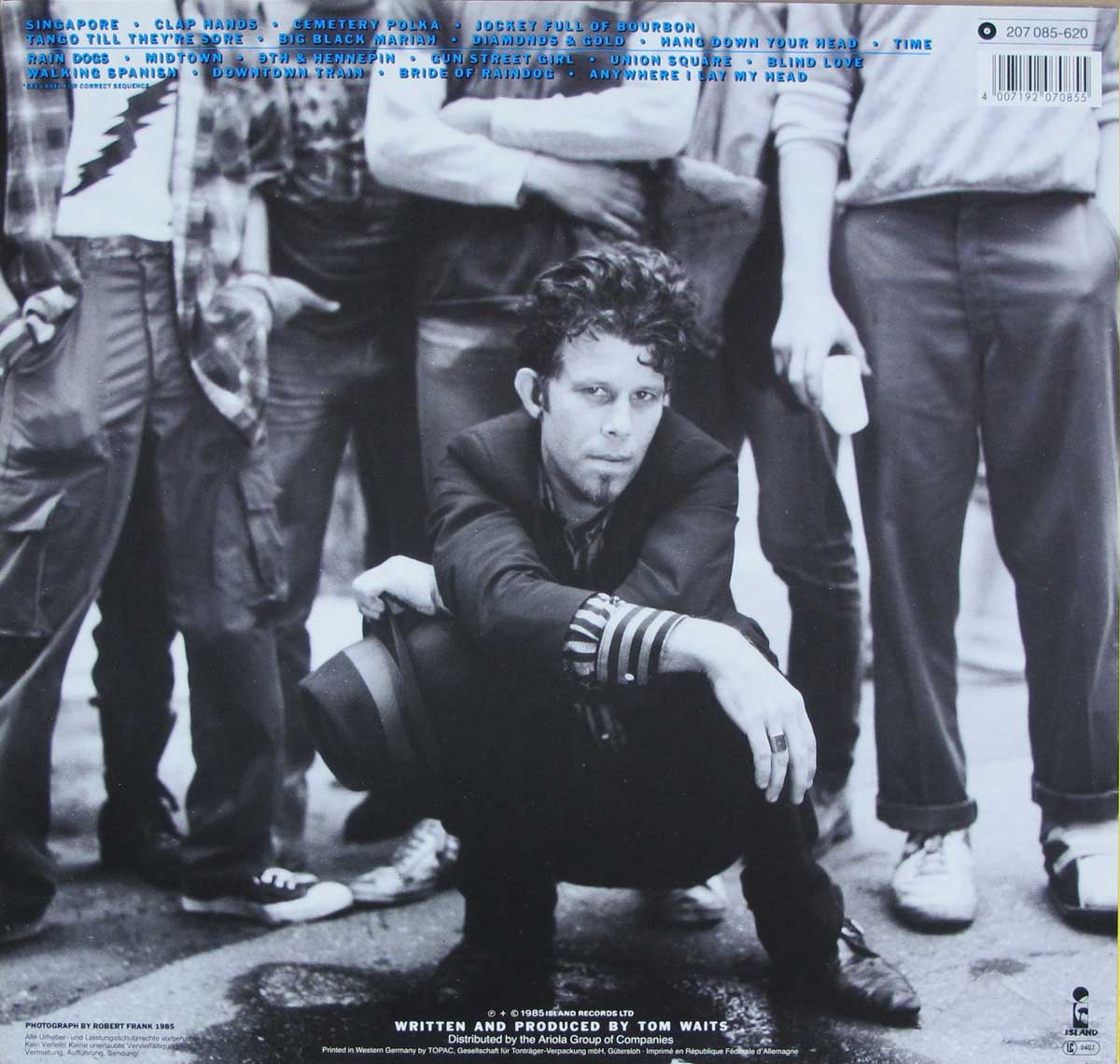 Inner Sleeve of "TOM WAITS - Rain Dogs" Album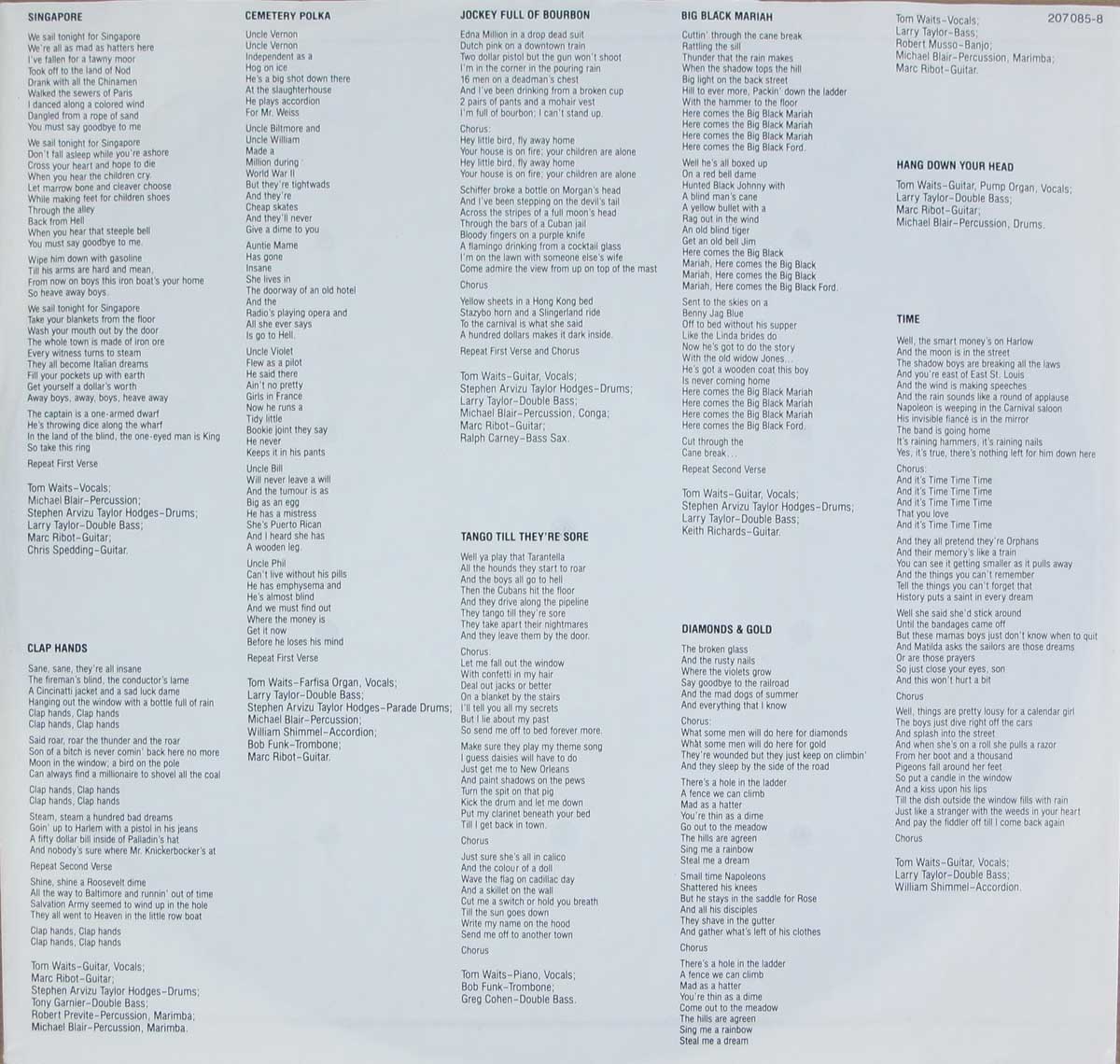 Close-up Photo of "TOM WAITS - Rain Dogs" Record Label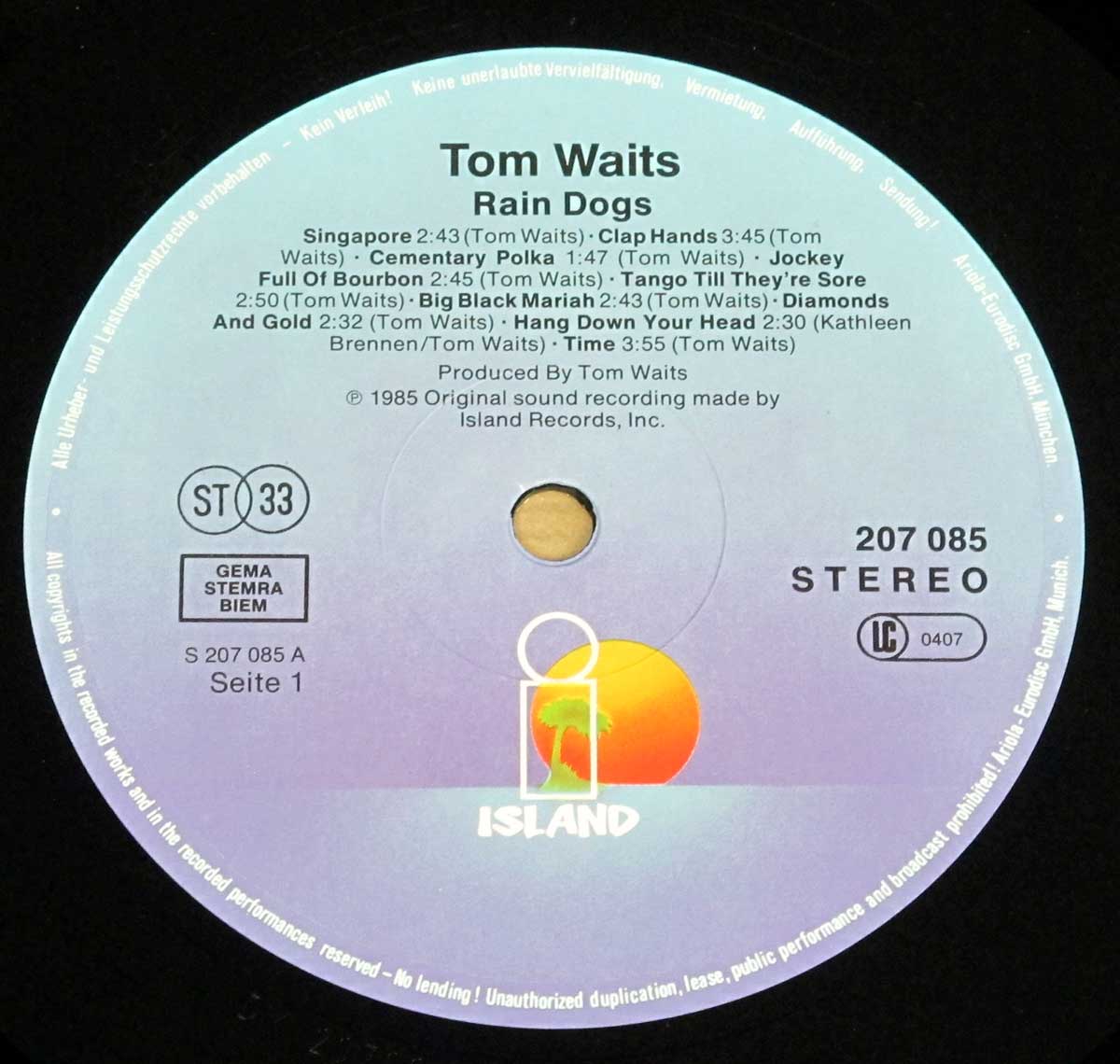 Note: The images on this page are photos of the actual album. Slight differences in color may exist due to the use of the camera's flash.
---