---
Blaspheme - Desir de Vampyr heavy Metal France 12" VINYL LP ALBUM
"Désir de vampyr" is the second studio album by the French Heavy Metal band"Blaspheme", this album was released in 1985. It was their last album until their reunion in 2008. This web-page has hi-res photos of the album covers, record label and a detailed description.
BLASPHEME is a Heavy Metal band from France and has been mainly active from 1981 until 1985 ( and re-united around 2008 ). During 1984-1985 they released two studio albums "Blasphème" and "Désir de vampyr". This band is not to be confused with the Canadian band with the same name.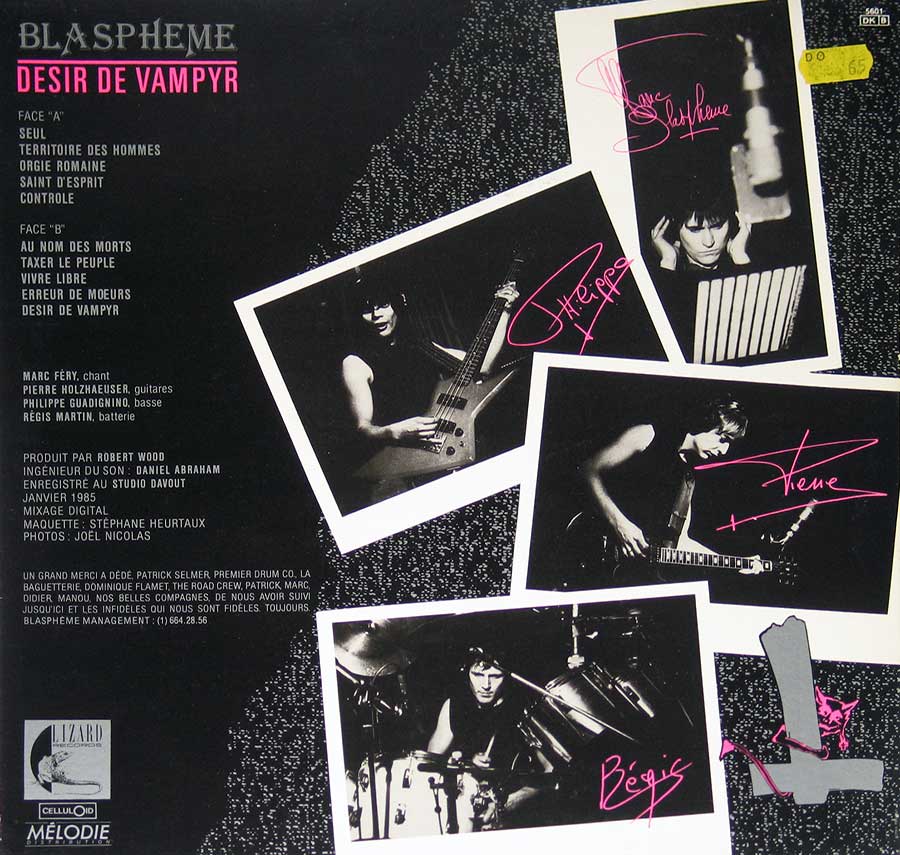 | | |
| --- | --- |
| Music Genre: | French Heavy Speed Metal Music |
Collector's information:

This album includes the custom inner sleeve with album details, complete lyrics of all songs by Blaspheme.
All songs are performed in French

Album Production Information:

Produced by Robert Wood
Sound/recording engineer: Daniel Abraham

Daniel Abraham a music producer and sound engineer from France, during the 1980s he has produced heavy metal records for the French Heavy Metal bands: Blaspheme, Highland Queen, Metal Killers and Trust. Daniel Abraham became known through his work with "Duran Duran", Madonna, Seal and many other.


Recorded at Studio Davout, January 1985
Photography: Joel Nicolas

Label Information:

Lizard Records 5601 / Celluloid / Melodie /

Media Format:

12" Vinyl LP Gramophone

Year & Country:

1985 Made in France
Album cover photos of : Blaspheme Desir de Vampyr
Photo of Front Cover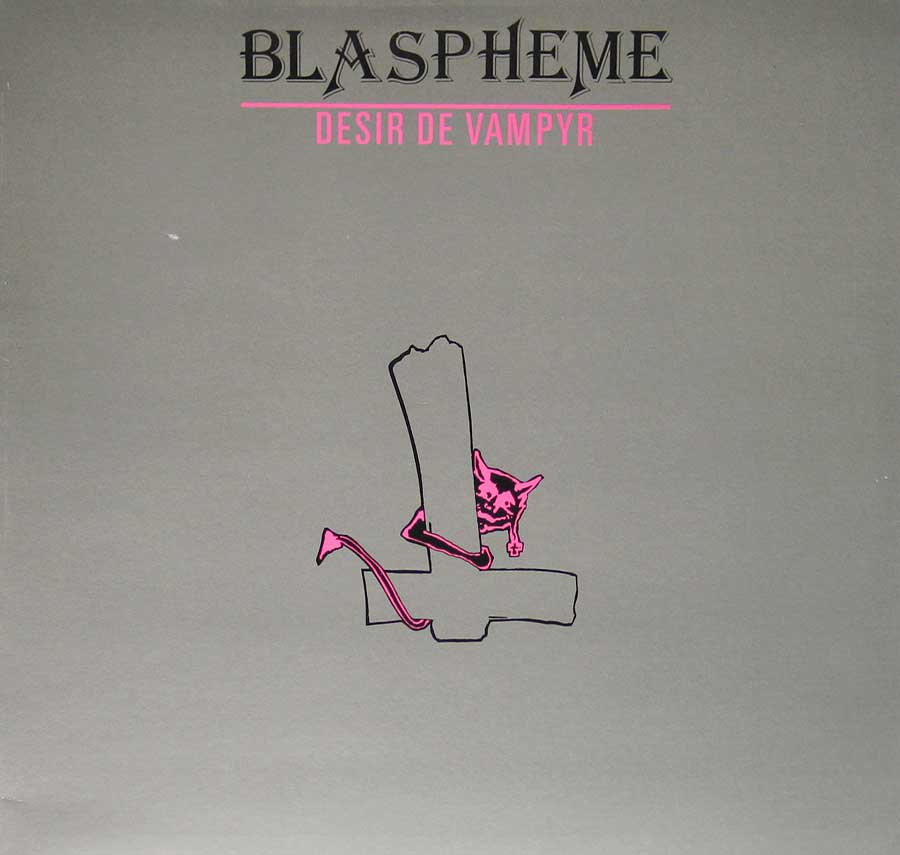 Photo of Blaspheme's band members on back cover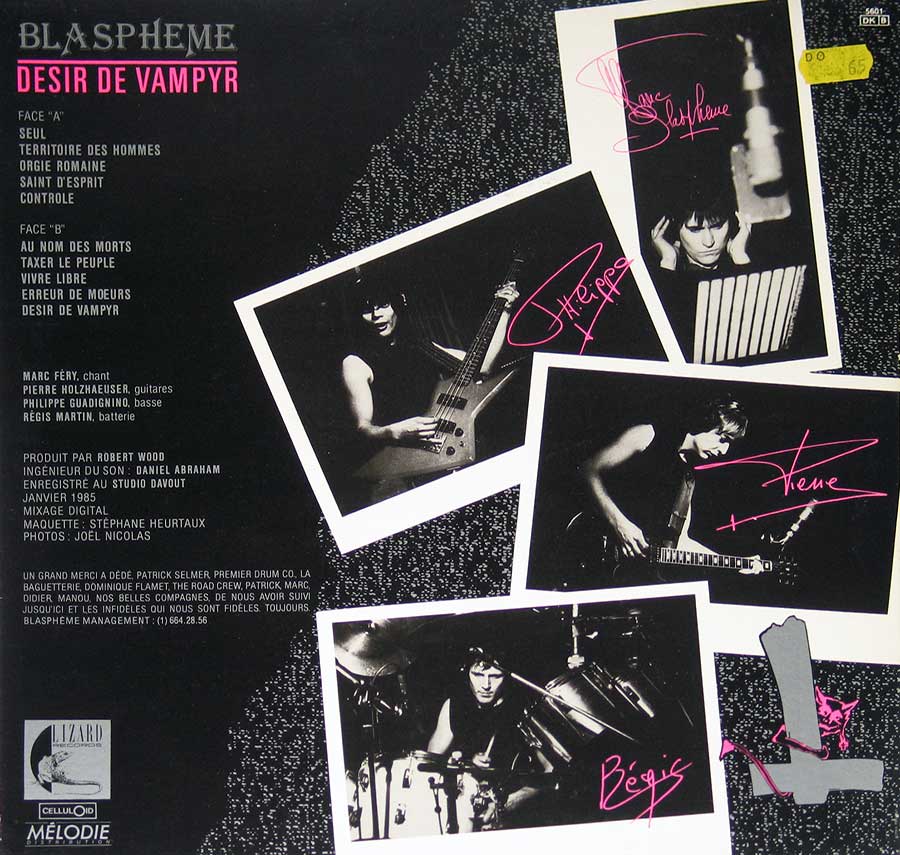 Photo of Record Label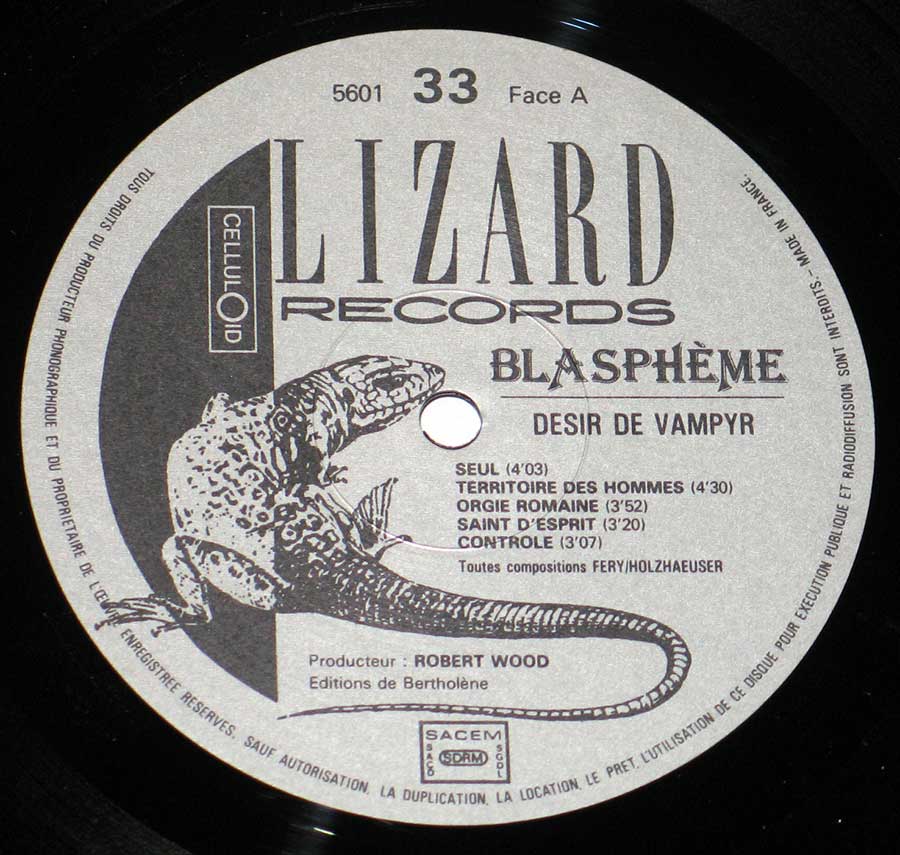 Note: The images on this page are photos of the actual album. Slight differences in color may exist due to the use of the camera's flash. Images can be zoomed in/out ( eg pinch with your fingers on a tablet or smartphone ).
Band Members and Musicians on: Blaspheme Desir de Vampyr
Band-members, Musicians and Performers
Marc Fery (chant) - Lead Vocals
Pierre Holzhaeuser (guitare) - Guitrars
Philippe Guadagnino (basse) - Bass
Régis Martin (batterie) - Drums
Track Listing of: Blaspheme Desir de Vampyr
Songs:
Seul
Territoire Des Hommes
Orgie Romaine
Saint D'esprit
Contrôle
Au Nom Des Morts
Taxer Le Peuple
Vivre Libre
Erreur De Moeurs
Désir De Vampyr