Warner Bros (WB) Records 925 222 (92522)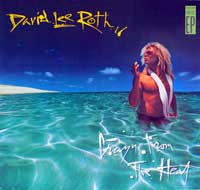 DAVID LEE ROTH - Crazy From The Heat
Crazy from the Heat is a 1985 EP by David Lee Roth, his debut solo release. It was released while Roth was still a member of Van Halen. All four songs on the EP are cover versions, with Roth's version of the Beach Boys hit "California Girls" peaking at #3 on the Billboard Hot 100.
1985
Red Warner Bros (WB) Records 925 671 WX 140
Skyscraper is the second full-length album by David Lee Roth (of Van Halen), released in 1988.
1988