Warner Bros (WB) Records 925 222 (92522)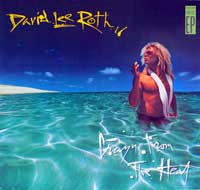 DAVID LEE ROTH - Crazy From The Heat
Crazy from the Heat is a 1985 EP by David Lee Roth, his debut solo release. It was released while Roth was still a member of Van Halen. All four songs on the EP are cover versions, with Roth's version of the Beach Boys hit "California Girls" peaking at #3 on the Billboard Hot 100.
1985
WB WX 56 925470

David Lee Roth - Eat 'em and Smile
Eat 'em and Smile is the debut solo studio album by American rock singer David Lee Roth, released on July 7, 1986. The album was recorded after Roth left Van Halen in 1985. It features a band that includes guitar virtuoso Steve Vai, drummer Greg Bissonette, and bassist Billy Sheehan. The album was a commercial success, reaching No. 4 on the Billboard 200 chart and being certified Gold by the RIAA. The album's first single, "Yankee Rose," reached No. 30 on the Billboard Hot 100 chart and the album's title track "Eat 'Em and Smile" reached No. 57 on the same chart. The album received positive reviews from critics and is considered as one of the best solo albums of David Lee Roth.
1986
Red Warner Bros (WB) Records 925 671 WX 140
Skyscraper is the second full-length album by David Lee Roth (of Van Halen), released in 1988.
1988