---
DIMPLE MINDS DURSTIGE MANNER steamhammer Records 12" LP VINYL Album
The Dimple Minds are a German punk band from Bremen , founded in 1986. Musically, they are characterized by proximity to the hardcore / punk metal scene, in the lyrcis does alcohol play a central role. Quote: "Everything we do is:, soccer, rock and beer and hot women!"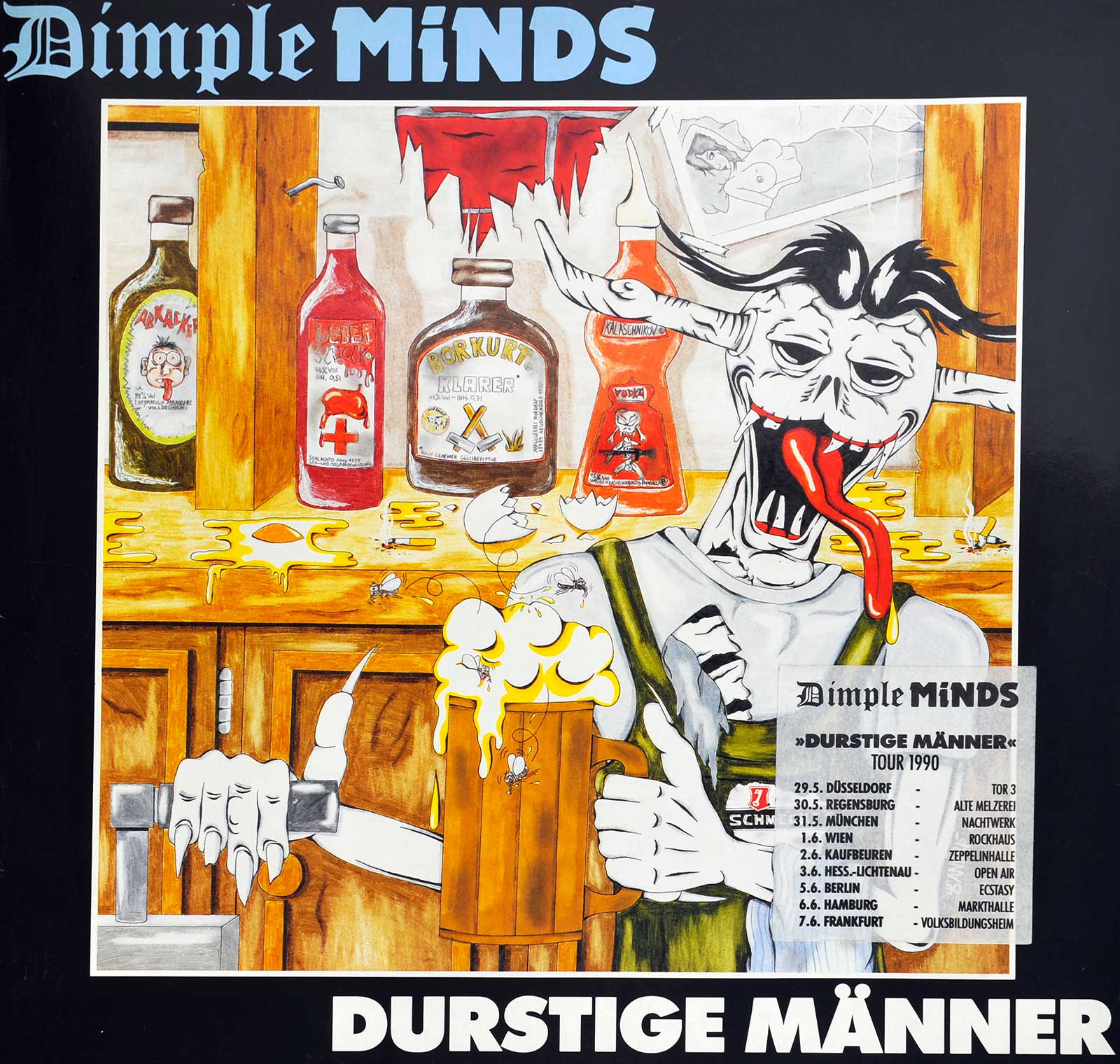 Album Description & Collectors information:

This album "DIMPLE MINDS Durstige Manner" includes the original custom inner sleeve with album details, complete lyrics of all songs by and artwork/photos.

Music Genre:

German Punk / Crossover / Hardcore Metal

Album Production information:

The album: "DIMPLE MINDS Durstige Manner" was produced by: Dimple Minds
Sound/Recording Engineer(s): Angelo Plate
This album was recorded at: Musiclab Studio, Berlin, April 1990
Album cover design: Andre Bolzen

Record Label Information:

Steam Hammer SPV 008-76201

Record Format:

12" Vinyl Stereo Gramophone Record
Total Album (Cover+Record) weight: 230 gram

Year & Country

1990 Made in Germany
Personnel/Band Members and Musicians on: DIMPLE MINDS Durstige Manner
Band-members, Musicians and Performers
Ladde - vocals
Ole - Guitar
Michel - Drums
Mad - Bass
Speedy - Guitar
Complete Track-listing of the album "DIMPLE MINDS Durstige Manner"
The detailed tracklist of this record "DIMPLE MINDS Durstige Manner" is:
Asozial 3:54
Hals Über Kopf 2:55
Gängster In Grün 2:56
Verbotene Früchte 3:14
Teenage Rebell 3:27
Durstige Männer 4:10
Erkannt, Erwischt, Entmündigt 2:21
100 Kilo Fleisch 3:17
Wehr-Wolf 5:15
Meister Propper 4:33
Album cover photos of : DIMPLE MINDS Durstige Manner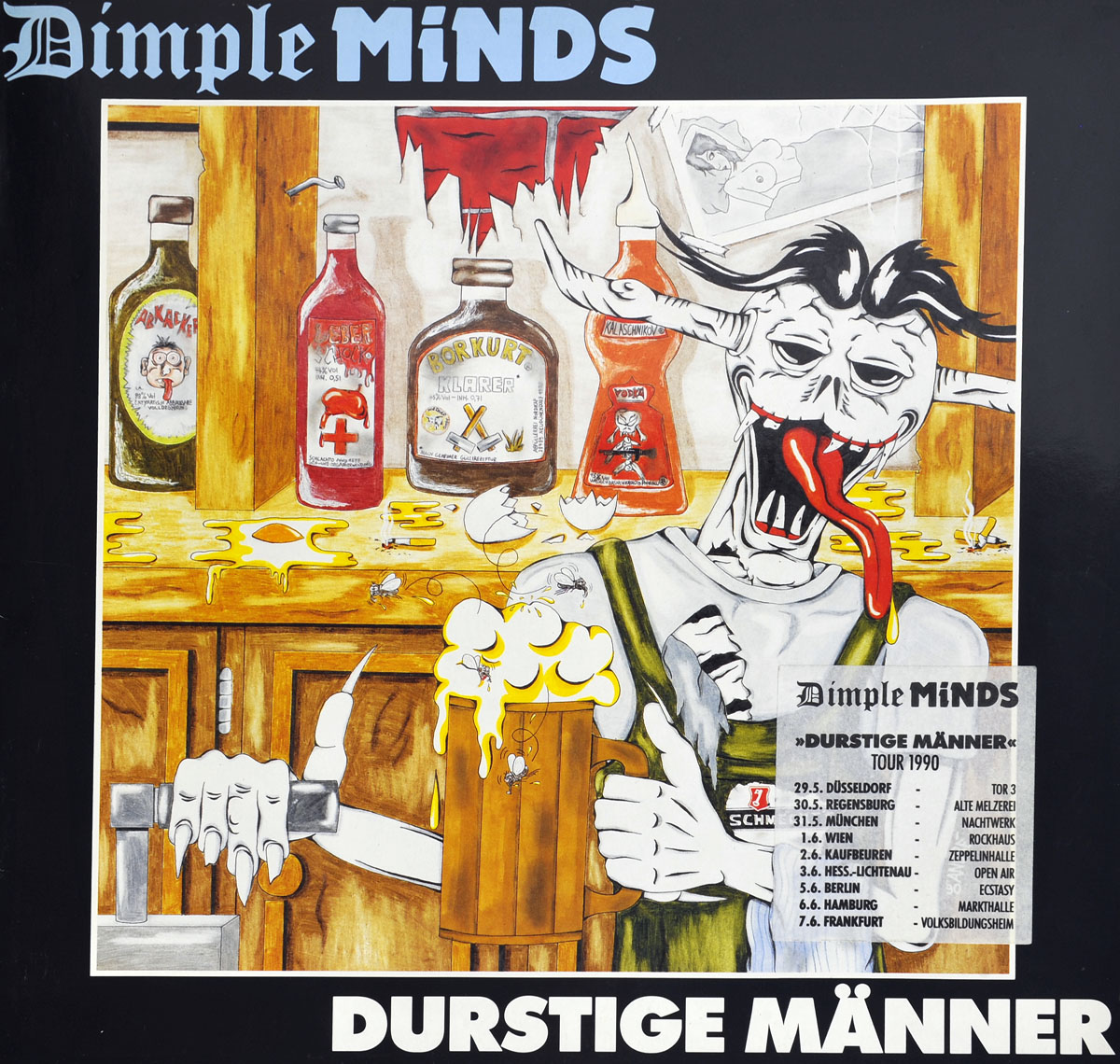 Note: The images on this page are photos of the actual album. Slight differences in color may exist due to the use of the camera's flash. Images can be zoomed in/out ( eg pinch with your fingers on a tablet or smartphone ).
Album Back Cover Photo of "DIMPLE MINDS Durstige Manner"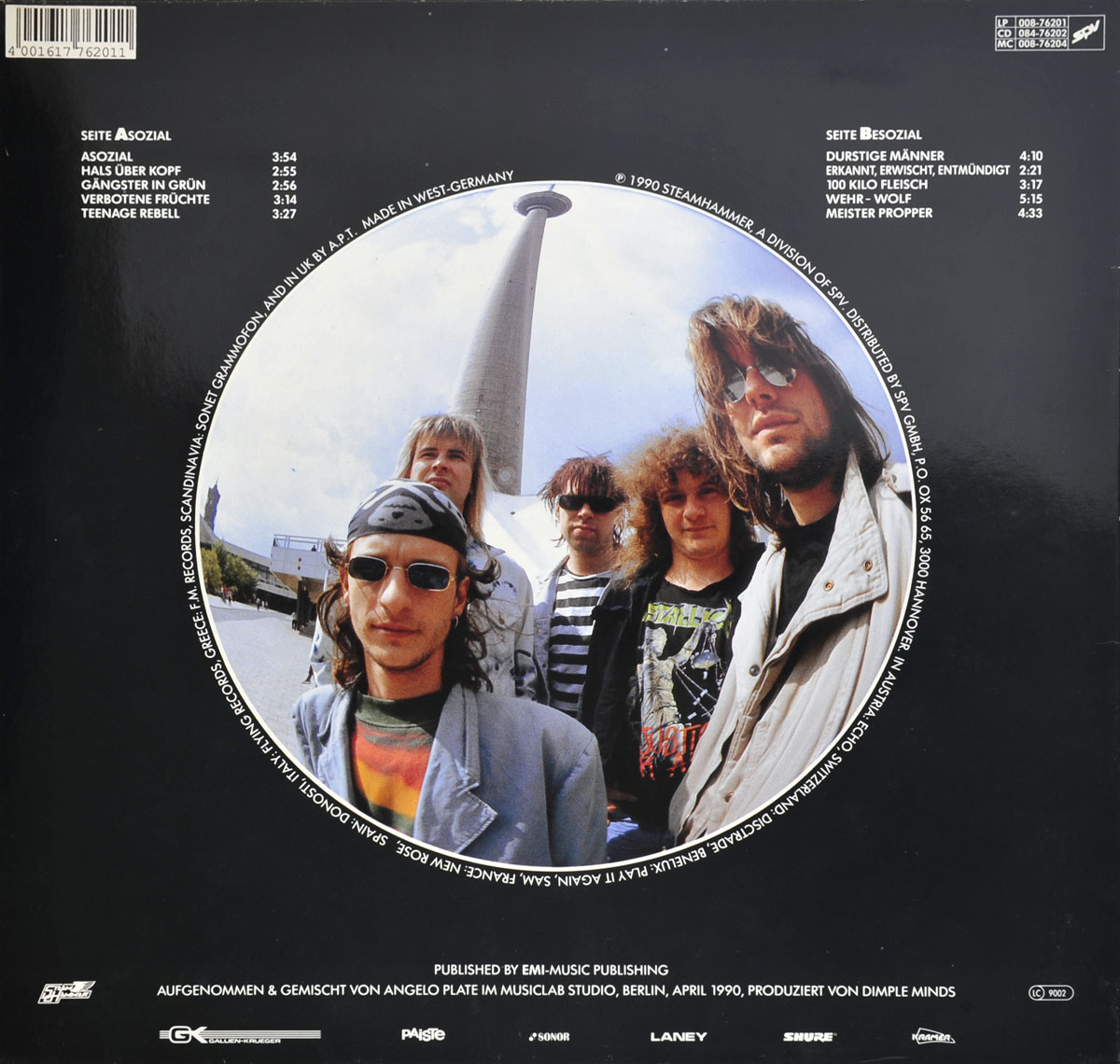 Inner Cover of "DIMPLE MINDS Durstige Manner" Album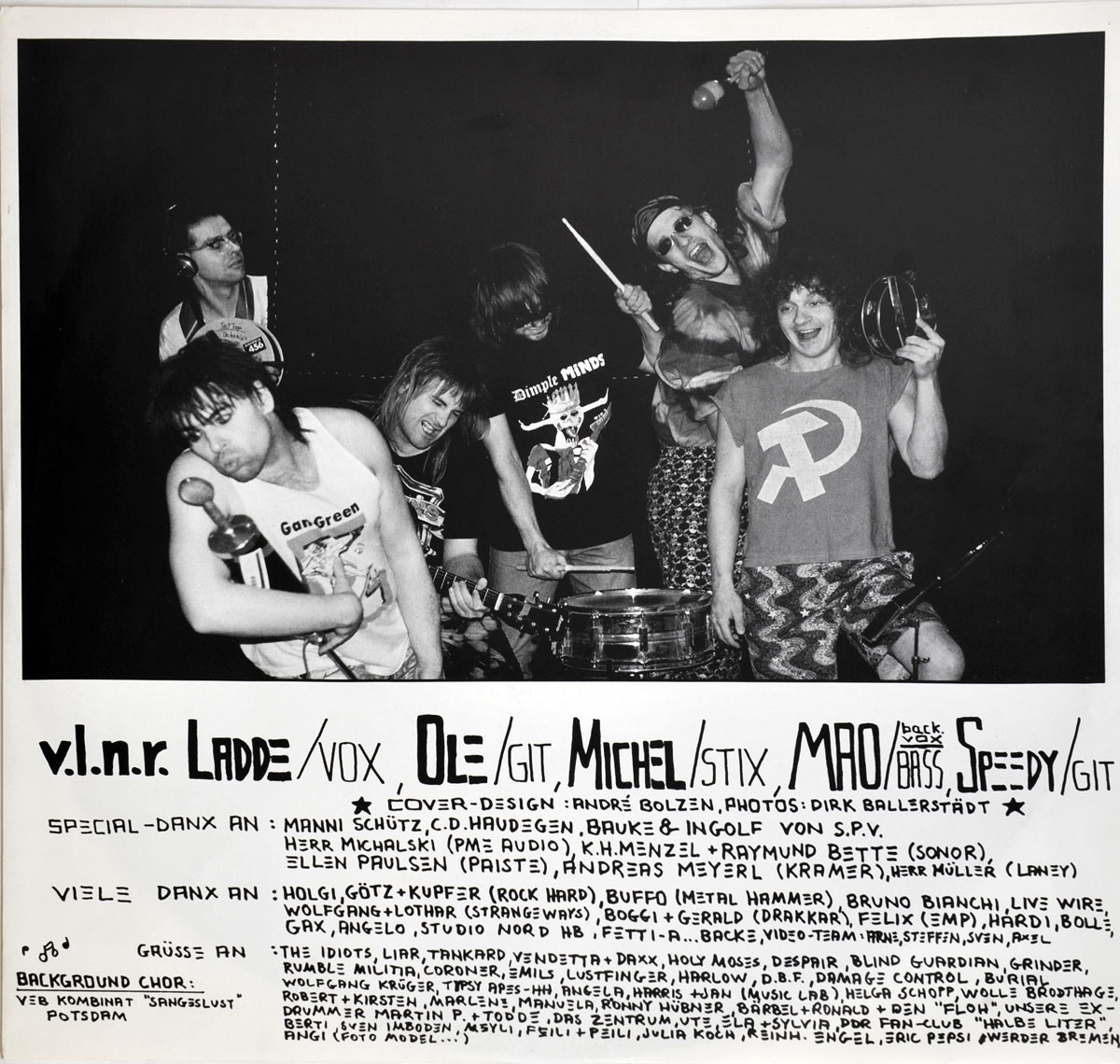 Photo of "DIMPLE MINDS Durstige Manner" Album's Inner Cover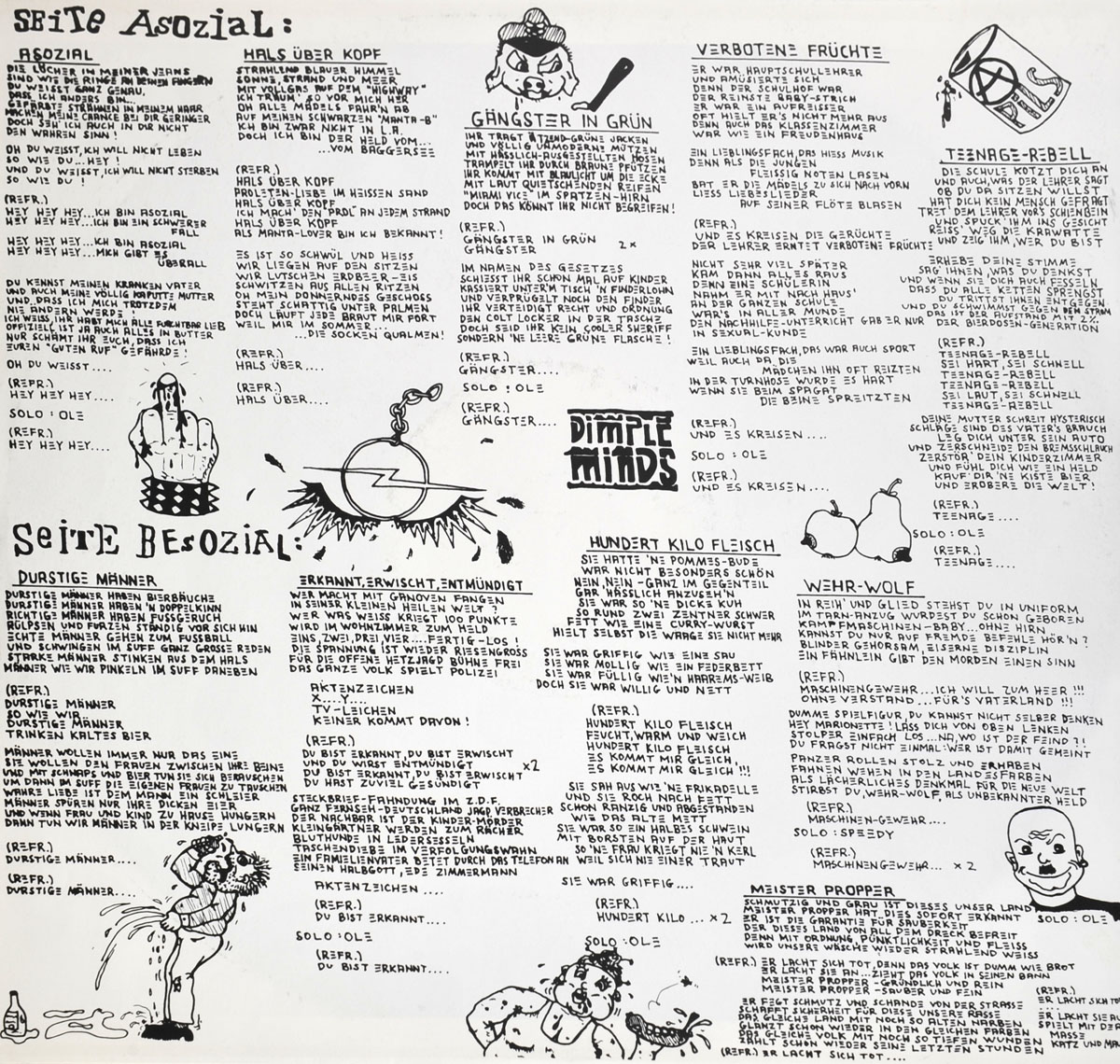 Photo of "DIMPLE MINDS Durstige Manner" Album's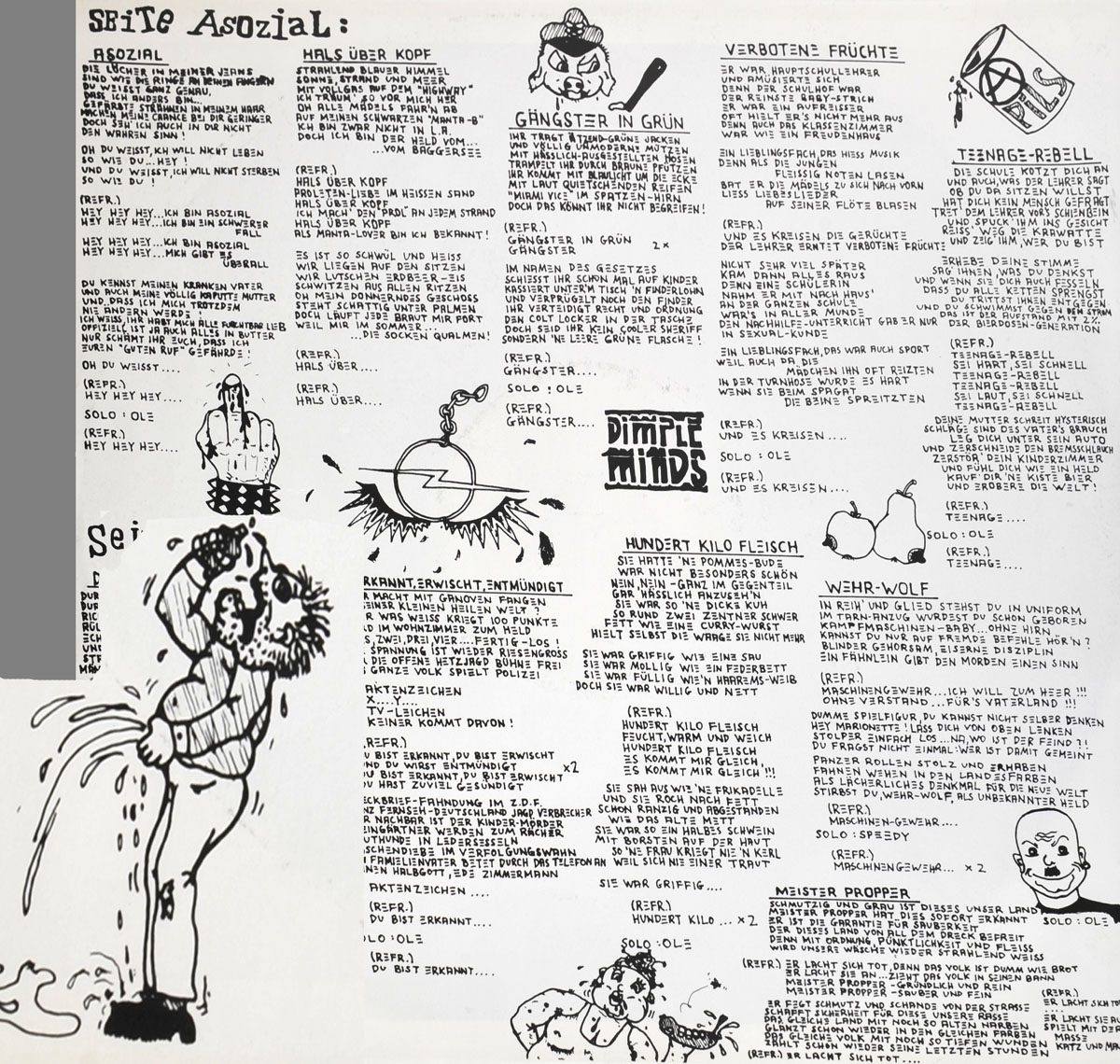 sampletext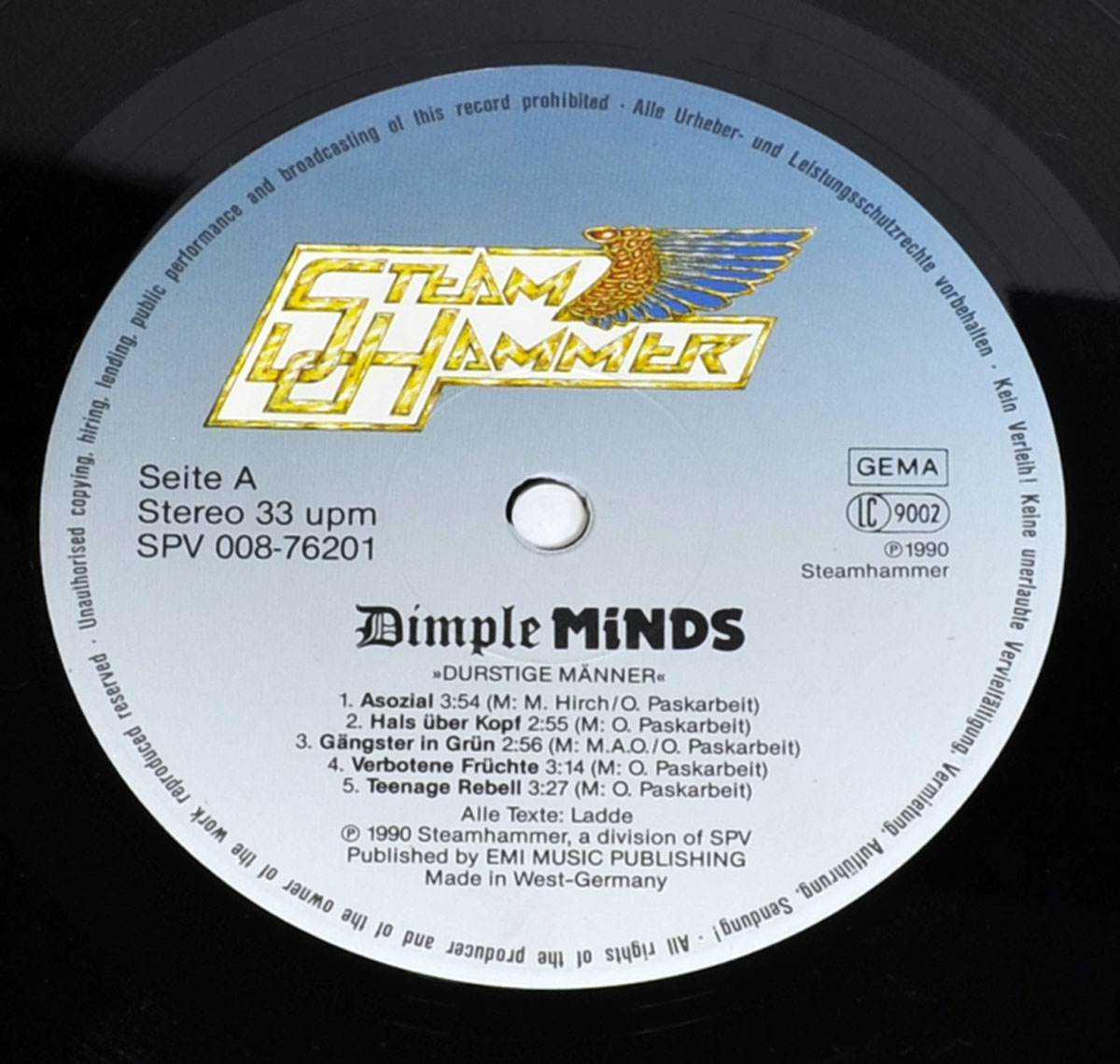 ---