---
Various Artists - Witchhunt Records Believe in Church and Agonize 12" VINYL LP ALBUM
This is the extremely rare and hard to find Swiss Thrash metal sampler released in 1990 by Witchhunt records.
This record contains early demo recordings of European hardcore punk crossover death and thrash metal bands like:
Disharmonic Orchestra , Invocator, Carbonized, Necrophobic, Unleashed and others Because of the small market size (more often record were imported from Germany, France, or Holland) in Switzerland, This Swiss edition was pressed in limited quantities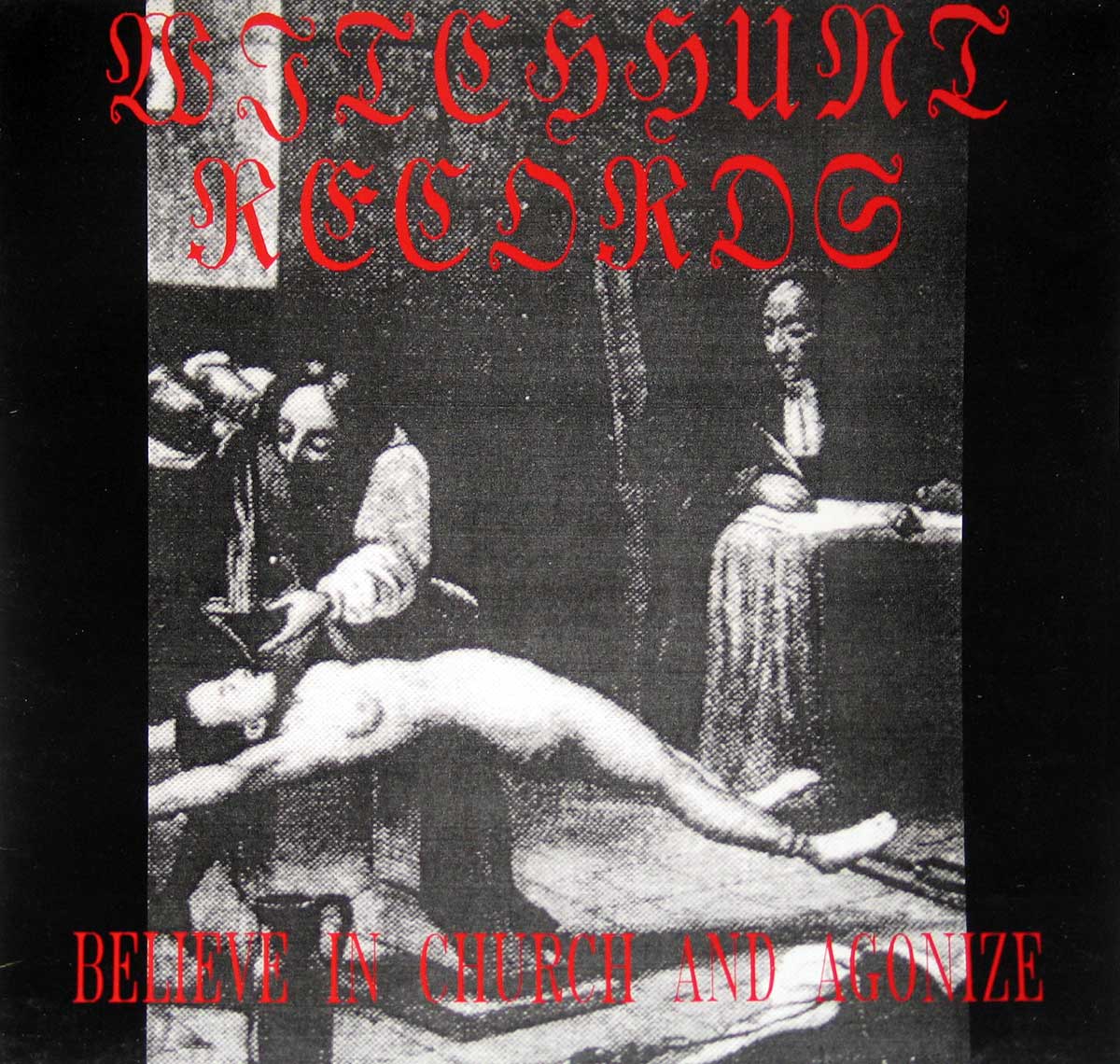 Album Summary:

The back of the album cover says: Warning LISTENING TO THIS THRASH MUSIC WILL SERIOUSLY DAMAGE YOUR HEALTH

Health Departments' Chief Medical Officers.


Music Genre:

Death Grind Thrash Underground Metal Music

Collector's info:

This Sampler was recorded at the Dynamo Studio in Zurich (Switzerland) September 1990. All songs are taken from demotapes except Lunacy. It's dedicated to the Deathgrindthrash Underground.

This album included the original custom inner sleeve with details of each of the bands

Record Label Information:

Witchhunt Records 9001

Media Format:

12" Vinyl LP Gramophone

Year & Country:

1990 Made in Switzerland
Track Listing of: Witchhunt Records Believe in Church and Agonize
Side One:
Disharmonic Orchestra with Patrik Klopf (Austria)

Disappeared With Hermaphrodite Choirs
Disharmonisation

Invocator with Jacob Schultz (Denmark)

Insurrected Despair
Occurence Concealed

Carbonized with Lars Rosenberg (Sweden)

Recarbonized
Two Faces

DeadHead with Robbie Woning (The Netherlands)

Pesticide
Access Denied
Side Two:
Necrophobic with Joakim Sterner (Sweden)

Slow Asphyxiation
Retaliation

Phlegethon with Teemu Hannonen (Finland)

Female Sabbath
Ornaments

Lunacy with Rene Schmidt (Switzerland)

Sickness
Hellbound

Unleashed with Johnny Hedlund & Larsson

The Dark One
Album cover photos of : Witchhunt Records Believe in Church and Agonize
Photo of Front Cover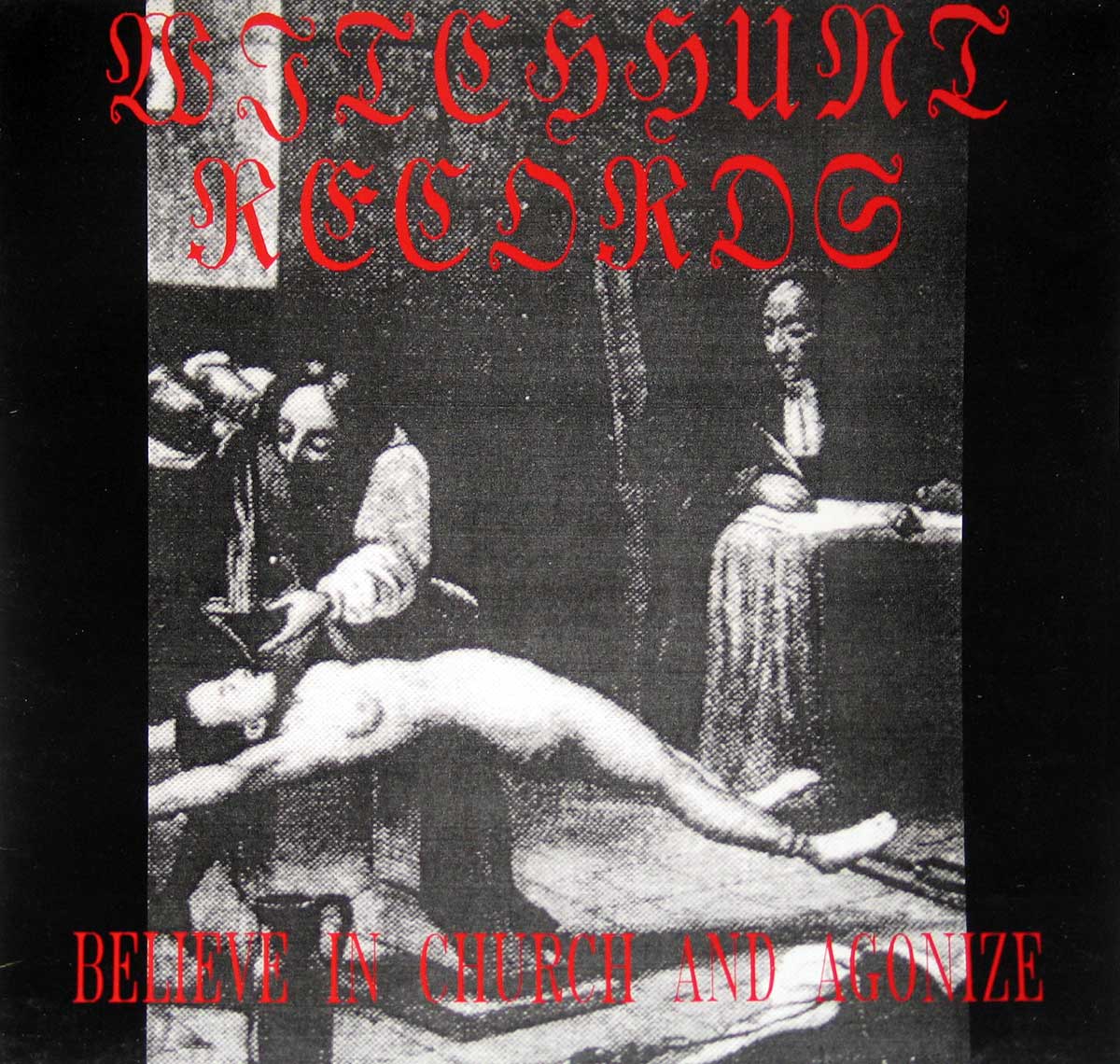 Photo of the album back cover and the titles: "Burned" and "Cruzified"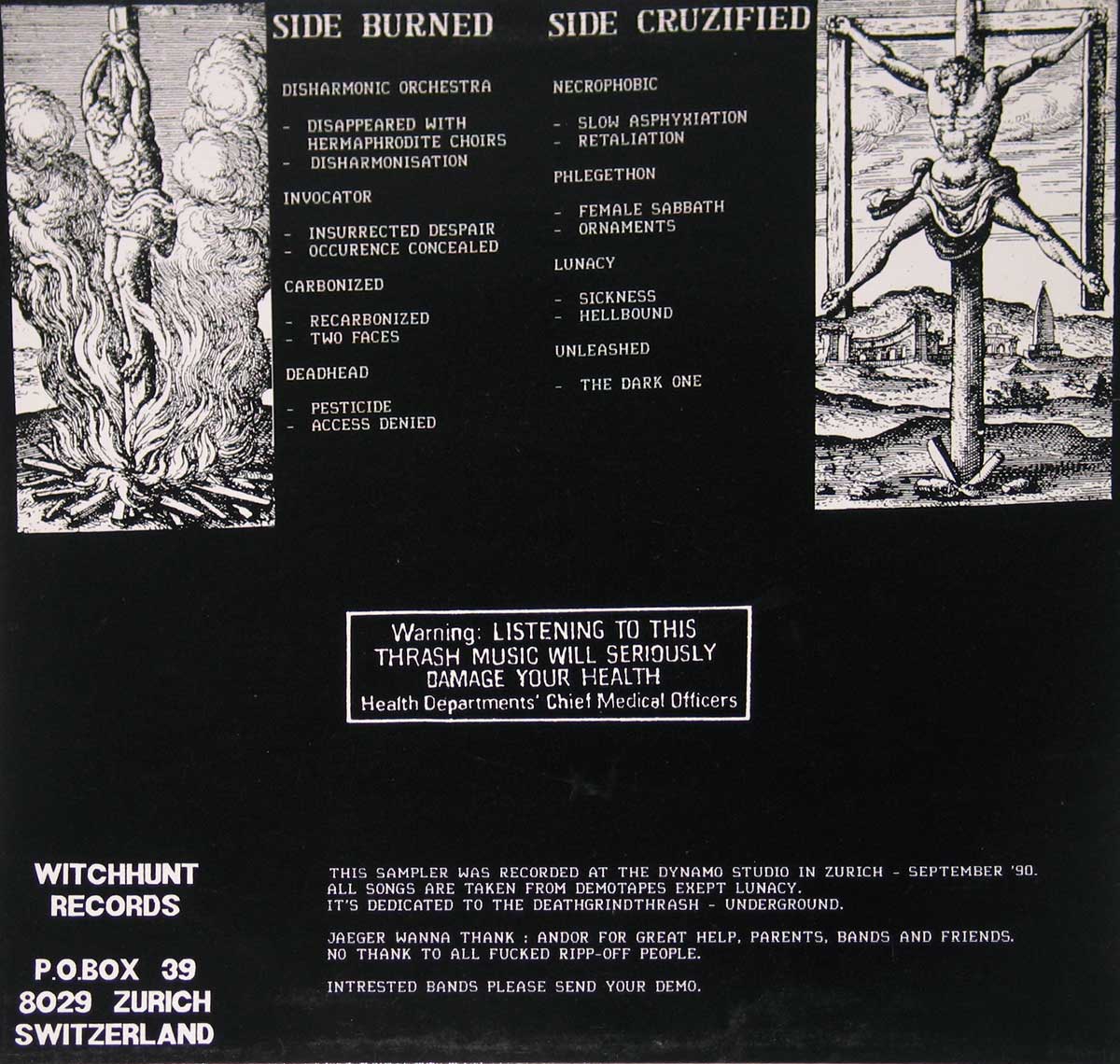 Close-up pf the Blue Witchhunt record label with catalognr 9001