---
BAD MANNERS - SKA 'N' B - Magnet Records 12" Vinyl LP Album
Ska'n'B is the 1980 debut full-length album by British Ska band "Bad Manners"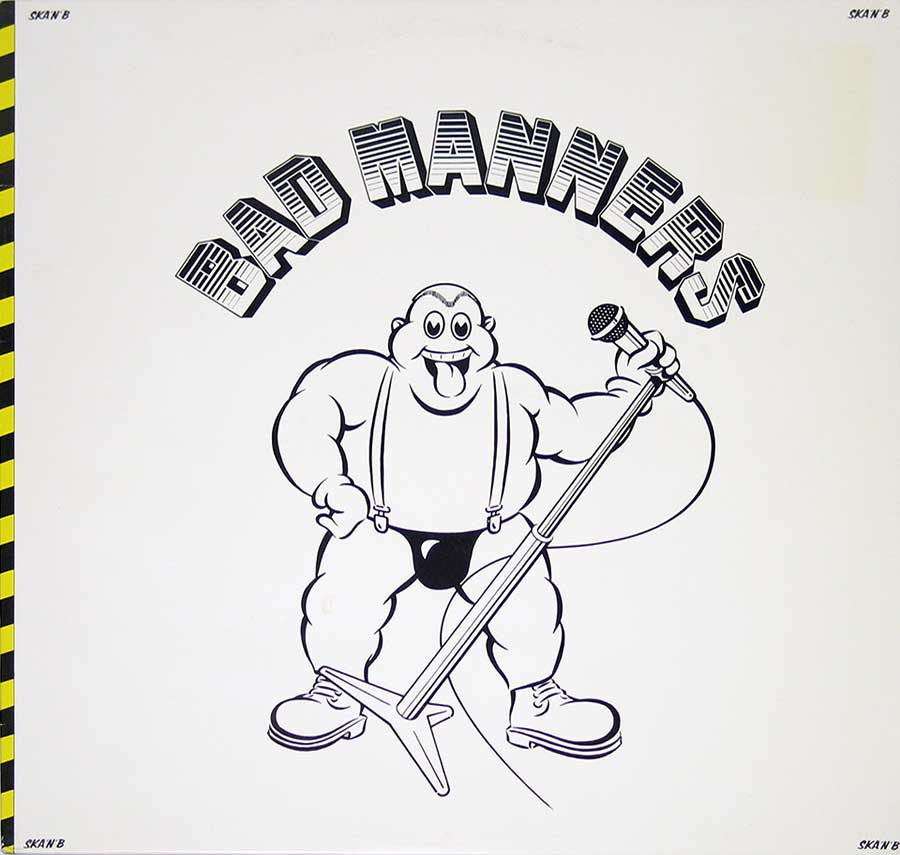 Album cover photos of : Bad Manners - Ska 'n' B
Collectors information / Album Description: 

Ska'n'B is the first album by Bad Manners from the year 1980.

Music Genre:

SKA Revival

Album Production Information:

The album: "Bad Manners - Ska 'n' B" was produced by: Roger Lomas / Rolo Records Productions
Sound/Recording Engineer(s): Kim Holmes
This album was recorded at: Horizon Studios, Coventry and PYE Studios, London

Record Label Information:

Magnet Records MAGL 5033

Media Format:

12" LP Vinyl Stereo Gramophone Record
Total Album (Cover+Record) weight: 230 gram

Year & Country:

1980 Made in England
Band Members and Musicians on: Bad Manners - Ska 'n' B
Band-members, Musicians and Performers
Buster Bloodvessel - Vocals
Louis Alphonso - Guitar
David Farren - Bass
Brian Tuitt - Drums
Martin Stewart - Keyboards
Chris Kane - Saxophone
Andrew Marson - Saxophone
Paul "Gus" Hyman - Trumpet
Winston Bazoomies - Harmonica
Track Listing of: "Bad Manners - Ska 'n' B"
The Songs/tracks on "Bad Manners - Ska 'n' B" are
Ne-Ne Na-Na Na-Na Nu-Nu (Eddie Dean/Al Dredick) - 2:35
Here Comes The Major - 2:54
Fatty Fatty (Clancy Eccles/Leroy Sibbles) - 2:25
King Ska/Fa - 4:22
Monster Mash (Leonard Capizzi/Bobby Boris Pickett) - 3:01
Caledonia - 2:58
Magnificent 7 (Elmer Bernstein) - 2:31
Wooly Bully (Domingo Samudio) - 3:09
Lip Up Fatty - 2:48
Special Brew - 3:37
Inner London Violence - 3:56
Scruffy, The Huffy Chuffy Tugboat - 1:39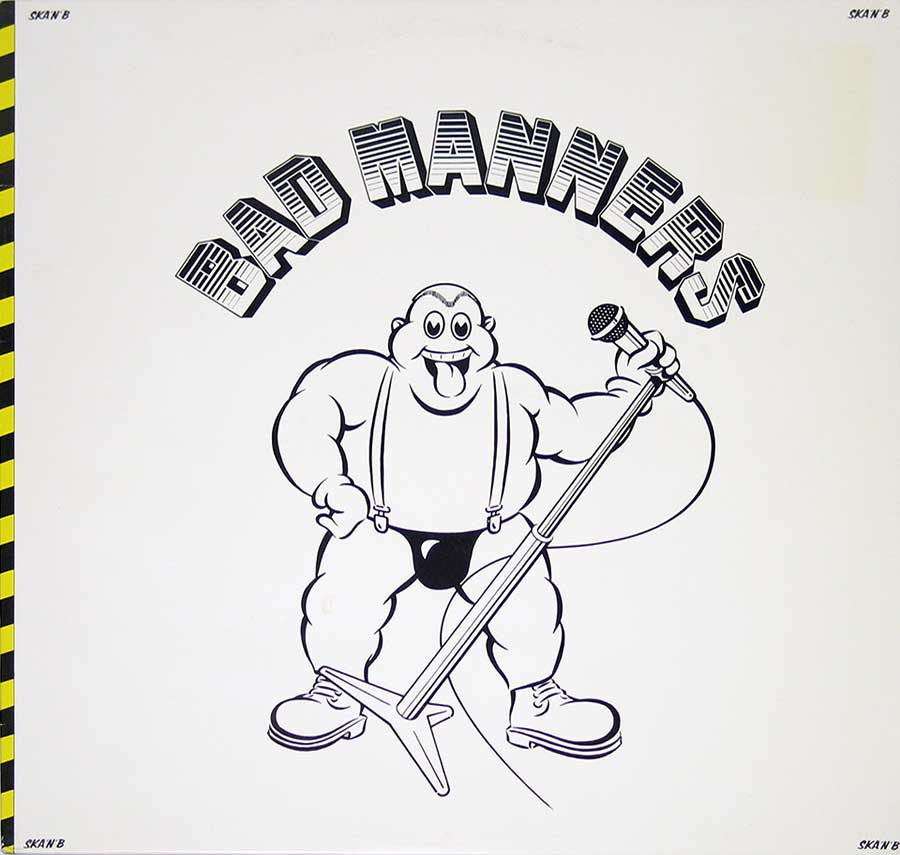 Close-up Photo of "Bad Manners - Ska 'n' B" Record Label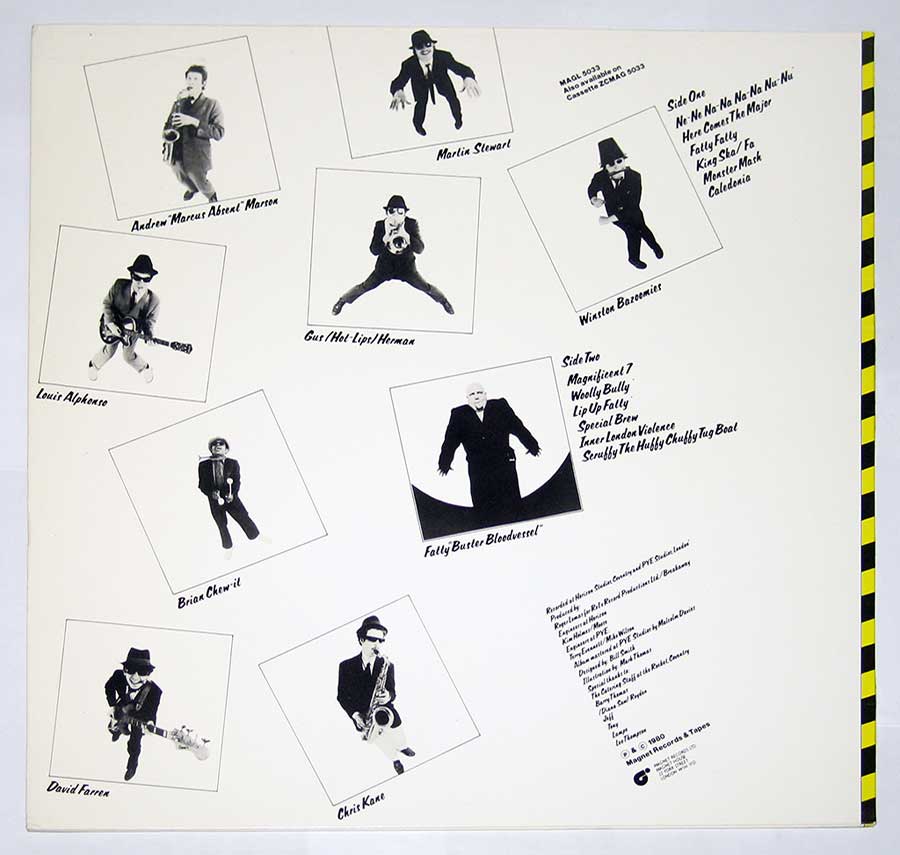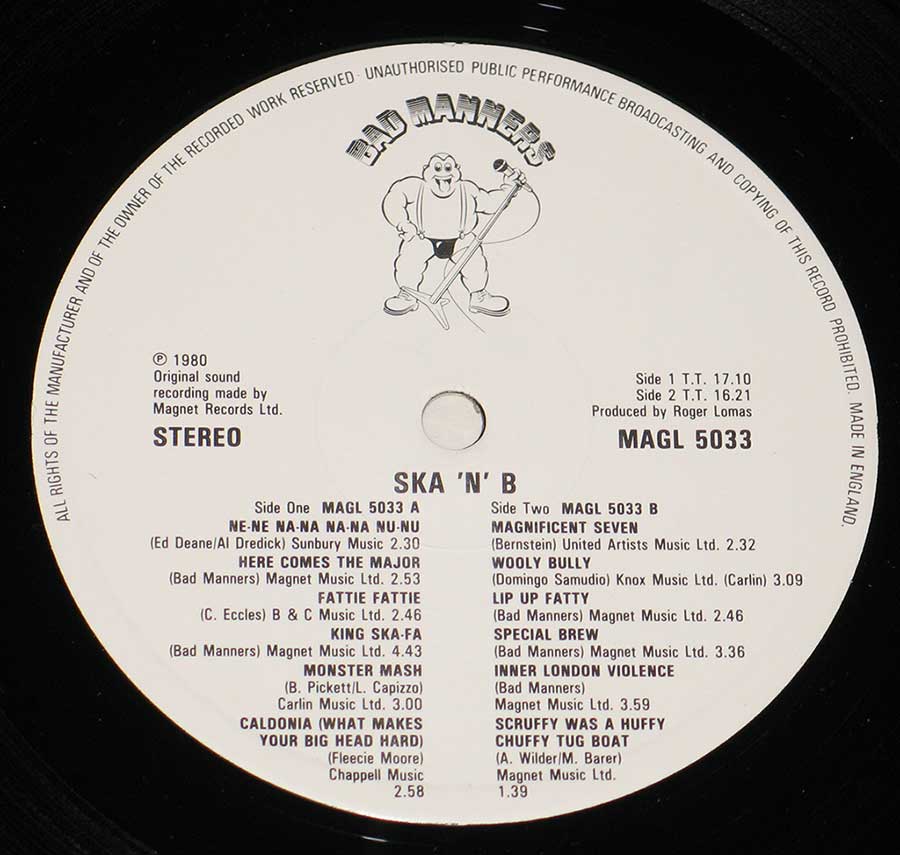 Note: The images on this page are photos of the actual album. Slight differences in color may exist due to the use of the camera's flash.
---