---
BLADE RUNNER - HUNTED NWOBHM EBONY 12" VINYL LP ALBUM
"Hunted" is the first/debut full-length studio album by the British Heavy Metal ( NWOBHM ) band "BLADE RUNNER", this album was released in 1984 on Ebony records. This web page has photos of album covers, inner sleeves, record labels together with production details, musicians and track-listing.
"Blade Runner" a British Heavy Metal ( NWOBHM ) from London, England and was formed in 1983. They have been active from 1984 until 1985 during which they released two full-length studio albums "Hunted" and "Warriors of Rock". Band-members on these albums included: Steve MacKay - Vocals, Gary Jones - Guitar, Vocals, Mark Wilde - Guitars, Mick Cooper - Bass, Greg Ellis - Drums.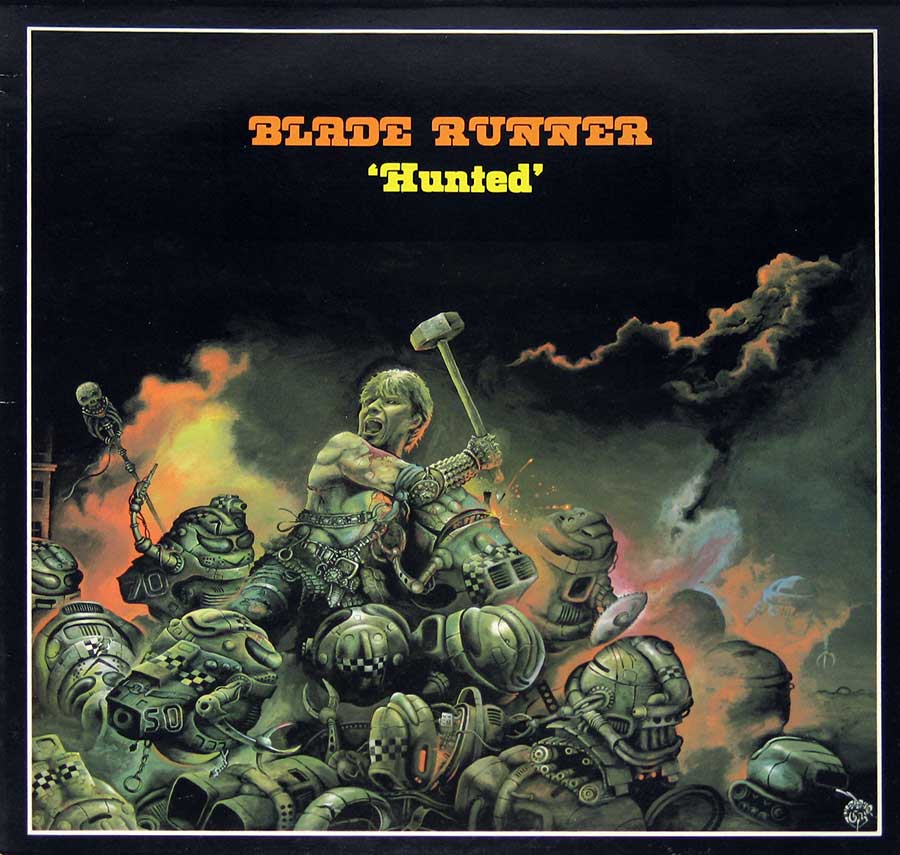 Summary: Blade Runner's Hunted is a thrilling NWOBHM (New Wave of British Heavy Metal) album released in 1984 on 12" vinyl LP. The band is composed of talented musicians such as Steve MacKay on lead vocals, Gary Jones on guitar and vocals, Mark Wilde on guitars, Mick Cooper on bass, and Greg Ellis on drums. The album features intense tracks like "Too Far Too Late", "Run From The Night", "Back Street Lady", "The Stealer", "Hunted", "I've Got To Rock", "Dogs Of War", "Back On The Street", and "Looking From The Outside".
Album Production information:
The album: "BLADE RUNNER Hunted" was produced by: Darryl Johnston
This album was recorded at: Ebony Studios, Hull, England.
Darryl Johnston was founder of the "Ebony Records" company and has been producing several dozen heavy metal (NWOBHM ) albums between 1982 and 1987. Bands he has worked with are Chateaux, Grim Reaper, Savage, Blade Runner, Samurai, Fast Kutz and many others.
Album cover by Garry Sharpe
Garry Sharpe-Young was a British Rock Journalist and Graphic Designer. He has written over 20 books related to rock and heavy metal music. He designed at least two dozen of album covers for bands like: Grim Reaper. Fast Kutz, Savage and many others.
Record Label Information:

Ebony EBON-21
Media Format:

12" LP Vinyl Stereo Gramophone Record
Total Album (Cover+Record) weight: 230 gram
Year & Country:

1984 Made in France
Band Members and Musicians on: BLADE RUNNER Hunted
Band-members, Musicians and Performers
Steve MacKay - Lead Vocals
Gary Jones - Guitar, Vocals
Mark Wilde - Guitars
Mick Cooper - Bass
Greg Ellis - Drums
Track Listing of: "BLADE RUNNER Hunted"
The Songs/tracks on "BLADE RUNNER Hunted" are
Too Far Too Late
Run From The Night
Back Street Lady
The Stealer
Hunted
I've Got To Rock
Dogs Of War
Back On The Street
Looking From The Outside
BLADE RUNNER - Hunted High Resolution & Quality Photos
Front Cover Photo Of BLADE RUNNER - Hunted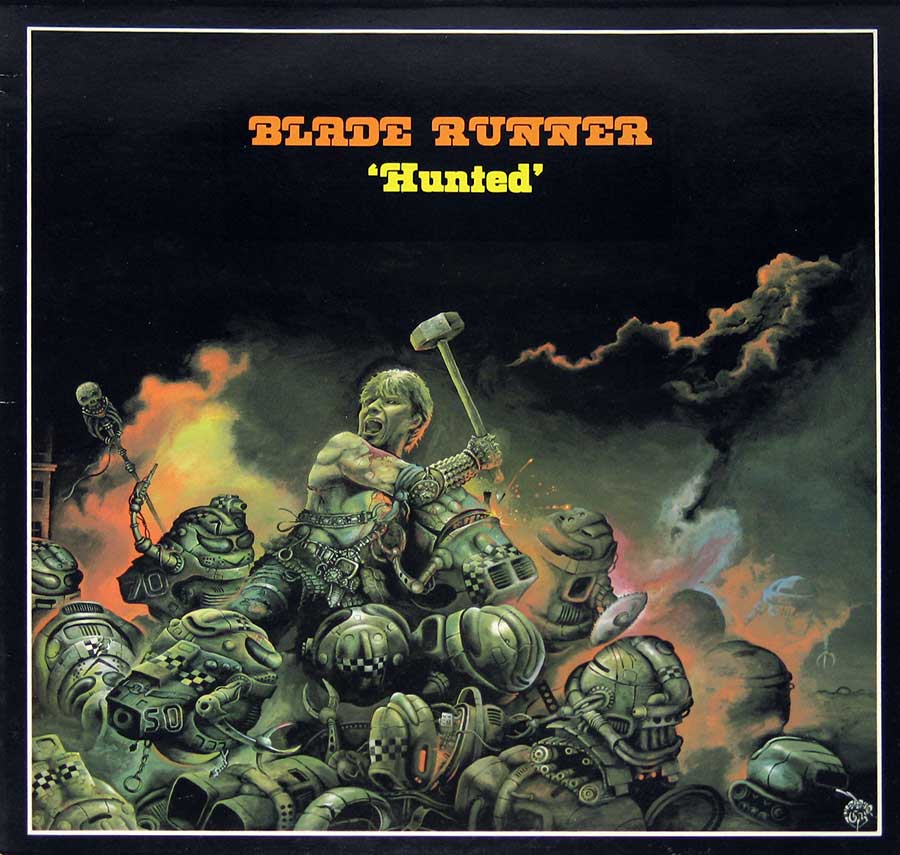 Note: The images on this page are photos of the actual album. Slight differences in color may exist due to the use of the camera's flash. Images can be zoomed in/out ( eg pinch with your fingers on a tablet or smartphone )
Photo Of The Back Cover BLADE RUNNER - Hunted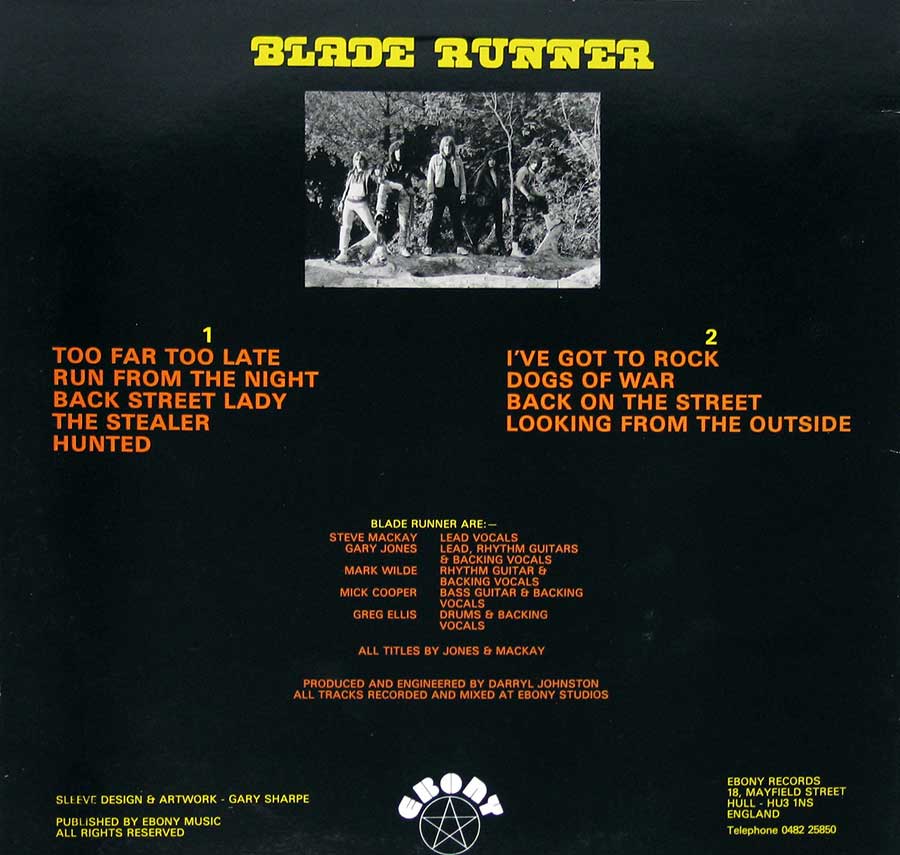 Close up of record's label BLADE RUNNER - Hunted Side One: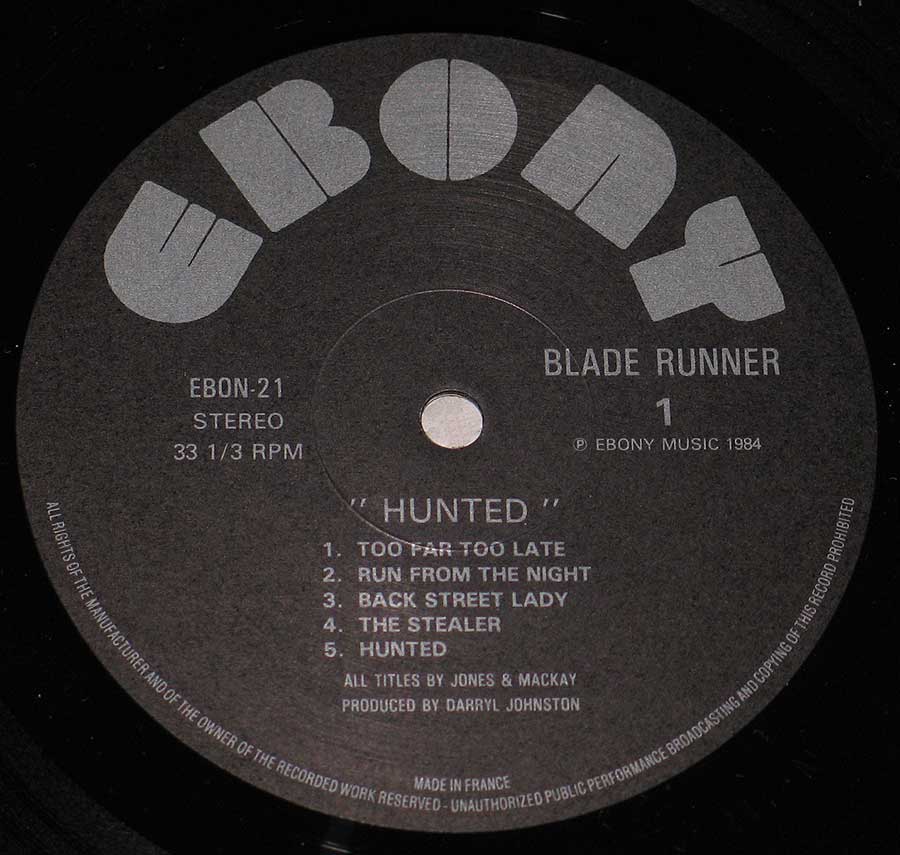 Record Label Details: EBONY EBON-21℗ EBONY MUSIC 1984, MADE IN FRANCE
---