---
XTC - THE BIG EXPRESS 12" LP VINYL ALBUM
"The Big Express" is the seventh studio album by the British band XTC, released in 1984. It was one of XTC's harder-edged albums, in contrast to the pastoral Mummer and Skylarking which were released in sequence with it. The seventh track, "I Bought Myself a Liarbird" is about their former manager, Ian Reid. This web page has photos of album covers, inner sleeves, record labels together with production details, musicians and track-listing.
Initial copies of the LP were released in a round sleeve. Working titles considered for the album were: Coalface, Shaking Skinheads, and Bastard Son of Hard Blue Rayhead.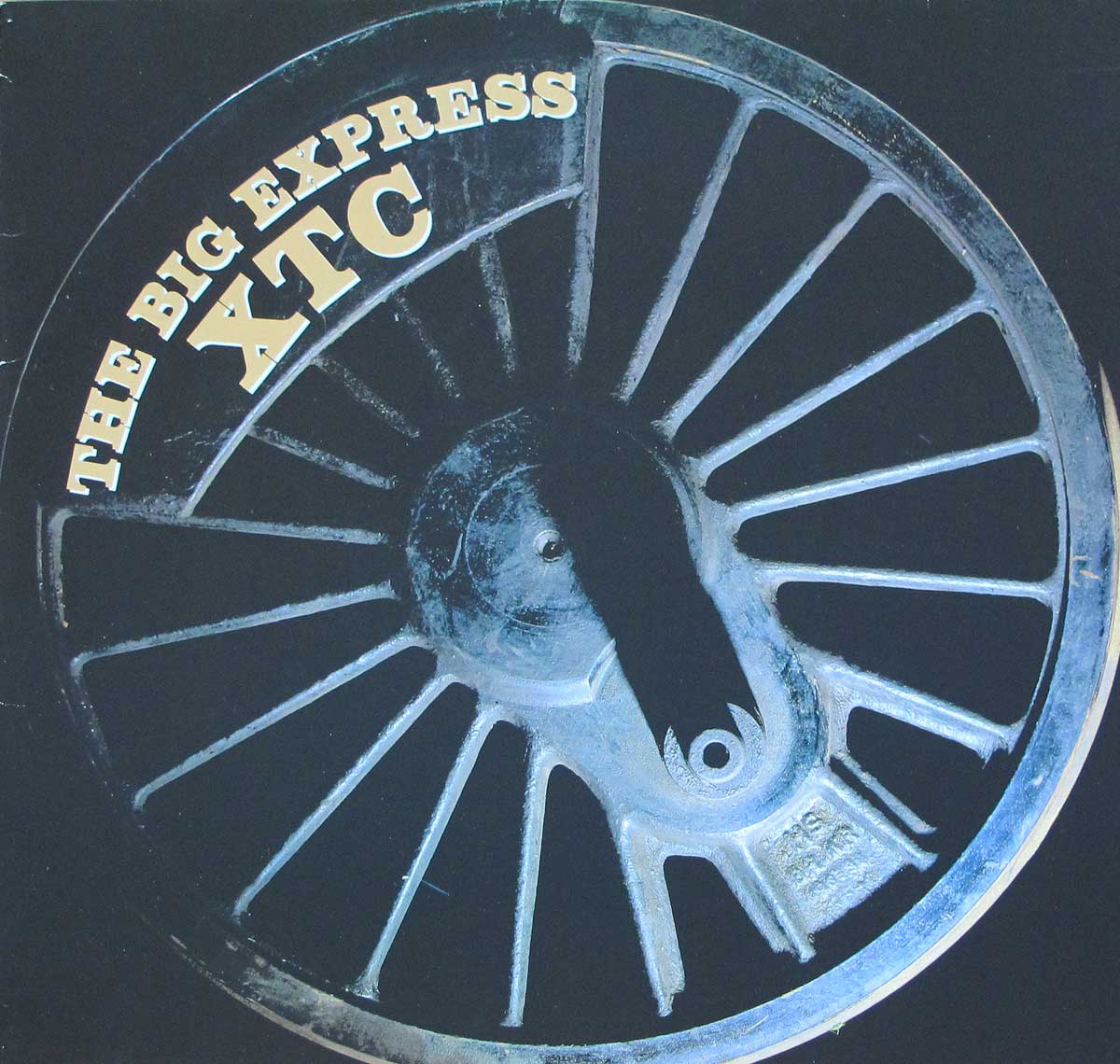 Music Genre:

Pop Rock, British 80s New Wave

Album Production Information:

The album: "XTC - The Big Express" was produced by: David Lord and XTC

Sound/Recording Engineer(s): David Lord, Glenn Tommey

This album was recorded at: Crescent Studios, Bath, Spring 1984

Album cover design: Andy Partridge, Ken Angell, The Design Clinic

Album cover photography: Gavin Cochrane

Record Label Information:

Virgin 206 613

Media Format:

12" LP Vinyl Stereo Gramophone Record
Total Album (Cover+Record) weight: 230 gram

Year & Country:

1984 Made in EEC
Complete Track-listing of the album "XTC - The Big Express"
The detailed tracklist of this record "XTC - The Big Express" is:
Side One:
Wake Up Colin Moulding 4:40
All You Pretty Girls 3:40
Shake You Donkey Up 4:19
Seagulls Screaming Kiss Her, Kiss Her 3:50
This World Over 5:37
Side Two: No. Title Writer(s) Length
(The Everyday Story of) Smalltown 3:53
I Bought Myself a Liarbird 2:49
Reign of Blows (Vote No Violence!) 3:27
You're the Wish You Are I Had 3:17
I Remember the Sun Moulding 3:10
Train Running Low on Soul Coal 5:19
High Quality Photo of Album Front Cover "XTC - The Big Express"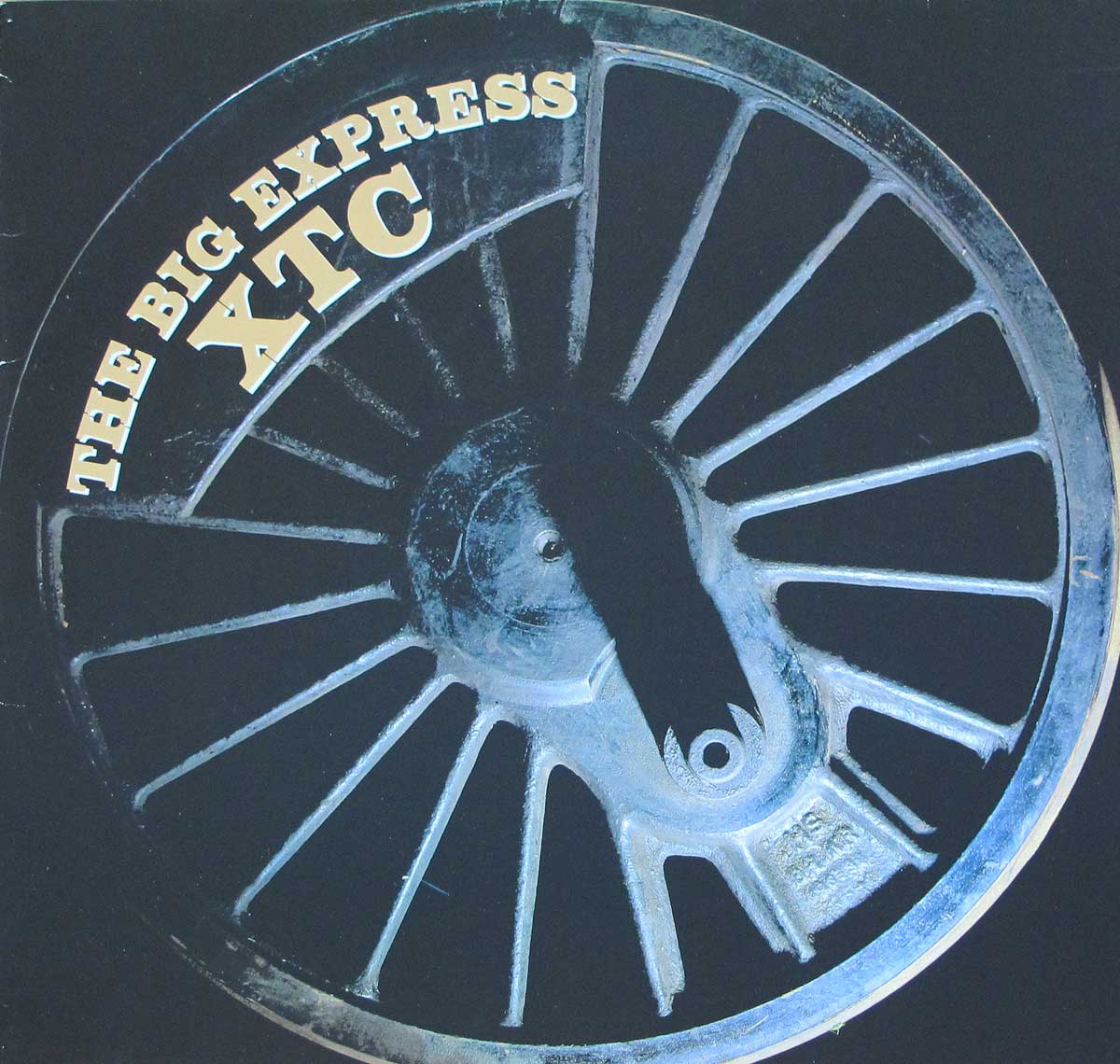 Inner Sleeve of "XTC - The Big Express" Album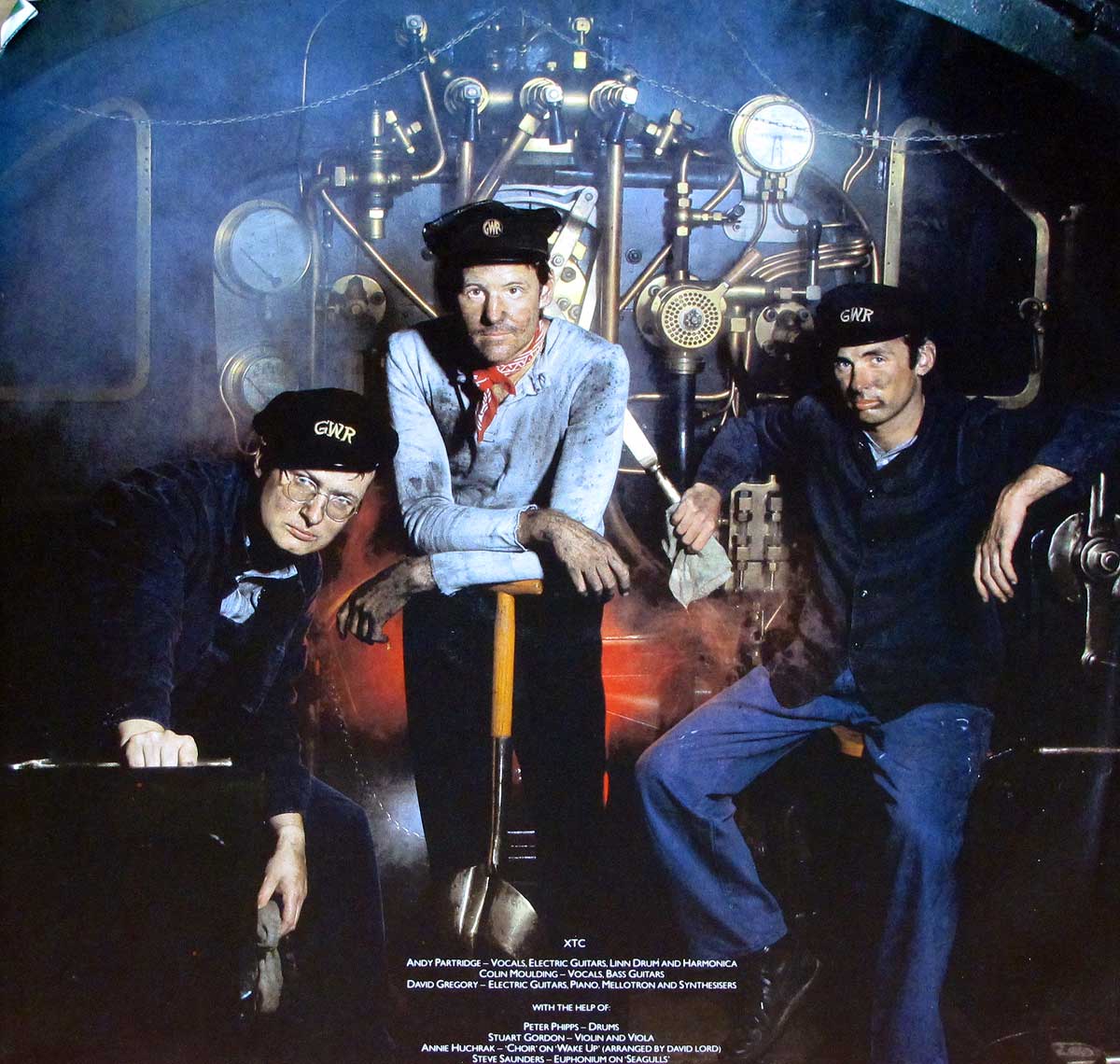 Close-up Photo of "XTC - The Big Express" Record Label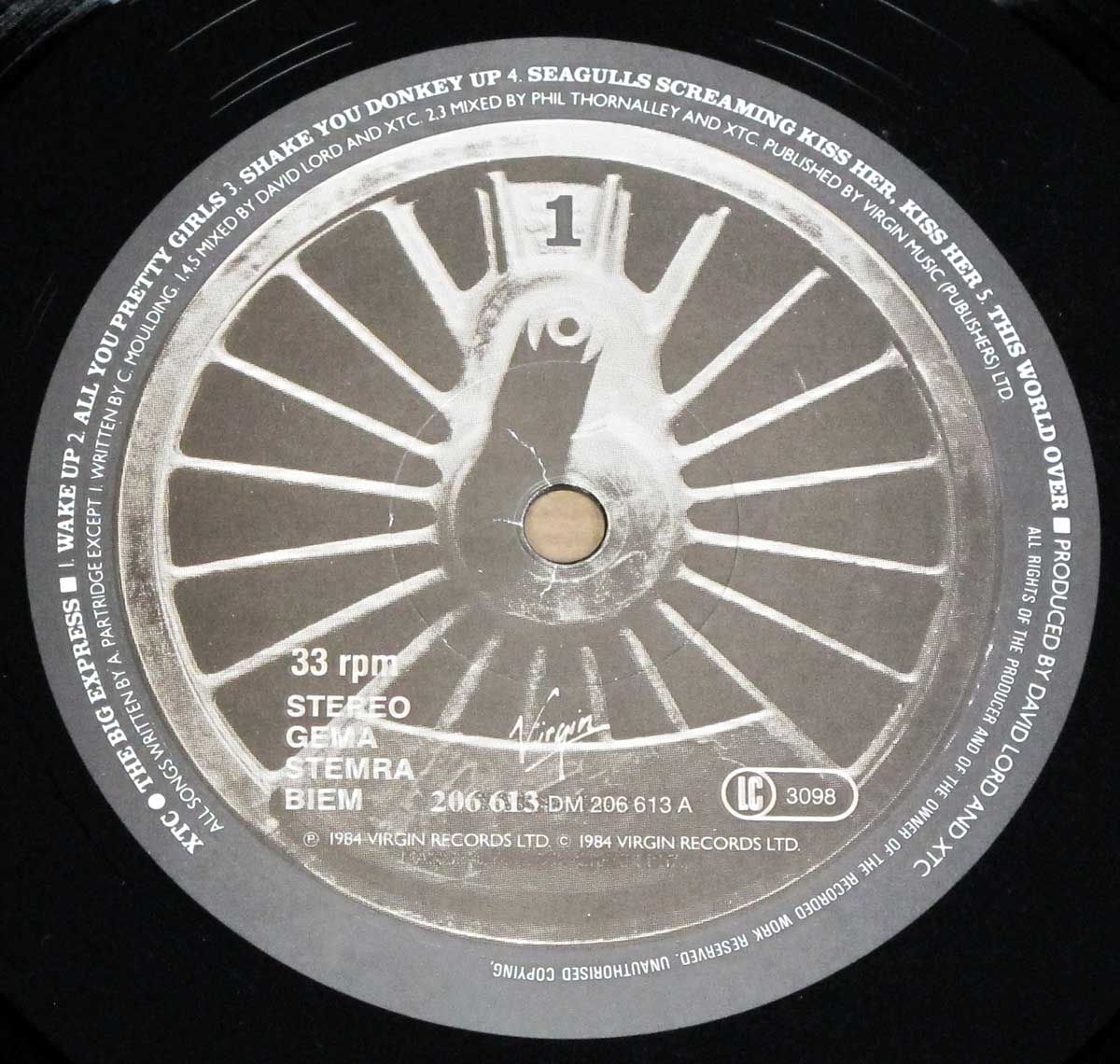 Close-up Photo of "XTC - The Big Express" Record Label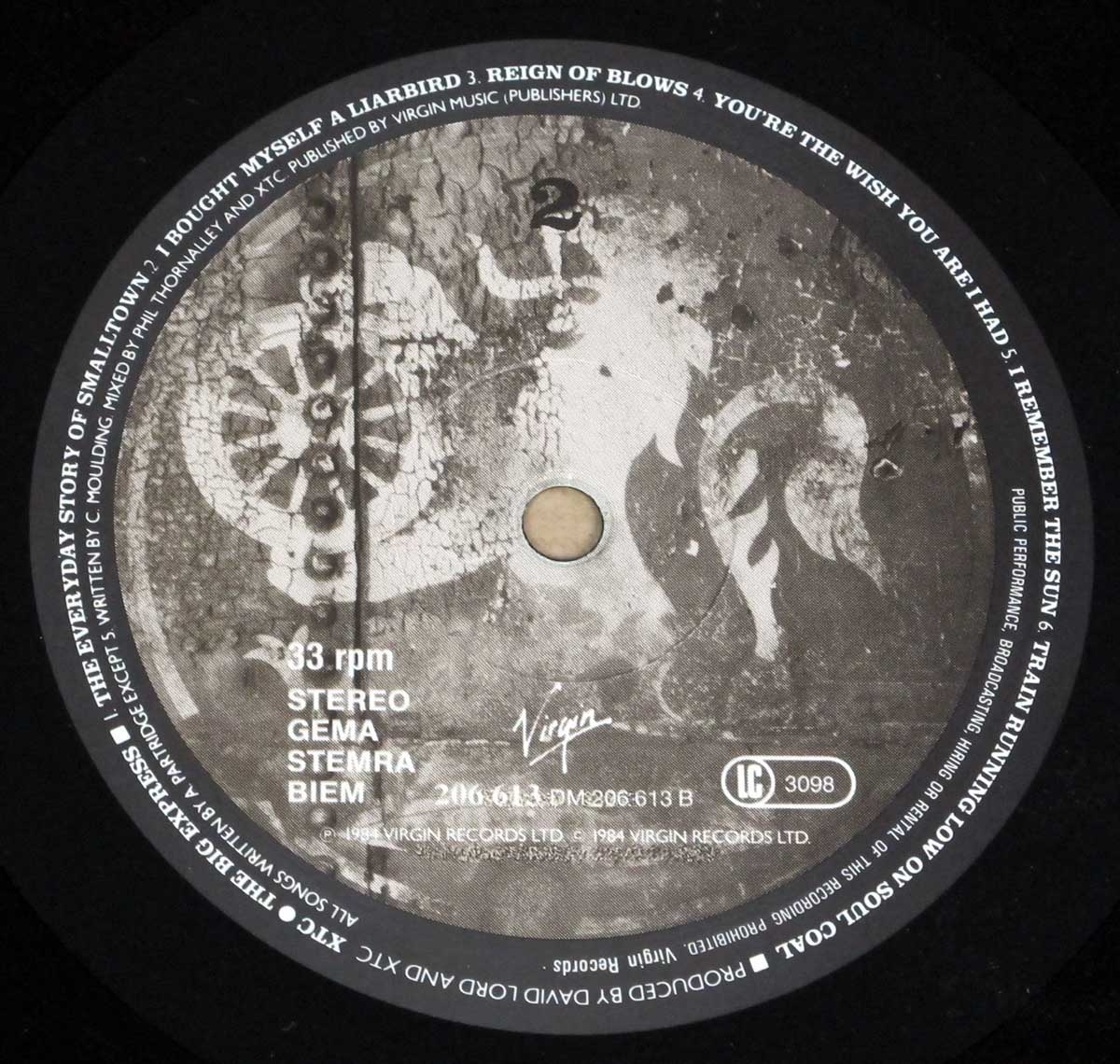 Note: The images on this page are photos of the actual album. Slight differences in color may exist due to the use of the camera's flash.
Album Description & Collectors information:
This album "XTC - The Big Express" includes the original custom inner sleeve with album details, complete lyrics of all songs by and artwork/photos
---