---
MAN - MAN Krautrock Prog Rock Acid/Psych ( Liberty Records ) 12" VINYL LP ALBUM
Man is the third studio album by the Welsh progressive rock band Man and was released March 1971. It was the first album by this line-up, Terry Williams having replaced Jeff Jones on drums, while Martin Ace replaced Ray Williams on bass.
This web page has photos of album covers, inner sleeves, record labels together with production details, musicians and track-listing.
Man are a rock band from South Wales whose style is a mixture of West Coast psychedelia, progressive rock, blues and country-rock. Formed in 1968 as a reincarnation of Welsh rock harmony group ''The Bystanders'', Man are renowned for the extended jams in their live performances, and having had numerous line up changes.
Album Description & Collectors information:
Gatefold (FOC) cover design with artwork / photos on the inside cover pages
Music Genre:

Krautrock, Prog Rock, Acid, Folk, Blues-Rock

Album Production Information:

The album: "MAN - MAN Liberty Records" was produced by: Mel Baister

Sound/Recording Engineer(s): George Chkiantz and Rick

This album was recorded at: Olympic Studios, Barnes

Record Label Information:

Liberty LBG 83464

Media Format:

12" LP Vinyl Stereo Gramophone Record
Total Album (Cover+Record) weight: 230 gram

Year & Country:

1971 Made in England
Personnel/Band Members and Musicians on: MAN - MAN Liberty Records
Band-members, Musicians and Performers
Martin Ace - bass guitar, acoustic guitar, vocals
Clive John - organ, piano, electric guitar, harpsichord, vocals
Michael Jones - electric guitar, acoustic guitar, vocals
Roger Leonard - electric guitar, acoustic guitar, piano, steel guitar, vocals
Terry Williams - drums, percussion, liberty bell on "Daughter"
Complete Track-listing of the album "MAN - MAN Liberty Records"
The detailed tracklist of this record "MAN - MAN Liberty Records" is:
Side One:
"Romain" (Martin Ace, Clive John, Michael Jones, Roger Leonard & Terry Williams) - 6:11
"Country Girl" (Ace, Leonard) - 3:08
"Would The Christians Wait Five Minutes? The Lions Are Having A Draw (Ace, Jones) - 12:52
Side Two:
"Daughter Of The Fireplace" (Leonard) - 5:11
"Alchemist" (Ace, John, Jones, Leonard & Williams) - 20:41
MAN - MAN Liberty Records High Resolution & Quality Photos
Front Cover Photo Of MAN - MAN Liberty Records
Note: The images on this page are photos of the actual album. Slight differences in color may exist due to the use of the camera's flash. Images can be zoomed in/out ( eg pinch with your fingers on a tablet or smartphone )
Photo Of The Back Cover MAN - MAN Liberty Records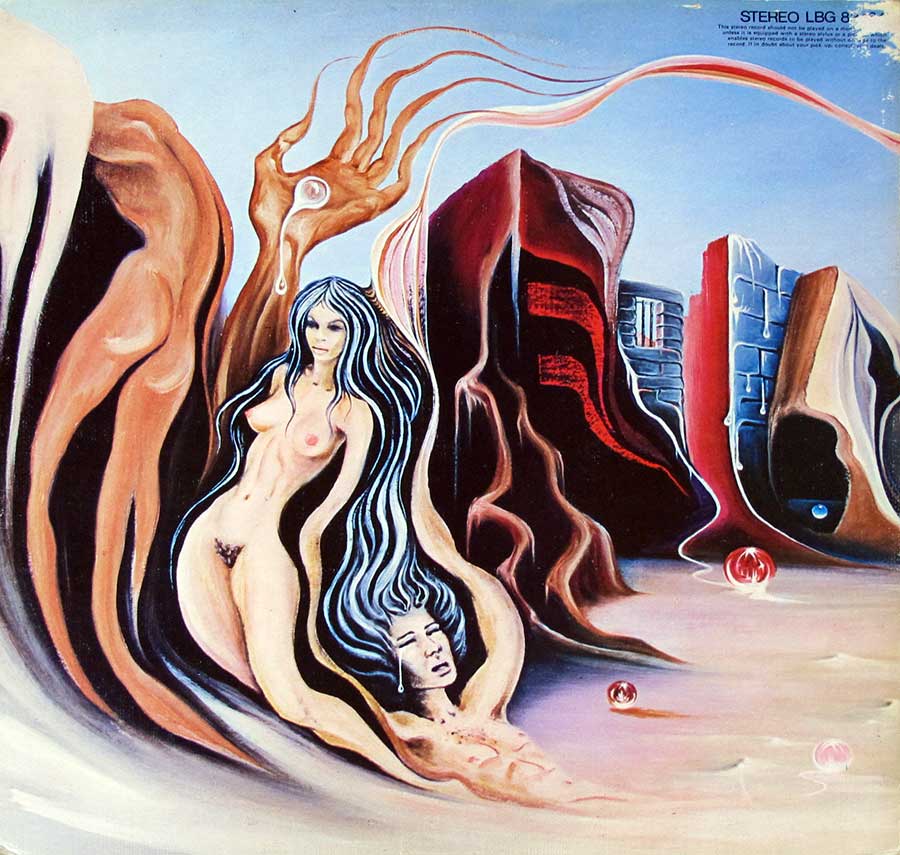 Photo One Of The Inner Gatefold MAN - MAN Liberty Records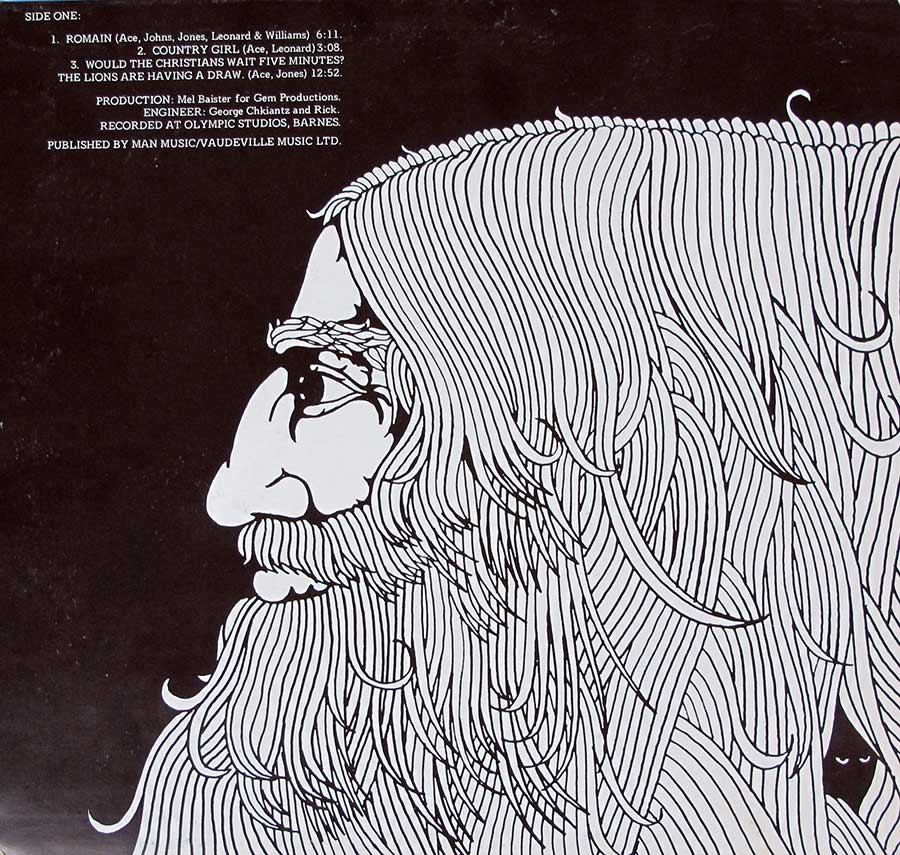 Photo Two Of The Inside Pages MAN - MAN Liberty Records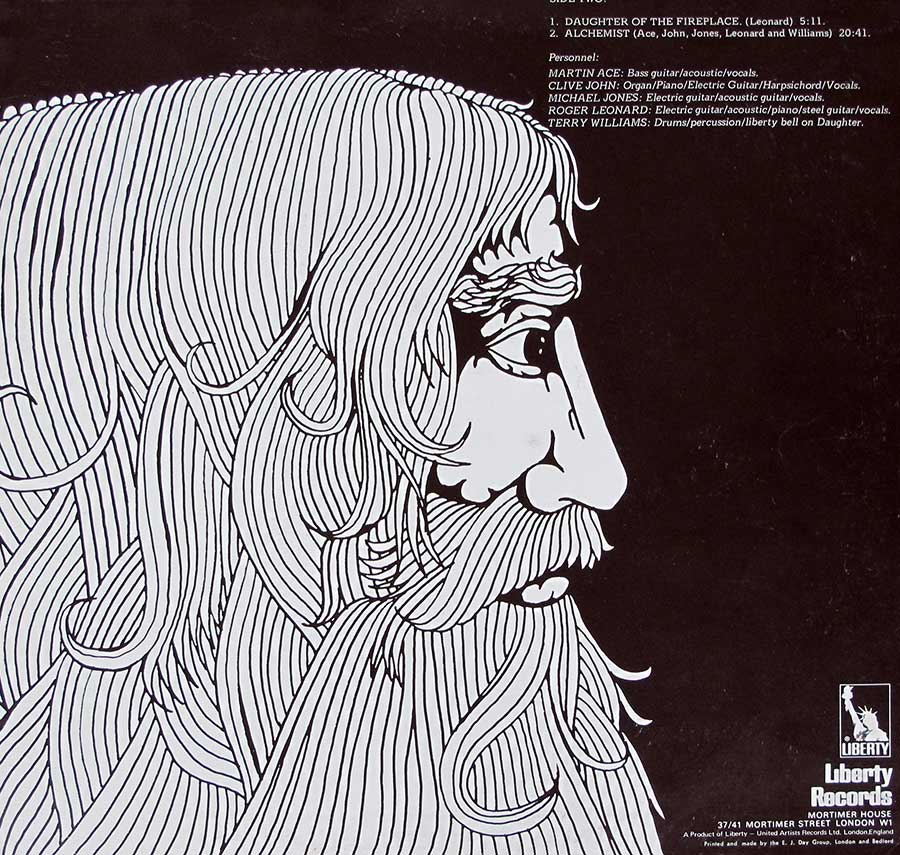 Close up of record's label MAN - MAN Liberty Records Side One: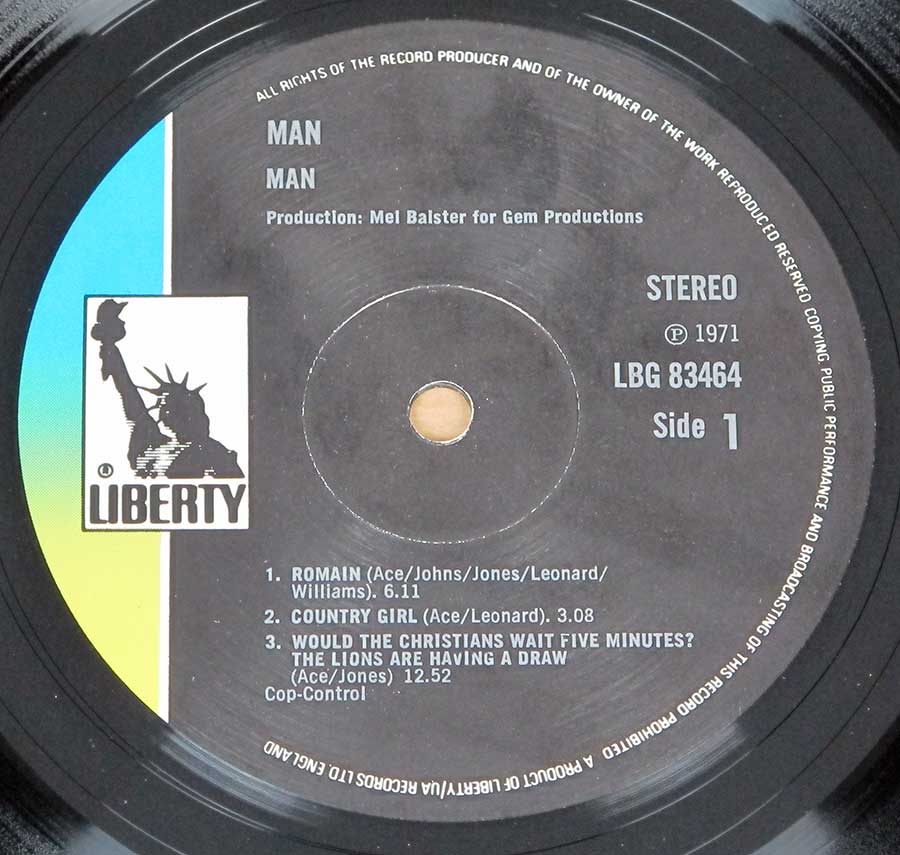 ---