---
BLACKOUT - EVIL GAME - Dutch Heavy Metal Speed Metal 1984 12" LP VINYL
"Evil Game" by the Dutch Heavy Metal band "Blackout" is the first and only official album released by this band.
Blackout is a Dutch Heavy Metal band from Zwolle, Overijssel, so far "Evil Game" has been their only official album released on vinyl.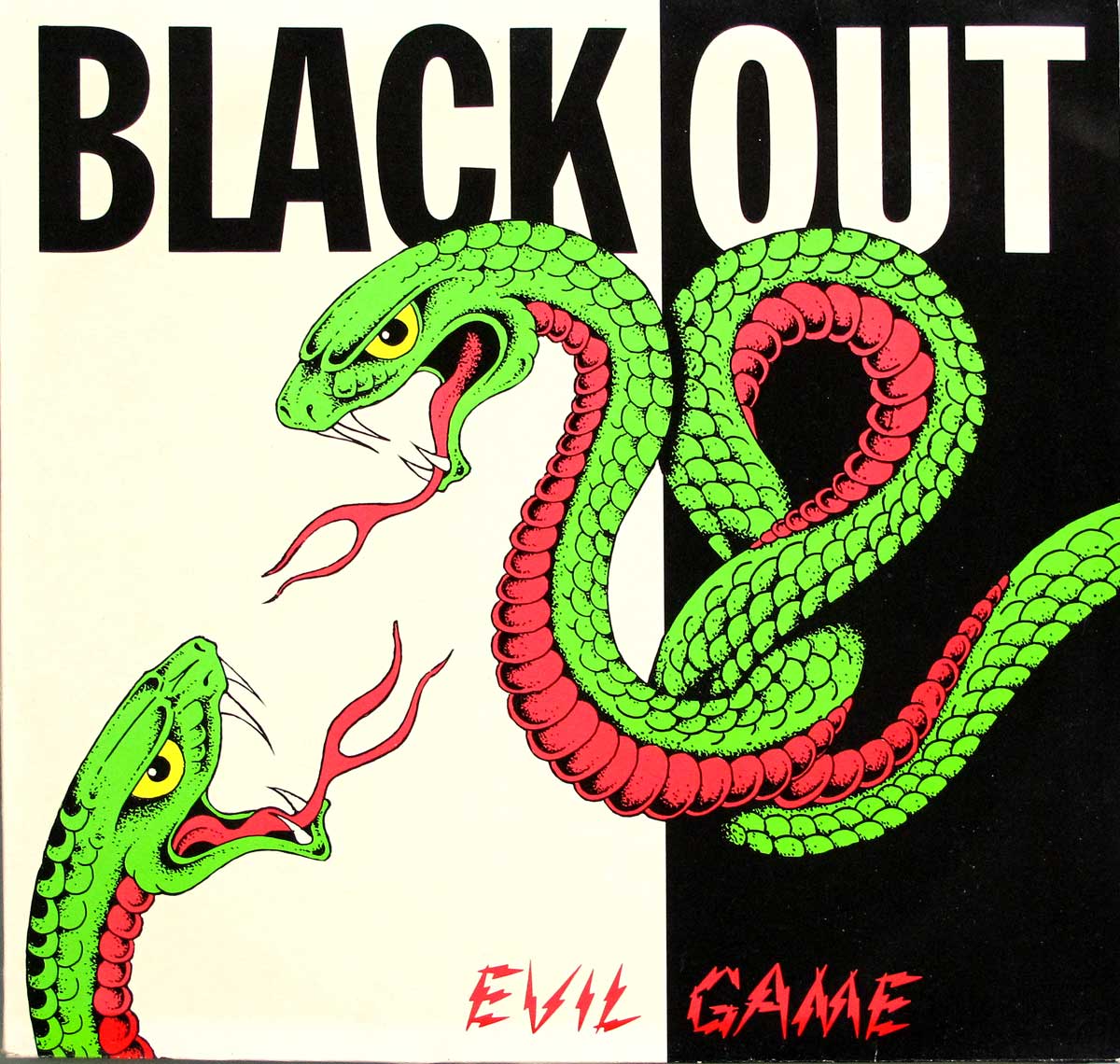 Summary: Blackout "Evil Game" is a Dutch heavy metal speed metal gem from 1984, available on a thrilling 12" LP vinyl. The band's lineup features Bas van Sloten on vocals, Mannes van Oosten and Jean Hofman on guitars, Alfred 'De Dreuge' Kers on bass, and Jan Boxem on drums. This album delivers a powerful and aggressive sound that fans of classic heavy metal will appreciate.
Music Genre:

Obscure Heavy Metal / Speed Metal
Album Production information:
The album: "BLACK OUT - Evil Game" was produced by: Ton van den Bremer
Sound/Recording Engineer(s): John van Houten, Albert Boekholt
This album was recorded at: Wisseloord Studios, Hilversum, Holland
Albert Boekholt - Sound Engineer,
John van Houten - Sound Engineer
Record Label Information:

RoadrunneR RR 9829
Media Format:

12" LP Vinyl Stereo Gramophone Record
Total Album (Cover+Record) weight: 230 gram
Year & Country:

1984 Made in Holland / Netherlands
Personnel/Band Members and Musicians on: BLACK OUT - Evil Game
Band-members, Musicians and Performers
Bas van Sloten - Vocals
Mannes van Oosten - Guitars
Alfred 'De Dreuge' Kers - Bass
Jean Hofman - Guitars
Jan Boxem - Drums
Complete Track-listing of the album "BLACK OUT - Evil Game"
The detailed tracklist of this record "BLACK OUT - Evil Game" is:
Track-listing Side One:

Motorcycle Bitch

Evil Game
Bleeding Moon
Demon Eye Woman
Screaming Metal
Track-listing Side Two:

Black Out

Ice Age Hunter
Victim of the Night
Doctor's Nightmare
Roadie
High Quality Photo of Album Front Cover "BLACK OUT - Evil Game"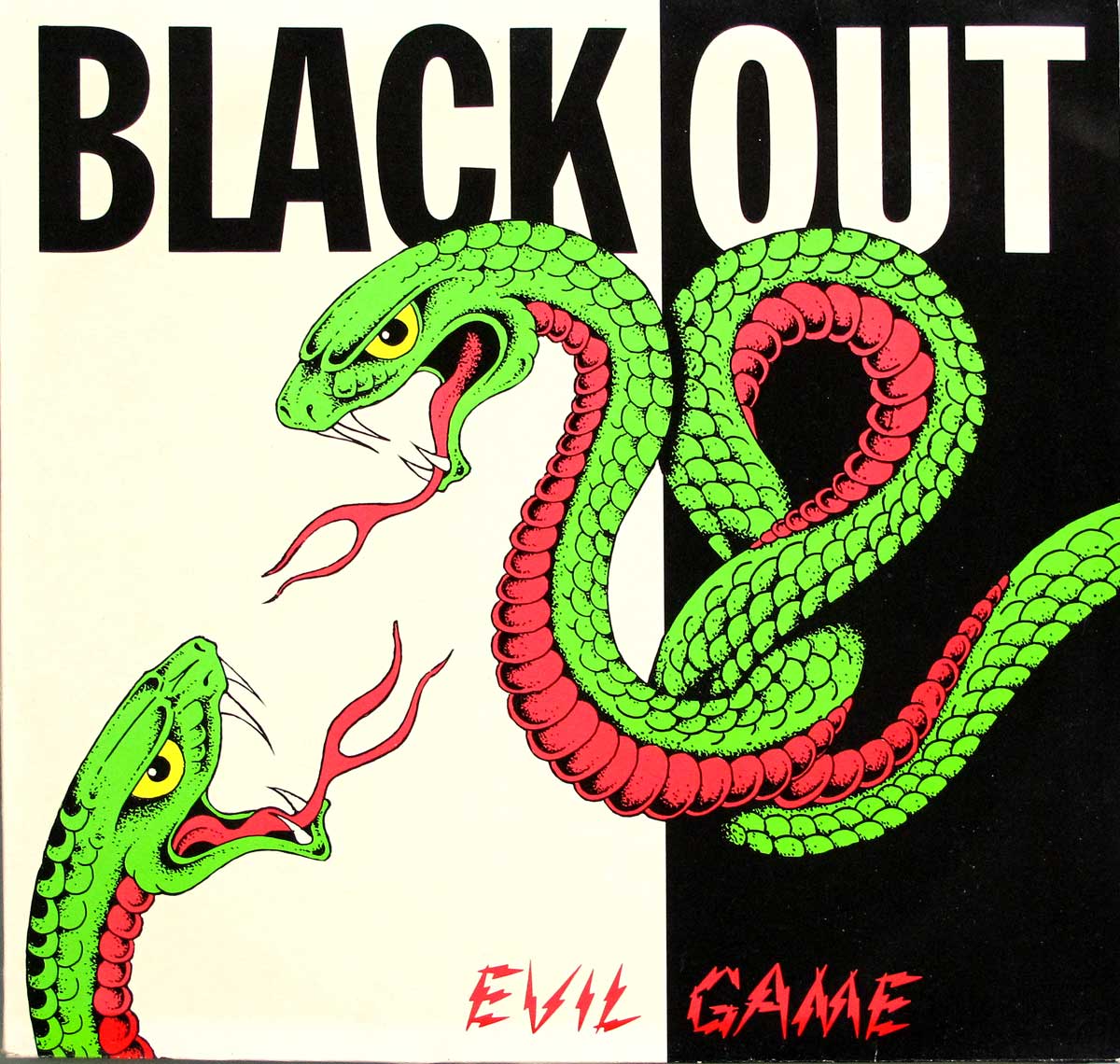 Album Back Cover Photo of "BLACK OUT - Evil Game"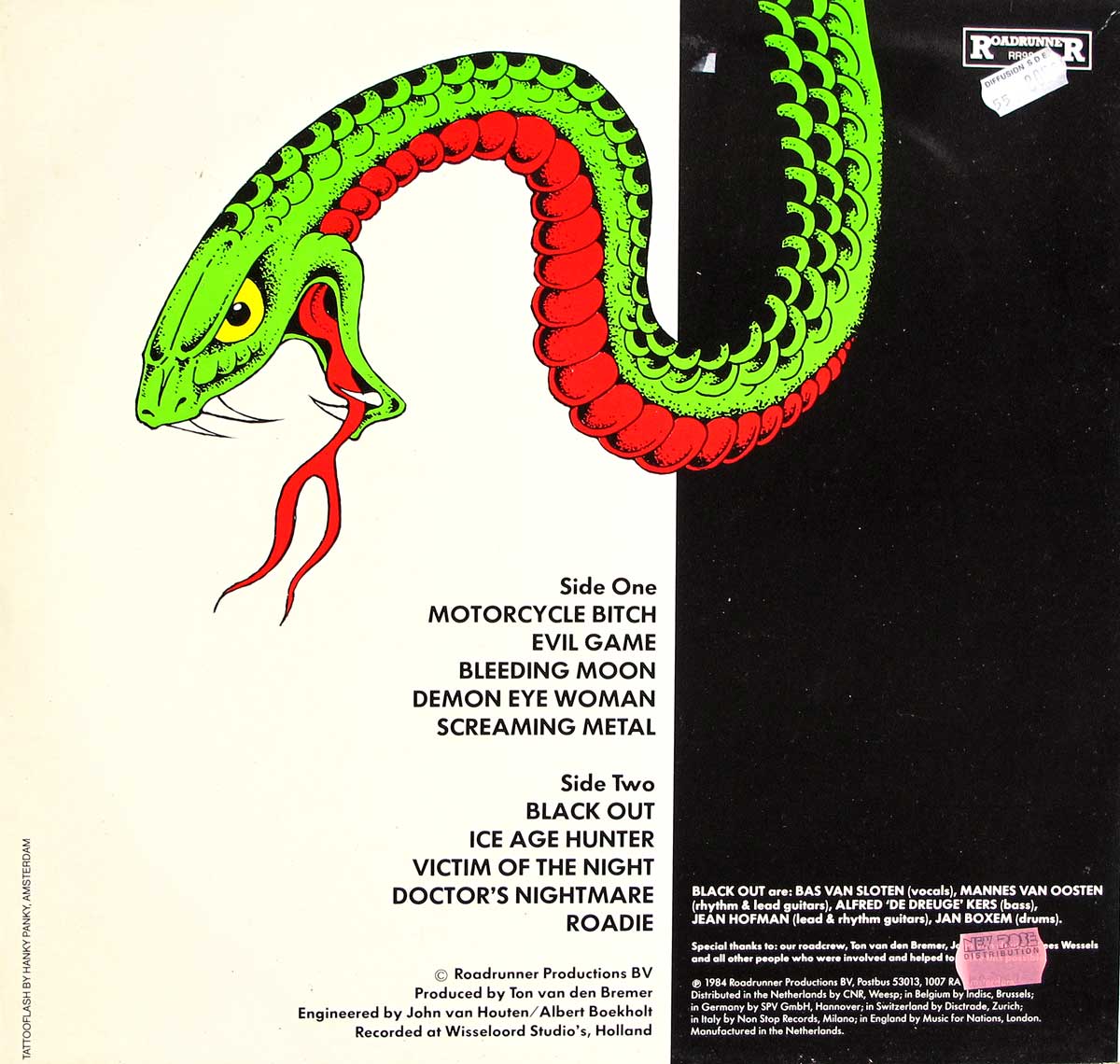 Photo of "BLACK OUT - Evil Game" 12" LP Record
Note: The images on this page are photos of the actual album. Slight differences in color may exist due to the use of the camera's flash.