---
Dead Orchestra - Global Lobotomy - 12" VINYL LP ALBUM
"Global Lobotomy" is the first/debut full-length studio album by the American Death/Trash Metal band "DEAD ORCHESTRA" from Wichita, Kansas. This web-page has hi-res photos of the album covers, record label and a detailed description.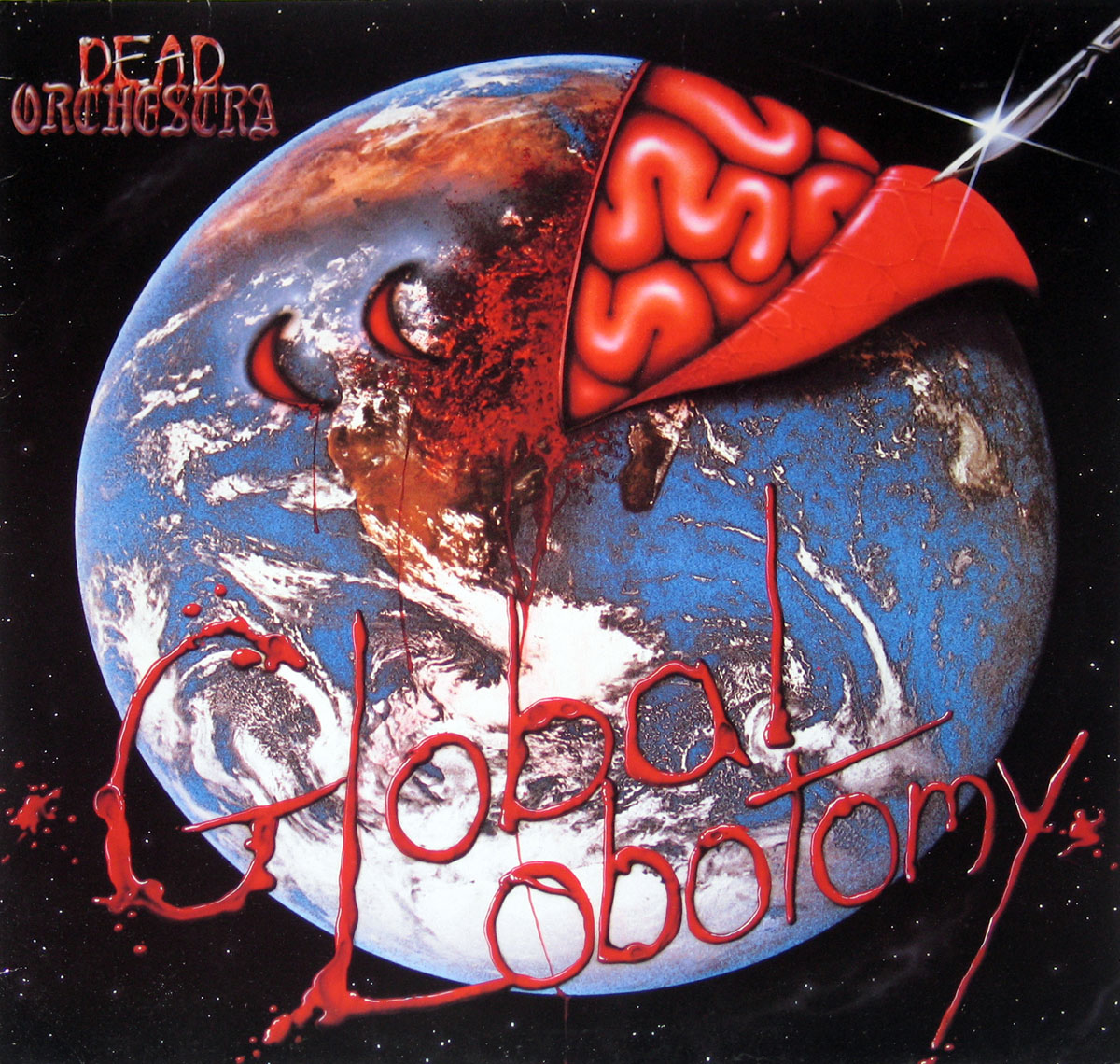 Album Summary:
ENJOY LIFE this is not a dress rehearsal
"Dead Orchestra - Global Lobotomy" is a hard-hitting 12" vinyl LP album that delivers an intense musical experience. With its powerful blend of heavy riffs, relentless drumming, and haunting melodies, the album takes listeners on a sonic journey through the depths of a global mind-altering experience. Fueled by aggression and raw emotion, this release showcases Dead Orchestra's mastery of their craft, leaving a lasting impact on fans of heavy music.
Music Genre:

Hardcore Death Thrash Metal Music
Collector's info:

Complete lyrics of all songs by "Dead Orchestra" printed on the back of the album cover
Album Production Information:

Published by Morgan La Fey Music

Tom Morris - Sound Engineer

Tom Morris an American Music Producer, Sound Engineer and Singer. Together with his brothers Jim Morris, Laurel Morris owner of the Morrisound Studio. Tom Morris is probable one of the most prductive Producers and Sound Engineers with regards to the Heavy Metal music genre. Some of the bands he worked with include:Amboog-A-Lard, Atrocity, Agent Steel, Coroner, Crimson Glory, Iced Earth, Morbid Angel, Savatage, Toxik.
Record Label Information:

Steamhammer (SPV) SPV 008-76371 / New Renaissance Records
Media Format:

12" Vinyl LP Gramophone
Year & Country:

1991 Made in Germany
Band Members and Musicians on: Dead Orchestra - Global Lobotomy
Dead Orchestra's Band-members, Musicians and Performers
Joel Hesser - Guitars
Miles Pehde - Guitars
Justin Crumbliss - Vocals
Grant Smith - Drums, percussion
Greg Lyeria - Bass
Track Listing of: Dead Orchestra - Global Lobotomy
Side One:
Introduction
Ruthless (but not Suicidal)
Anguish
Panamania
Re-Degeneration
Last Call
Global Lobotomy
Side Two:
Looking for the Answer
Speak The Truth
C.C.V
Dine and Dash
Sentenced Innocence
Album cover photos of : Dead Orchestra - Global Lobotomy
Photo of Front Cover
Photo of Album's Back Cover