---
S.O.D Stormtroopers of Death Speak English Or Die 12" VINYL LP ALBUM
Speak English or Die is the first album by the thrash/hardcore band Stormtroopers of Death (S.O.D.).
After Anthrax finished recording Spreading the Disease, there still was some studio time left, so Scott Ian and Charlie Benante called some friends, practiced some songs, and recorded it all within a week.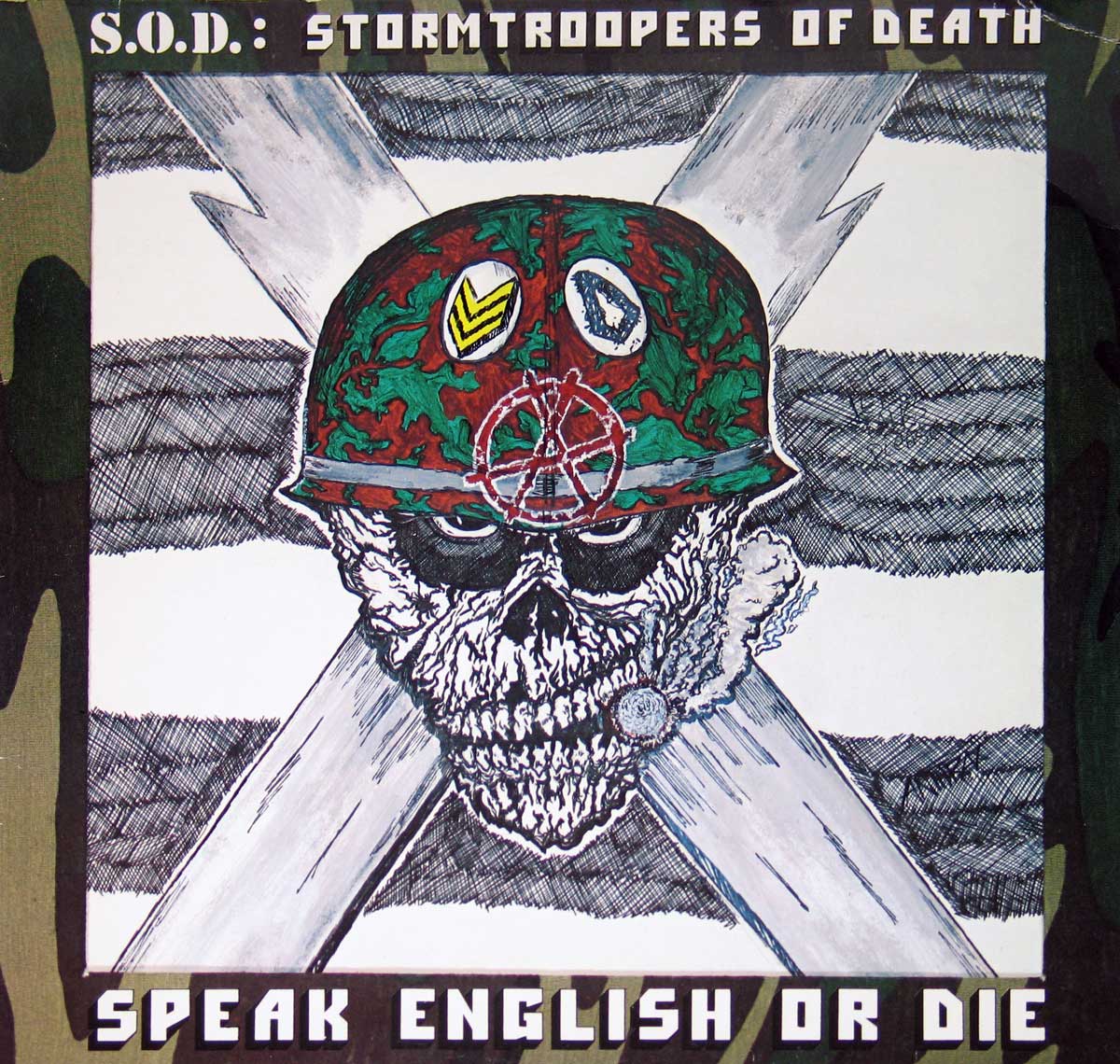 Album Summary:

Music Genre:

Hardcore Punk Crossover Thrash Metal

Collector's info:

This album includes the original custom inner sleeve with album details, complete lyrics of all songs by and photo of the S.O.D. Band.

Album Production information:

The album: "Speak English Or Die" was produced by: Scott Ian and Alex Perialas for NOT Productions and Jon Zazula. Precious Metal Music

Alex Perialas is an American Producer and sound engineer, and owner of the "Pyramid Sound Recording Studios" in Ithaca, and has been responsible for the production and engineering of dozens of Heavy Metal albums during the 1980s. Alex Perialas and Carl Canedy have been working both together on the albums: Anthrax's "Spreading the Disease" , "Fistful of Metal", Overkill's "Feel The Fire", "E-X-E - Stricken by Might"

Jon Zazula is founder of the Megaforce record company , is a record producer and discovered and promoted Metallica.

Label Information:

Roadrunner RR 9725

Media Format:

12" Vinyl LP Gramophone Record
Album weight: 220 gram

Year & Country:

1985 Made in Holland
Band Members and Musicians on: S.O.D Stormtroopers of Death Speak English Or Die
Band-members, Musicians and Performers
Billy Milano Vocals

(Bill Milano is from the Bronx, New York City he began his musical career 1985 with singing in the "Stormtroopers Of Death" band. In 1986 he founded the Crossover Thrash metal band: M.O.D. ("Method Of Destruction").)

Scott Ian Guitars

Scott Ian ( full-name Scott Ian Rosenfeld ) is an American guitarist and founding member of "Anthrax" and "Stormtroopers of Death". His wife "Pearl Aday" is daughter of the singer "Meat Loaf". In his musical career he has performed with the bands: Anthrax (USA) , Damnocracy, Doom Squad, Four-X, Motor Sister, Pearl, Posehn, S.O.D. STORMTROOPERS OF DEATH (USA) , Slam Jam, The Damned Things.

Dan Lilker Bass

Dan Lilker (full-name: Daniel A. Lilker) - musician from New York and (co-founder) of the American Thrash metal band " Anthrax " and the crossover band "S.O.D. Stormtroopers of Death" and long time bass player with the band "Nuclear Assault" . Apart from these three bands he has performed in numerous others bands. The complete list of bands in which "Dan Lilker" has performed in.

Charlie Benante Drums

Charlie Benante ( Drums ) long-time drummer with the American Thrash Metal band Anthrax, since 1983 and also performed in S.O.D. Stormtroopers Of Death.
Track Listing of: "Speak English Or Die"
The Song/tracks on "Speak English Or Die" are
March of the S.O.D. 1:27
Sargent D & the S.O.D. 2:23
Kill Yourself 2:11
Milano Mosh 1:32
Speak English or Die 2:24
United Forces 1:53
Chromatic Death 0:43
Pi Alpha Nu 1:09
Anti-Procrastination Song 0:06
What's That Noise 1:00
Freddy Krueger 2:32
Milk 1:54
Pre-Menstrual Princess Blues 1:20
Pussy Whipped 2:14
Fist Banging Mania 2:04
No Turning Back 0:52
Fuck the Middle East 0:27
Douche Crew 1:35
Hey Gordy! 0:07
Ballad of Jimi Hendrix 0:05
Diamonds and Rust (Extended Version) 0:05
Album cover photos of : S.O.D Stormtroopers of Death Speak English Or Die
Photo of "Speak English Or Die" Album's Front Cover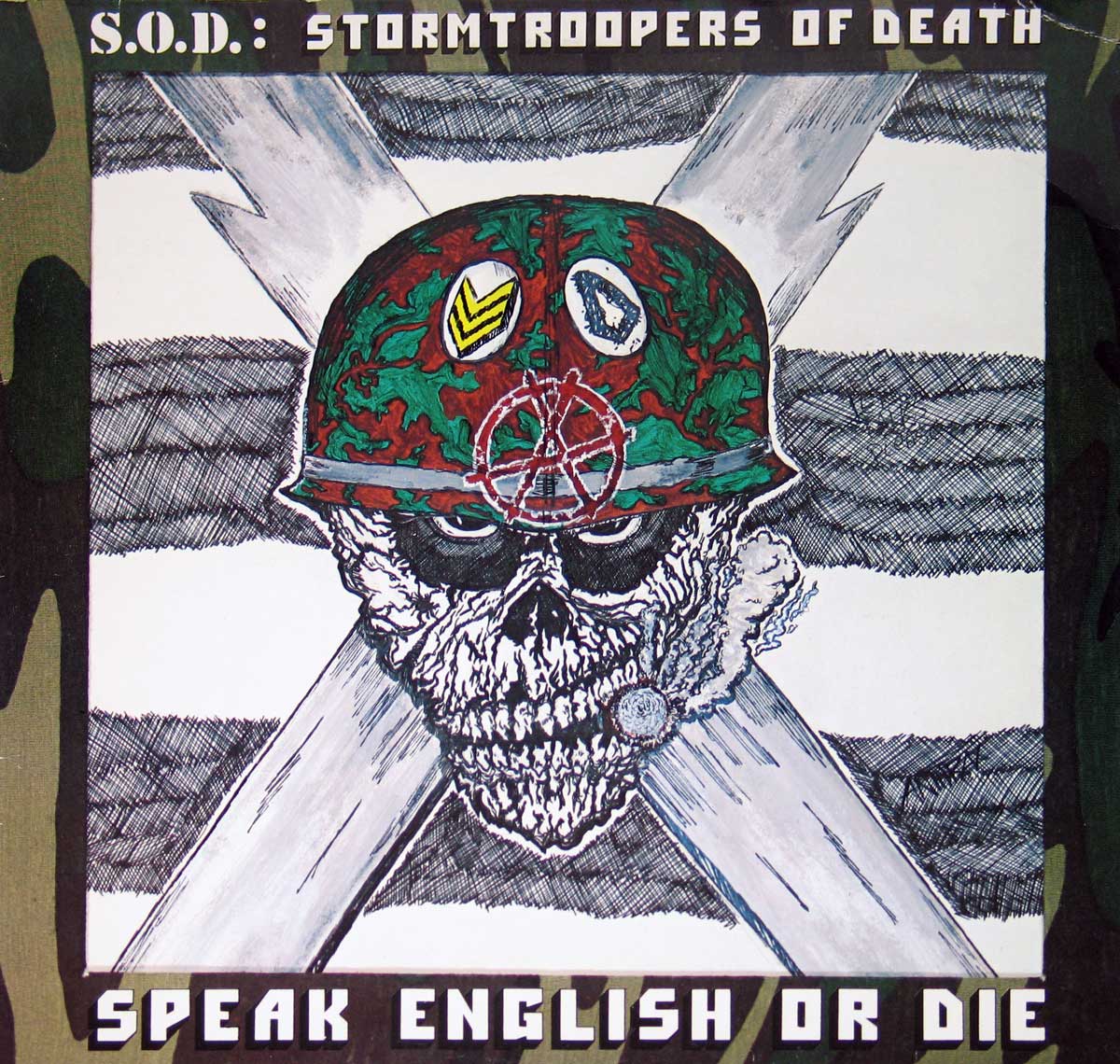 Photo of "Speak English Or Die" Album's Back Cover
Photo of "Speak English Or Die" Album's Inner Cover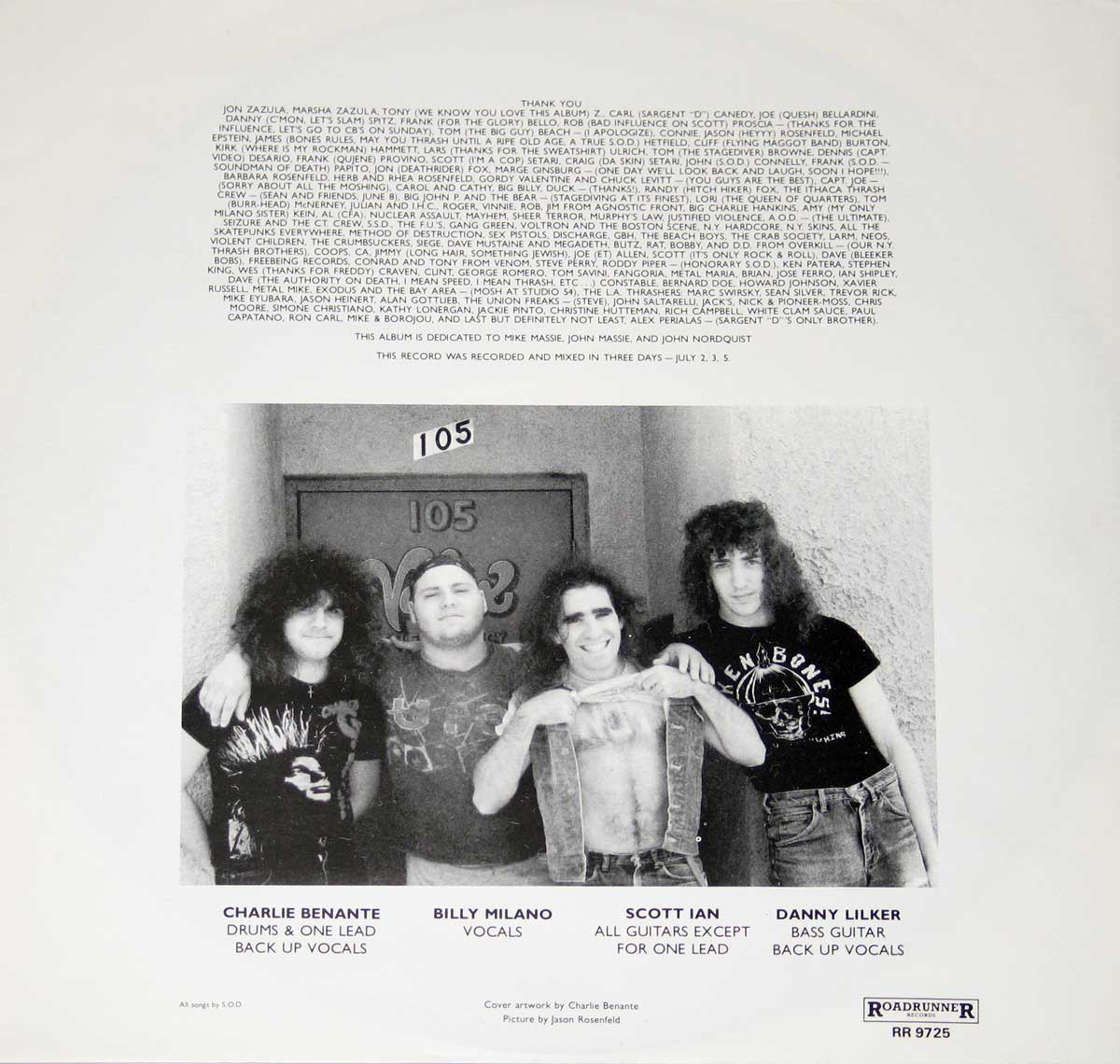 Close-up Photo of "Speak English Or Die" Record Label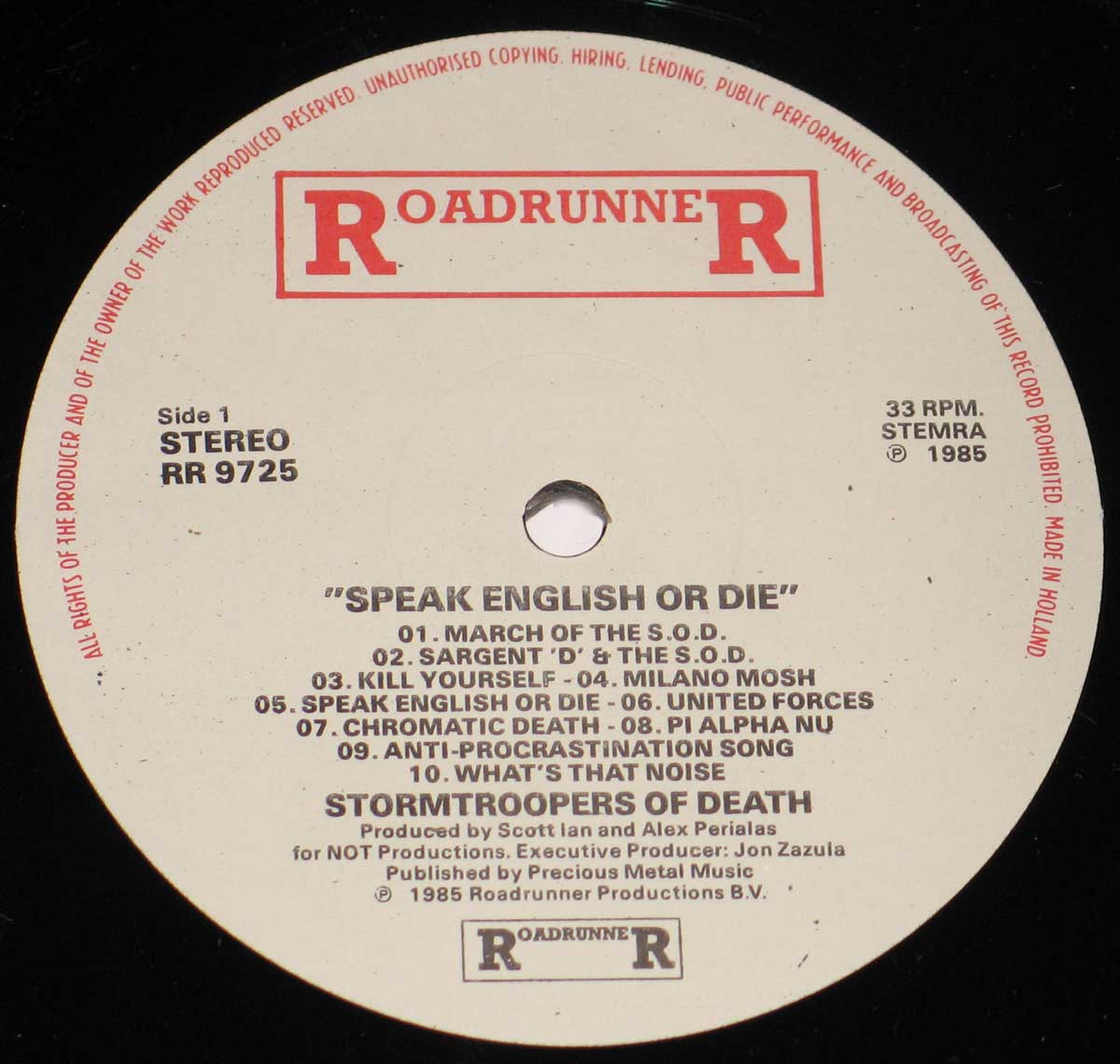 Note: The images on this page are photos of the actual album. Slight differences in color may exist due to the use of the camera's flash. Images can be zoomed in/out ( eg pinch with your fingers on a tablet or smartphone ).